Best Rear Engine Riding Mowers of 2023
In today's rapidly evolving world of landscaping tools, rear engine mowers have risen as the maestros of lawn care. These machines offer the precision and power required to maintain even the most pristine of lawns.
Consequently, the market is teeming with options catering to all manner of lawn care requirements.
Variations in design, size, functionality, and price can make the task of selecting the ideal mower daunting. But have no fear, as we've sifted through the multitude of choices to bring you a list of the top rear engine mowers for 2023.
Our selection encompasses various categories, from eco-friendly electric mowers to powerful gas-powered behemoths suitable for both residential and commercial purposes.
Let's talk about some of the best yard machines for your lawn.
Cub Cadet CC30E Electric Mower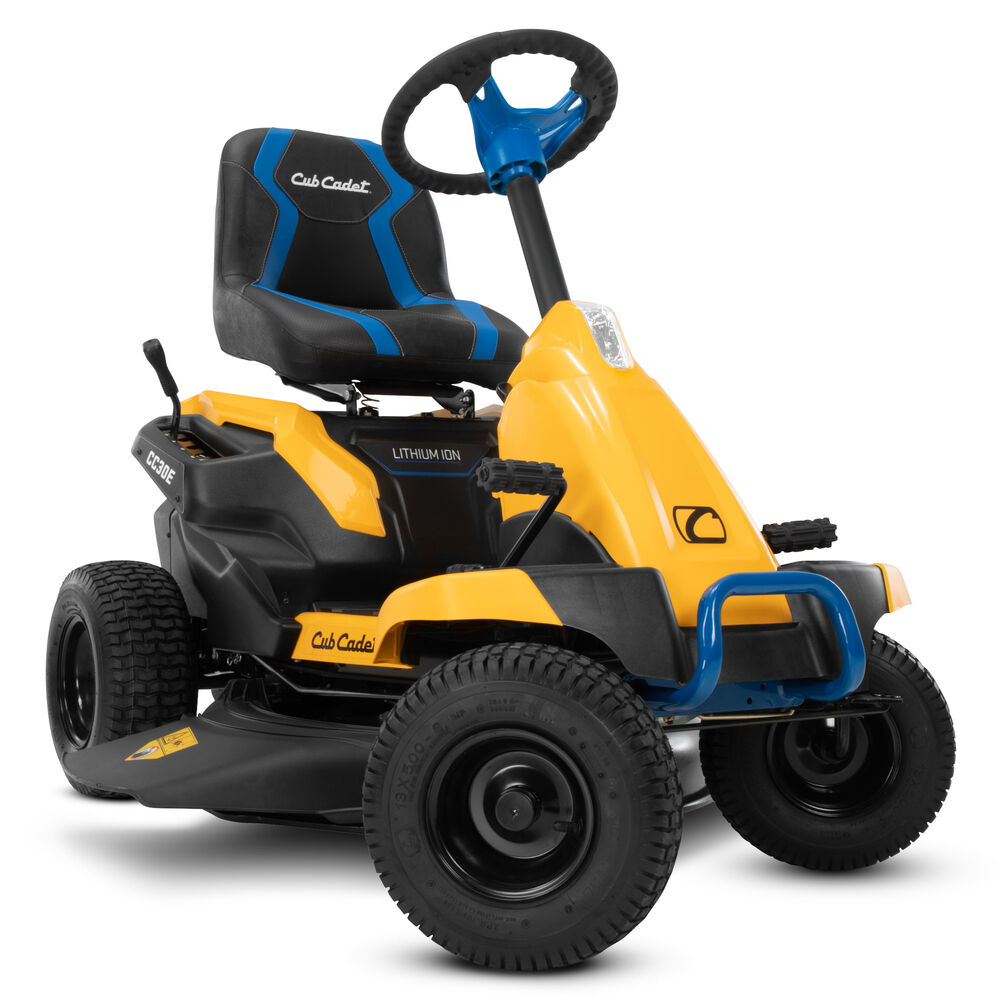 Pros:
Cons:
+ Environmentally friendly: As an electric mower, the Cub Cadet CC30E produces zero emissions, contributing to a cleaner and greener environment.
+ Quiet operation: The electric motor runs quietly, making it ideal for use in residential and commercial areas without causing noise disturbances.
+ Powerful performance: Its 56-volt lithium-ion battery and brushless motor provide exceptional cutting abilities, effectively tackling tall grass with ease.
+ Quick charge time: The CC30E has a fast charging time, ensuring minimal downtime between mowing sessions.
+ Easy to maintain: Electric mowers typically have fewer moving parts, resulting in a reduced need for maintenance and repairs compared to gas-powered mowers.
+ Cost-effective: Over time, using an electric mower can save on fuel costs, as well as lessen the expenses related to ongoing maintenance.
– Limited range: The 90-minute runtime might be insufficient for extensive lawns or continuous mowing tasks.
– Performance limitations: While the Cub Cadet CC30E performs well in most lawn conditions, it might struggle with extremely thick or wet grass.
– Battery replacement: Eventually, the lithium-ion battery may need replacement, which can be an additional expense.
– Initial cost: Electric mowers like the CC30E may have a higher upfront cost compared to some gas-powered models, though the long-term savings make up for it.
Switching gears toward a more sustainable future, the Cub Cadet CC30E offers an eco-friendly option for those seeking a lawn care machine without compromising on environmental values.
This electric mower is powered by a 56-volt lithium-ion battery, making it suitable not only for residential use but also for commercial purposes, where efficiency and quiet operation are crucial.
The impressive performance of the Cub Cadet CC30E can be attributed to its brushless motor and specialized blade design. These elements work together to ensure a smooth and efficient cutting experience, even through tall grass.
This mower also has a 30-inch cutting deck and can mow up to 1 acre at once. Its compact design makes it easy to store in sheds and garages.
Cub Cadet Ultima ZTX6 60 Zero-Turn Mower
Pros:
Cons:
+ Durable and strong: The 1.5 in. x 3 in. tubular steel frame is built for strength and rigidity, so the mower retains its structural integrity over time.
+ Efficient engine: The 25.5 HP Kawasaki FX801 V-Twin OHV engine ensures reliable starting and smooth operation.
+ High-speed maneuverability: Hydro-Gear ZT-3400 rear wheel transmissions allow for quick zero-turn control at speeds up to 9 MPH forward and 3.5 MPH reverse.
+ Warranty coverage: A four-year/800-hour product warranty and a limited lifetime warranty on the frame and fabricated deck shell provide peace of mind and assurance of quality.
+ Ideal for larger properties: Suitable for use on 4-12 acre properties with slight hills and obstacles.
+ High-quality cutting deck: AeroForce Max fabricated steel cutting deck is designed for durability and effective performance.
+ Comfortable operation: Ergonomic hand grips and an adjustable high-back seat with armrests make for a more enjoyable user experience.
– Size: The mower may be too large and unmanageable for smaller properties or tighter spaces.
– Price: As a commercial-grade machine, it may cost more than residential models, putting it out of some homeowners' budgets.
– Fuel consumption: The powerful 25.5 HP engine may consume more fuel than smaller engines, increasing operating costs.
– Complexity: With its many features, the mower may be more difficult to operate than simpler, less advanced models.
– Optional bagger: Bagger accessories are not included with purchase, adding an additional expense if needed.
– Maintenance: Routine maintenance can be more complicated due to the heavy-duty nature of the machine and its various components.
For those with a more generous budget, the Cub Cadet Ultima ZTX6 series claims the title of the crème de la crème in residential zero-turn riding lawn mowers.
Positioned at the top of the Ultima lineup, these mowers masterfully bridge the gap between residential and professional needs. Users can enjoy a ride that feels more professional without breaking the bank on premium commercial mowers.
The ZTX6 60 boasts several notable features.
For starters, it comes with a 25.5 HP Kawasaki commercial-grade engine that guarantees consistent, high-quality performance.
Secondly, the thoughtfully designed 1.5 in. x 3 in. tubular steel frame provides optimal strength and rigidity. It also allows easy access for routine maintenance.
Front tires measure 13″ x 6.5″-6″, while the rear tires are 22″ x 12″-12″ turf master/multi-track premium tires for excellent traction, minimal turfing, and a better ride on uneven ground at higher speeds.
As an added bonus, the mower has an impressive four-year/800-hour product warranty and a limited lifetime warranty on the frame and fabricated deck shell.
Toro 50" TimeCutter MX5075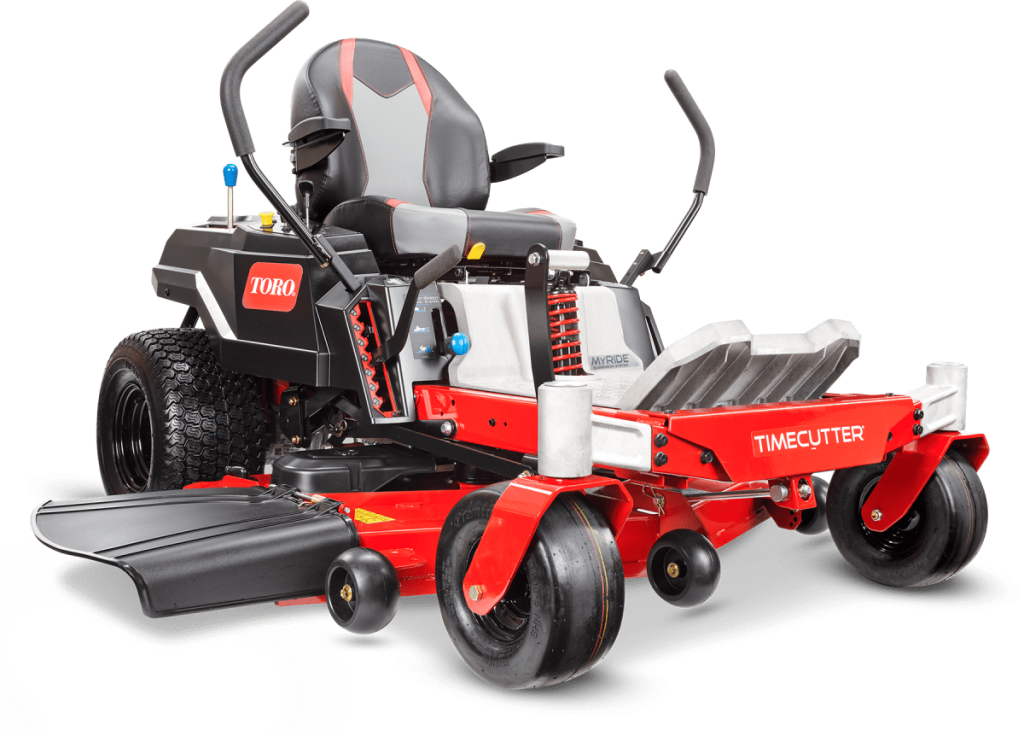 Pros:
Cons:
+ Powerful 24.5 horsepower engine: The TimeCutter's engine reduces mowing time without compromising cut quality.
+ Smart Speed Technology: Adjustable maximum driving speed allows for efficient mowing in various lawn conditions and landscapes.
+ MyRIDE suspension system: This feature provides a smooth ride regardless of the speed or terrain, making mowing more comfortable.
+ Convenient storage options: The under-seat cubby and cup holders provide space for personal items and refreshments during mowing tasks.
+ Ability to maneuver around obstacles: The slower speed setting helps with precise control around trees, flower beds, and other landscape features.
– Reliance on gasoline: As this mower runs on gas, there may be higher operating costs and emissions compared to electric options.
– Noise: This mower's powerful engine may produce more noise than its less powerful counterparts.
– Price: The 50" TimeCutter MX5075 is costlier than most other models available in the market.
– Storage space requirement: Due to its size, the mower may require a larger storage area when not in use.
Next up, we have the Toro TimeCutter MX5075 — a versatile beast designed to conquer even the most challenging terrains.
Featured on our list of the best zero-turn mowers of 2023, this model is perfect for those who don't want to spend hours mowing the yard.
Equipped with a 24.5 HP V-Twin engine, this rear engine mower is known for its robust performance and remarkable fuel efficiency.
Toro's Smart Speed feature allows you to adjust the mower's speed. It offers a maximum driving speed of either 4 or 7 mph. The high range is perfect for long flat areas, while the slower setting provides more control around trees and flower beds.
Additionally, this model has cup holders for drinks and an under-seat cubby for storing items like gloves or sunglasses.
Snapper 360Z Zero-Turn Mower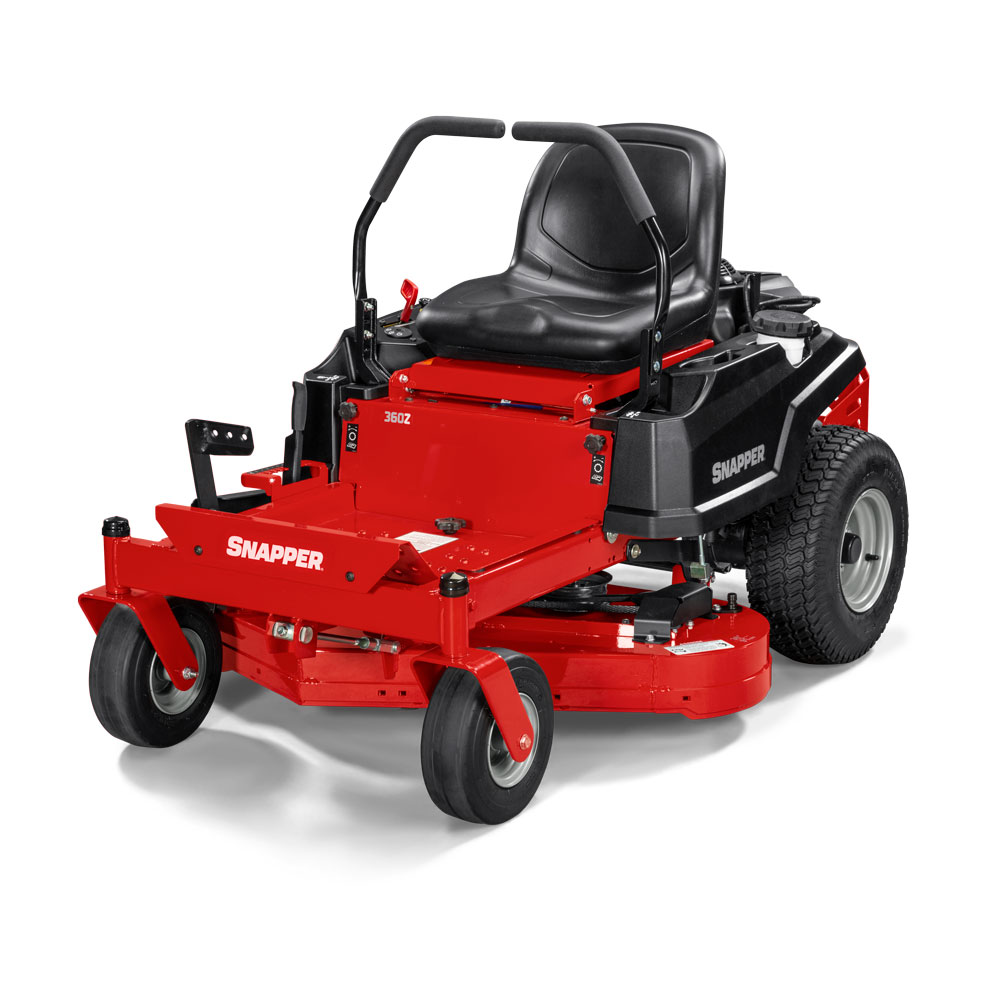 Pros:
Cons:
+ Versatility: The optional integrated cargo bed makes carrying tools and other items convenient while mowing the lawn.
+ Durability: A fully-welded steel frame, thick-walled front axle, and durable mower deck ensure lasting performance.
+ Easy height adjustment: The foot-operated mower deck lift makes adjusting the cutting height quick and straightforward.
+ Commercial-inspired features: The reinforced construction, heavy-duty components, and ball bearings in the caster spindles offer a professional-grade experience for homeowners.
– Limited cargo capacity: The integrated cargo bed has a maximum capacity of only 50 lbs, which may not be sufficient for heavier loads or more extensive landscaping tasks.
– Additional cost for added features: Some desirable features, such as the integrated cargo bed, are optional and may entail additional costs.
– Not suitable for large lawns: The compact dimensions of the Snapper 360Z may be ill-suited for maintaining larger properties or commercial applications.
Maneuverability and speed are what the Snapper 360Z is all about. Boasting a zero-turn radius, this rear engine mower offers exceptional control and agility in navigating tight spaces.
The Snapper 360Z has a fully-welded steel frame, a thick-walled front axle, and a durable mower deck, resulting in long-lasting durability and a quality cut. Its user-friendly interface and ergonomically designed seat ensure maximum comfort throughout your mowing sessions.
The Snapper 360Z series features powerful Briggs & Stratton engines accompanied by a heavy-duty welded steel frame known for its durability and long-lasting build. Depending on your particular model, you can enjoy 18 to 25 HP raw power.
Adjusting the mower deck is simple, thanks to the commercial-style foot-operated lift. It allows you to easily raise and lower the deck from 1.5 to 4.5 inches, ensuring the perfect cut for your lawn.
Husqvarna Z254F
Pros:
Cons:
+ Powerful 24-horsepower engine: The Kawasaki engine enables fast and efficient mowing, covering up to 2.8 acres per hour.
+ Large cutting deck: The 54-inch cutting deck with three blades reduces the number of passes needed to complete the job.
+ Low-maintenance hydrostatic transmission: The mower's transmission is designed to be maintenance-free with minimal potential for leaks.
+ Durability: The reinforced stamped steel construction adds to the mower's longevity.
+ LED headlights: LED headlights present in this model light up 50% more space than older incandescent bulbs.
– Expensive: The Husqvarna Z254 may not be suitable for those on a tight budget as it comes with a higher price tag than other options.
– Gas consumption: As a gas-powered mower, it will require regular refueling and may not be the most environmentally friendly choice.
– Potential overkill for small lawns: This powerful mower can be excessive for those with small yards and lower mowing requirements.
The Husqvarna Z254F boasts a formidable 24 HP Kawasaki engine, propelling the riding lawn mower to impressive speeds of up to 6.5 mph. The power of this engine guarantees a consistent and reliable start every time you use your mower.
The mower operates smoothly and quietly, despite its gas-powered engine. On top of that, its hydrostatic transmission requires no maintenance and has few places for leaks.
Discussing the performance of the Z254F, we cannot overlook the air induction technology implemented within this mower. This advanced system draws air from both the top and bottom of the deck, enhancing grass lifting for a more precise cut.
The 54-inch reinforced steel cutting deck only adds to its efficiency, promising both durability and excellent results.
Troy-Bilt TB30B
Pros:
Cons:
+ Budget-friendly: At its listed price of $2,088, this Troy-Bilt rear engine mower offers good value for money.
+ Suitable for up to an acre: It can efficiently handle yards up to an acre in size.+ Compact size: At just 30 inches wide and about 5 feet long, it's easy to store in a garage or shed.
+ Easy to maneuver: The 18-inch turning radius allows for effortless navigation around tight spaces.
+ Shift-on-the-Go feature: This feature allows changing speed without stopping or clutching the mower, making it more convenient to use.
+ Mulch kit included: The mower comes equipped with a mulch kit for added functionality.
– Manual transmission: Some users might prefer an automatic transmission for easier operation.
– Requires regular maintenance: To operate efficiently, gas engines need regular upkeep, such as oil changes and filter replacements.
– Limited features: The lower price point means that additional features found on more expensive models, like a larger cutting deck or advanced cutting technology, are absent.
If you're working within a limited budget and have a yard of up to an acre, the Troy-Bilt rear engine mower is the ideal solution for your lawn care needs.
The 10.5 HP Briggs & Stratton engine fuels a spacious 30-inch mowing deck, which includes a mulch kit to promote lush garden growth.
Additionally, this mower's compact size and sleek design allow for easy storage in tight spaces in your garage or shed.
Maneuverability is one of the TB30B's most notable strengths, boasting an impressive 18-inch turning radius that allows you to navigate tight corners with ease. Combined with larger wheels than most rear-engine mowers, it can traverse uneven terrain, steep slopes, and soft soil without getting bogged down.
Despite relying on a manual transmission, the Troy-Bilt rear engine mower has a Shift-on-the-Go feature. It lets you switch between its six gears without the need for clutching or stopping.
While it may require slightly more effort than its automatic counterparts, its affordable price tag makes it an attractive option for budget-conscious homeowners.
Ryobi 38" 100 AH Electric Riding Mower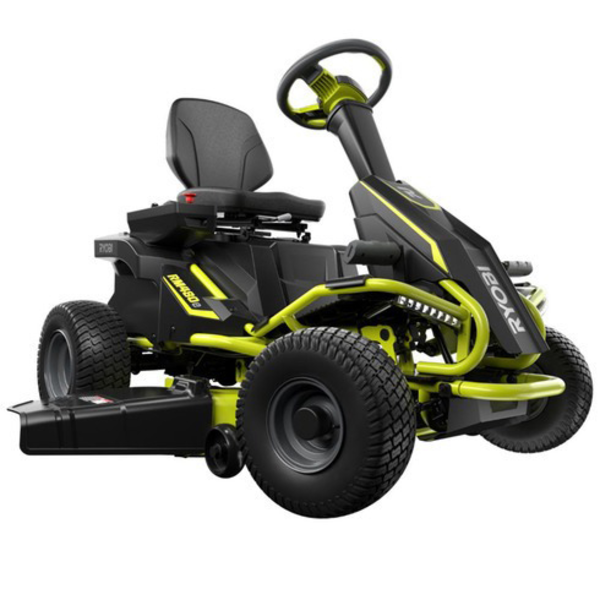 Pros:
Cons:
+ Eco-friendly: Battery power means no gas emissions, making it better for the environment.
+ Low noise level: Quieter than gas-powered options, allowing for a more peaceful lawn mowing experience.
+ Low maintenance: Battery power eliminates the need for oil changes and other engine-related tasks.
+ Compact design: Fits through standard fence gates and takes up less storage space in sheds or garages.
+ Decent runtime: Capable of cutting grass for up to 2.5 hours on a single charge.
+ Suitable for small to medium-sized yards: Ideal for yards between 1/2 acre and 1 acre in size.
– Long charging time: Depending on the charger used, the batteries can take hours to charge fully.
– Less powerful: While sufficient for many yards, this battery-powered mower may struggle with tall or thick grass.
– Dependence on battery health: Battery performance can decline over time, potentially leading to replacement costs.
Equipped with a versatile 38-inch deck, the Ryobi 48V riding mower smoothly sails through standard fence gates.
Straightforward controls make it easy to operate, ensuring you can mow your lawn with precision. Plus, a 16-inch turning radius means the Ryobi can be maneuvered effortlessly around obstacles like trees and plantings.
Harnessing the power of its 100 Ah 40-volt rechargeable lithium-ion battery, this Ryobi electric riding mower can cut grass for up to 2.5 hours on a single charge. The manufacturer estimates this to be sufficient coverage for up to 2.5 acres of lawn.
But what makes it truly shine is its low-maintenance design that requires no gas or oil changes — ideal for environmentally conscious consumers.
Perfect for residential use on small-to-medium-sized yards, this mower is undoubtedly worth considering in your search for the rear engine model that suits your preferences.
John Deere Z735M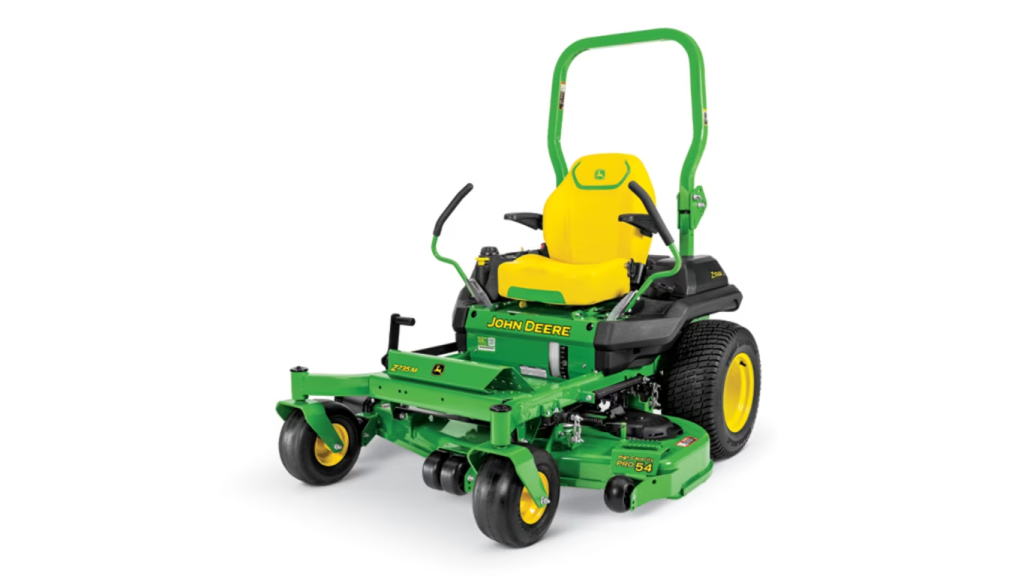 Pros:
Cons:
+ Powerful engine: The 25-HP engine with 810 cc capacity offers consistent power and performance for any mowing task.
+ Durable mower decks: Option to choose from three high-capacity PRO mower deck options (48, 54, or 60 inches) that feature welded reinforcements for added durability.
+ Comfortable seating: The 22.5-inch seat comes with adjustable armrests, springs, and ComfortGlide suspension to ensure a smooth and comfortable ride.
+ Easy height adjustment: The cut height adjustment dial allows you to easily set your preferred mowing height in ¼-inch increments from 1.5 to 5 inches.
– Price: John Deere mowers are known for their quality, but they come at a higher price than some other brands.
– Fuel efficiency: The powerful engine may consume more fuel than less powerful mowers.
– Size: The larger mower deck options might not be suitable for lawns with tight spaces or intricate landscaping elements.
Closing our list is the John Deere Z735M — a machine engineered to deliver an exceptional mowing experience with remarkable speed and fuel efficiency.
A powerful 25-HP engine with an 810 cc capacity offers performance and reliability for any mowing task. It's perfect for those who need a reliable tool to tackle their landscaping needs.
Beyond its power credentials, the John Deere Z735M showcases precision with its high-capacity PRO mower deck with welded deck reinforcements.
You can choose from three high-capacity PRO mower deck options: 48 inches, 54 inches, or 60 inches.
The mower's adjustable high-back seat is also nothing to scoff at, embodying the sophisticated blend of comfort and functionality that the Z735M offers. It comes complete with adjustable armrests and springs, as well as ComfortGlide suspension.
What to Consider When Choosing a Riding Lawn Mower
When you're in the market for a riding lawn mower, there are several factors to consider before making your purchase.
Let's break it down into a few key factors.
Your Lawn
First, assess the size of your lawn. If your yard is more extensive, you'll need a powerful mower with a wider cutting deck. For smaller properties, a compact model with a narrower deck is just fine.
The terrain of your lawn matters too. Does it have slopes, or is it mostly flat? Some mowers handle uneven ground better than others. Choose one with sturdy traction and stability if your yard has hills.
Don't overlook storage requirements. Riding mowers can take up a lot of space in your garage or shed. Measure available storage areas before purchasing your mower.
The Mower
Comfort
Think about ease of operation and comfort. Your time on the mower should be enjoyable.
Look for models that offer comfortable seating and easy-to-read control panels. You can also test-drive different options before making a decision.
Deck Width
As mentioned above, the size of your lawn plays a vital role in determining the ideal deck width for your mower.
Wider decks allow you to cut a larger area in less time, which can be helpful for those with big lawns. However, a smaller deck might be more suitable if your yard has many obstacles or narrow passages.
Measure your yard carefully and think about maneuverability before making a decision.
Engine
Next up is the engine.
For small to medium-sized lawns, a single-cylinder engine should suffice. But if you have a large property or plan to use additional attachments like snow blowers or tillers, you may want to consider a twin-cylinder engine.
These engines usually offer more horsepower and greater torque, making the machine more versatile and efficient.
Fuel Types
Another crucial factor is fuel type.
Riding lawn mowers come in three main varieties: gasoline, diesel, and electric.
Gasoline engines are the most common, offering reliable performance at an affordable price.
Diesel engines tend to be more fuel-efficient and powerful, but they're also pricier upfront and may require more maintenance over time.
Electric mowers are quiet and eco-friendly but may lack power when tackling thick grass or challenging terrain.
Your Budget
Finally, consider your budget.
Buying a riding mower is an investment. Decide how much you're willing to spend and compare features within that price range.
Remember, quality is crucial, but so is affordability.
The Bottom Line
As lawn equipment manufacturers release new and improved models of their products, investing in the latest landscaping tools is a wise decision.
Rear engine mowers are among the best options on the market, providing a blend of style and performance.
If you're looking for a mower suitable to your current needs, consider the compelling options above. Each of them offers unique attributes that bring exceptional lawn maintenance results catered to your requirements.
Investing in a top-quality rear engine riding mower will enhance your lawn's aesthetic appeal while saving time and effort in maintaining it.
So embrace the latest advancements in landscaping technology, and transform your outdoor space into an oasis with the help of these exceptional machines.
Happy mowing!
Enamored with the world of golf Jack pursued a degree in Golf Course Management at THE Ohio State University. This career path allowed him to work on some of the highest profile golf courses in the country!  Due to the pandemic, Jack began Inside The Yard as a side hustle that quickly became his main hustle. Since starting the company, Jack has relocated to a homestead in Central Arkansas where he and his wife raise cattle and two little girls.