The 10 Best Reel Mowers of 2023
As we look to reduce our carbon footprint and embrace eco-friendly solutions to everyday tasks, lawn care isn't exempt from this trend.
That's where reel mowers enter the scene. Their quiet nature, emission-free operation, and environmental advantages make them a superior alternative to gas-powered machines.
The market has recently seen a surge of reel mower options, providing homeowners with an overwhelming range of choices.
We've diligently researched and analyzed multiple models to bring you the top 10 reel mowers of 2023. Our selection focuses on a balanced mix of performance, durability, and affordability, ensuring there's a perfect reel mower to suit every gardener's needs.
Whether you have a small patch of grass or an expansive lawn, you'll find our curated list invaluable in guiding you toward the perfect environmentally conscious investment.
Fiskars StaySharp Max Reel Mower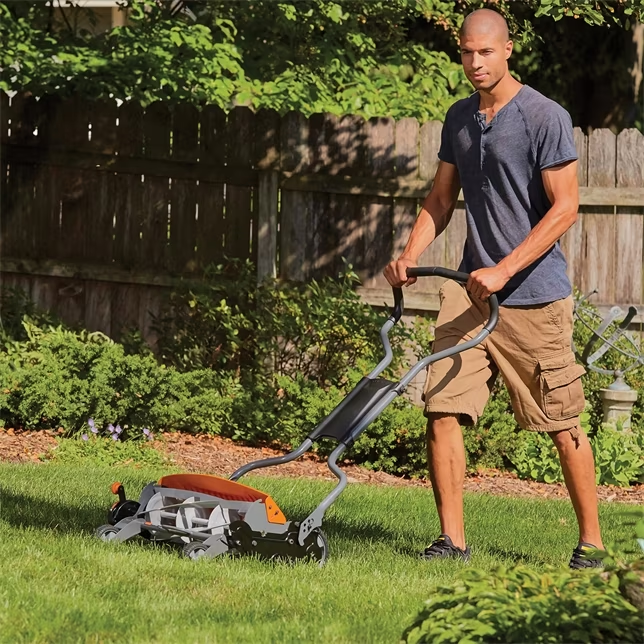 Newly redesigned with a focus on ergonomics, the Fiskars StaySharp Max Reel Mower is a top choice for homeowners.
This reel mower saves both time and effort by allowing users to trim even the most stubborn patches of grass without much effort. It boasts an impressive 18-inch cutting width, making it ideal for various lawn sizes.
At its core is the StaySharp system, which prioritizes long-lasting performance. It reduces blade maintenance, ensuring your mower remains sharp and efficient.
The mower's innovative InertiaDrive technology sets it apart from competitors, delivering unparalleled power and efficiency.
An added bonus of this reel mower is its adjustable cut-height mechanism. Users can choose their desired grass height from 1-4 inches.
| | |
| --- | --- |
| Pros: | Cons: |
| Makes it easy to tackle various grass types, including stubborn patches.Ensures long-lasting performance with minimal blade maintenance required.Allows users to choose from a range of grass heights (1-4 inches) to customize lawn appearance.The ergonomic design focuses on user comfort during mowing sessions, reducing strain and promoting ease of use.At 18 inches, the cutting width is suitable for a variety of lawn sizes, including larger yards. | Requires physical effort from the user, which may not suit those with limited mobility or strength.Due to its unique front wheel design, it may struggle with uneven or sloped terrain.While some reel mowers feature an accompanying grass catcher, the Fiskars StaySharp Max does not, meaning users will have to rake or manually collect grass clippings. |
Key Specs
| | |
| --- | --- |
| Weight | 51.7 pounds |
| Number of Blades | 5 |
| Cutting Width | 18 inches |
American Lawn Mower Company 1204-14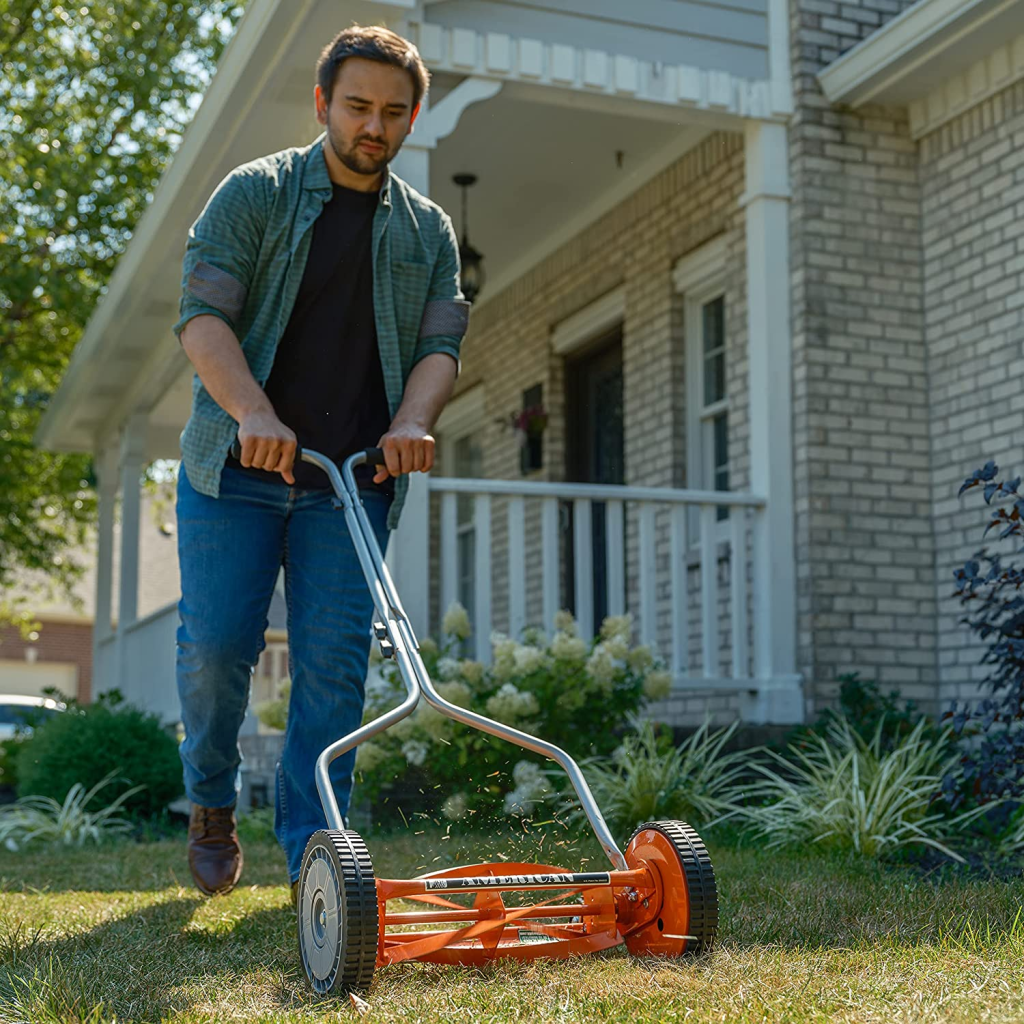 Perfect for homeowners with a modest budget and smaller yard spaces, the American Lawn Mower Company's 1204-14 model prides itself on offering exceptional value. This cost-effective option does not compromise on quality, making it an excellent choice for your lawn care needs.
Equipped with a compact 14-inch cutting width and lightweight construction, American Lawn Mower Company 1204-14 ensures effortless maneuverability. With it in your arsenal, navigating tight corners and narrow areas in your yard becomes a breeze.
Constructed with heat-treated alloy steel blades, this mower also guarantees precision cutting while maintaining durability. Even with continuous use, the blades remain sharp and efficient.
With its tool-free assembly process and adjustable cutting heights between 0.5-1.5 inches, convenience is synonymous with this top pick.
| | |
| --- | --- |
| Pros: | Cons: |
| It's a cost-effective choice for homeowners on a budget.With its 14-inch cutting width, this mower easily navigates tight corners and narrow areas in smaller yards.Its lightweight design ensures effortless maneuverability.The heat-treated alloy steel blades guarantee precision cutting while remaining sharp even with continuous use.The mower features a straightforward and hassle-free assembly process.The American Lawn Mower Company offers a selection of optional accessories, including a blade sharpening kit and a grass catcher, to enhance your mowing experience. | With its 14-inch cutting width, this mower may not be the most efficient choice for larger yards or lawns with wider areas to cover.This reel mower may struggle to effectively cut through taller or thicker grass varieties, requiring additional effort on the user's part. |
Key Specs
| | |
| --- | --- |
| Weight | 20 pounds |
| Number of Blades | 4 |
| Cutting Width | 14 inches |
Scotts Outdoor Power Tools 2000-20S
Homeowners seeking precision and an extensive cutting range can rejoice since the Scotts Outdoor Power Tools 2000-20S delivers just that without breaking the bank.
With a generous 20-inch cutting deck, this reel mower effortlessly breezes through most lawn sizes.
The incorporated, versatile 9-position height adjustment is also nothing to scoff at. Using an innovative Quick-Snap mechanism, users can easily select their desired grass length, which ranges from a neat 1 inch to a lush 3 inches.
Sale
The cushioned handlebar further enhances user comfort. This feature minimizes strain on your hands and arms during lengthy mowing sessions.
| | |
| --- | --- |
| Pros: | Cons: |
| With a 20-inch cutting deck, the mower can cover larger areas in less time, making it efficient for medium to large-sized lawns.The quad-wheel system provides extra stability on rough surfaces.The 9-position height adjustment allows users to choose their desired grass length from 1-3 inches.Quick-Snap mechanism simplifies height selection, streamlining the overall mowing process.The cushioned handlebar design enhances user comfort. | The mower offers limited effectiveness on uneven terrain.The cutting design requires increased effort to maneuver and steer effectively. |
Key Specs
| | |
| --- | --- |
| Weight | 34 pounds |
| Number of Blades | 5 |
| Cutting Width | 20 inches |
Great States 415-16
Characterized by its simplicity and effectiveness, the Great States 415-16 reel mower is a fine example of superb quality at an affordable price. This lawn care gem is equipped with a five-blade ball-bearing reel to deliver smooth operation and precise cuts with every pass.
Large wheels and a lightweight build define this mower. Many users have praised it for its superiority in this aspect over the brand's prior models.
With an easily adjustable cutting height range of 1-2.5 inches, finding the perfect grass level is stress-free. Gone are the days of complicated adjustments and guesswork as you strive for that perfect manicured look.
Proving itself to be user-friendly, this mower takes comfort into consideration with its robust T-Style handle. The design enhances grip for effortless maneuvering throughout the mowing process.
Overall, the Great States 415-16 reel mower is a reliable choice for those seeking an uncomplicated, budget-minded tool for lawn maintenance. Its straightforward design ensures smooth operation, while adjustable features offer versatility to suit your lawn's specific needs.
| | |
| --- | --- |
| Pros: | Cons: |
| This mower offers excellent quality and performance at a budget-friendly price.The straightforward design makes it easy to use, even for beginners.With an adjustable cutting-height range of 1-2.5 inches, it caters to various lawn preferences.The five-blade ball-bearing reel ensures smooth operation and sharp, accurate cuts.The durable T-Style handle provides an ergonomic grip for added comfort during use. | With a 16-inch cutting width, it may be less suitable for large lawns and require more passes for full coverage.It may struggle in tackling taller or denser grass, requiring additional passes or alternative tools.For some lawn enthusiasts, the minimum cutting height offered by this mower might not be as low as they desire. |
Key Specs
| | |
| --- | --- |
| Weight | 25 pounds |
| Number of Blades | 5 |
| Cutting Width | 16 inches |
Sun Joe MJ501M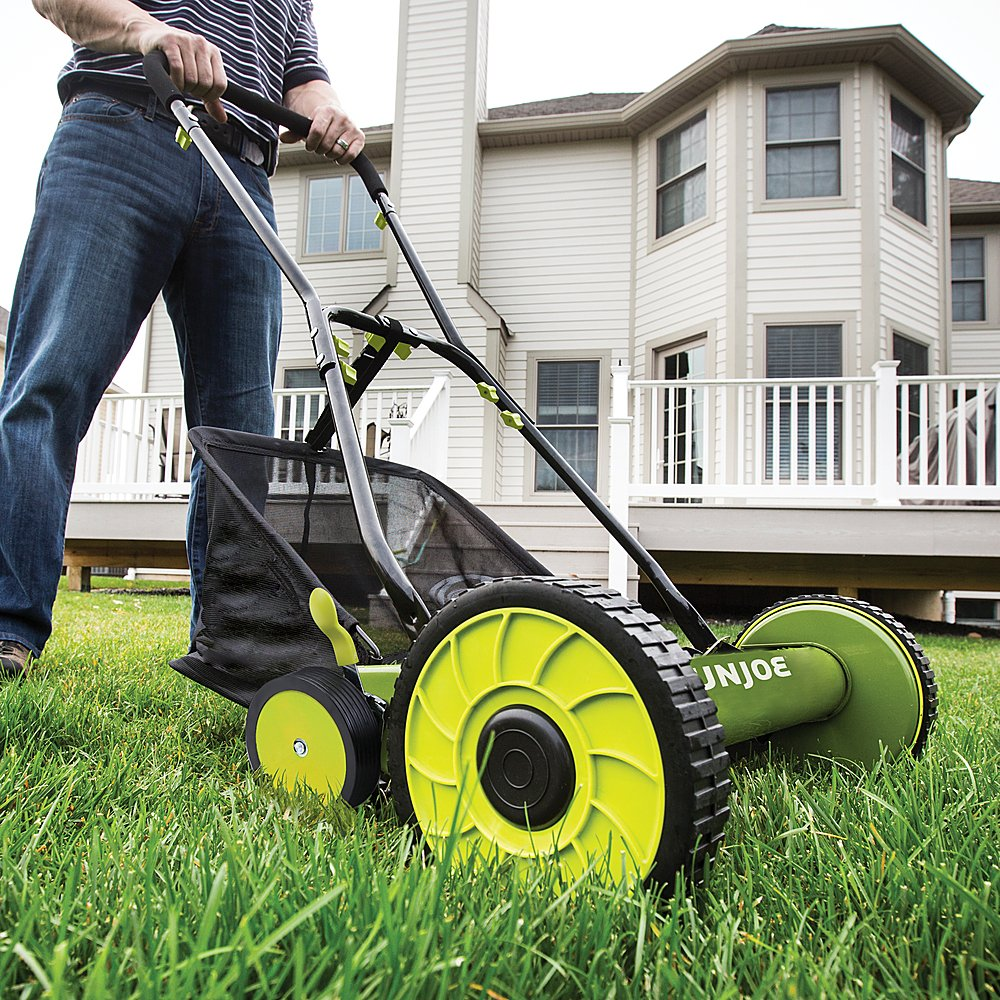 Sun Joe has built a reputation for developing innovative and effective yard care products. Their MJ501M reel mower is a prime example of the company's dedication to excellence.
Thanks to the 18-inch wide cutting path, this model effortlessly manages various lawn types and environments.
At the same time, this mower's dual-wheel design, paired with sharp, hardened steel blades, guarantees clean, accurate cuts every time. You'll notice the difference in the quality and appearance of your grass as soon as you begin using this versatile machine.
Equally noteworthy is the built-in grass catcher. This element simplifies clippings disposal, making lawn maintenance efficient and enjoyable.
With the Sun Joe MJ501M at your disposal, you'll be the master of your yard, crafting a lush and inviting outdoor space that's perfect for hosting guests or simply enjoying some quiet time alone.
| | |
| --- | --- |
| Pros: | Cons: |
| The 18-inch cutting width makes it efficient for covering large areas, reducing the overall time spent mowing.Nine adjustable height positions allow users to customize their mowing experience, catering to various lawn types and personal preferences — all the way up to 2.44 inches.Built-in grass catcher simplifies clippings disposal, making lawn maintenance cleaner and more convenient.The dual-wheel design provides enhanced maneuverability. | The 18-inch wide cutting deck, while efficient for covering large areas, might pose challenges when navigating around tight corners or narrow passages.The mower's handle is a bit flimsy. |
Key Specs
| | |
| --- | --- |
| Weight | 30 pounds |
| Number of Blades | 5 |
| Cutting Width | 18 inches |
Earthwise 7-Blade Reel Mower
Recognized for its performance-driven design and unwavering reliability, the Earthwise 7-Blade Reel Mower seamlessly combines precision cutting with user-friendly features.
A standout aspect of this mower is its seven heat-treated steel blades, specifically crafted to handle various types of grass — particularly dense and thick turf that would typically challenge standard reel mowers.
This model precisely targets low-growing, creeping grass varieties. As a result, it skillfully tames St. Augustine, zoysia, Buffalo grass, Kentucky bluegrass, bent, and Bermuda grasses, ensuring a flawless finish for all lawn types.
With a cutting width of 16 inches, the Earthwise model ensures efficient coverage for medium-sized lawns. You can customize the cutting height between 0.5-2.5 inches.
In terms of user comfort, the Earthwise 7-Blade Reel Mower is designed with an ergonomic cushioned handle that provides a comfortable grip during prolonged use.
Its lightweight frame and smooth-rolling, wear-resistant polymer wheels also contribute to seamless maneuverability across various terrain types.
| | |
| --- | --- |
| Pros: | Cons: |
| The additional blades provide enhanced cutting capabilities.The quick-adjustment lever allows for a cutting height range of 0.5-2.5 inches.Its lightweight construction and wear-resistant polymer wheels contribute to smooth and effortless movement across various terrain types.The 16-inch cutting width is perfect for medium-sized lawns.The heat-treated steel blades promise longer blade life and reduced maintenance requirements. | Though the 16-inch cutting width is sufficient for most medium-sized lawns, it may not be ideal for homeowners with larger properties.Unlike some other reel mower models, the Earthwise 7-Blade Reel Mower does not come with a built-in grass catcher, which may lead to additional clean-up work post-mowing. |
Key Specs
| | |
| --- | --- |
| Weight | 21.83 pounds |
| Number of Blades | 7 |
| Cutting Width | 16 inches |
Webb 12" Autoset Sidewheel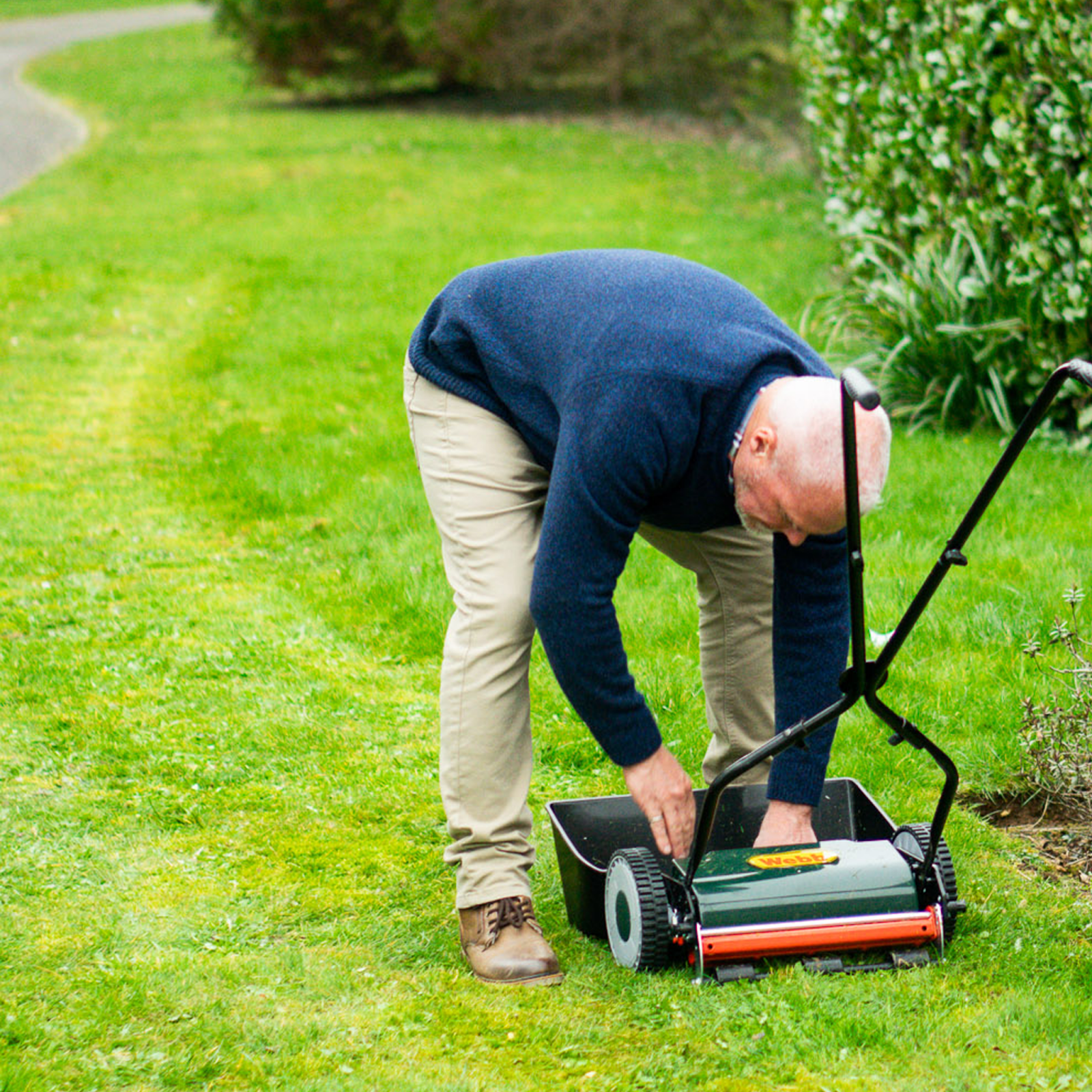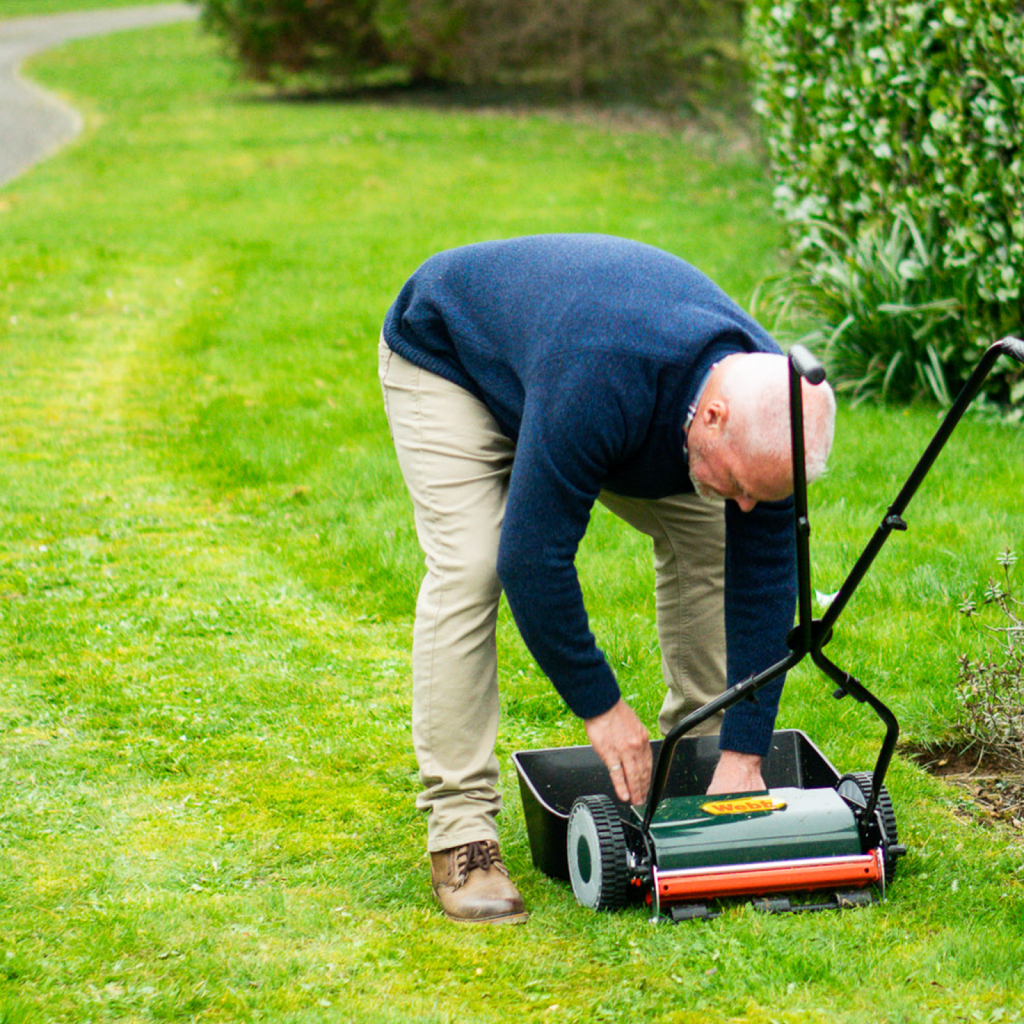 Steeped in British tradition and reliable engineering, the Webb 12" Autoset Sidewheel reel mower promises a satisfying gardening experience.
As one of the UK's leading lawn care brands, Webb has a reputation for producing high-quality and durable tools. The 12" Autoset Sidewheel model is no exception.
Boasting a solid 12-inch (30 cm) cutting width, this reel mower's cutting mechanism features metal gear-driven wheels that provide a seamless mowing experience without scalping your grass.
With the ability to adjust cutting height settings between 0.39-1.57 inches (10-40 mm), the mower caters to various grass types and preferences.
To further improve overall user comfort, Webb's 12" Autoset Sidewheel employs an ergonomic soft-grip handlebar with easy height adjustments that significantly reduce muscle strain and fatigue during extended use.
| | |
| --- | --- |
| Pros: | Cons: |
| The unique metal gear-driven wheels prevent the mower from scalping the grass and provide smooth operation.With a range of 0.39-1.57 inches (10-40 mm), this mower accommodates various grass types and user preferences.The soft-grip handlebar can be easily adjusted to minimize muscle strain and increase comfort during use.The detachable polypropylene grass collector allows for effortless clippings disposal.The 12-inch (30 cm) cutting width is ideal for maneuvering around tight corners and narrow spaces in smaller yards. | The 12-inch (30cm) cutting width might be too narrow for those with larger lawns, requiring additional time to cover the entire area.Consumers outside the United Kingdom may face limited availability and higher shipping costs when purchasing a Webb product. |
Key Specs
| | |
| --- | --- |
| Weight | 20.06 pounds |
| Number of Blades | 6 |
| Cutting Width | 12 inches |
Greenworks 16-Inch Reel Lawn Mower
Greenworks has made a name for itself by producing eco-friendly lawn equipment, and its 16-Inch Reel Lawn Mower continues to set the bar high. This feature-packed mower is perfect for anyone seeking exceptional quality and convenience without sacrificing eco-sensibilities.
With a 16-inch cutting width and a five-blade reel, the Greenworks mower offers an optimal cutting experience, perfect for small to medium-sized lawns. The adjustable height ranges from 1 to 2.25 inches.
One key advantage of the Greenworks 16-Inch Reel Lawn Mower is its minimal maintenance requirements. The heat-treated steel blades retain their sharpness longer, significantly reducing the need for frequent upkeep.
Additionally, the two-in-one design incorporates rear bagging and mulching capabilities, increasing efficiency while saving you labor and time.
Sale
| | |
| --- | --- |
| Pros: | Cons: |
| 10″ front wheels and 2″ rear rollers provide excellent maneuverability for all types of landscapes.The ability to adjust the cutting height between 1-2.25 inches allows for versatility in tackling various grass lengths and types.The rear bagging and mulching capabilities enhance efficiency and minimize manual labor. | It may not be ideal for large lawns, as the 16-inch cutting width could make mowing time-consuming.With a minimum cutting height of 1 inch, the mower can be ill-suited for those who prefer to keep their grass at a lower length.This mid-sized mower is on the heavier side, which may affect maneuverability during your lawn care routine. |
Key Specs
| | |
| --- | --- |
| Weight | 26 pounds |
| Number of Blades | 5 |
| Cutting Width | 16 inches |
Husqvarna HiCut 64
Renowned for producing premium outdoor power equipment, Husqvarna adds its expertise to the reel mower industry with the HiCut 64. Ideally suited for those seeking a balance of comfort, performance, and durability, this unit is designed to tackle various grass conditions.
The HiCut 64 boasts a cutting width of 16 inches featuring a five-blade cutting system. The cutting height adjustment ranges from 0.5-2.25 inches, allowing users to take care of lawns that aren't mowed regularly.
The model's large, sturdy wheels guarantee smooth maneuverability on uneven terrain. Their unique design offers enhanced grip and stability, allowing users to mow irregular lawns with ease.
By choosing this model, you will invest in a reel mower that promises long-lasting performance backed by a reputable brand name.
| | |
| --- | --- |
| Pros: | Cons: |
| Husqvarna is a well-established brand known for producing premium-quality outdoor power tools.The five-blade cutting system allows for precise, even cuts every time.The wheels provide exceptional maneuverability on uneven terrain and promote enhanced grip and stability. | Adjusting the cutting height can be a bit tricky at times.The grass collector is sold separately.Compared to some competitors' models, the Husqvarna HiCut 64 may be priced higher, which could be a consideration for budget-conscious buyers. |
Key Specs
| | |
| --- | --- |
| Weight | 19.18 pounds |
| Number of Blades | 5 |
| Cutting Width | 16 inches |
Cobra HM381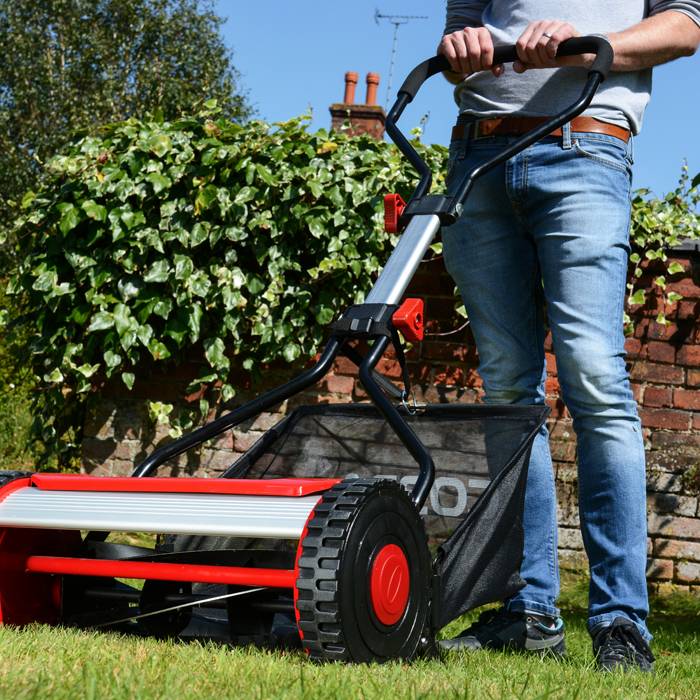 If you're on the hunt for an easy-to-use, high-quality reel mower suitable for smaller lawns, the Cobra HM381 should be on your list of contenders. Known for its precision cutting and robust design, this reel mower sports a sizable 15-inch cutting width, effortlessly trimming large swathes of grass with each pass.
Constructed from hardened steel alloy, the five-blade cylinder ensures durability while providing stellar performance for diverse lawn types. The Cobra HM381 also allows users to customize their cutting experience with an adjustable height mechanism ranging from 0.5 to 1.5 inches.
To sweeten the deal, this powerhouse of a reel mower comes equipped with lightweight polymer wheels specially designed to minimize traction difficulties in uneven or bumpy areas. Their large diameter provides excellent grip and maneuverability, ensuring ease of use even during extended mowing sessions.
| | |
| --- | --- |
| Pros: | Cons: |
| The five-blade hardened steel alloy cylinder ensures precise cuts for various types of lawns in a single pass.The mower offers customizable cutting heights ranging from 0.5-1.5 inches to suit your preferred grass length.The high-quality construction materials guarantee durability and longevity, ensuring value for money.Specially designed lightweight wheels with excellent grip facilitate easy maneuverability, even on uneven terrain.The included grass collector efficiently captures most trimmings, keeping your yard looking neat and tidy.The integrated rear roller provides that desirable, traditional striped effect on your lawn and allows for precise mowing over border edges. | While the clipping bag is convenient for collecting grass trimmings, be prepared to empty it frequently to prevent jams.If your lawn has grown beyond 2 inches, keep in mind that mowing may take a little more time and effort than usual.The Sun Joe MJ501M works best when pushed in a straight line, so you might face minor challenges while maneuvering around corners. |
Key Specs
| | |
| --- | --- |
| Weight | 18.74 pounds |
| Number of Blades | 5 |
| Cutting Width | 15 inches |
The Bottom Line
Choosing the ideal reel mower for your needs demands close consideration of several factors. These include the size of your lawn, any budget constraints you may have, and how much effort you're willing to invest in regular maintenance.
In opting for any of the top 10 reel mowers of 2023, you're also making a more conscious decision for our planet. By moving away from gas-powered options, you choose a tool that is both eco-friendly and sustainable.
Take the plunge and explore the world of reel mowers in 2023. Your lawn, wallet, and the environment will thank you for it. Happy mowing!
Enamored with the world of golf Jack pursued a degree in Golf Course Management at THE Ohio State University. This career path allowed him to work on some of the highest profile golf courses in the country!  Due to the pandemic, Jack began Inside The Yard as a side hustle that quickly became his main hustle. Since starting the company, Jack has relocated to a homestead in Central Arkansas where he and his wife raise cattle and two little girls.