Los mejores cortacéspedes de giro cero de 2023
Maintaining a beautiful lawn requires regular mowing, which can be a challenging and time-consuming task, especially if you have a large property. Fortunately, zero-turn mowers can make this much more manageable and enjoyable, which makes them a popular choice for homeowners worldwide. 
Currently, the best zero-turn mowers on the market offer a combination of power, performance, and comfort. They can be an excellent investment for anyone who wants to keep their lawn looking great with minimal effort.
However, with so many different models and brands available, you may have difficulties choosing the best zero-turn mower for your specific needs. To make this easier for you, this article goes over the top eight zero-turn mowers based on our extensive research and analysis. 
If you find yourself in a more negative mood, check out our picks for The Top 5 Worst Zero Turn Mowers of All Time!
Below, you'll find more details about the unique features and benefits of each mower so that you can make an informed decision. Let's dive right into the subject and find the perfect mower to keep your lawn looking its best!
How Zero-Turn Mowers Work
Zero-turn mowers have become increasingly popular in recent years thanks to their speed, efficiency, and ease of use. These mowers are designed to handle large properties quickly, easily, and with astonishing precision. But before we get into ranking them, let's establish how they work and what makes them so different from traditional mowers.
At the heart of a zero-turn mower is the rear wheel steering, which provides greater maneuverability and control. This means that you can turn the mower around in a tight circle without having to adjust your position, making it ideal for mowing around obstacles such as trees or bushes.
These machines are great on a variety of terrains, however, some are easier than others. Using your zero turn mower in sandy soil may be difficult, it is not impossible.
Another key feature of zero-turn mowers is the dual hydrostatic transmission system. It provides independent power to each rear wheel, allowing you to move the mower in any direction. You control the mower with two lap bars that move forward and backward to control the speed and direction of the mower.
Most zero-turn mowers are equipped with a wide cutting deck that spans the entire width of the mower, allowing you to mow a larger area with each pass. The cutting deck is usually made of sturdy materials and is designed to withstand the rigors of regular use.
Zero-turn mowers can be a true game-changer when it comes to lawn care, offering speed, precision, and ease of use. Whether you have a large property or simply want to get your mowing done more quickly and efficiently, a zero-turn mower may be the perfect solution for you.
Top 8 Zero-Turn Mowers of 2023
So, you're in the market for a new zero-turn mower? With so many options available, it can be tough to know which one to choose. That's why we've compiled a list of the top eight zero-turn mowers of 2023. From premium models to budget-friendly options, our list has something for everyone. 
Ryobi 48V
Ryobi 48V is one of the best electric zero-turn mowers on the market. Unlike many other electric mowers, you can charge its integrated 48V battery using a regular wall outlet, which makes the whole process hassle-free and much more accessible. The battery provides enough power to mow up to 3.5 acres on a full charge, making it ideal for homeowners who need to mow large yards regularly. 
One of the standout features of the Ryobi 48V is its 54-inch cutting deck with three sets of blades, which provides a stunningly even cut on each pass. The deck can also be adjusted to 12 different heights for a perfect cut regardless of the season. Additionally, the handy control panel allows you to monitor battery levels and mow in reverse if needed.
Another significant advantage of the Ryobi 48V is that it doesn't require oil changes, spark plug cleanings, or fuel treatments since it doesn't have a gas engine. As a result, it saves both time and money, and its lack of exhaust emissions makes it an environmentally friendly option for lawn care.
All of these functions come at quite a hefty price, but Ryobi 48 certainly stands out from the crowd thanks to its electric engine and many other exciting features. 
Husqvarna MZ61
Husqvarna's MZ61 is a commercial-grade mower that is the perfect choice for homeowners with large properties that would typically take a significant amount of time to mow.
The MZ61 boasts a wider cutting deck than most zero-turn mowers, allowing you to cover more ground with a single pass. Additionally, its top speed is a mile and a half per hour faster than its typical counterparts, which only helps further reduce the overall mowing time.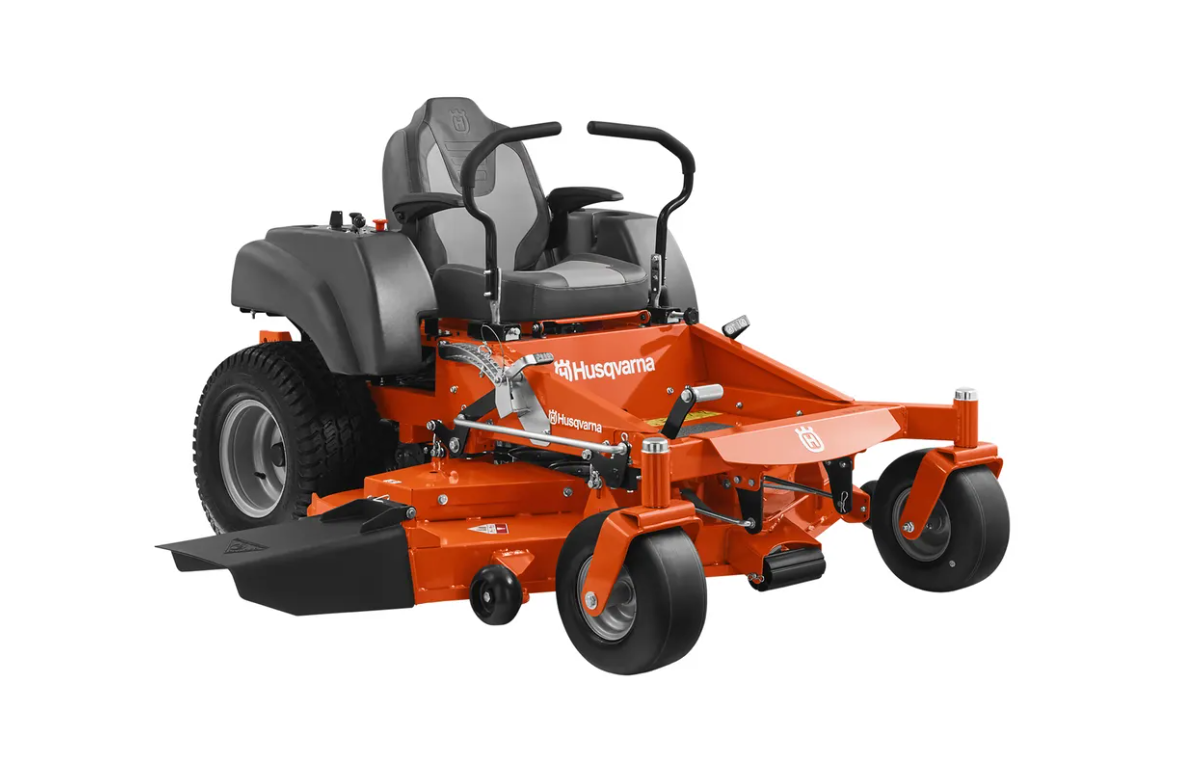 Another notable feature of the MZ61 is its large fuel tank, enabling users to mow several acres without having to stop and refuel. The mower's comfortable design is ideal for large yards that require hours of work. The high-backed seat comes equipped with armrests and vibration dampeners, providing an ergonomic solution for long work sessions. 
The Husqvarna MZ61's excellent performance, wider cutting deck, faster speed, large fuel tank, and comfortable design make it the perfect choice if your goal is to turn the dull task of mowing the lawn into a more efficient and comfortable experience. Just remember that with this model, you'll need to buy the mulching and bagging separately!
John Deere Z330R
The John Deere Z330R is a commercial lawn mower designed for rough and hilly terrain. It features pneumatic tires with deep treads that provide excellent traction, making it easy to control and maneuver despite its weight. The mower is available with a 48- or 54-inch cutting deck, and its triple-blade, flat-top design ensures a clean cut even on uneven ground. 
For extra comfort, the John Deere Z330R comes with a padded seat, armrests, and shock absorbers under the seat to provide a smoother ride. The fuel tank has a capacity of three gallons and is translucent, allowing you to monitor fuel levels easily. The mower also has LED lights, a front bumper, and a rear hitch.
However, as with all gas-powered mowers, ongoing fuel costs, emissions, and maintenance can be potential drawbacks that you should keep in mind. Overall, the John Deere Z330R is an excellent choice for anyone who has a substantial budget and is looking for a reliable and powerful commercial lawn mower that can handle rough terrain with ease.
Craftsman Z550
Thanks to its high-quality construction and reliable 24 HP Kohler engine, Craftsman's Z550 zero-turn mower offers both comfort and durability. The steel frame of the mower is resistant to rust, while its sleek design allows for improved maneuverability. This can be especially helpful if your yard isn't a perfect rectangle, and you often need to squeeze into different nooks and crannies when mowing.
A dual hydrostatic transmission helps ensure that your ride is smooth and effortless, while the high-back seat provides you with a comfortable cushion to sit on as you work for long hours in the yard.
With its 50-inch cutting deck, the Z550 is a great fit for residential yards. While it's a bit smaller than other options on the market, the deck is versatile enough to tackle different types of grass, with adjustable cutting height settings ranging from 1.25 to 3.75 inches.
Although it may not be the largest or most powerful zero-turn mower out there, the Z550 offers great value and incredible comfort for its mid-range price point.
Toro TimeCutter 50 inch 24.5 HP
If your yard's size ranges from two to four acres, Toro's gas-powered zero-turn mower can be a real hit. It features a generously-sized three-gallon fuel tank, ensuring that you can complete the job without worrying about running out of gas and wasting time refueling in the middle of the job.
The mower is equipped with Toro's Smart Speed technology, which provides you with full control of your mowing speed, allowing you to achieve a more precise cut. You can travel at a maximum forward speed of 7 MPH and 3 MPH in reverse, while the trim mode can take you up to 4 MPH.
The cutting deck is 50 inches wide and features three cutting blades that you can adjust to achieve a more precise cut. Shock-absorbing dampeners ensure smoother steering and riding, while the high-backed seat, padded armrests, and built-in cup holder offer a comfortable operation. 
However, it's important to note that this mower isn't suitable for hills or slopes higher than 15 degrees. It's best suited for relatively flat terrain, although it can handle minor obstacles.
Ariens APEX 60
The Apex 60 by Ariens is a commercial-style mower with durable steel construction and a wide 60-inch deck. It offers several improvements over other Ariens models but at a higher price point. One of its standout features is the 5-gallon fuel tank that's perfect for long days of work. The Apex 60 can also travel at a faster maximum speed of 8 miles per hour than a typical Ariens mower.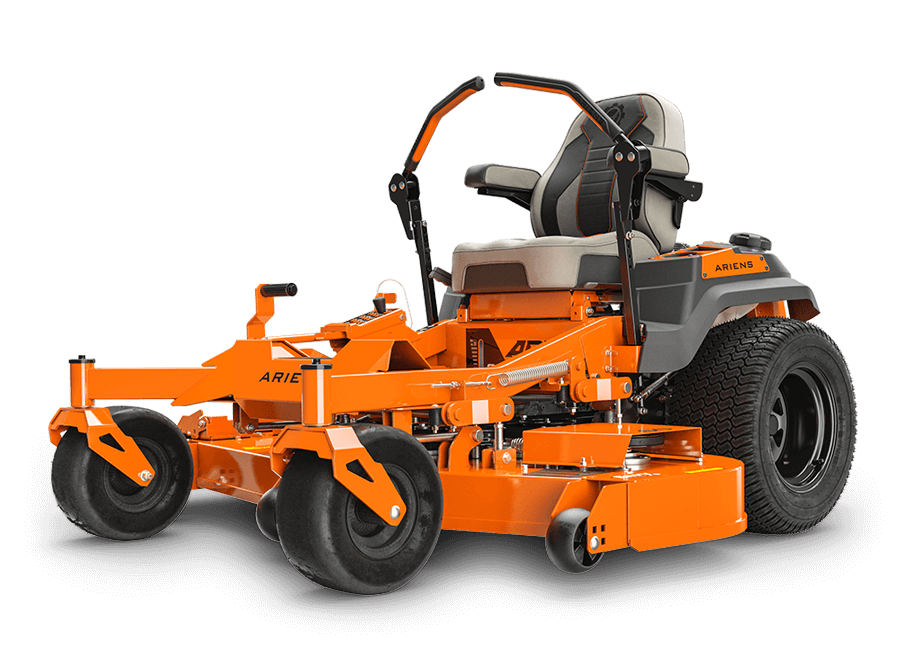 Another key difference between the Apex 60 and other Ariens mowers is its engine. It comes with a Kawasaki V-twin engine, which isn't necessarily better or worse than the Kohler engine used in many similar mowers. Essentially, it all boils down to a matter of user preference.
The Apex 60 is also easy to use, thanks to its foot-operated deck lift system and self-adjusting belt technology. Additionally, the mower is designed with comfort in mind. It features a padded high-back seat and armrests that are ideal for long hours spent in the field.
Greenworks Pro 60V
While most people still prefer gas-powered mowers, electric and battery-powered alternatives are gaining popularity and usually require much less maintenance than gas models. That's why we decided to feature another electric mower on our list.
Greenworks Pro CrossoverZ Zero-Turn mower is excellent for small- to medium-sized lawns of up to 2.5 acres. It can go as fast as 8 miles per hour, mowing big, 42-inch sections of grass as it goes — all while emitting no fumes. 
Its large tires enable the user to navigate straight or bumpy terrain comfortably. The mower can easily work on slopes of up to 15 degrees. And, in case you ever need to work at dusk or dawn, there are even bright dual-LED headlights to make things easier for you.
You can fully recharge the six batteries that come with this electric mower in just 90 minutes. This will allow the mower to run for up to 60 minutes. If you value comfort, you'll be pleased to know that there's a padded high-back seat that offers plenty of back support. 
The company provides a four-year limited warranty for its products to ensure a greater peace of mind for its customers.
Bad Boy ZT Avenger 60-Inch
When it comes to the Bad Boy ZT Avenger 60-inch zero-turn mower, nothing is low-quality or flimsy. This zero-turn mower features an all-steel solid rail frame, a durable reinforced-edge welded deck, large rear tires, and a 60-inch cutting deck to help you tackle heavy-duty mowing tasks in fewer passes.
Built to withstand even the roughest terrain, thick grass, and weeds, this mower is best suited for flat terrain as it lacks rollover protection. With a large 6.5-gallon fuel tank, you should be able to cover your yard with just one fill-up with no stops for refueling.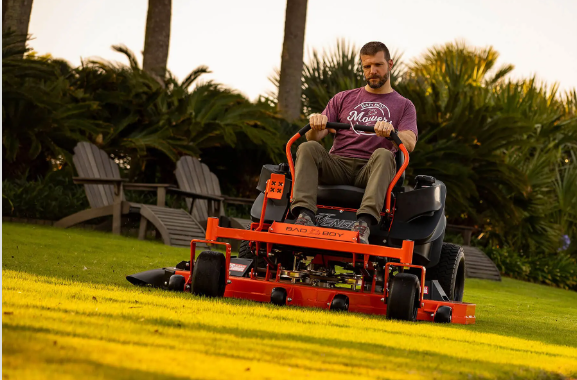 Bad Boy features 13 deck positions that you can adjust with the simple deck lift pedal and deck dial adjustment, conveniently located with all the other controls, including the engine start, right by your right hand. When it's time to service your Bad Boy, the front floorboard lifts up easily, exposing the important components for maintenance and cleaning.
Overall, it's quite an expensive mower that makes up for the high price thanks to its power and durability.
Final Thoughts
As you can see, zero-turn mowers can be an excellent investment for anyone who wants to maintain a lawn with minimal effort. These mowers are designed to handle even the biggest properties quickly, easily, and with precision. They offer a combination of power, performance, and comfort, making them a popular choice for both homeowners and professionals.
Whether you have a large property or simply want to get your mowing done more quickly and efficiently, a zero-turn mower can be the perfect solution. From premium models to budget-friendly options, there is a zero-turn mower on this list for everyone. With the help of this article, you can find the perfect mower to keep your lawn looking its best.
Si tiene un motor, Jason tiene una idea bastante clara de cómo funciona. Jason se graduó en Tecnología Mecánica Automotriz de Bishop State en 1992. Después de trabajar en vehículos durante 11 años, hizo la transición a la venta de tractores y vehículos para el cuidado del césped. Actualmente, Jason escribe y edita gran parte de nuestro contenido mientras se jubila con su encantadora esposa, Shelley.