The 8 Best Riding Lawn Mowers of 2023
Maintaining a well-manicured lawn requires a lot of effort, and using the right equipment can make all the difference. When it comes to mowing, riding lawn mowers can be the perfect choice for those with large properties or anyone looking to save time and energy. However, with the advancements in technology, there are several options available in the market, making it overwhelming to choose the right one.
To help you make a well-informed decision, we have compiled a list of the six best riding lawn mowers of 2023. Each of these mowers has been carefully selected based on their performance, ease of use, durability, and value for money. Whether you're a professional landscaper or a homeowner, these mowers will make mowing your lawn a breeze.
This comprehensive review includes the features, pros, and cons of each mower, so you can find something to fit your specific needs. So, sit back, relax, and read on to find the best riding lawn mower for you and your beautiful lawn!
Key Takeaways
Riding lawn mowers save time and energy when maintaining a large lawn.
The six best riding lawn mowers of 2023 have been carefully selected based on performance, ease of use, durability, and value for money.
Lawn mowers with multiple height adjustments can offer a perfectly groomed lawn throughout the season.
Investing in a quality riding lawn mower can lead to a more enjoyable and effortless lawn care experience.
Investing in a reliable and high-quality riding lawn mower can ultimately save money in the long run.
Husqvarna YTH18542
Securing the top position on our list of the best lawn mowers is the Husqvarna YTH18542. This remarkable riding mower stands out as one of the finest models that money can buy, and it's not an exaggeration.
Featuring a 42-inch cutting deck with two sets of blades, this mower delivers consistent and even cuts. With the option to fit a mulching kit or bagger attachment, tidying up after mowing becomes a breeze. You won't have to worry about going back with a rake and picking up large bits of grass left behind ever again. A deck wash feature also comes in handy, allowing you to clear the dried grass clippings and maintain optimum performance.
The cutting height can be set at six different positions, ensuring a perfectly groomed lawn throughout the season. You may need to experiment with different settings at first to find the ideal setting for your yard, but it's not a complicated process.
The hydrostatic transmission of the Husqvarna YTH18542 makes operating it similar to driving a car, with the mower speeding up as you put more pressure on the pedal. This feature makes the riding mower much easier to handle than the traditional variable-speed models. With a mow-in-reverse feature, the blades remain engaged while backing up, making it effortless to mow the spots you may have missed or maneuver around garden beds or other big obstacles.
RYOBI RY48111
This battery-powered RYOBI model is a zero-emissions mower that matches the power of gas mowers while demonstrating impressive maneuverability, cutting through thick grass with ease. It operates fume-free and practically silent, producing only minimal noise.
The RYOBI electric mower comes with a 38-inch deck, and its 48-volt batteries can run for two and a half hours per charge, enabling you to cut up to 2.5 acres in one go. The two-blade deck offers 12 different cutting heights, and the mower boasts convenient features like cruise control, LED headlights, and USB charging. Unlike traditional riding mowers, there are no belts, spark plugs, or filters, making the mower much easier to maintain.
RYOBI RY48111 can be an excellent pick if you're into low-noise and eco-friendly mowing but you still don't want to compromise on effectiveness. However, it's essential to bear in mind that if you're mowing for long periods, the seat in this particular model may become quite uncomfortable. The mower also does not have a mulch setting.
Nevertheless, RYOBI electric mower is still your best bet if you're in the market for a dependable ride-on mower and are willing to switch to a battery-powered machine.
Troy-Bilt Pony 42
If you want a rower that's cost-effective yet capable enough to manage lawns up to two acres, then the Troy-Bilt Pony 42 is definitely worth considering. With its 42-inch deck, it can easily mow smaller lawns, and its compact size makes it ideal for those with limited storage space. With such a budget gadget, you won't have to worry about overloading your already bursting garden shed!
The 7-speed transmission is easy to operate, and its unique feature of a separate lever allows you to mow in reverse, which is not that common even among the more expensive mowers. This attribute can be especially beneficial for those homeowners and gardening enthusiasts who have an oddly-shaped yard or whose lawns are filled with various decorative landscaping elements. Moreover, the automatic headlights enable safe mowing even when the sun is already setting.
The deck of the mower has two anti-scalping wheels that minimize the chances of leaving behind patches of "scalped" grass as you mow. This makes it particularly suitable for those who have to mow on uneven or hilly terrain. Additionally, the rear-tow hitch is included, so you can easily tow a small trailer or cart for your other gardening projects, even if they don't involve mowing.
While its tractor-style body lacks the zero-turn capabilities of the higher-end mowers, its slim 18-inch turn radius allows it to be reasonably maneuverable. Furthermore, it is versatile and can be used with bagging and mulching kits, as well as sun shades, snow blades, and tire chains, making it an attention-worthy machine.
Cub Cadet XT1 LT42E
The Cub Cadet XT1 Enduro LT is a remarkable electric riding mower, earning a spot among the best electric lawn mowers available in the market.
Equipped with a powerful 56V built-in battery, the XT1 Enduro LT can be charged with a standard wall outlet, eliminating the need for a special charger. A full battery charge can deliver up to 90 minutes of continuous runtime, allowing you to tackle even quite large lawns. Recharging the battery is quick and effortless, taking only about four hours to reach 100% charge, which makes it possible to charge it while you take a break or tend to other outdoor chores.
The 42-inch deck of the XT1 Enduro LT includes dual blades for an even and consistent cut, while its mow-in-reverse feature enables you to navigate tricky areas or go back over missed spots while the blades are still running. With 12 different height adjustments, you can customize the deck to suit your preferred cut for every terrain and season. Additionally, it comes with built-in USB ports, so you can conveniently charge your phone while you mow.
Overall, it's a top-of-the-line electric riding mower, delivering power, convenience, and exceptional performance for an effortless lawn care experience. However, this excellence comes with quite a hefty price tag (up to $5,000). It's also worth mentioning that this Cub Cadet model is not a small model that will easily fit in your garden shed. In fact, most homeowners will likely need to make some adjustments in their space to store this mower.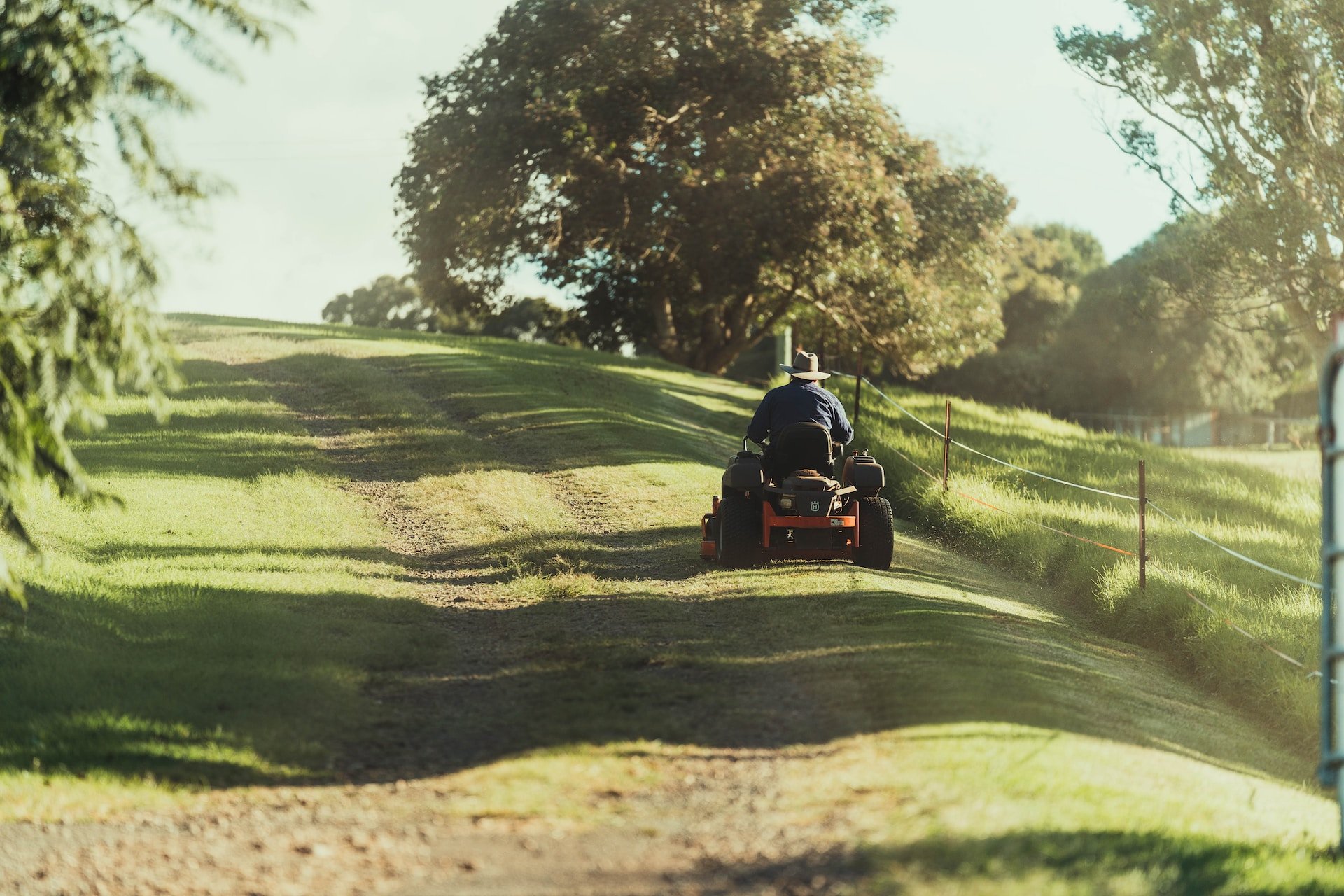 Husqvarna YTH24V54
Another Husqvarna mower on this list, YTH24V54, is a powerful and versatile machine that can easily cut through an average-sized lawn while still maintaining the agility to perform tight turns and a range of other tasks.
With the option to purchase additional accessories such as a mulcher, tow-spreader, bagger, and scoop, this mower offers a range of capabilities, all in one piece of equipment. The best part? Despite its impressive and reliable Intek V-Twin motor, this mower is priced affordably compared to other larger deck mowers on the market. You should be able to find it going for around $3,000.
As you operate the mower, you'll experience the ease of its ergonomic steering wheel and hydrostatic transmission, which ensure a smooth ride every time. The electric cutting deck engagement also provides added convenience, as you can simply flip a switch on the dashboard to engage the function while maintaining steady control of the mower.
Plus, the high back seat offers comfort even when mowing large yards. However, it's recommended to stay extremely careful when mowing on particularly uneven terrain, as the wide-cutting deck may make it harder to navigate.
Overall, the Husqvarna YTH24V54 is an excellent choice for everyone seeking a powerful, versatile, and affordable mower for their lawn care needs.
John Deere S120
If you're dealing with thick grass on your property, the John Deere S120 mower can be the perfect solution, offering heavy-duty power at an affordable price. With a high-torque engine, this lawn tractor can easily cut through thick grass and haul heavy loads while also offering a range of tow-behind and front-mounted accessories, such as spreaders and snow plows. Despite its smaller size, the S120 outperforms more expensive models with ease.
The S120 features large 22-inch rear wheels and an 18-inch turning radius, allowing for easy maneuverability in tight spaces. The high-back seat is fully adjustable, including lumbar support, ensuring a comfortable ride even during extended mowing sessions.
In addition to the S120, the 100-series includes the budget-friendly S100 and the highly acclaimed S180. The entire line is compliant with CARB California emissions standards and comes with John Deere's 2-year bumper-to-bumper warranty, providing peace of mind and added protection for your investment.
The John Deere S120 is an excellent choice for those seeking a powerful and versatile lawn tractor that can handle tough mowing jobs without breaking the bank.
Toro 42-inch Timecutter
The Toro Timecutter series is the perfect choice for those seeking a lawn mower that adjusts to their pace. Its "Smart Speed" system is an innovative feature that automatically adapts to the sensitivity of the lap bars, ensuring a comfortable and efficient mowing experience. The system has three modes of operation that redirect engine power, allowing you to mow, tow, or trim with ease.
In "mow" mode, the Timecutter is designed for speed, topping out at 7 mph. "Tow" mode focuses on wheel torque, enabling you to haul heavy loads at a top speed of 5.5 mph. Finally, the "trim" mode directs power to the cutting deck, reducing the top speed to 4 mph, making it easier to cut through thick brush.
Beyond the Smart Speed system, the Toro Timecutter series also boasts other exciting features, such as a cupholder and under-seat storage cubby in the cab. Tire fenders protect the engine and the operator from mud and debris, while shock-reducing dampers keep the steering bars steady when encountering bumps.
Toro offers a 3-year warranty for extra peace of mind. For those with larger yards, Toro also offers a 23hp 50-inch version and a 23hp 54-inch model, providing greater versatility and efficiency.
The Toro Timecutter series is an exceptional choice for those seeking a versatile, efficient, and innovative lawn mower that offers a range of features to enhance the mowing experience. Although the 42-inch model made its way to this list, the other types are also definitely worth your attention.
John Deere 1570 TerrainCut
Last but not least, here's yet another John Deere that deserves the spotlight. The John Deere 1570 TerrainCut is a top-of-the-line, commercial-grade lawn mower that is designed to handle big areas such as golf courses, sports complexes, and public parks. However, if you're a rural homeowner with a 5- to 10-acre property to maintain, this mower can be an invaluable asset to have in your garage.
The 1570 TerrainCut is only available through local dealers or the official John Deere website, where you can customize the mower to better suit your needs. Although it is outrageously expensive ($28,000 or more), this model allows you to choose between rear or side discharging decks in either 60- or 72-inch lengths, ensuring optimal clipping disbursement and streamlined mowing. With a gas tank that can hold up to 16 gallons (60.6 liters) of diesel fuel, you can spend more time working and less time refilling your tank.
The John Deere 1570 TerrainCut is a powerful and versatile mower that offers exceptional performance and durability, making it an excellent choice for commercial and rural users alike. It is a worthy investment if you have a landscaping business or need to maintain a very large, rural property.
Enamored with the world of golf Jack pursued a degree in Golf Course Management at THE Ohio State University. This career path allowed him to work on some of the highest profile golf courses in the country!  Due to the pandemic, Jack began Inside The Yard as a side hustle that quickly became his main hustle. Since starting the company, Jack has relocated to a homestead in Central Arkansas where he and his wife raise cattle and two little girls.