7 Memorial Tree Companies People Love
Memorial trees hold a special place in our hearts, serving as a tribute to honor the memory of our loved ones.
At the same time, these living memorials make a positive contribution to the environment, helping restore balance and promote sustainability.
With so many companies offering memorial tree-planting services, deciding which is best suited for your current situation can be overwhelming. To make this task more manageable, we've curated a list of seven memorial tree companies that people absolutely adore.
These exceptional providers are known for their unique offerings, innovative solutions, and outstanding customer service. They truly go above and beyond to ensure every memorial tree planting experience is meaningful, seamless, and heartwarming.
Here are the country's best memorial tree companies.
The Living Urn
A leading provider in the memorial tree industry, The Living Urn offers an innovative way to combine ashes with soil and plant a beautiful tree. This system comes with an actual 2-4′ living tree, making it one of the few options explicitly designed for use with living trees.
The inclusion of a young, already thriving tree ensures that even those without a green thumb can successfully grow a beautiful and lasting memorial.
The Living Urn offers over 70 tree and shrub species to choose from. Thanks to it, customers can select a tree that holds personal significance or is best suited for their specific region.
On top of that, clients rave about the company's dedication to quality and personalized customer service. Its dedicated team supports clients by providing guidance and answering any questions they may have throughout the process.
Trees for a Change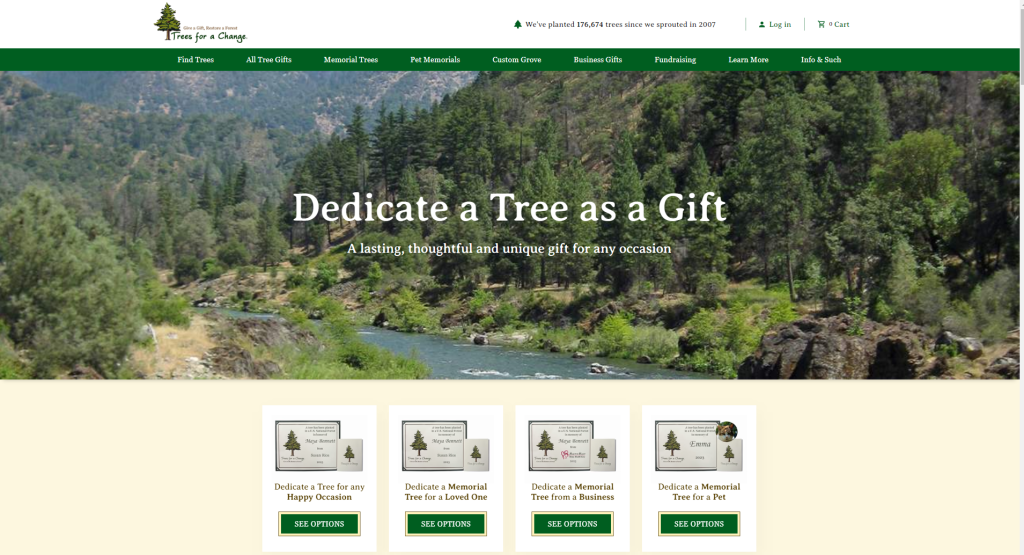 Trees for a Change is a company with a mission to help restore our planet's forests by planting memorial trees in U.S. National Forests.
This unique offering allows you to dedicate a tree or an entire grove of trees in honor of a loved one, friend, customer, or employee. You can also choose to plant trees in memory of someone who has passed away or as a tribute to a beloved pet.
Loved ones are honored with a personalized certificate, and families can track where their tree was planted through an interactive map.
What sets Trees for a Change apart from traditional gift-giving is its affordability. The cost of dedicating a tree through this service is often less than that of an average bouquet of flowers.
Seeds of Life
When you choose to gift a tree, you're not just giving an ordinary present; you're bestowing a growing memory. This living tribute serves as a lasting reminder of the occasion, person, or celebration that inspired its planting. It's a unique and heartfelt way of keeping memories alive while nurturing our planet.
Seeds of Life understands the significance of these gifts and is dedicated to delivering the highest quality "In Memory" offerings. Each memorial tree the company provides is lovingly grown at its sprawling 800-acre family farm.
The company's commitment to excellence ensures that every tree it sends represents a cherished memory and becomes a symbol of hope, endurance, and life.
Thanks to a variety of tree species available, Seeds of Life offers customizable memorial tree kits that cater to individual preferences. With years of experience in cultivating healthy trees, Seeds of Life guarantees that each memorial tree grows strong and healthy.
Arbor Day Foundation
As one of the country's most prominent tree-planting organizations, The Arbor Day Foundation has made a significant impact on greening our environment. This nonprofit is committed to inspiring people to plant, nurture, and celebrate trees worldwide, making it a top choice for memorial tree planting.
The company's user-friendly platform allows you to conveniently donate a memorial tree to be planted in a national forest or pick a sapling that you can grow in your own backyard.
The Arbor Day Foundation takes pride in its partnerships with various national forests across the United States. Through these collaborations, they have been able to reforest thousands of acres, creating lasting legacies for those honored through memorial tree donations.
Since time is ticking and our planet's climate is at a critical juncture, the organization has set an ambitious goal to plant 500 million trees by the year 2027. By choosing this well-respected organization, you can pay tribute to your loved ones and contribute to the greater good of preserving our planet's natural resources at the same time.
The Comfort Company
The Comfort Company is a one-stop destination for those seeking a comprehensive and diverse range of memorial options. Besides offering beautiful trees and plants, it provides an extensive selection of engraved stones, benches, markers, and other keepsakes designed to commemorate a loved one.
Customers appreciate the versatility that The Comfort Company offers. Its broad collection of gifts caters to various preferences and allows individuals to create a truly personalized memorial experience. The option of pairing one's memorial tree with other keepsakes further enhances the sentiment behind these heartfelt tributes.
Each product from The Comfort Company is crafted with care and attention to detail, ensuring that every item serves as a meaningful and lasting token of remembrance.
The trees offered by this organization come in a diverse range of species. Each tree is carefully selected to be between two and three years old, providing an established and healthy start for your memorial planting. The saplings range in size from 8 to 14 inches in height, striking the perfect balance between manageability and a strong visual impact.
Each memorial tree is meticulously prepared for presentation with great attention to detail. Safely nestled within a specially designed box and wrapped in exquisite tissue paper, the tree is secured with a delicate bow that adds an elegant touch. It makes the unboxing experience a cherished moment filled with anticipation and honor for your loved one.
The Trees Remember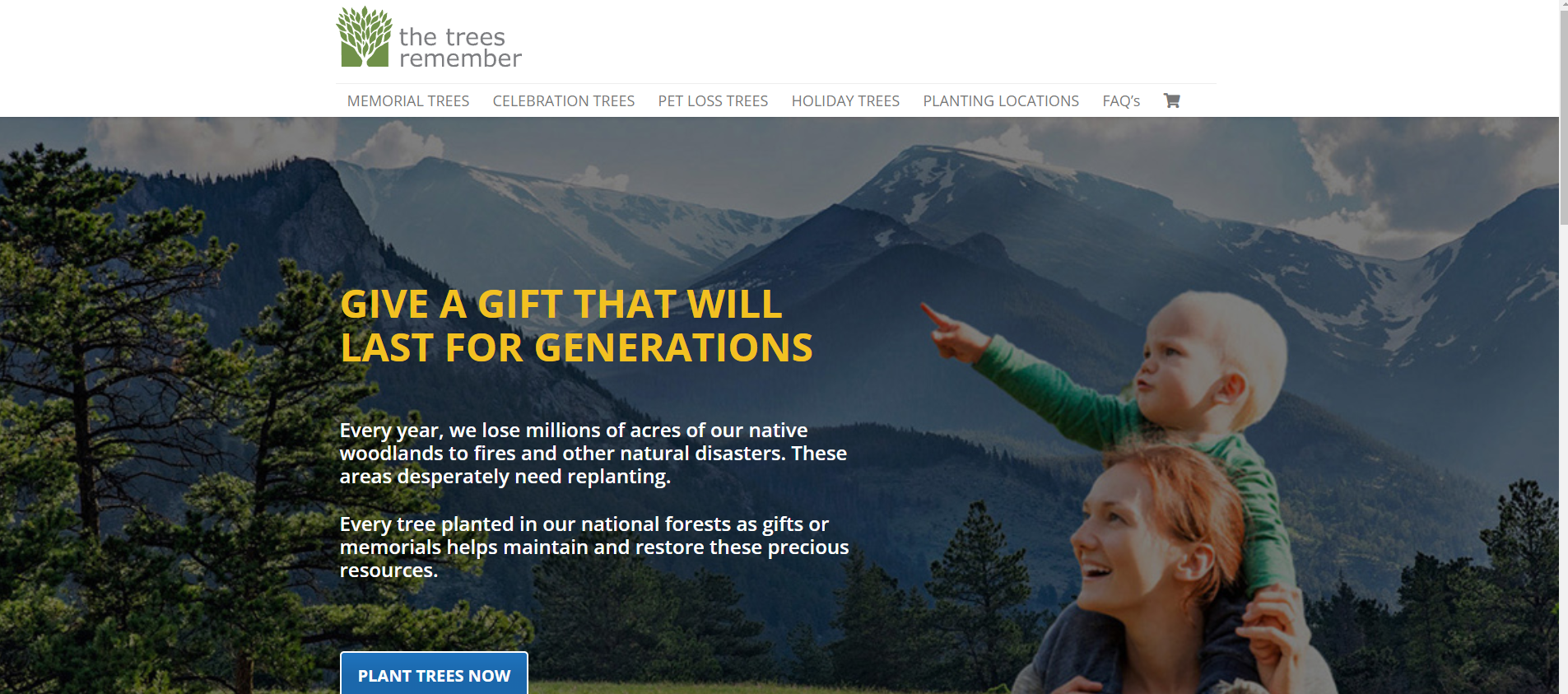 With a commitment to revitalizing forests across the United States, The Trees Remember has earned a special place in the hearts of many who have used its memorial tree-planting services. Boasting 11 planting locations nationwide, the company has helped people plant over 400,000 trees in U.S. National Forests as gifts and memorials.
The Trees Remember focuses on reforesting areas that have been affected by wildfires, pests, and other environmental factors. This dedication to ecological restoration sets it apart from other businesses and resonates with eco-conscious customers.
In addition to the actual tree planting, The Trees Remember provides a personalized memorial card with each order.
These cards stand out from the typical "store-bought" cards or generic "certificates." The company provides a wide variety of card designs for customers to choose from, ensuring that each card is unique and tailored to the individual's preferences.
The entire card package is carefully wrapped with a small tree charm on an elastic loop, serving as a tangible reminder of the thoughtful gift.
A Living Tribute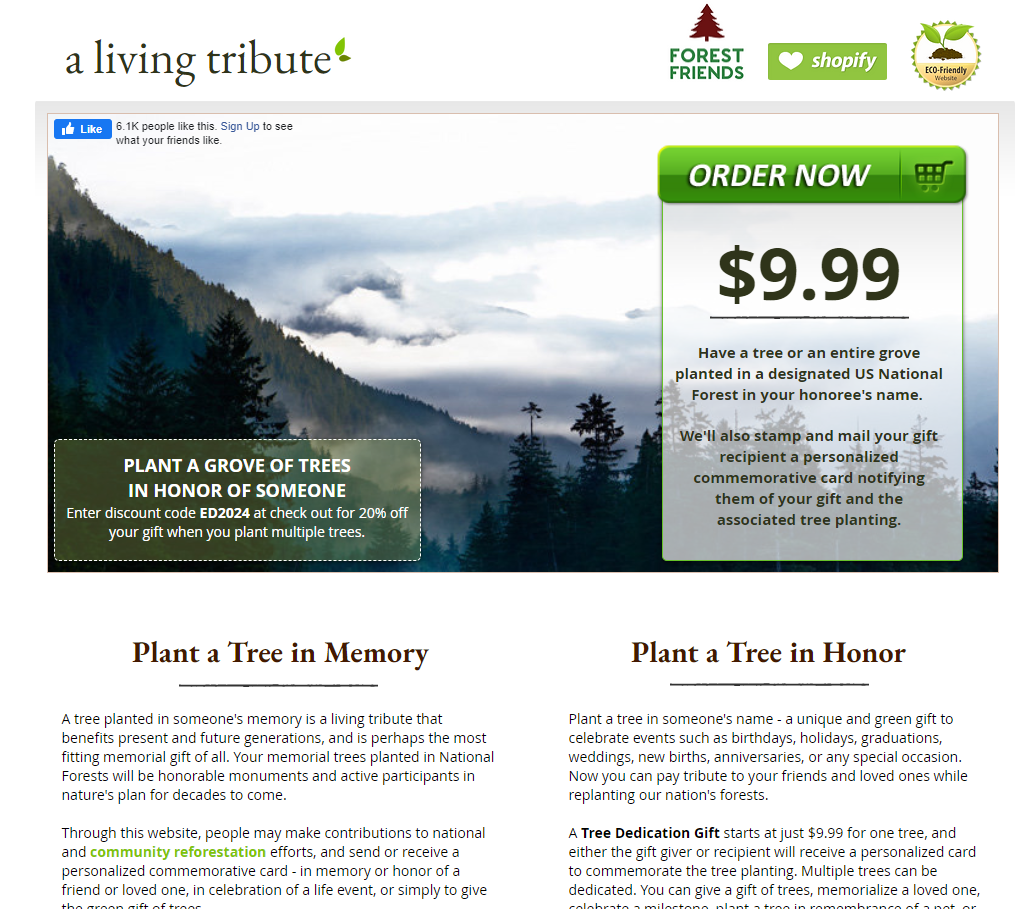 A Living Tribute is yet another excellent memorial tree company. The organization has its roots in Greenwich, Connecticut but is committed to planting memorial trees in National Forests across the United States.
Each order placed with this tree-planting organization contributes to its mission of restoring and rejuvenating our precious National Forests and State Parks. Under the careful supervision of the Forest Service, it plants new trees in designated areas in desperate need of revitalization.
For every 1,000 tree seedlings planted, approximately four acres of forest can be restored to their former glory.
When purchasing a tree through A Living Tribute, customers can opt to have it dedicated as a gift. In such cases, the recipient will receive a special card commemorating the planting of the tree in their honor.
With prices starting at just $9.99 per tree, this company offers an affordable and meaningful way to pay tribute to someone special while supporting a great cause.
In Conclusion
Memorial tree companies offer a unique and eco-friendly approach to honoring the memory of those who have passed away.
Among the numerous options available, seven exceptional businesses have truly captured the hearts of their customers by delivering outstanding products and services. These companies demonstrate dedication and commitment to quality unseen anywhere else.
Numerous organizations on this list offer a range of tree species, customizable kits, and designated memorial parks for planting. This way, everyone can find a fitting and lasting tribute for their dearly departed.
Customers can select the tree that holds personal significance or is best suited to their local environment, creating a living memorial that grows and thrives over time.
Enamored with the world of golf Jack pursued a degree in Golf Course Management at THE Ohio State University. This career path allowed him to work on some of the highest profile golf courses in the country!  Due to the pandemic, Jack began Inside The Yard as a side hustle that quickly became his main hustle. Since starting the company, Jack has relocated to a homestead in Central Arkansas where he and his wife raise cattle and two little girls.