Branson Vs John Deere– Noticeable Differences You Mightn't Know!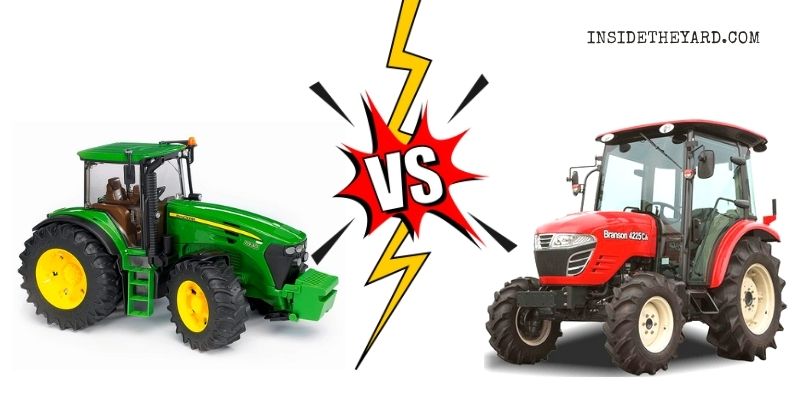 The very first thing that makes Branson and John Deere different is the build quality. Although some of their models look kind of similar, Branson mostly equips cast iron housing with steel panels while John Deere includes aluminum housing with a plastic combination.
Hands down, tractors are must-have garden equipment you need to get whether you're a hobbyist or lawn caring is in your blood! That's why the battle of Branson vs John Deere is going to be interesting because here, you'll get to know which one fits your tasks, your needs, and especially your budget.
Branson vs John Deere Tractor Table Comparison
Branson or John Deere, which one do you prefer most? Check out the comparison chart that may help you make a quick buying decision!
| | | |
| --- | --- | --- |
| Key Points | Branson | John Deere |
| Build Quality | Cast iron housing with steel panels | Mostly aluminum housing with a combination of plastic |
| Average Engine Power | Branson 1905h gets 3000 rpm | John Deere 1025r comes in 3200 rpm |
| Lifting Capacity | Slightly less than the John Deere | Higher than the Branson |
| Price Range | Relatively cheaper | More expensive |
Branson & John Deere Tractors: Why They Stand Out?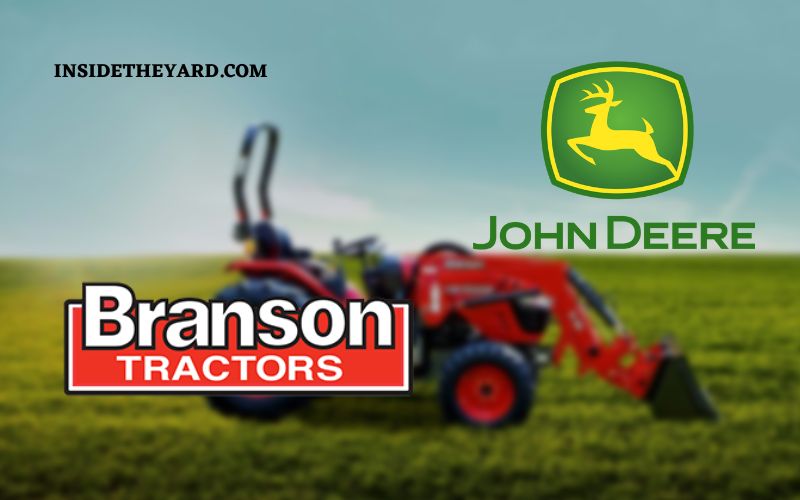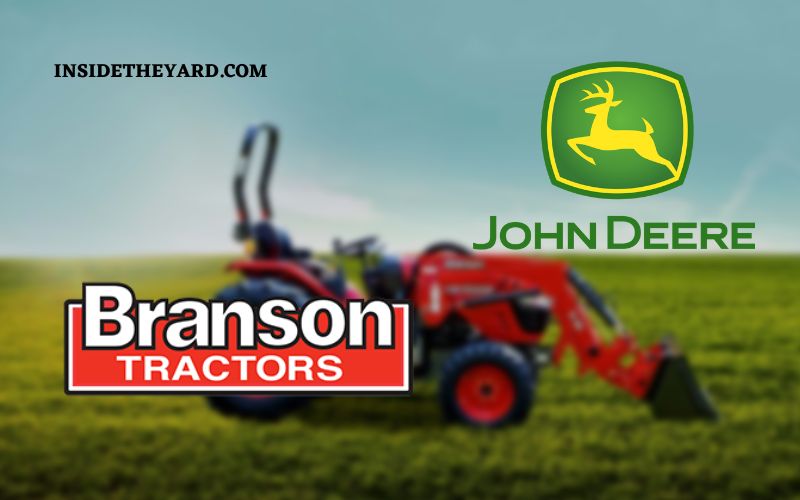 Branson Tractors
Indeed, there are a wide variety of different tasks available that you can perform with the help of tractors. But when it comes down to Branson, you can really take the height of your agricultural experience to its peak with the help of it, you heard it right!
For which tasks Branson tractor is the best; make sure to move forward to know about it. You can also give the Branson 3515r review a read to know more about this brand.
Gardening: Growing organic, fresh fruits and veggies have no better choice when you're involved in the tasks related to agriculture. In this case, the tractors of Branson can be one of the bests if not the best choice for you.
Furthermore, it mostly offers a specific tiller attachment, allowing you to prepare a seedbed, and at the same time, get rid of pesky little weeds!
Mowing: Alongside the gardening, a standard tractor of Branson plays a vital role in dragging the brush hog (aka rotary mower) in order to make your field look just awesome!
John Deere Tractors
When we talk about tractors, another name appears in the same category. Yes, this is nothing but the "John Deere," a well-known company that manufactures heavy equipment, diesel engines, forestry machinery, and most importantly, agricultural machinery!
Alongside the gardening and mowing, the tractor of John Deere is able to perform the "hauling" task way effectively. Almost every model of this brand has included a specific "front-end loader," picking the materials up and casting them away in a specific location.
Branson Tractor Vs John Deere: In-Depth Comparison!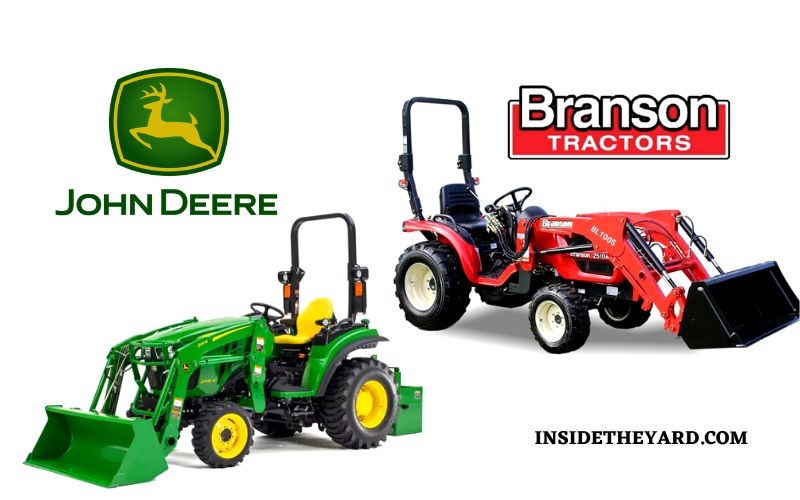 You probably want to make a final decision, eh? Well, then knowing the differences between Branson and John Deere has no better choice. So keep on reading:
Build Quality
You may find both Branson and John Deere well-built at a glance. But after considering them deeply, you'll notice John Deere mostly equips plastic with aluminum housing, while Branson has steel panels and housing of cast iron.
Blade Design
This is the feature where both tractors have earned gold standards! Any of them can be your go-to tractor in order to take better care of your lawn, garden, and such places.
But before you get your hands on any of one, ensure to carefully check the type of blade since there are two different options to choose from, including rear-angled and box blades.
The rear-angled blade can be ideal for making rods, grinding, or driveways, while the box blade is made for leveling grounds, moving dirt, and such tasks.
Cutting Performance
This is where you may find some noticeable differences, ask why? Well, it's because the overall cutting performance depends on which model you've picked up.
Let's say, if you compare Branson 1905h vs John Deere 1025r, you'll see they have got different engine speeds, as well as different ranges of PTO (power take-off).
Branson gets about 3000 rpm with a PTO of 13.4 hp, while the John Deere features the PTO of 17.2 hp and 3200 rpm. But it's pretty clear that John Deere 1025r will perform even better!
Maintenance Difference
You'll be glad to gear that both of these tractors are free from excessive maintenance, which means you won't have to provide a lot of care to your tractors in order to keep them in better condition. 
However, Branson may require a little more fuel compared to John Deere. Yep, it needs to eat some extra more often to run efficiently. 
Lifting Capacity
When you make an overall comparison about lifting capacity, John Deere 1025r gets the gold medal due to its huge weight lifting capacity! This is able to lift up to 758lbs while the Branson 1905h can bear no more than 617lbs.
Pricing
To be honest, there are no top-notch tractors available that cost you as cheap as chips! So if you're hungry for a quality tractor, spending extra bucks is mandatory. 
Nevertheless, the Branson is more affordable compared to the traditional tractors of John Deere. So, if your budget is kind of limited, Branson might be the one you're looking for!
You May Like This Video Too!
Frequently Asked Questions (FAQs)
Should I buy a Branson tractor?
It depends on your budget and the task you want to perform. As a professional or seasoned worker, you mightn't be satisfied with some of its models. But if you're just a hobbyist or a weekend warrior, you definitely can buy it to take care of your small-to-mid-sized lawns and gardens.
Who manufactures Branson tractors?
The manufacturer of Branson tractors is a popular South Korean company named "Kukje Machinery." They have earned a reputation by making some budget-friendly and beginner-friendly tractors.
What is the most popular John Deere tractor?
Although there are countless popular tractors from John Deere, we think the John Deere 5310 is the most popular one due to its powerful 55 hp engine, 68L large fuel capacity, and excellent cutting ability.
What does the R stand for in John Deere?
In a nutshell, the John Deere model R is a specific series that's way too fancier than the typical "M" series with its cab and front suspension. John Deere 80, 830, 820; these are some of the models of the "R series John Deere."
Which Tractor Beats the Battle?
Well, we think you've got plenty of knowledge about Branson vs John Deere. But still, this might be a little confusing about making an ultimate buying decision because each of them has some specific pros and cons.
Okay, let us clarify – if you're on a tight budget and a traditional tractor can fill your cup, then we believe that the Branson might be your go-to tractor for your upcoming projects.
But if the cutting performance matters a lot to you or you're a seasoned worker, make sure to get your hands on the John Deere without any worries.
However, it's all up to you which one you want to buy. After all, it all depends on your personal preferences. Just try to research a little more to get yourself the best one!
You Can Also Read:
Enamored with the world of golf Jack pursued a degree in Golf Course Management at THE Ohio State University. This career path allowed him to work on some of the highest profile golf courses in the country!  Due to the pandemic, Jack began Inside The Yard as a side hustle that quickly became his main hustle. Since starting the company, Jack has relocated to a homestead in Central Arkansas where he and his wife raise cattle and two little girls.