Fix Cub Cadet Hydrostatic Transmission Problems Quickly with 5 Amazing Maintenance Tips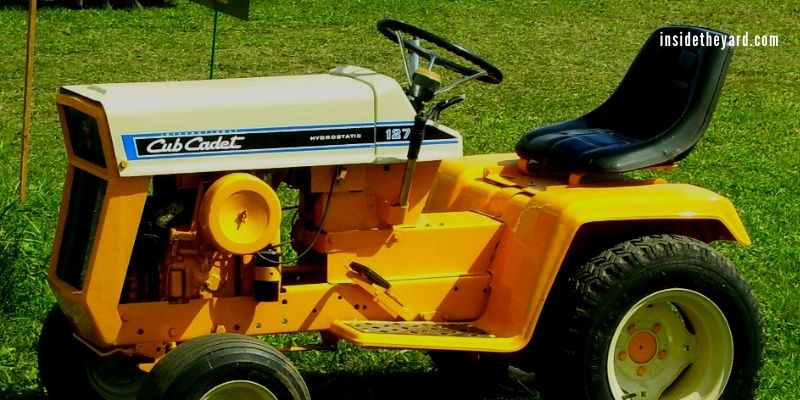 All the hydraulic motors are related to hydrostatic transmission. Cub cadets are not any exception. Suppose you are going through cub cadet hydrostatic transmission problems. In that case, you can be facing the transmission not moving issue, blade not engaging, or problems due to clogging.
But don't worry. Here, we will discuss the problems and their solutions.
Additionally, at the end of the article, you will get 5 amazing maintenance tips so that you can avoid the issue with the cub cadet hydrostatic transmissions. So, do not miss the end. Read it out.
Cub Cadet Hydrostatic Transmission Problems
Hydrostatic transmissions are the most common transmission for hydraulic motors like cub cadet tractors that use hydraulic fluid to spontaneously change the gears.
For this reason, hydrostatic transmission is also known as automation transmission. The best advantage of this transmission is, it is very easy to use.
But, the situation is harrowing when you face cub cadet weak hydrostatic transmission problems. We can feel your pain. So, we found out the 5 most occurring and complicated issues and will provide you with their solutions.
Initially, we will present a table where you will know about the problems with their short solutions. Then you will get the details of the solutions.
Tables Of Problems And Short Solutions
| | |
| --- | --- |
| Problem | Solution |
| Cub cadet hydrostatic transmission not moving | Replacing drive belt, broken tensioner spring, and separating air from the hydraulic system |
| Not engaging problem of cub cadet hydrostatic transmission, | Modifying draining system |
| Cub cadet hydrostatic transmission adjusting problem | You can adjust it by rotating the threaded linkage |
| Slow cub cadet hydrostatic transmission | Modifying hydrostatic transmission |
| Filter clogged and mechanical components failure | Removing clog and replacing defective mechanical components |
If you think you are facing any of these 5 problems, select your concerns and then use the solutions according to your problems.
Now, we will discuss the solution elaborately for your easy and generous understanding.
Solution of Moving Problem
This is the most widespread problem of cub cadet hydrostatic transmission, especially under the cub cadet slt1554 hydrostatic transmission problems.
To solve this problem, you need to change the drive belt and tensioner spring if it is broken. Then turn the belt on the drive pulleys and notice carefully whether the belt is slipping or not. If it is slipping, tighten it as required. If it is not, then you can overhaul the transmission.
One of the most common reasons for this stopping problem is the air in the hydraulic pump. So, make sure there does not remain any air in your hydraulic pump.
Making Fully Engage Cub Cadet Hydrostatic Transmission
When you are using a cub cadet 1045, you may feel your tractor is not engaging correctly. But the solution is so easy that you can not believe it.
First, change the fluid that you are using now. Then remove the plastic plug from the cooling fan. Tip it over and drain it carefully. Then refill the tank with new fluid; it will be better if you use the regular 20w50 engine oil. And run this process under the opening plugs to access the hydro.
This is the most faced problem under the cub cadet 1045 hydrostatic transmission problems. Use our describing process, your problem will be solved.
Solution Of Adjusting Problem
If you give speed to the engine while it is neutral, your cub cadet hydrostatic transmission will be harmed. You may be able to adjust your machine. Look! How easily we tell you the solution.
Only the trained person can adjust the hydrostatic transmission. If you are not trained enough, you should go to a technician to solve your problem.
And if you are trained enough, then you can try this. You may know you can adjust the control rods that connect your hydrostatic transmission at the regulatory valve. And these valves determine the fluid rate. That's how you can adjust your cub cadet hydrostatic transmission.
How To Make Faster Hydrostatic Transmission
No matter which model you are using, this problem may appear after using it for some years. But this mainly occurs under the cub cadet lt1050 hydrostatic transmission problems. The most effective solution is here for you.
The first thing you have to do is install larger tires than you use now. Blades have an essential effect on speed. So go for a replacement or repair it if you have the budget. Now, take off the governor and put the bigger pulley on it. At last, purge your hydraulic drive.
After taking these steps, you may hope to have a faster cub cadet hydrostatic transmission.
Removing Filter Clog
When your cub cadet tractors get a clogged filter, you may face the problems of cub cadet hydrostatic transmission. So, removing the clog from the filter is very urgent. You can use compression airflow to remove these cloggers.
Besides, you can use a regular cleaning process to stop the filter clogging. And using fresh fuel will also be helpful.
Replacing Failure Components
This is essential for solving any kind of mechanical problem. You can not run any machine while the components of this machine are defective.
So, if you can observe the failure of components or your machines do not work as they should function. Then immediately repair the machinery. If you can replace them, it would be great.
We try to discuss all problems that possibly can cause headaches with the cub cadet hydrostatic transmission.
Cub Cadet Hydrostatic Transmission Maintenance Tips
These tips will be life hacks for you if you are fascinated with missionaries. These are suggestions on how to maintain your cub cadet hydrostatic transmission properly. Not only it but also other equipment like the cub cadet.
Maintain speed. Never use excess speed than the recommendation.
Clean your machines, filter medium regularly.
Use fresh fuel and fluid.
You should change the hydraulic fluid every 400 hours. But after the first use, it is only 75 hours.
Always remember to replace failure machinery.
A Helpful Tutorial You May Need!
Frequently Asked Questions (FAQs)
How do you adjust a cub cadet hydrostatic transmission?
By adjusting the control rods, you can adjust a cub cadet hydrostatic. But do not apply for it, if you do not have enough training.
How do I know if my hydraulic pump is bad?
If your hydraulic pump gives noise and extreme heat during fiction, that may verify that your hydraulic pump is bad. Besides, if your hydraulic pump has air, it is not a good sign.
How can I make my hydraulic transmission faster?
By applying a hydrostatic transmission modification, you can make your hydraulic transmission faster. For more details, you can follow solution number 4.
Conclusion
When we understood how challenging the cub cadet hydrostatic transmission problems are, we are here with easy solutions to solve the issues. After reading the article, anyone can solve these problems even if they are not trained enough. Use our maintenance tips to avoid the problems.
Stay with us to solve this hydrostatic problem. We always provide the most straightforward solutions to your most complex problems with super tips for effortless solutions.
You Can Also Read:
Enamored with the world of golf Jack pursued a degree in Golf Course Management at THE Ohio State University. This career path allowed him to work on some of the highest profile golf courses in the country!  Due to the pandemic, Jack began Inside The Yard as a side hustle that quickly became his main hustle. Since starting the company, Jack has relocated to a homestead in Central Arkansas where he and his wife raise cattle and two little girls.