Greenworks vs EGO — Which Is Best?
The battle for the best lawn and garden tools is heating up, with Greenworks and EGO leading the charge. Both brands have cultivated loyal followings by producing high-quality, eco-friendly products that make yard work a breeze. But which one truly deserves the crown?
Greenworks offers some of the top-selling battery-powered equipment on Amazon, showing it's a reliable company that has earned the trust of numerous homeowners. On the other hand, EGO products have an edge when it comes to mowing flat surfaces and durability.
In this head-to-head comparison, we dissect every aspect of what makes a great garden tool — from sheer power and performance to battery life and overall value — to help you determine the ultimate winner. Let's jump straight into it.
Quick Comparison Chart
Before getting down to the nitty-gritty, here's how the brands compare to each other at first glance:
| | | |
| --- | --- | --- |
| Category | Greenworks | EGO |
| Parent Company | Globe Tools | Chevron |
| Year Founded | 2007 | 1993 |
| Origin | North America | China |
| Popularity | Most popular brand of cordless electric lawnmowers | Growing popularity, available in more than 65 countries |
| Initial Product | 24V series with single battery | Gas-powered substitutes |
| Current Offerings | Multiple battery options | Residential versions for ordinary people |
| Reputation | Solid reputation for producing electric lawnmowers | Over 20 years in the tool manufacturing business |
| Unique Features | Emphasis on online shopping, bright green color | Owned by a multinational company |
| Ecological Focus | Yes | Yes |
| Headquarters | Seattle | China (Chevron) |
Preview
Model
Greenworks 40V 17 inch Cordless Lawn Mower,Tool Only, MO40B01
Greenworks Pro 80V 25″ Dual Blade Self-Propelled Lawn Mower, Battery and Charger Not Included
EGO Power+ LM2100 21-Inch 56-Volt Lithium-ion Cordless Lawn Mower Battery & Charger Not Included Not self-propelled
Preview
Model
Greenworks 40V 17 inch Cordless Lawn Mower,Tool Only, MO40B01
Preview
Model
Greenworks Pro 80V 25″ Dual Blade Self-Propelled Lawn Mower, Battery and Charger Not Included
Power & Performance
When the weekend rolls around and it's time to tackle those challenging yard work tasks, you need tools that pack a punch. Power and performance are essential in conquering any outdoor project, whether it's trimming overgrown hedges, cutting through stubborn branches, or keeping your lawn in excellent shape.
With Greenworks and EGO both offering an impressive lineup of tools designed to make light work of even the most daunting tasks, it's worth delving deeper into what sets these leading brands apart.
Greenworks has built a solid reputation for delivering high-quality tools with powerful brushless motors. These motors not only provide greater efficiency but also ensure a longer life for your equipment.
When you're out in the yard facing a challenging task, you can trust Greenworks tools to deliver the cutting power you need — no matter the job at hand. With their range of top-notch equipment, from chainsaws to lawnmowers, Greenworks makes yard maintenance efficient and enjoyable.
On the other side of the fence, EGO brings a unique offering to the table with its patented 56V ARC Lithium battery. By delivering consistent power throughout a tool's runtime, this innovative technology ensures smooth operation and increased performance across EGO's entire lineup of outdoor equipment.
From leaf blowers to string trimmers, EGO's tools are designed to work seamlessly together thanks to this groundbreaking technology.
The beauty of EGO's ARC Lithium battery system is that it allows users to experience cordless freedom without sacrificing power. Say goodbye to tangled cords and limited mobility as you navigate your yard, all while enjoying the increased performance and consistent power provided by this advanced battery platform.
Battery Life & Charging Time
No discussion of cordless tools would be complete without delving into the realm of battery life.
A long-lasting battery is no longer a luxury but an absolute necessity for those never-ending lawn care sessions we all know too well. Consequently, finding the correct battery to power your tools is of utmost importance.
Greenworks offers a range of battery options, from 24V to 80V, catering to both casual gardeners and professional landscapers alike.
But it doesn't stop there. The company prides itself on its industry-leading recharge times and fade-free power delivery, keeping your tools at peak performance throughout each task. It means less time spent waiting around for your battery to charge and more time perfecting your lawn.
EGO pushes back with its advanced battery technology that guarantees extended runtimes and rapid recharging.
EGO's ARC Lithium batteries impress with their fast charging capabilities and extended runtimes. In fact, some EGO batteries can be fully charged in as little as 30 minutes! That's enough time for a quick break before diving back into your garden duties.
Plus, their unique "Keep Cool" technology helps extend battery life by preventing overheating during use.
Tool Selection & Versatility
Both Greenworks and EGO offer an extensive selection of cordless outdoor power tools. From lawnmowers and string trimmers to leaf blowers and chainsaws, you'll find an impressive array of options to suit your specific needs.
One of the key selling points of Greenworks' lineup is its universal battery system. This solution allows users to interchange the same battery across many tools of the same voltage platform, significantly reducing both hassle and expense for those looking to expand their lawn care arsenal.
You will no longer need to fret over managing multiple chargers or juggling batteries — Greenworks has streamlined the entire process, giving you more time to focus on tackling your outdoor tasks.
EGO also offers a plentitude of versatile tools, with many featuring adjustable settings and attachments for added convenience.
The ease with which users can tailor their EGO equipment ensures a more personalized and efficient experience. Their multi-head system is especially noteworthy, enabling quick and seamless switches between various tool attachments. This level of adaptability is invaluable in making light work of even the most challenging outdoor chores.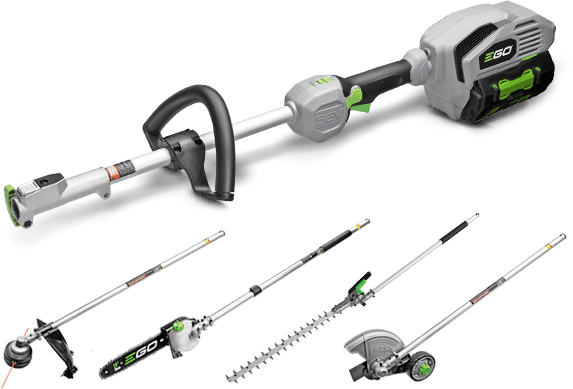 Durability & Build Quality
Investing in outdoor power tools requires confidence in their ability to withstand the test of time.
Greenworks mowers are known for their reliable performance, often lasting more than five years without experiencing major damage.
One of the main reasons behind their longevity is their powerful and high-strain batteries, which are explicitly designed for demanding usage. Thanks to it, your mower can continue to perform efficiently day in and day out.
Similarly, EGO has earned a reputation for producing robust, weather-resistant tools that can handle the toughest outdoor tasks.
While EGO lawnmowers are pricier, they boast an incredibly durable construction. The use of superior materials in their design results in extreme resilience, ensuring your investment is well worth it.
From their rugged construction to their quality control processes, EGO ensures that each tool meets the highest performance and durability standards.
On that note, it's crucial to note that Greenworks mowers do contain a considerable amount of plastic components. Over time, these parts might degrade faster due to exposure to harsh environmental conditions or simply through regular wear and tear. This situation could potentially lead to a shorter lifespan and require more frequent maintenance or replacements.
Price & Value
Price can play a significant role when choosing between Greenworks and EGO.
Generally speaking, Greenworks products tend to be more budget-friendly, offering excellent value for money without sacrificing performance. Their lineup features many tools that cater to different price points. There's something for everyone — from the homeowner needing a reliable lawnmower to the DIY enthusiast looking for a versatile power tool collection.
Conversely, EGO's products often come with a higher price tag. Although this factor may initially seem off-putting to potential buyers, it's vital to consider what you're getting for your money.
EGO is known for its advanced technology, superior battery life, and exceptional build quality. These factors contribute to their products' overall durability and longevity, making them well-suited for those requiring high-performance tools that can withstand frequent use.
Ultimately, deciding which brand offers better value will depend on your specific needs and priorities. While Greenworks may be more affordable upfront, EGO's long-lasting batteries and robust construction could save you money in the long run by reducing replacement costs and extending the life of your power tools.
The Bottom Line
In the battle between Greenworks vs. EGO, there's no clear-cut winner. Both brands excel in different areas, making it essential to evaluate your requirements before making a decision.
Greenworks stakes its claim with a wide range of high-quality tools at accessible price points, making it an attractive option for budget-conscious consumers. EGO, however, refuses to compromise on quality, offering premium products that consistently outperform expectations.
As you weigh your options in this arena, the choice ultimately comes down to personal priorities: are you willing to pay a premium for superior performance, or do you prefer a more economical approach?
Whichever brand you choose, rest assured that you'll invest in reliable, eco-friendly tools that will keep your yard looking its best for years to come. With either Greenworks or EGO in your corner, your lawn and garden will look better than ever.
Enamored with the world of golf Jack pursued a degree in Golf Course Management at THE Ohio State University. This career path allowed him to work on some of the highest profile golf courses in the country!  Due to the pandemic, Jack began Inside The Yard as a side hustle that quickly became his main hustle. Since starting the company, Jack has relocated to a homestead in Central Arkansas where he and his wife raise cattle and two little girls.