Harley Rake Vs Rockhound- Which Rolls Out On Top?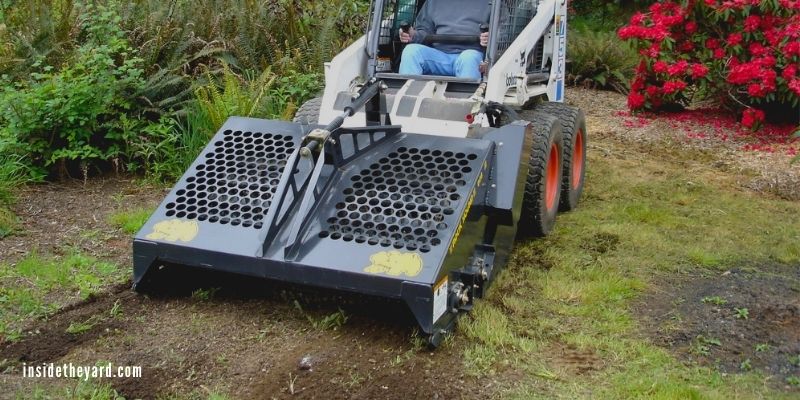 What is the difference between a Rockhoundand aHarley Rake? Harley Rake is a great choice in the big areas, while Rockhound works well in the smaller areas. But the battle does not end here!
Although both brands produce quality rakes, they differ in terms of working efficiency, operating systems, available attachment sizes, price ranges, and more. In this article, we will draw an overall comparison between Harley Rake vs Rockhound.
As a result of reading this article, you will know which rakers brand is suitable for you, with the proper explanation. So, let's start without further ado:
Harley Rake Vs Rockhound: A Basic Comparison
| | | |
| --- | --- | --- |
| Comparison Parameters | Harley Rake | Rockhound |
| Working Efficiency | Perform a variety of tasks for lawn development. | Efficaciously works for spreading gravel and preparing seedbeds. |
| Ease Of Use | Harley Rakes can easily transform the old lawn into a flawless seedbed. | A Rockhound is perfect for a lawn that has been graded with a dozer. |
| Attachments Availability Widths | 48 to 90 inches | 45 to 96 inches |
| Price Difference | Buying costs in between $8,326 to $13,425 Rent cost $140-$160 (per day) | Buying cost $7,800 to $12,000 Rent Cost $110-$140 (per day) |
This is just a compact size table to show you the differences between the two famous rakes. We will go into greater detail about Rockhound vs Harley Rake below in the subheads.
Working Efficiency: Rockhound Or Harley Rake?
Harley Rake is well known for its multi-use and versatile capabilities. With that, their rakes are also built extremely tough. Harley Rakes can handle many tasks at once, including soil preparation, the removal of rocks and debris, grading and blending, grass clearing, resurfacing, and planting.
The Harley Rake is capable of performing well both in dry and wet conditions. So, you don't have to stop working in the rain. In addition to general soil preparation, the Harley Rake offers excellent results in removing old grass, weeds, pebbles, and lawn.
On the contrary, Rockhound already made some great rakes for landscaping and, especially, shaping your yard. The track drive system with a chain on the slick housing drives the Rockhound's rakes.
These rakes are used to pick up the ground and kind of pulverize it. They break it up, grab those off and then throw them into the bucket. Rockhound rakes are capable of picking up debris and rocks up to 8 inches. Their performance will remain consistent over time.
Rockhound VS Harley Rake Operating System: Which Is Easier?
The Rockhound and Harley Rake don't require too much trouble to operate. Anyone can easily operate them. However, as a potential buyer, you have to know the differences between the Rockhound and Harley Rake's operating systems.
The housing will be turned down when you operate a Rockhound rake. Then it drags along on the ground, does all the racing, and pulls the material into the bucket. When you are done, all you do is run it in reverse. After that, it lifts up the housing so that you can easily dump the material.
You will also find some bolts under the housing. Unfold these to remove them. This will allow you to replace or remove damaged or faulty parts. In the bucket, you will get plenty of space for the materials.
Rockhound's rakes have a really unique drive system. Maybe there are two hoses on your rakes, going in and close to a shuttle valve. Open up the hopper and run your hydraulics in reverse that shuttles the control over to the secondary ports and allows the cylinder to operate.
Then again, Rockhound's rakes are very easy and simple to operate. You don't need any electronics or extra electrical connectors. Their drive system has worked flawlessly without any problems for over two decades.
On the other hand, the Harley Rake is very straightforward to ride and easy to operate. It is capable of pulverizing the soil perfectly. The wheels are adjustable with the ability to work on poor ground. As you go backward, the wheels guide you, and you float. Harley Rake's equipment also rarely breaks.
The tiller boxes and stuff help you to get a smooth grade. This control follows a contour and cuts everything level.
So, if you need to do any kind of grading, you should try a Harley Rake.
Ease Of Use: Do The Multiple Tasks
As far as ease of use is on concern, Harley Rake and Rock Hound are both excellent. These two brands of rakes are the top choice among contractors because they can trench and prepare the soil for seeding and installing irrigation lines.
The Harley Rake is always capable of performing several tasks and being easy to operate. It can do various tasks for lawn development, including tearing up top surfaces and laying down the soil.
The old lawn can easily be transformed into a perfect seedbed with the help of Harley Rake.
Similarly, Rockhound rakes are also easy to use and capable of providing multiple services. They can be your best choice, especially for small areas. A skid steer is required for compacting the soil when Rockhound rakes are working.
Attachments Availability: Who Offers Better?
On a Skid Steer, Rockhounds and Harley Rakes attachments keep labor costs low by reducing the amount of hand labor. Both brands' rakers allow you to do more tasks efficiently without hiring more or no people.
There are many challenges an operator can face when preparing the soil for seed. To ensure a high-quality finish, you need attachments that can perform at a high level with various functions. Luckily you will get high-quality attachments with both Harley Rake and Rockhound.
For decades, RockHound has been a key manufacturer of attachments for the skid steer industry. RockHound has consistently kept improving and expanding its products day by day. Their landscape rake attachment has been around since the 1960s. You will get 45 to 96 inches attachment width with them.
On the other hand, a Harley Rake offers both power and precision, providing you with an attachment that can handle all aspects of your landscaping project. However, the attachment widths for Harley Rake are between 48 and 90 inches.
Price Differences Between The Harley Rake And Rockhound
Both Harley Rake and Rockhound are worthy of buying or renting. You can expect them to provide multiple services over the long run without any problems. When you become an expert in operating them, they can even replace your hand labor crew.
Besides, Harley Rake and Rockhound offer a wide variety of models with different attachment sizes and functions. This means you will get so many options for picking the right rake according to your requirements.
Anyway, you have to pay $8,326 to $13,425 for the Harley Rake, while $7,800 to $12,000 is needed for buying the Rockhound. You can also take them for rent. In that case, Rockhound rental will cost you around $110-$140 per day, and it is $140-$160 for the Harley Rake.
Frequently Asked Questions (FAQs)
Does A Harley Rake Pick Up Rocks?
With a Harley Rake, you can simply pulverize and level the soil, then pile the rocks. But you need to remove the rocks separately because it cannot pick them up.
Anyway, the Harley Rake pickers always do a decent job separating the rocks from the dirt.
Will A Harley Rake Remove Roots?
Using the Harley Rake is easy if you have rototilled and the roots have been chopped up. But you may also need to disk the area thoroughly to break up the roots before using it.
How Well Does A Rockhound Work?
A Rockhound is ideal for sands and well-worked sites where debris needs to be collected and the soil is broken down into fines. In terms of covering large areas, they aren't impressive. A Rockhound rake is the best fit for small areas.
How Deep Does A Rockhound Go?
A Rockhound can go around 2 inches deep.
Harley Rake Or Rockhound: Which Rake Brand Wins the Race?
As always, we tested both brands before writing this Harley Rake vs Rockhound comparison article. In our finding, both brands can do multiple tasks efficiently with a perfect landscape finish in a short period. You can also get them at an affordable price, and they are also very durable.
Below, we would like to highlight what we have observed about the Harley Rake and Rockhound brands:
| | |
| --- | --- |
| Rockhound | Harley Rake |
| Perfect for small areas. | Best choice for bigger areas. |
| They are excellent for lawns that have been graded with dozers. | They can turn any old lawn into a perfect seedbed. |
So, who is the winner? Rockhound or Harley Rake? Well, both of them can be great if you know how to use them properly. According to us, they both deserve the winner award, so we don't want to pick one over the other.
The key is to point out your requirements first, then choose either Rockhound or Harley Rake that suits you best. Read this article again and decide which brand will be best for you. Anyway, if you still need assistance, you can always reach out to us.
You Can Also Read:
Enamored with the world of golf Jack pursued a degree in Golf Course Management at THE Ohio State University. This career path allowed him to work on some of the highest profile golf courses in the country!  Due to the pandemic, Jack began Inside The Yard as a side hustle that quickly became his main hustle. Since starting the company, Jack has relocated to a homestead in Central Arkansas where he and his wife raise cattle and two little girls.