How to Get Rid of Moss in Lawn
Moss can be a nuisance for anyhomeowner. While a lush, green lawn certainly adds to the looks and value of your property, an unsightly patch of moss can quickly take away from that beauty, leaving you feeling frustrated and unsure of how to deal with the problem.
Still, this doesn't change the fact that moss is a common issue in lawns, and it can be difficult to get rid of once it takes hold. That's why we've put together this comprehensive guide to help you effectively remove moss from your lawn and keep it from coming back. You'll be pleased to learn that, in most cases, no harsh chemicals or pricey tools are needed to ensure your lawn stays moss-free.
So, whether you're dealing with a small patch of moss or a larger infestation, this guide will give you the knowledge and tools you need to get your lawn looking its best. Below, we will show you how to remove moss from your property and keep it at bay for good.
What Is Moss?
Moss is a small, non-flowering plant that grows in damp and shaded areas. It does not have roots and absorbs water and nutrients through its leaves. Moss thrives in compacted soil with poor drainage, which is why it is often found in areas that can't be reached by sunlight.
You can identify moss by simply looking at it. It has small, green, velvety leaves that form a thick mat over the soil. It's soft to the touch and relatively easy to disturb, for instance, if you step on it or poke it with a stick.
In some cases, moss can also be a sign of underlying soil problems, such as poor drainage and lack of nutrients.
Regardless of the exact reason, one thing is certain: not many homeowners enjoy watching patches of dark moss overtaking their meticulously cared-for lawns. The sooner you act, the better for the overall condition of your grass. You also won't have to stress about the moss slowly taking over your whole lawn.
Natural Methods to Get Rid of Moss
Although there are dedicated chemicals you can use to fight the moss, in the vast majority of cases, there's no need to use them. Unless the moss has already managed to take over a significant area in your yard, you should be more than fine using proven and natural methods.
Keep in mind that the time of year plays an important role in your efforts to kill moss. In general, it's recommended to deal with it when it is actively growing. For most places, this means late spring and early summer or late summer and early fall months. Still, the exact timeframe can vary from one place to another.
Dish Soap
There are many DIY methods for getting rid of moss in your lawn, and using dish soap is one of the most popular and cost-effective ones. Additionally, many people have reported success using this method.
To use dish soap to remove moss in your lawn, mix 2 ounces of dish soap with 1 gallon of water and transfer the liquid into a spray bottle. Apply the solution to the mossy areas of your lawn, but try to avoid saturating the grass.
Wait for 24 hours. The next day, the moss should dry up, turn brown, and appear dead. If you notice any patches of moss that you've missed, repeat the process. Once you're satisfied with the outcome, rake the dead moss and make sure to re-seed the areas so the grass can grow there again.
You can dispose of the dried moss by putting it into a sealed bag and simply throwing it into the trash. Avoid burning the moss in your yard, as it's highly flammable, and the fire can spread incredibly quickly.
If you decide to use dish soap to get rid of moss in your lawn, make sure to follow these tips:
Use mild dish soap. Avoid using dish soaps that contain harsh chemicals or fragrances, as these can be harmful to your lawn.
Test the solution first. Before applying the solution to your entire lawn, test it on a small area to make sure you have good control of your sprayer bottle and won't kill your grass by accident.
Use it as a supplement. Dish soap should not be your primary method for removing moss in your lawn. It's always better to prevent the moss from growing in the first place rather than keep killing it later on.
Raking and Dethatching
If the moss is a small issue limited to just one area of your yard, you can set the spray bottle aside and try to deal with moss by simply raking it up. The most important thing is that, instead of raking in just one direction, you put in some work and rake at different angles. This will help you loosen the moss up and make removal much easier.
Although it's the simplest and most basic method of removing moss from your lawn, the truth is that raking can be quite hard on your arms, especially if you're already dealing with injuries or joint issues. In such a case, you can consider investing in a power rake, which is a machine that uses blades to remove the moss from the soil. There is also a dedicated dethatching blade that you can fit into your lawn mower to make the whole process faster and easier on your body. The latter option may be a good choice if you don't have much storage space for another bulky piece of yard equipment.
Killing Moss With Chemicals
Although eco-friendliness is a big trend now, and we all should certainly do our best to stick to its principles, sometimes the moss is so stubborn that you have no other choice but to use chemicals.
Iron sulfate and glyphosate are the two most commonly used chemicals that can help you kill moss.
The former starts working within just a few hours but needs around two days to get rid of the unwanted moss effectively. It's also an ingredient in many lawn fertilizers, so the good news is that you won't have to worry about destroying the grass when using it.
However, things are different when it comes to glyphosate. This chemical is non-selective, meaning it will kill both the moss and all the grass it comes into contact with. Therefore, you either need to be extremely careful when using it or be prepared to sacrifice some of your grass and reseed it later on.
Preventing Moss
Prevention is better than cure, and this popular saying also applies to taking care of your yard. Of course, once the moss is already there, you won't be able to go back in time, but if you suspect that it may appear on your lawn sooner or later, it's best to take action now.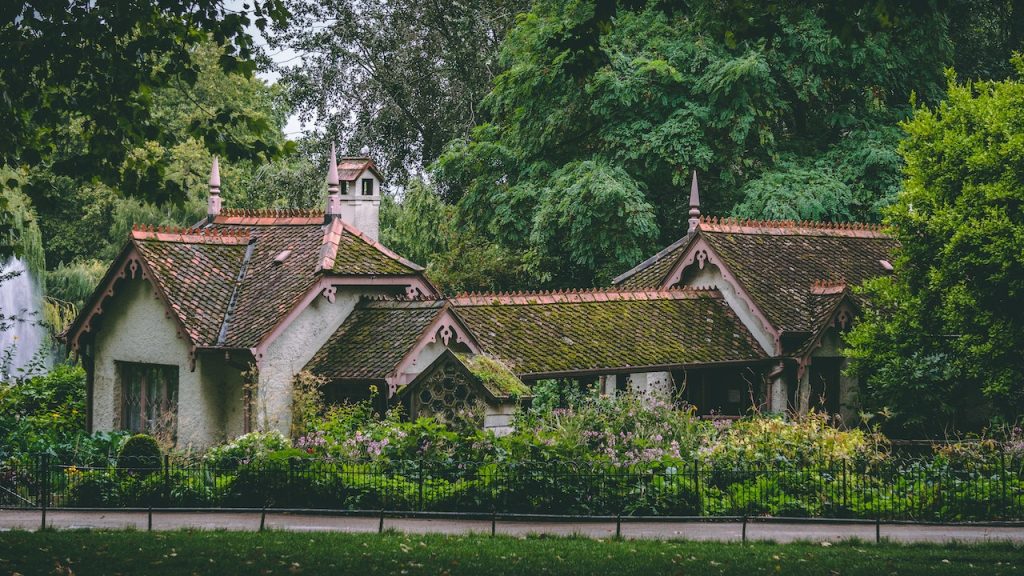 For instance, you can try to ensure that your lawn gets enough sunlight. On average, it should be from four to six hours a day. You can trim branches or bushes that may keep some areas of your yard shaded for most of the day. If that's not possible, consider growing shade-tolerant grass, such as fine fescue, tall fescue, red fescue, and Chewings fescue, which all thrive in the shade.
Poor soil drainage can also encourage moss growth. In such a case, the ground under your grass retains excessive moisture, leading to issues with drainage. Such conditions are perfect for moss. To encourage better drainage, add lots of organic matter (compost, shredded leaves) to your soil. It may also be a good idea to install a drain tile, but it's quite a labor-intensive solution.
Aside from the soil that retains too much moisture, you can also have issues with compacted soil. Such issue often occurs when there's too much foot traffic in a particular area, but they also can have other causes. The goal here is to aerate the compacted soil. Luckily, you can purchase or rent a soil aeration machine that will do all the heavy lifting for you. Thanks to aerating, your lawn will be able to breathe again, and the moss won't take control of it.
Final Thoughts
Moss can be frustrating for homeowners who want to enjoy a perfectly green lawn. Luckily, there are several effective methods for removing moss and preventing it from returning.
Whether you use natural methods like raking and dethatching or more aggressive methods like chemicals, it's essential to follow the proper techniques and precautions to avoid damaging your grass.
Prevention is also key to keeping moss at bay. Taking steps like ensuring adequate sunlight, improving soil drainage, and aerating compacted soil can help to create an environment where moss is less likely to grow.
By using the methods outlined in this guide, you can effectively get rid of moss in your lawn and enjoy a beautiful, healthy lawn year-round. With a little effort and care, you can keep your yard looking its best and free of unsightly moss!
FAQ
Can moss be composted?
Yes, moss can be composted as long as it's dry and not mixed with other materials.
Is it necessary to overseed after removing moss from a lawn?
While it's not absolutely necessary, it's advised to do so. Overseeding can help fill any bare spots where the moss was removed and promote healthy grass growth.
Can moss be removed by hand?
Yes, moss can be removed by hand, but it can be a labor-intensive process, especially if the moss has spread over a large area.
Can moss grow on any type of soil?
Moss is more likely to grow on compacted soil with poor drainage, but it can grow on a variety of soil types if conditions are right.
Enamored with the world of golf Jack pursued a degree in Golf Course Management at THE Ohio State University. This career path allowed him to work on some of the highest profile golf courses in the country!  Due to the pandemic, Jack began Inside The Yard as a side hustle that quickly became his main hustle. Since starting the company, Jack has relocated to a homestead in Central Arkansas where he and his wife raise cattle and two little girls.