How To Make Cup Holder For Lawn Mower with 2 Easy Ways?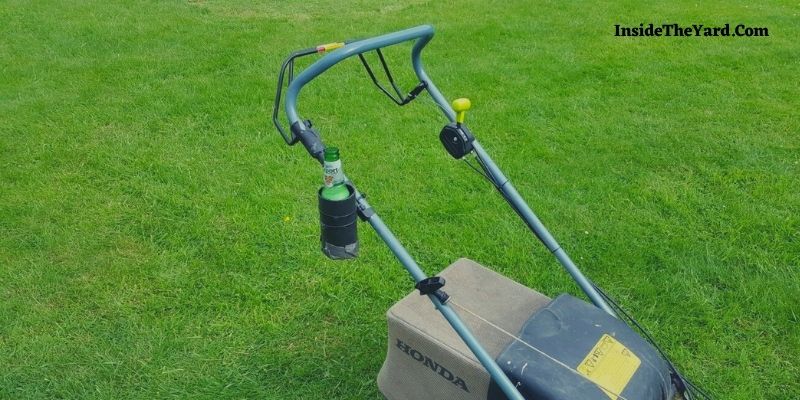 It is natural to feel thirsty while tidying the garden with the lawnmower. That's why it can be handy if you know how to make cup holder for lawnmower.
You can make a cup holder for your lawnmower from a cardboard box or a few plywood pieces. A cardboard cupholder only requires duct tape and zip ties.
Let's have a talk in more detail about the processes. However, if you think making the cupholder challenging, get a universal cupholder for your mower and just connect the screws.
How To Make Cup Holder For Lawn Mower
We have arranged this guide with 2 easy methods to make the cupholder and make your mowing more prominent.
A Paper Cup Holder
A Magnetic Cup Holder
Steps to Make a Paper Cup Holder
Let's start with the simplest one – a DIY cup holder for lawn mower made from a cardboard box.
To make a cup holder from a cardboard box, you need things that you probably already have in your possession. The only thing you might need to buy is a roll of duct tape – again, which you might already have from previous uses.
Get a cardboard box and cut the top and bottom flaps of it with an ante-cutter. You will have a piece of long, rectangular-shaped piece of cardboard. Cover both sides of the whole piece with duct paper. To get the measure of the bottle or can, wrap the part around the bottle or can. And mark the place where the cardboard can cover the bottle.
Attach a slim piece of wood or bamboo where you marked. Use some more tap to attach the wooden piece to form the cylindrical shape. Now wrap the rest of the cardboard box around.
To block one end of the cup holder, use the flaps you have cut out from the box before. You may need 3-4 pieces of paper. Fold the sides along with the wall of the holder and use enough tapes to stick them to the holder. This will make the paper cup holder strong.
Your cupholder is ready to use – it just needs to be attached to the lawnmower. To attach it with the lawnmower, you need a couple of zip ties.
Make 4 staggered holes – you can use a star-shaped screwdriver to make the holes. But we would suggest using a drill if you can. Drilling won't damage the walls.
You can zip tie the holder inside the handles. But it would be better if you attach it outside and near the top in an upright position. This will be perfect for the cup holder for push mower.
The cup holder for the lawnmower is ready.
When you mow next time, you will have a cup holder for riding lawnmower
Steps for a Magnetic Cup Holder
Let's talk about how you can make a magnetic cup holder for lawnmowers.
You are going to need 4 plywood pieces of 5" by 7" with a width of ¾". And four pieces of ½ inch strong magnets to be attached at the base. You will also need double-sided tapes or glue and sandpapers.
Make two holes that are 3-inch in diameter and space them out evenly in 3 of the plywood pieces. 3-diameter holes should be enough for holding most beverages. But you can make it bigger or smaller if you like. Use sandpapers to make the edges smooth and prevent yourself from scratches. You can die them with wood-colorings or leave them as they came in.
Now use a thin layer of wood glues between the four pieces and leave them overnight. Put something heavy on top of the plywood pieces.
The plywood pieces should be stuck with each other pretty tight by now. You can use a hand sander to round the edges off. You also should use sandpaper to smoothen the inside of the holes.
One inch away from the four corners of the base, dig four holes to put the magnets in. Make the holes a thread or two longer than half-inch- so that the magnet's top end can be level with the base of the board. Put some glue inside the holes so that the magnets can be attached to the board strongly.
Your lawnmower cup holder attachment is ready to use. The magnets will keep the lawnmower drink holder attached to the metallic body of the lawnmower while you keep mowing.
Buy One And Attach It With The Lawnmower
If DIY is something that doesn't suit you well, you can just buy a cup holder, spending about $10-$15 or a few quid more.
The Husqvarna Cup Holder or the Walker Mower cup holders don't cost much. You just have to attach them using tilted-up latches or by attaching them with screws.
This Video Will Help You Too!
Frequently Asked Questions (FAQs)
Can you make a cup holder for your lawnmower?
Yes, you can make a cup holder using cardboard boxes or plywoods. They may not be the anti-vibration cup holders, but they will do the job just fine.
How can you make an anti-vibration drink holder for your lawnmower?
You can make a cup holder for the lawnmower. But it's unlikely that they will be vibration-proof. So, in short, it's not possible to DIY an anti-vibration cup holder for your lawnmower.
Final Words
Cupholders for lawnmowers are necessary to keep you hydrated throughout. You can learn about how to make cup holder for lawnmower by following the steps we have described.
When you DIY the cupholders on your own, the end product may not be a sample for precision engineering. But they will do the job alright.
You will be able to mow and keep yourself hydrated at the same time while working under the hot sun. The workflow won't be broken as well since you don't have to make a stop every few minutes to grab your beverage.
You Can Also Read:
Enamored with the world of golf Jack pursued a degree in Golf Course Management at THE Ohio State University. This career path allowed him to work on some of the highest profile golf courses in the country!  Due to the pandemic, Jack began Inside The Yard as a side hustle that quickly became his main hustle. Since starting the company, Jack has relocated to a homestead in Central Arkansas where he and his wife raise cattle and two little girls.