Speed Feed 375 Vs 400: Find Out Which One Is The Best
What is the major difference between speed feed 375 and 400 trimmer heads? Well, the significant difference between speed feed 375 and 400 is their line accommodation capacity. While the 400 trimmer head can hold 20 ft of .095" line, the 375 trimmer head can only house 10' of .095" line. But this one is pretty small and handy to work with.
On the contrary, the speed feed 400 can easily handle large lawn maintenance jobs. However, let's find out other differences between these two trimmer heads and see which one wins the battle regarding speed feed 375 vs 400 through this content.
Speed Feed 375 Vs 400: Pick The Winner For Your Grass Trimming Chore
Speed feed 375 or 400, a question can baffle your mind when you need to choose one trimmer head from these two models.
But if you read this blog post thoroughly, you can easily determine your well-suited one. So, let's read on.
Wait, before heading ahead, let's look at the comparison table below.
| | | |
| --- | --- | --- |
| Facts | Speed Feed 375 | Speed Feed 400 |
| Spool Holding Capacity | 10′ of .095″ line | 20′ of .095″ line |
| Size | Quite Small | Larger |
| Line Divider | No | Yes |
| Compatibility | Only Shaft String Trimmers | Almost All String Trimmers |
Our Top Choice- Echo Speed Feed Head 400
Why Should You Choose This One?
Unlike the speed feed 375, the speed feed 400 comes preloaded, so it doesn't let you go through the hassle of loading the line. But if you want to feed the line yourself, surprisingly, you can perform this job within 30 seconds just by following three simple steps.
Aside from this feature, this trimmer head has many timeless functions, making it ideal to use. Below, we have briefly shared those features. So, let's read.
Patented Design
The patented design is the main thing you will notice while talking about the speed feed head 400 vs. 375. For its fantastic design, the 400 model allows you to reload the line in 30 seconds, and the exciting fact is that you don't need to disassemble this gear for reloading.
Professional Line Feed Mechanism
If we speak about the professional line feed mechanism of this speed feed 400 trimmer head, we mean its tap-to-advance system that helps this tool advance the line and smoothly glide its head over the grasses.
Exceptional Line Divider
The line divider is another function that keeps the speed feed 400 ahead of the 300 trimmer model and helps it win the battle of speed feed trimmer head 375 vs 400.
Now, let's talk about what's unique about this feature; well, this function eradicates line entanglements within the head, which many landscapers encounter while feeding the line through the trimmer's head. But fortunately, you won't experience this hassle.
Spool Holding Capacity
As you already know that this 400 trimmer head comes preloaded with .095" diameter Cross-Fire line to help you start cutting jobs without wasting time while reloading the line.
Still, you can feed it your favorite line with a maximum line diameter around .105" for accomplishing cutting chores from medium to heavy-duty.
Compatibility
Compatibility is the last feature that helps this trimmer head leave the speed head 375 behind. While the 375 trimmer model can accommodate only shaft string trimmers, the speed feed 400 supports almost all string trimmers. You can say it's got a universal-fit design.
What Users Say
"I've tried several different trimmer heads having to trim for almost 6 hours each time I mow. This, by far, is the best I have used. I pull four full arms lengths worth (both arms) of the line from my spool, put it through the head slot evenly divided on both ends, and then twist the head to spoil it up inside. Literally that easy and doesn't need to be disassembled each time or constantly fed new string. I will be purchasing another for my trimmer."
The Bottom Line
Overall, if you don't prefer reloading the line and are fond of technology and need to deal with heavy cutting jobs regularly, this speed head 400 trimmer head is the best-suited option. It's got more than what you will need to trim off grasses from your lawn.
Our Second Pick- Echo Speed-Feed 375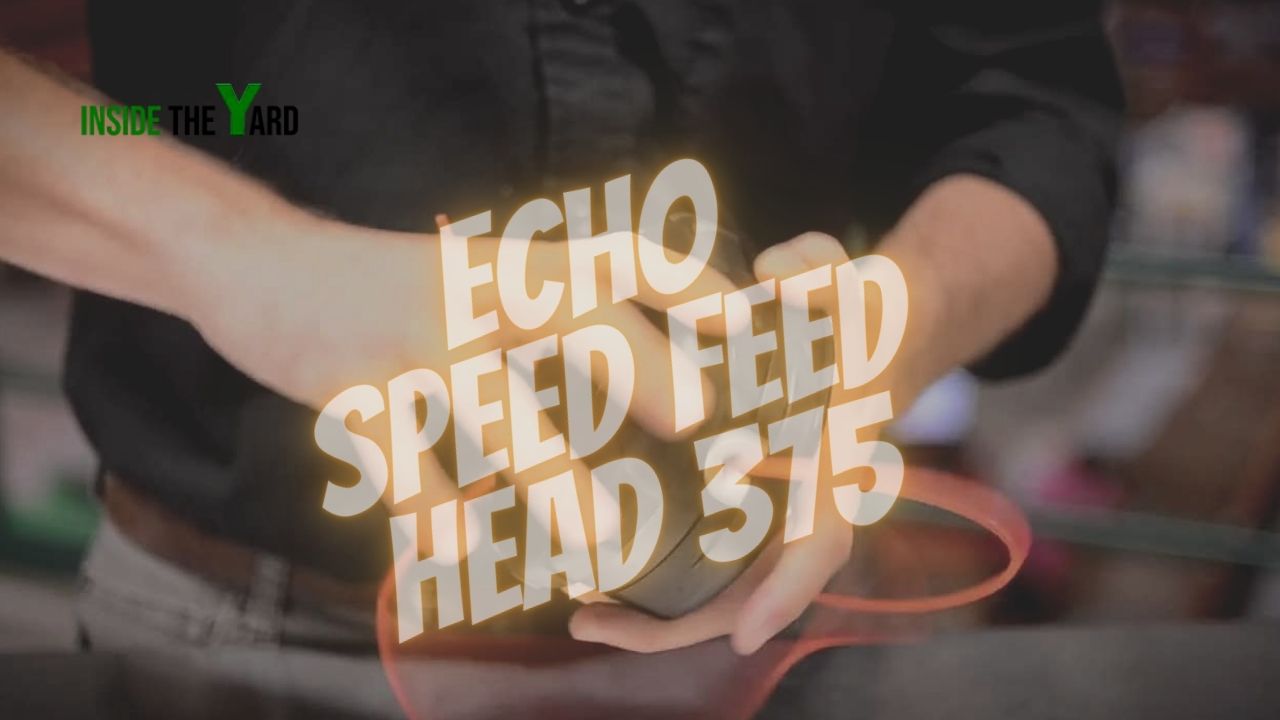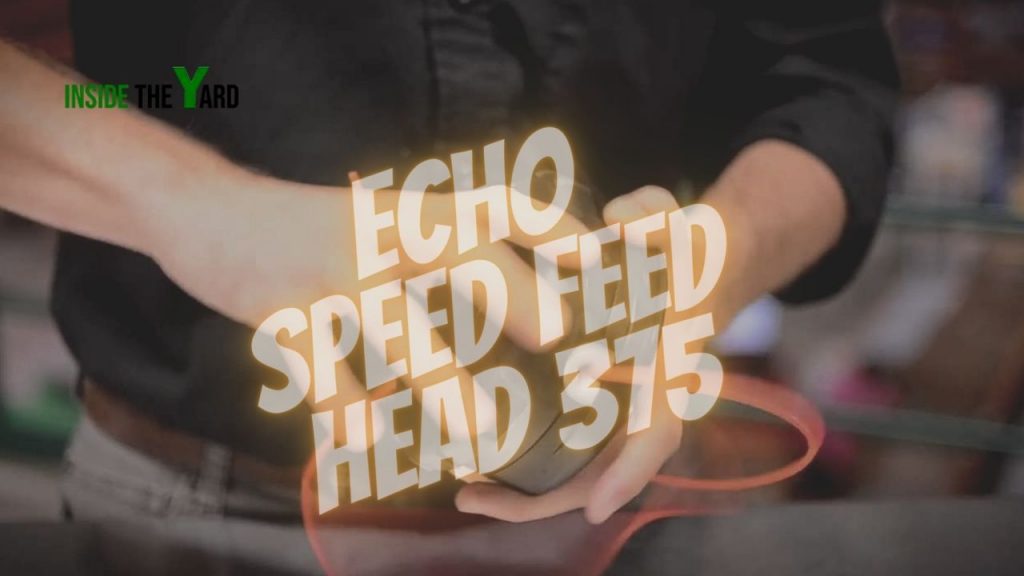 The Reasons To Go With This Trimmer Head
Speed Feed 375 is the fastest loading bump feed trimmer head, equipped with many innovative functions to make the lawn repairing job effortless.
The primary reason for picking this trimmer head is that it is small and allows hassle-free reloading within 30 seconds. Now, let's check out its other mesmerizing features in detail.
Spool Holding Capacity
The speed feed 375 trimmer head's spool can accommodate 10' of .095" line, which comes with the head. Apart from that, you can also feed .080", .095" or .105" diameter lines through its 4" head.
Also Read: How To Replace RedMax Trimmer Head Easily?
And this is where the main difference between speed feed 400 and 375 lies. While speed feed can hold about 20' of .095" line, the 375 trimmer doesn't come with that capacity. Yet, it can satisfy your need when you head to trim the lawn.
Advanced Line Feeding Feature
Indeed, what excites us is the advanced line feeding feature of this speed feed 375. Its bottom cover taps on the ground, enabling it to advance more line and let its head glide during trimming. Consequently, you can trim off grasses without any fuss.
Line Protective & Line-Life Extending Function
The 3rd notable function of the 375 trimmer head is that it's got large, rigid, split eyelets that help enhance the line's lifespan. Furthermore, this echo speed feed 375 can prevent dirt from entering, thanks to its inner wall, which contributes to extending the line's life.
Compatibility
Finally, compatibility is something that you want in every trimmer head. This one won't disappoint you because it supports most shaft string trimmers and is appropriate for commercial and consumer use.
What Users Say
"This timer head works great, and so easy to install the new LINE!! I am now able to trim at walking speed which I could never do with other trimmer heads. Twisting the trimmer to cut vertically is a breeze, and I can see where I am cutting much more accurately."
Frequently Asked Questions (FAQs)
What Is The Difference Between Speed Feed 400 And Speed Feed 450?
The main difference between these two trimmer heads is that the 450 model is comparatively bigger than the 400 and can accommodate more lines. Plus, it is suitable for string trimmers with motors over 24cc, while speed feed 400 is ideal for all shaft string trimmers.
Who Makes Speed Feed 400?
Primarily Echo makes speed feed 400 trimmer head. However, other renowned brands like Shindaiwa also yield speed feed 400 trimmer heads.
How Much Line Does A Speed Feed 400 Hold?
The speed feed 400 trimmer head can accommodate 20 ft. of .095" line, and its max line housing capacity is .105".
Which Trimmer Head Series Wins the Race?
Speed feed 375 vs 400, which one you should pick and which one to avoid depends entirely on you. Basically, both gardening devices are perfect for trimming jobs, so you can't qualify one piece of equipment as a winner. Both trimmer heads excel distinctly with their functions.
Long talk short, if you prefer working with small trimmer heads, the speed feed 375 can be your go-to tool. And if you need to work on a large property with lots of weeding, you better choose the speed feed 400. That's all for this article.
Bottom Line
The Echo speed feed 375 is slightly smaller than 400, but it has pretty lucrative functions. So, if you want a small trimmer head that can elevate your grass trimming performance, this one is a good-to-go option.
You Can Also Read:
Enamored with the world of golf Jack pursued a degree in Golf Course Management at THE Ohio State University. This career path allowed him to work on some of the highest profile golf courses in the country!  Due to the pandemic, Jack began Inside The Yard as a side hustle that quickly became his main hustle. Since starting the company, Jack has relocated to a homestead in Central Arkansas where he and his wife raise cattle and two little girls.