Turf Smart Vs Turf Master- Which One to Pick?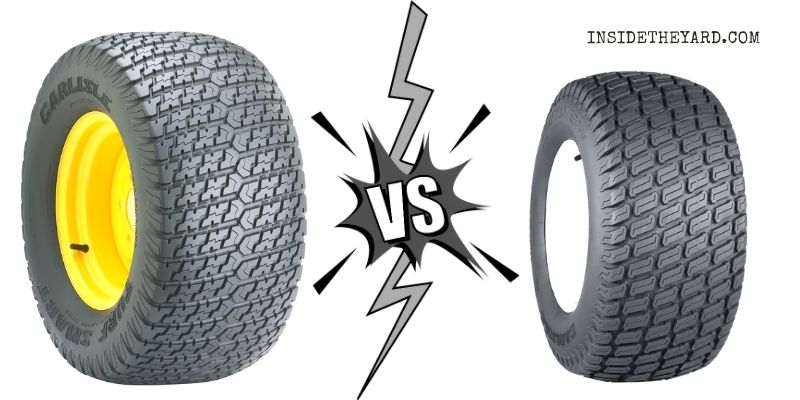 What is the difference between these Turf Smart and Turf Master tires? Though both are brilliant for your turf and lawn, Turf Smart is designed for both professionals and homeowners with fewer varieties, whereas Turf Master has a large-scale catalog for various purposes.
Turf Smart and Turf Master are two of the most high-grade products from the Carlisle brand. But if you have no experience of using any of these two, then it is pretty easy to get confused about which one to pick while buying. This is your guide to help you decide which one will dominate your land – Turf Smart vs Turf Master.
Turf Smart Vs Turf Master – A Quick Comparison
Turf Smart
Turf Master
Size
Ranges from 18×8.50-8 to 26×12.00-12
Ranges from 13×6.50-6 to 24×9.50-12
Maximum Pressure
20 / 22 / 24 PSI (depending on the tire size)
10 – 32 PSI (depending on the tire size)
Maximum Load @ 10 MPH
825 – 1760 lbs (depending on the tire size)
480 – 1710 lbs (depending on the tire size)
Best Use
ZTRs, Professional, Standard Riding Mowers, Grounds Care Equipment
Commercial Turf Equipment, ZTRs, Consumer, Golf Carts, Professional, Utility Vehicles
So, these are the basic contrasts between the two tires. Now, let's take a look at the features more closely so that you can easily decide which of these Carlisle lawn mower tires best suits your purpose.
We will compare the tires by considering the following key factors:
Tread Design
Body Quality
Size
Performance
Price
Tread Design between Turf Smart & Turf Master
The tread pattern of Turf Smart tires firmly engages with the turf due to an innovative tread design that includes a self-cleaning Groove Ejection System. This advanced tread design also enhances traction. Moreover, the gradual transition from tread to sidewall provides maximum turf protection.
The Turf Master Carlisle mower tires also come with an advanced design for desirable results. The robust tread compound and deep tread lugs in profile assist in maximizing stability and traction. Its broad-shouldered shape provides outstanding traction while causing minimum wear and tear on the grass or turf.
Tire Body Differences
We know, the higher the number of ply, the tougher and stiffer the tire is. And the ply rating indicates the tire's strength and capacity.
Turf Smart being one of the most aggressive lawn mower tires, has a B/4 ply rating.
Similarly, most of the Turf Master tires got the B/4 ply rating. But, since the Turf Master offers a broad range of variety, some of the tires have A/2 and C/6 ply ratings according to their size.
Size Comparison of Turf Smart & Master Series
Like most of the Carlisle garden tractor tires and lawn mower tires, Turf Smart and Turf Master include a wide collection of different-sized tires to fulfill consumer demand all around the world.
The Turf Smart tires come in 12 different sizes ranging from 18×8.50-8 to 26×12.00-12.
On the other hand, the Turf Master provides an extensive catalog to choose from. Since the Turf Master tires serve several purposes, from turf equipment to golf carts to utility vehicles, you can pick tires of size 13×6.50-6 up to 24×9.50-12 as per your requirement.
Performance Differences- Turf Master Vs Turf Smart
Because of the self-cleaning technique, the Turf Smart tires minimize tread channel fouling and provide optimum traction. These tires have an excellent grip on steeper surfaces and great traction even in little wet or damp turf. The tire profile of the Turf Smart tire involves a wide design that achieves maximum surface contact and weight distribution which results in handling extreme conditions.
The Turf Master is the market leader in terms of traction on golf courses and uneven surfaces. Because of Carlisle's long-wear tread compound and strong sidewalls, the tire is puncture-resistant. A smooth, contoured shoulder protects the grass. It works effectively in a variety of weather circumstances.
Price Dealing
The world-class quality of Carlisle lawn tractor tires is always the best fit for the price. The Turf Smart tires seem to be slightly pricey from the Turf Master. However, the cost varies depending on the features of the tires. Also, prices differ from one dealer to another.
Frequently Asked Questions (FAQs)
Where are Carlisle tires made?
The Carlstar Group is the sole manufacturer and distributor of Carlisle tires. The company has a manufacturing facility in Clinton, Tennessee. Later in 2010, the company opened another facility in Jackson, Tennessee. The Trail tire line, on the other hand, is made in China.
Is Carlisle a good tire?
Carlisle tires are of top-notch quality and a good fit for lawn mowers, garden tractors, landscape equipment, construction equipment, utility vehicles, and many other things. Carlisle is a tire brand of The Carlstar Group, a prominent company making tires for over 100 years.
Who makes Carlisle tractor tires?
The Carlstar Group is the sole manufacturer and seller of Carlisle tractor tires. Not only tractor tires, but the company also has comprehensive product lines for lawn and garden, trailers/haulers, agriculture, ATV / UTV, golf/utility, and industrial application.
Are Carlisle tires tubeless?
The Carlisle brand, one of the leading manufacturers of the tire and wheel industry, includes a wide variety of tubeless tires. Moreover, they also manufacture robust tire tubes of various sizes, from which you can choose the one that is the best fit for your tire and wheel.
Conclusion
In plain language, both the tires gave an extraordinary performance for their respective purposes. So, if you have to go for anyone between these two, choose as per your requirements.
The Carlisle Turf Smart tire is designed for ZTR (zero-turn) riding mowers, snow throwers, tillers, walk-behind mowers, and other grounds maintenance equipment. It is suitable for both professional and consumer-grade lawn equipment. Though you have only 12 different sizes to choose from, Turf Smart Carlisle zero-turn tires are well known for their heavy-duty performance with a B/4 ply rating. So, if you are a ground care professional, Turf Smart is the best choice for you.
Not a professional? No problem. If you want to give your ground an excellent touch or have to work on uneven or steep surfaces and intend to do heavy tasks, the Turf Smart will provide you with durability.
Similarly, the Turf Master is also commonly used in ZTR (zero-turn) riding lawn mowers and other professional-grade equipment. It is a good choice for working in hilly areas as well. Since most Turf Master tires have a B/4 ply rating with a durable tread compound, they can be a perfect companion for your heavy-duty work. 
But, unlike Turf Smart, Turf Master also includes 2 and 6 ply tires. So, if you need some supreme quality tires for gentle tasks, you can go for Turf Master. Again, if you require extreme tires that will perform better than the heavy-duty 4 ply tires, Turf Master got you covered with their 6 ply 20×10.00-10 sized tire.
Because of Turf Master's multiple unique qualities, including a rounded shoulder that facilitates steering more easily, it has become a preferred choice for golf course and landscape use.
You Can Also Read:
Enamored with the world of golf Jack pursued a degree in Golf Course Management at THE Ohio State University. This career path allowed him to work on some of the highest profile golf courses in the country!  Due to the pandemic, Jack began Inside The Yard as a side hustle that quickly became his main hustle. Since starting the company, Jack has relocated to a homestead in Central Arkansas where he and his wife raise cattle and two little girls.