Can you put an 18 inch bar on a Stihl Or Not Legit?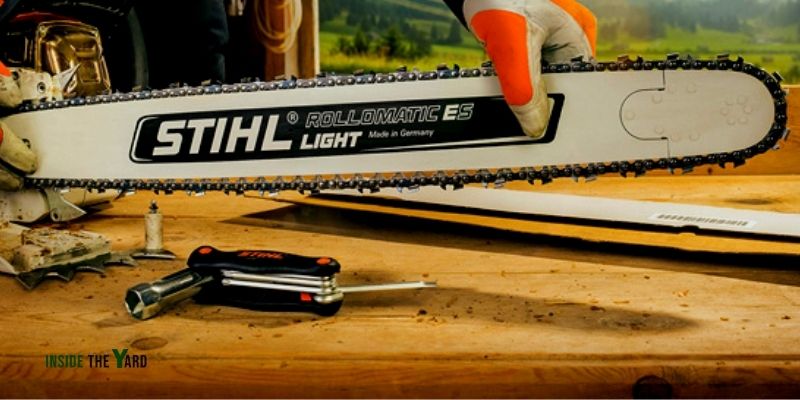 Can you put an 18 inch bar on a Stihl MS170″? The short answer is that you cannot put an 18-inch bar on this chainsaw. This is because there are certain specifications regarding the guide bars that come with the chainsaw, and if you go beyond them, you may end up damaging your chainsaw.
This article will showcase why you shouldn't use a Stihl 18 inch bar on your Stihl MS170.
Can you put an 18 inch bar on a Stihl MS170?
If you are thinking about whether you put an 18-inch bar on a Sthil MS170 or not, the clear answer is "NO,"
The main reason for this is that the guide bar cover cannot house an 18-inch bar without any modification to the saw. You can, however, use the recommended guide bar ranges from 12 inches to 16 inches as long as you get a new chainsaw.
Ideal Bar Size for Stihl MS170
The Stihl MS170 is perfect for homeowners looking for a reliable and easy-to-use chainsaw.
The ideal bar size for this power tool is 16 inches the manufacturer also recommends.
You can quickly get its optimum power with this suggested setup. Additionally, this power tool supports bars ranging from 12 to 16 inches according to your working need. Therefore, you can use any mentioned size for reliable and durable use.
What happens if a more extended size is attached to Stihl MS170
Putting a longer bard on a Stihl MS170 chainsaw is not recommended, resulting in tool damage or personal injuries. Chainsaws are designed to be both portable and safe. A short bar makes it easier to carry and protects the user from kickback if the tip of the saw comes into contact with something.
However, a more extended bar increases the distance between the tip of the saw and the engine, which means that there is more chance of damage if it hits something.
Also, remember that a key factor in reducing kickback is to use a shorter bar. If you are using a saw on a tree branch above waist height, you may be putting yourself at risk for serious injury.
Specifications of Stihl MS170
Before you purchase a bar for your Stihl MS170, make sure that you know the specifications.
Stihl MS170 Chainsaw is a professional chainsaw capable of tackling your most demanding cutting jobs. Engineered to be lightweight, it features an ergonomic design that makes it easier to handle. It also has an anti-vibration system that reduces fatigue and provides better control. The Stihl MS170 chainsaw is equipped with a 1.7 bhp engine which provides 1.8 cu. in. displacement for optimum power and performance.
The PMM3 OILOMATIC® chain is designed for power and durability. This chainsaw has a 16″ guide bar length recommended for tough jobs. It has an 8.6 lbs. powerhead weight which is excellent for its class. This model also includes the industry-leading IntelliCarb™ compensating carburetor, which allows for quick starting.
What size bar is on a Stihl MS170
The recommended bar size on a Stihl MS170 chain saw is 16-inch, but the beam of your chainsaw will also be significant in determining how much space you will have to work with while cutting through branches and logs.
However, due to the adjustments that can be made, it's often easier to get an idea by looking at pictures of the different sizes available for each chainsaw model.
Frequently Asked Questions (FAQs)
How big of a bar can I put on an MS170 Stihl chainsaw?
The maximum bar length for the Stihl MS170 chainsaw is 16 inches long. This length is the recommended size for getting the most out of this powerful chainsaw. Additionally, you have the flexibility to use a bar range from 12 to 16 inches according to your requirements.
Can you put a bigger bar on MS170?
No, you can't use a bar bigger than 16 inches on your MS170. The reason behind this is the guide bar cover that cannot house. Alternatively, if you can manage (commercially not available) a bar designed to fit your saw, you can use a bigger one. But it's not recommended for safety measures.
What size bar can I put on my Stihl chainsaw?
You can put a more extensive bar on Stihl chainsaws but only with specific models. According to the Stihl charts, 12 to 16 inches bar is usable for theMS170& 171, MS 180&181, MS 192, and the Stihl MS 211 models. On the contrary, the MS 250 and 251 models are ideal to use with 18 inches bar for the massive engine power.
Conclusion
By now, you should have a practical answer on can you put an 18 inch bar on a Stihl MS170? after reading this far. Chainsaw bar size is essential to consider before making a purchase.
So, when choosing a chainsaw, you definitely want to consider the size. If the bar is too short, it will be dangerous and inefficient. If the bar is too long, it could be hard to handle safely.
As a rule of thumb, you want the bar to be about 1 inch longer than the widest diameter log that you cut.
You Can Also Read:
Enamored with the world of golf Jack pursued a degree in Golf Course Management at THE Ohio State University. This career path allowed him to work on some of the highest profile golf courses in the country!  Due to the pandemic, Jack began Inside The Yard as a side hustle that quickly became his main hustle. Since starting the company, Jack has relocated to a homestead in Central Arkansas where he and his wife raise cattle and two little girls.