Know About the Common Problems With Husqvarna Riding Mowers & Right Fixes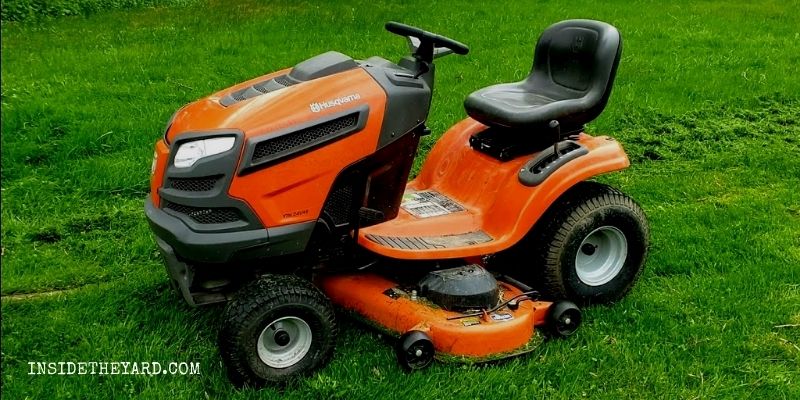 Do you have any Husqvarna riding mowers? As we all know, having a riding mower makes our lawns work easy. It saves both our time and energy. Mowers are not something we use regularly. However, if you continue to have common problems with Husqvarna riding mowers, you'll encounter more complications when attempting to mow.
Some of the common problems are the bad start of the engine, weak transmission, hard move, etc.
However, we've compiled a list of the most frequently encountered issues with Husqvarna riding mowers to alleviate any stress you may be experiencing. Additionally, we'll discuss why problems develop, how to recognize them, and how to resolve them.
Common Problems With Husqvarna Riding Mowers
It is very okay to face a problem if you have a riding mower. In this article, you'll learn about typical riding mower problems and how to fix them.
After finishing the section, you'll know what mower issue you're having. This section contains information on some common issues and how to fix a Husqvarna lawn mower.
1. Engine Unable To Start
Your Husqvarna riding mower won't start because the engine cannot access the air or gasoline. It needs to function owing to a limitation in the air or fuel system. The failure of the safety switch or the charging system might potentially cause the mower not to start.
Step 1: Firstly conduct a visual inspection for evidence of wear or damage. You should replace the spark plug if the porcelain insulator is fractured. If you find an electrode burned away or damaged or a significant amount of carbon accumulation at the electrode, try to replace that quickly.
Step 2: Then checking the gooey fuel might block the carburetor and make it difficult or impossible to start the engine. Using an engine washer can help clear a blocked one. You can solve your Husqvarna lawn mower carburetor problems by repairing or changing them.
Step 3: Next, you can examine the pulse port line and the diaphragm within the fuel pump to identify whether or not the fuel pump is malfunctioning. Overfilling the engine oil might cause oil to access the pulse valve line, impeding proper operation.
Step 4: Now you can use a multimeter to check the conductivity of the start switches to discover if it is a bad ones or not.
Step 5: Check whether the starter rope has been pulled and released; if it has, the rewind spring will rebound the string onto a pulley. If the rewind spring breaks or the rewind pulley becomes old, the rope cannot return to the roller. As an outcome, the Husqvarna mower won't start.
2. Loses Power and Dies Due To System Clog
If your Husqvarna lawn mower fuel or air filtering systems are blocked, it could die while mowing. An obstructed air filter, a dirty carburetor, or faulty fuel are all possibilities.
Step 1: If you see your system getting clogged, remove the old fuel from the tank and replace it with new. You can use a fuel stabilizer to keep the fuel stable and aid in cleaning the gasoline system.
Step 2: Next, you can take out the filter and give it a good cleaning. If the filter needs to be replaced, do so.
Step 3: Lastly, To dislodge the blockage from the gasoline line, use a carb cleaning and pressurized air to blow it out. Please make sure the engine and all of its parts are neat. If necessary, reinstall.
3. Smokes Due To Insufficient Oil or Engine Problem
Your Husqvarna lawn mower won't start because of the oil leak, low oil level, internal engine problem, etc. Smoke can form when your engine is operating at too high an RPM and is consuming more fuel than you're putting in. to fix this issue, you try the following steps:
Step 1: To begin, reduce the oil level by taking the manufacturer's suggestion.
Step 2: After that, change the filter by removing it and throwing it away.
Tips: If you cannot solve this issue, you can consult with an engine service center about your Husqvarna's performance issues.
4. Weak Hydrostatic Transmission
The gearbox may appear to be weak as a result of a faulty hydraulic belt or pulley. Insufficient or outdated hydraulic oil will result in a fragile gearbox.
According to Husqvarna's recommendations, you should replace your hydraulic oil every two to three years.
Step 1: Make sure your hydraulic oil is always full by checking on it regularly.
Step 2: If yours has a damaged tensioner pulley or driving belt, replace it immediately.
5. Difficulties to Drive and Steer Straight
You can face difficulties driving and steering straight due to Husqvarna zero turn mower problems. Inadequate tire pressures or damaged steering components may impair the steering of your Husqvarna mower. When utilizing Husqvarna zero turns, the mower may go right instead of left.
Step 1: As a first step, make sure your tires are at their recommended pressure levels. Equivalent pressures are required on either side of your mower's tires.
Step 2: Then, try to modify the rotation speed of the tire and adjust the speed with an adjustment bolt.
Step 3: Lastly, conduct an inspection of your handling program to replace any defective components. You can solve problems with Husqvarna zero turn mowers by following these steps.
6. Not Being Able To Move Easily
Your mower will not move due to many reasons. Defective drive belts and worn-out springs can cause it. Also, your hydraulic oil level may be low. We already mentioned the process if you face difficulties regarding these causes. Even if you are facing challenges, then try the below steps:
Step 1: Make sure the engine safety valve is in the correct position by consulting a technician. If it doesn't usually roll, fully release the brakes.
Step 2: If you discover a broken or missing axle and pulley arm tension while looking for a broken key, make the necessary repairs and substitute the key and spring.
If you cannot resolve this issue, your Husqvarna riding mower won't move forward or reverse.
If you run a machine, there will be problems today or tomorrow. Despite having so many problems, it is considered the best riding mower.
Basic Troubleshooting Steps to Husqvarna Riding Mowers Problems
You can maintain your lawn mower regularly to help avoid problems and extend the life of the component. If your Husqvarna riding mower running rough, then you can start troubleshooting.
1. After applying all the methods with steps, you may still wonder why my Husqvarna lawn mower not starting
When a lawn mower isn't self-propelling, one of the most typical issues is that it won't start. Prior to attempting to diagnose the problem, it is necessary to rule out any conspicuous causes, such as a blockage in either the edge of the apparatus overall. However, the necessary troubleshooting steps are-
Make sure the valve is fully on.
Measure the lawn's growth and make any adjustments.
Check to see whether the propellers are collecting any plants and make any required adjustments.
Next, search for and dislodge any blockages that may have formed in the vehicle's underside.
Make certain that the trimming position is set to sufficient circulation to retain the ignition cool.
2. What to do if you run out of power while mowing
In contrast to a lawn mower, the fuel of a riding mower is contained in a charging station. Recharging the tank is the key to resolving the performance issue so you can restart plowing. So, here are some of the steps for debugging this issue.
Whenever you initiate mowing, make sure your system is working.
Make sure your connectors and wires are correctly installed and functional before moving to step 3. If this is the case, reconnect them and check them for rust.
When pushing the toggle and no indicators appear on the center console screen, make sure the vehicle is not running down by clicking the "Powertrain Stop" icon located on the status bar.
If these methods are not working, follow the below methods:
Lack of maintenance and severe friction can lead to troubleshooting. If your lawnmower starts vibrating significantly, turn off the power. This is typically a symptom of a malfunctioning mower edge.
Tip 1: Whether you think the extreme vibration you're experiencing is due to a cracked cutting tool, check it out and see if it's true.
Tip 2: If you find it is broken, make sure to replace it. If the edge is unstable, either polish it or discard it.
To check the stability of a blade, just hold it from a screw hammered through the focus hole in the ceiling. This means that the blade's heavier side will descend shorter than its bright side.
This is how you can troubleshoot your Husqvarna z248f problems if you are having difficulties.
You May Like This Video Too!
Frequently Asked Questions (FAQs)
Why is my Husqvarna riding mower not starting?
Many factors can cause a Husqvarna lawn mower to fail to start. You may experience that this mower won't turn over if you have a limitation in the petroleum products, unavailability of air circulation, or an issue with the ignition grid. Other factors that can contribute to this problem include a complete absence of gas in the tank, poor or ancient fuel, a crappy fuel tube, clogged gasoline engines, a damaged recoil, a wrong trickle charger, clogged exhaust pipe, mucky spark plug, a defective safety switch, and a malfunctioning gas lid.
How many hours will a Husqvarna riding mower last?
A standard mower with proper care and maintenance should last 1500 hours or more, at the very most. The life expectancy of a rotary mower that has been rigorously maintained is 20 years or more. An excellent place to start is with 1,000 hours of use. If it's still going strong after 2,500 miles, it's probably not worn out. Husqvarna lawn mowers have a 15-year life expectancy with adequate care and upkeep. Their function effectively works in low-demand situations and lasts 400-800 hours according to usage.
Why does my Husqvarna lawn mower keep shutting off?
According to Husqvarna, it's possible that the fuel filter is a blocker as a dis-blocked fuel filter inhibits fuel usage to the throttle of the mower.
Conclusion
It is easy to maintain Husqvarna lawn mowers. With good care and following the handbook, your mower should last for decades if you can fix the common problems with husqvarna riding mowers as we described.
We hope you received what you desired, as we went to great lengths to explain the majority of the concerns experienced. If the troubleshooting as mentioned earlier does not resolve the issue, contact the company's Support Team. In addition to saving money, repairing your Husqvarna mower while still under service warranties can save you time and effort.
You Can Also Read:
Enamored with the world of golf Jack pursued a degree in Golf Course Management at THE Ohio State University. This career path allowed him to work on some of the highest profile golf courses in the country!  Due to the pandemic, Jack began Inside The Yard as a side hustle that quickly became his main hustle. Since starting the company, Jack has relocated to a homestead in Central Arkansas where he and his wife raise cattle and two little girls.