How to Remove Dead Grass After Roundup- 4 Easy Way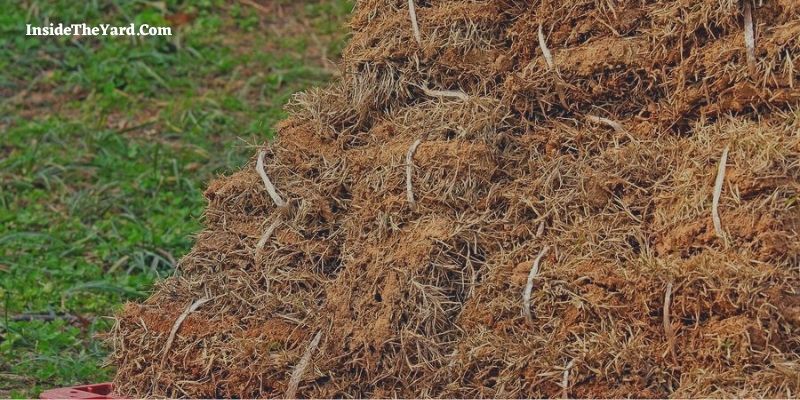 Using roundup is the best method to kill grass from the roots. How to remove dead grass after roundup? There are several methods to remove the dead grass, such as mow and dethatch, sod cutter, string trimmer, shovel, and many more.
Roundup takes 10 to 14 days to completely kill the grass from the roots and prevent it from growing. So, please wait patiently before cutting the grass after using the roundup because all of your hard work will go in vain if the grass regrows.
Most of the time, people make this mistake and do not understand the correct process to do the work. Well, no worries, as we are here to help you step by step.
How To Remove Dead Grass After Roundup
Removing dead grass after roundup is easy. You can always use different tools to make the work easier for you.
Preparation for Removing Dead Grass
The preparation is straightforward and not very complicated. It is the basic thing to prepare what you will need to cut the grass or remove the grass. Take all the safety precautions in mind and take necessary safety measurements. The safety items should be:
Hand gloves
Safety goggles
Safety boots
First aid kit
And the tools that you are using to remove grasses
Now all you have to do is prepare all the necessary items for your grass removal. We will discuss the items you need to prepare on that particular step or para.
So, we will now discuss 4 methods using 4 different grass removal tools to remove dead grass. No worries if you don't have the tools with you, as you can always take it on rent from your nearest hardware shops. Those are:
Method 1: Mow and Dethatch
It is a straightforward method if you have a lawn mower. You can clean the entire lawn using the lawn mower and a dethatcher or power rake. However, to do the process, you have to take a few steps those are:
Set the blade to the lowest settings so it cuts grass to the soil level.
Mow the place thoroughly while bagging the grass clippings.
Use a dethatcher tool or power rake to rip the remaining grass and root material.
After repeating the process, please do it again to collect thatch.
If you follow these simple steps stated above, you can clean your entire yard or lawn without any worries. Moreover, thanks to roundup, no grass will grow further.
Method 2: Using a Sod cutter
If you wonder how to remove the dead grass without dethaching, this is the best possible way to remove the grass. Well, a sod cutter is the ultimate tool that can clear the grass from the roots. However, it is a pretty expensive machine, and very few buy these.
In order to use it, you can have it from any dead grass removal machine rental from your nearby hardware shops. Well, most of the shops keep these machines as there is a need among all the residents worldwide. The machine will pull the grass from its roots up to 2 to 3 inches.
So, it does make things easier for you if you are using roundup as the grass will not grow. Your lawn will be perfectly clear.
Method 3: Using String trimmer
Using a string trimmer is another efficient way of removing dead grass from an existing lawn. But it is preferable for pavements and tiles or waking pavements. Because most of those areas are made of concrete, and there are gaps between them. Grass usually grows on these gaps and makes the pavement risky to use for children and elderly people.
To cut those, using a roundup is the best idea. After 14 days of using roundup, you can use a string trimmer to cut the grass.
This type of trimmer really works well, like the Dewalt 20V battery-powered trimmer that people blindly rely on.
It usually cuts the grass to the soil level, so the grass will not grow either.
Method 4: Using Shovel
There is no need to rent a heavy machine if you have a small portion of grass from your lawn or your pavement. Using a shovel is the best idea to remove grass in small patches. You can use a spade or square-shaped shovel to remove grass that has been already killed by roundup.
As we have discussed already, that roundup kills the entire grass from the roots. So, using a shovel makes it easier to remove the thing from the soil.
Why rent a big grass removal machine and do lots of work when you can just sit down and do it gently.
Moreover, you can do it whenever you like and however you like. The versatility is on your hands. You can also use the Groundskeeper II Rake, which is too easy to use.
These are the easiest way of removing dead grass from an existing lawn. Dead grass removal machines are not needed if you are smart. However, if you think of the entire lawn, we highly suggest you rent a machine.
A Helpful Tutorial You May Need!
Frequently Asked Question (FAQs)
What is the easiest way to remove dead grass?
The easiest way to remove dead grass is to use a shovel or a sod cutter. It will remove the grass from the roots.
Should dead grass be removed?
Yes, the dead grass should be removed if you are willing to sod new items on the ground. However, if you want to remove the grass, you don't have to remove the dead grass from the soil. Just cutting it above from the soil or to the soil level will be enough.
How long does roundup keep grass dead?
Roundup kills the grass and does not let it regrow as this thing kills the entire grass to its roots. Moreover, the process takes around 14 days to completely kill it.
Will watering dead grass bring it back?
Watering the dead grass will not bring it back. However, if you water it regularly, it can become fertilizer and good compost for replanting.
Conclusion
You were looking for ways on how to remove dead grass after roundup, and we think most of the ways we mentioned here will be helpful to you. These are all tested methods of removing grass, and the grass removal tools we have mentioned are effortless to acquire.
Just visit the local hardware shop and tell them you want a tool to remove grass or how to get rid of grass weeds, and they will provide you with all the necessary items and suggestions. But you don't have to go through that mess as we have already described it here in detail.
You Can Also Read:
Enamored with the world of golf Jack pursued a degree in Golf Course Management at THE Ohio State University. This career path allowed him to work on some of the highest profile golf courses in the country!  Due to the pandemic, Jack began Inside The Yard as a side hustle that quickly became his main hustle. Since starting the company, Jack has relocated to a homestead in Central Arkansas where he and his wife raise cattle and two little girls.