Palmetto Grass Pros And Cons- Reasons To Pick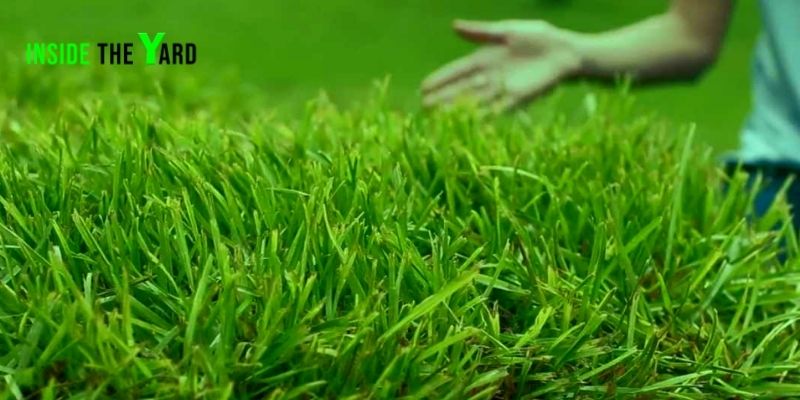 Palmetto grass is the most popular choice for lawns. After comparing Palmetto grass pros and cons, you can discover they add the perfect aesthetic to your lawns. The deeper and emerald green color and better texture are appropriate for any residential yard or commercial landscape. Still, there are some drawbacks, like it is easily attracted to fungus and bugs, which can be a nightmare.
So before planting Palmetto grass, check the advantages and disadvantages. Below you can see an overall sentiment of the Palmetto grass.
Palmetto Grass Pros And Cons
Palmetto is a form of native St. Augustine grass. This type of grass is becoming adopted in many lawns as a landscaping standard. It is semi-dwarf grass, offering a plush appearance. The leaf blade is about 8-9mm that is quite smaller than Raleigh St Augustine. The blades tend to be tapered at the tip with a rounded end.
Palmetto Grass Pros
It is an ideal choice to select Palmetto grass for lawns. There are several reasons for recommending this grass seed. For example:
1. Better Color
Most homeowners choose Palmetto grass for its beautiful color and finer texture. There is no risk of becoming thatchy.
Again, the leaf blades are more refined than other St. Augustine grasses. They have rounded edges and are soft to touch. Palmetto is an evergreen grass in the proper environment.
2. Good Shade Tolerance
Palmetto grass is known for its amazing shade tolerance than other grass varieties. It can easily subsist in shady and sunny conditions without being killed browning. Many homeowners prefer this grass because there are other trees around their yard and need a high shade tolerance grass to work well in both conditions.
Palmetto grass can live on three or four hours of direct sunlight per day and filtered sunlight the rest of the day. Even they grow well in such conditions. But in shady conditions, Palmetto sod thickness decreased a little bit. You can see a nice appearance with consistent color and texture among the areas which are exposed to the direct and high amount of light.
3. Drought Tolerance
Drought tolerance is another obvious reason for recommending Palmetto grass for lawns. It is proven that Palmetto grass is productive in non-irrigated fields. It can even endure a drought over 2 months. Sometimes, Palmetto grass wilts like other grasses, but they can recover quickly if water is applied.
However, you need to make sure your lawn receives 1 inch of water every week to maintain an attractive green color. If there is no rain, you need to water at least twice a day to make the soil damp for 1 inch. Continue it for 1.5 weeks and then reduce watering once per day.
When Palmetto grass doesn't get enough water every week, they get too dry, and the leaf blades get curled and gray spots.
Palmetto Grass Cons
Certainly, some disadvantages of the Palmetto grass can ruin your lawn. So you need to consider them before choosing Palmetto grass.
1. Attacks of Bugs
Palmetto grass easily gets attacked by bugs, especially the chinch bugs. They suck juice of plant and insert a toxin that kills the grass. Repeated chemical treatment during the summer months is only the way. There are no treatments for long-term control.
2. Damage In Cold
Though Palmetto grass has high shade tolerance, it becomes off color due to excessive cold. The grass slowly dormant after several heavy touches of frost. You can see the bottom will remain evergreens while top leaves develop brown tinges. Moreover, in some parts of the South, Palmetto grass remains semi-evergreen.
Further, the attacks of Brown patch fungus increase in cool weather and moist conditions. It is the most common disease in cool weather. You can control it with fungicide, but it costs you higher.
3. Fast Growing Habit
Palmetto grass has a fast-growing habit. You need to mow the garden more frequently during the growing season. But frequent mowing may result in excessive thatch accumulation and lead to insects and disease problems. If you attach a mulching kit with your mower and rake up extra thatch, you can eradicate these problems. But it is a time-consuming task in the yard.
4. White Grubs
White grubs rapidly attack not only Palmetto but also other varieties of grasses. If you left them untreated, they can damage your lawn grasses. White grubs eat the roots of the grasses and damage the grass. Most damage occurs between mid-summer to early fall. If you see irregular-shaped drying grass areas, then it is surely damaged by white grubs. Treating the lawn with insecticide can prevent this problem.
5. Shallow Wear Resistant
Palmetto grass is weak in case of wear and tear resistance. So it won't do an excellent job in pathways, parks, or sports fields. It quickly gets ruined and needs some time to grow back. So you can not plant this grass where the lawn gets a lot of use.
You May Like This Video Too!
Frequently Asked Questions (FAQs)
Is Palmetto grass shade tolerant?
Yep, Palmetto grass has high shade tolerance. This grass can live with 3 or 4 hours of direct sunlight and remain green.
Which is better, Floratam or Palmetto?
Palmetto is better than floratam because Palmetto has better green color and finer texture. The leaf blades are also soft and finer. So Palmetto is a good choice for lawn and gardening.
How do you care for Palmetto grass?
Palmetto grass grows faster and looks greener in perfect condition. You have to ensure 1 inch of water per week. Water the lawn twice a day for moist soil. When you apply any controlling application, make sure sufficient amount of water. But remember, excessive watering can cause damage.
Final Words
After comparing, Palmetto grass pros and cons, surely you can understand how good it is for your lawn. The greener appearance of Palmetto grass will blow your mind. If you ensure a proper condition, you can select this warm-season grass.
You Can Also Read:
Enamored with the world of golf Jack pursued a degree in Golf Course Management at THE Ohio State University. This career path allowed him to work on some of the highest profile golf courses in the country!  Due to the pandemic, Jack began Inside The Yard as a side hustle that quickly became his main hustle. Since starting the company, Jack has relocated to a homestead in Central Arkansas where he and his wife raise cattle and two little girls.