How to Use Stihl Hedge Trimmer Blade Cleaner & What Are the Alternatives?
What can you use to clean Stihl trimmer blade apart from the Stihl hedge trimmer blade cleaner resin remover? Though you can use the Stihl recommended Stihl resin remover as known as blade cleaner, there are some other aftermarket cleaners too.
Did you know cleaning the trimmer blades after every use is recommended? So, if you store the blades after working without proper cleaning, it can impact the cutting efficiency of the blades badly.
So, today we will help you clean your hedge trimmer blade and some other cleaners that can be used as Stihl blade cleaner alternatives. So, let's start!
How to Use Stihl Hedge Trimmer Blade Cleaner?
Stihl offers 4 different types of maintenance cleaning agents for Stihl trimmers. And Stihl Hedge trimmer blade cleaner or resin solver is one of them. But how to use it?
Power off your trimmer engine
Remove the battery
And apply/spray some of the resin remover or trimmer blade cleaner on the blade
now buckle the parts up and run it to even;y distribute the cleaner on all of the blade areas.
And you're done with your trimmer maintenance and now can store it at the safest place out of children's reach.
This Video Can Be a Practical Help Too!
Stihl Hedge Trimmer Blade Cleaner/ Resin Remover Alternatives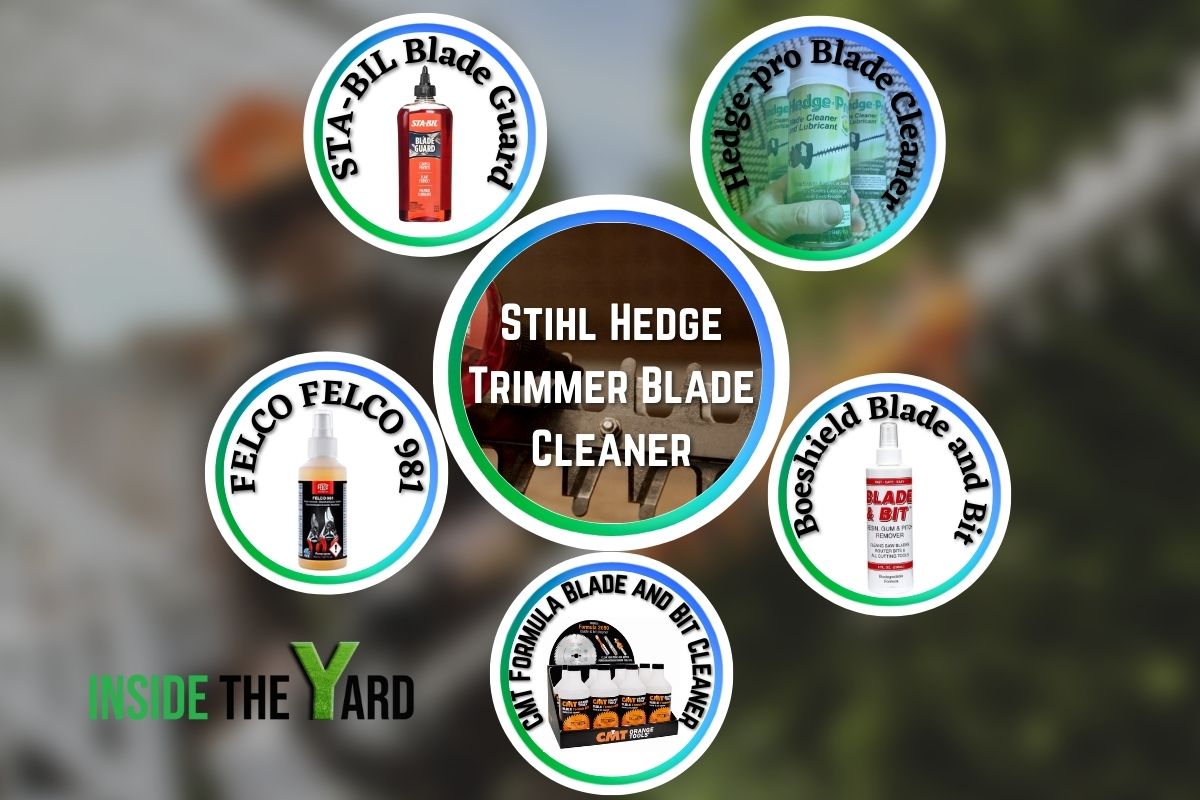 Though Stihl offers a high-quality and fast-acting blade cleaner for quick and smart maintenance, there are some aftermarket cleaners you can use.
Here are 5 recommendations for good-quality blade cleaners apart from Stihl.
1. Hedge-pro Blade Cleaner and Lubricant
It's a 2-in-1 product for you. You can use this solution to clean the blade and lubricate it afterward.
2. STA-BIL Blade Guard
This one is another 2-in-1 premium cleaning lube for your Stihl Hedge blades. You can use this cleaner to maintain the blade's peak performance and clean it simultaneously.
3. FELCO FELCO981 Plant Resin Remover Spray
If removing the plants' harsh residue is your main concern, then picking this gem is ideal for you.
4. CMT Formula Blade and Bit Cleaner
This non-flammable and non-toxic cleaning lube is suitable for removing resin, pitch, and adhesive residue from your hedge trimmer blade.
5. Boeshield Blade and Bit
This one can be an excellent pick if you're looking for lube for regular maintenance, cleaning gum, pitch, and plan resin from the blade.
But before you use these products, you should know about the Stihl hedge trimmer blade cleaner/resin remover SDS and usage recommendations to safely use and store the product without damaging both the blade and the product.
How to Lubricate The Blade After Cleaning?
Once you're done with stubborn cleaning residue from your hedge trimmer blade, don't forget to lubricate the blade. Lubrication is important in reducing additional heat that can bend your hedge blade.
You can maintain low friction in the middle of the blades by lubricating the blades to prevent heat. In that case, WD-40 is a great option for lubricating your Stihl hedge trimmer blade. Again, you can also use this to clean the trimmer blade too. This video can be a great proof in such a case-
To use WD-40, wear gloves in your hand and put the liquid in your palm over the gloves. Now apply an even coat of solvent to your hedge trimmer blade.
You can directly apply the oil on the hedge trimmer as it doesn't come with an oil reservoir like chainsaws.
Check out This to Know 4 Maintenance Agents from Stihl!
Frequently Asked Questions (FAQs)
What can I use to clean my hedge trimmer blades?
Use the Stihl-made hedge trimmer blade cleaner/resin remover. Besides, there are a few other effective ways to clean your trimmer blades, such as using soapy water, kerosene, a mixture of alcohol and kerosene, and aftermarket blade cleaning products. If your blade has any bacteria or harmful substances on the blade, go for the alcohol cleaning.
How do you clean Stihl blades?
To clean the Stihl blades, you need a clean towel, cleaning brush, and cleaning solution. If you use soap and water, mix them in a bucket, dip the blades, scrub the residue area, and clean the blades with fresh water. Ensure you dry them using a towel or cloth to remove moisture from the blades.
How do you clean and maintain a hedge trimmer blade?
Cleaning a hedge trimmer blade is straightforward; clean it using soapy water, rinse, and dry the blades with a cloth afterward. To maintain the sharpness and efficiency of cutting, consider applying lubricants on the blades to protect them from rust and corrosion.
Conclusion
So you now have an idea about how to use the Stihl hedge trimmer blade cleaner or resin remover and what the alternatives are to clean the trimmer blades.
If you can maintain two simple rules, maintaining your blades after cleaning will become easier, and those rules are drying and lubricating.
After cleaning, don't leave the blades on the ground. Find a dry place away from moisture exposure to store your hedge trimmer blades; otherwise, it can increase the chances of rust.
You Can Also Read:
If it has a motor Jason has a pretty good idea about how it works. Jason graduated in Automotive Mechanics Technology from Bishop State in 1992. After working on vehicles for 11 years he made the transition to selling tractors and lawn care vehicles. Currently, Jason writes and edits much of our content as he transitions into retirement with his lovely wife, Shelley.