Troy Bilt Self Propelled Lawn Mower Troubleshooting And Fixes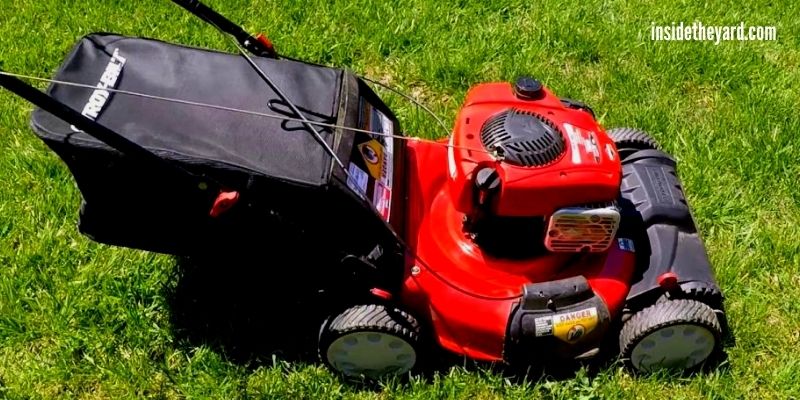 Troy Bilt self-propelled lawn mower troubleshootingguide mainly includes fuel issues, clogged air filter safety switch issues, and even worse, carburetor issues.
Sometimes, you may need to push after a start, it will propel on its own when you control the handlebar. Sometimes your lawnmower will start smoking or won't start. Or even starts to vibrate uncontrollably.
Don't worry; in this elucidation, we will discuss all the troy bilt problems and show you a guide on how you can troubleshoot those problems and get a proper fix.
Troy Bilt Self Propelled Lawn Mower Troubleshooting Table
| | |
| --- | --- |
| Possible Reasons | Fixes |
| Old fuel | Change the fuel and make sure the fuel tank is full |
| Jammed air filter | Clean the air filter or completely change the air filter |
| Clogged fuel filter | Check and cleanthe filter of any ethanol deposits or change the filter |
| Battery complications | Clean the terminals if they are rusted and check if the cables are correctly connected. |
| Bad carburetor | Check if the carburetor is working properly. If damaged, replace the carburetor |
| Safety switch problems | Make sure the safety switch is properly working and not falling frequently. And also, if the switch is faulty, then change it. |
| Ignition switch problems | Make sure the ignition switch is working. If faulty, change the spark plug and ignition coil. |
You may have seen the possible Troy Bilt self propelled mower problems. In this section, we will discuss the fixes to the problems. So sit tight
Most of the Troy Bilt lawn self-propelled mowers need fuel to propel and also to locomote. If your lawnmower doesn't start, the fuel section might have problems. Sometimes it can occur due to airflow problems. Specifically, your charging system, ignition switch, and battery may have difficulties.
Don't worry. There are some easy fixes, and the hassle is not also too much. We gave some fixes you can try.
Fuel Complications
Check if your fuel tank is full. Your lawn mower starts if there is no fuel. If the problem still exists after filling, be sure that the fuel is old. Try changing the fuel. Other than that, check the spark plug on the mower. Secure all the connections with the spark plug.
Changing the spark plug will be the best option you will get. And make sure the spark plug is compatible with your device. Otherwise, it will cause more problems. You can get spark plugs at your local gardening or hardware stores.
Be sure the quality of the spark plug is good so that you won't have to change it frequently. This is one of the possible foxes if your troy bilt self-propelled lawn mower won't propel.
Filter Complications
Your filter will handle the airflow of your lawnmower. Sometimes it gets jammed, and the lawnmower stops working on the go pro won't even start. The air filter gets jailed due to grass and dirt, which is normal. Just clean the filter, and you are good to go.
There is a fuel filter too, which is distinct from the fuel. That filter may also get jammed. Fuel filters get jammed due to dirt and other obstacles. If your fuel filter is jammed, then your lawnmower won't even start. Take the filter out and clean it properly. Troy bilt lawn mowers have easy-to-clean filters.
Dirty filters block the fuel lines. Old fuel cancontain a lot of dust. This dust accumulates and blocks the fuel line. So you won't have any fuel connection to start your lawnmower. Be sure you change the fuel frequently and also frequently clean the fuel and air filters.
Battery and Carburetor Complications
Batteries are essential hardware inside a lawnmower; you must maintain them properly. Otherwise, it will make your whole lawnmower useless. And the quality of the battery matters a lot. Sometimes the battery has loose cable and bad components that damage the battery or can't power the lawnmower properly.
Check if the terminals are corroded or not. Terminals are rare, so you will have to clean the rust manually. And check if the cables are properly connected and not loose. Make sure the battery is fully charged.
The carburetor also gets dirty due to old fuel and ethanol deposits which is a great problem. Carburetor mainly mixes the fuel and air for better combustion in the engine. So if it gets jammed then the whole system will fall. So make sure the carburetor is clean. If you can change the carburetor after a specific time.
Safety Switch Complications
A safety switch is designed to cut off the electric connections if there are any electrical problems. So you have already guessed the possible reason behind your troy bilt self-propelled lawn mower not working. This mainly happens if you use a safety switch that is not of much quality. Your lawnmower will lose all electrical connections if your switch falls.
Firstly, checking the switch is okay. Bad switches tend to drop a lot. So you can do a quick troy-bilt lawn mower troubleshooting and find out if the switch is working properly. And if the switch is bad then replace it with a better switch.
Bad ignition switches are also sometimes a problem. Ignition switches give the push to the engine. Check if the ignition switch is working properly. Then according to your report, decide whether you are gonna change it.
A Helpful Tutorial You May Need!
Frequently Asked Questions (FAQs)
How do you troubleshoot a Troy Bilt lawn mower?
If you have the troy bilt self propelled lawn mower repair manual. Then check for the possible problems. If you don't have the manual, then don't worry. We gave all the possible hitches and a quick guide on the fixes.
How do you tighten the belt on a Troy Bilt self-propelled lawnmower?
Get an Allen wrench and tighten it on the square of the belt tensioner and rotate it clockwise and your belt will be tightened.
Final Words
We gave everything Troy bilt self propelled lawn mower troubleshooting and their fixes. Lawnmowers are necessary for every garden. Maintaining a lawnmower is if you know what to do.
Even if you don't know, don't worry, we give you everything you can if you face problems. Be sure to check the spark plugs, filters, and battery connections. Other than that, there won't be any big issues.
We hope that we were able to give you the answer you are searching for. We sometimes miss something on the go. You can help us with your opinions in the below forum and help our community. Until then happy gardening.
You Can Also Read:
Enamored with the world of golf Jack pursued a degree in Golf Course Management at THE Ohio State University. This career path allowed him to work on some of the highest profile golf courses in the country!  Due to the pandemic, Jack began Inside The Yard as a side hustle that quickly became his main hustle. Since starting the company, Jack has relocated to a homestead in Central Arkansas where he and his wife raise cattle and two little girls.