What Kind Of Oil For Greenworks Chainsaw Other Than Greenworks?
What kind of oil for Greenworks chainsaw can you use? Greenworks' chainsaws usually use Greenworks recommended standard bar and chain oil. Yet, if it's about SAE rating, you can use 30W oil for summer, but this standard oil isn't recommended when the temperature is getting low. For winter, you can use 10W viscosity oil.
As we know, chainsaw lubricating oils don't come with an SAE rating as motor oils do. However, you can still use some, no matter what brands you're using for your Greenworks chainsaw.
The correct bar and chain oil are necessary to run your chainsaws for longer. This is why check below to get an in-depth idea about these things.
What Kind Of Oil For Greenworks Chainsaw To Use?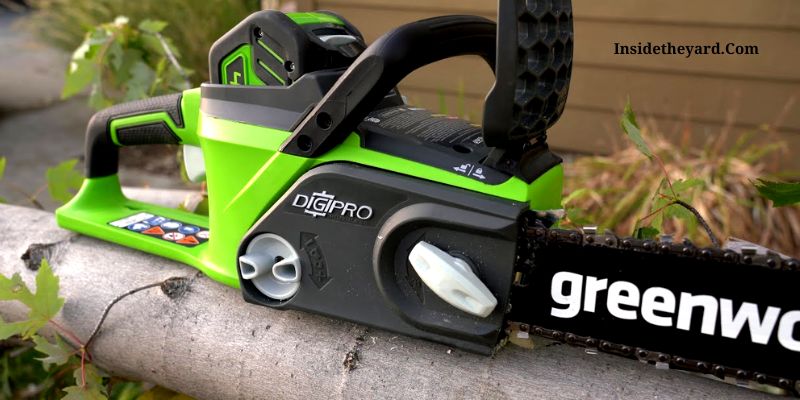 A Greenworks chainsaw is a high-profile machine saw that requires additional maintenance. To lubricate the chain and bar line of a Greenworks chainsaw, using the Greenworks Premium bar and chain lube is obviously recommended.
Besides, you can also use other chainsaw lubes like the STIHL, Poulan Pro and Oregon. These bar and chain oils are also usable on your Greenworks chainsaw.
But what if you are not available with this manufacturer's lube. What if you need some alternative?
We have substitutes for this, too. Yes, you can use SAE-rated motor oils in your Greenworks chainsaw. Just be aware of the oil thickness and their viscosity, including 5W, 10W, and 30W weight.
However, check the following bar oil, which is best for green works chainsaws according to users and the manufacturer.
By the way, you can check different major or minor Greenworks chainsaw problems with their fixing suggestions.
Best Oil Recommended For Greenworks Chainsaw
You may be annoyed searching for the best oil for a Greenworks chainsaw somewhere. This time you can relax since we research some of the most refined green works chainsaw oil for you. Check them as soon as possible.
You May Like This Video Too!
Frequently Asked Questions (FAQs)
Can I Use SAE30 Oil In My Chainsaw?
You can use SAE30 oil in your chainsaw if the manufacturer bar oil isn't available to you. But this oil is excellent to use when it is too hot outside. Similarly, you can also use the SAE10 lube oil during the winter.
Can I Use 10w30 For Chainsaw Bar Oil?
You can use 10W30 for chainsaw bar oil, although it is not ideal to use during the winter. That means 10W30 is the most refined lube oil to use in hot and cold weather. But this oil will be very sticky and viscous due to being enriched with heavy ingredients.
Is Bar And Chain Oil The Same As Regular Oil?
Bar and chain are different from others. Bar and chain saw oil require less thinness and stickiness than regular motor oil. Motor oil lubricates the chain saw more quickly than regular oil.
Conclusion
Any typical electrical chainsaws are the most prominent saw that needs heavy-duty oil. But when you're looking for what kind of oil for Greenworks chainsaws. Greenworks chainsaws also accept oils with the viscosity of 10w30, SAE30, or the most effective bar and chain lubricants. But the best buy is to take advantage of the Greenworks premium bar oil.
Besides this, make sure those oils have thin and high-density viscosity wherever you purchase them. However, be aware that the oil has good compatibility to accommodate corrosion, damage, and oil leakage. Lastly, Greenworks manufacturers have special features, but that doesn't mean your chainsaws don't allow other bars and lubrication oil.
You Can Also Read:
Enamored with the world of golf Jack pursued a degree in Golf Course Management at THE Ohio State University. This career path allowed him to work on some of the highest profile golf courses in the country!  Due to the pandemic, Jack began Inside The Yard as a side hustle that quickly became his main hustle. Since starting the company, Jack has relocated to a homestead in Central Arkansas where he and his wife raise cattle and two little girls.