Best Zero Turn Mower Tires for Hills
When it comes to finding the best tires for your zero-turn lawn mower, it's crucial to consider their performance on hills and their impact on your turf.
Good zero-turn tires should give you an excellent grip. They need to work well on different surfaces and slopes. Plus, they should be kind to your lawn.
If you really care about your garden, you'll want tires that don't mark or damage the grass.
Unfortunately, despite what folks in marketing might tell you, certain tires don't perform too well in some situations.
With a wide range of options available in the market, selecting tires that offer optimal traction on multiple surfaces while being gentle to your grass can be a daunting task.
In this article, we will explore seven top-rated options and provide you with a comprehensive buying guide.
Factors to Consider
When considering the best zero-turn mower tires for hills, it's crucial to take into account numerous factors, such as the weight of the mower and the type of traction required.
The mower's weight is essential in determining the tire's performance on hills. Heavier mowers require tires with better traction and stability to prevent wheel spin and ensure safe operation.
The type of traction needed also varies depending on the terrain. Tires should provide ample grip on both wet and dry surfaces without causing damage to the turf.
Some tires excel in dry conditions but struggle in wet or muddy areas. Others are specifically designed for all-terrain use but may not perform well in deep mud.
Another important factor is minimizing disturbance to the grass. Tires that leave ruts or track up sensitive grass can be detrimental to its health and appearance.
Therefore, it is essential to choose tires that have a low impact on turf and distribute weight evenly across their surface area.
Lastly, when selecting tires for hilly terrains, consider their ability to provide sufficient grip on steep inclines.
Steep hills pose a challenge for many tires as they can cause wheel spin and potential damage to both grass and machine.
Tires with advanced traction features, such as aggressive tread patterns or specialized rubber compounds, are ideal for maintaining control while ascending or descending slopes.
Understanding the Importance of Traction on Hills
Traction on hills is a vital factor to consider, as it directly impacts the mower's ability to maintain stability and prevent sliding or rolling over in hazardous conditions.
The correct type of tire can make all the difference in keeping the mower safely on the hill without causing damage to the grass or putting the operator at risk.
When considering zero-turn mower tires for hills, here are some key points to keep in mind:
The right tire tread pattern: Tires with a tread pattern optimized for traction on various surfaces will provide better grip and stability. Look for tires that have deep treads or patterns designed specifically for hillside mowing.
Tire construction: Tires that are constructed with durable materials and reinforced sidewalls offer improved resistance against punctures and tears. It ensures longevity and reliability even under challenging conditions.
All-terrain vs specialized hillside tires: While all-terrain tires may be suitable for general use in residential areas, they may not provide adequate traction on steeper inclines or slippery surfaces. Specialized hillside tires are designed to excel in these conditions.
Weather conditions: Wet or muddy terrains require specific tire features like self-cleaning tread patterns that prevent mud from building up between treads. Considering local weather patterns can help you determine the most suitable tire for hillside mowing.
Operator experience: Inexperienced operators may benefit from tires that offer enhanced stability and control, while more experienced operators may be able to handle tires with higher levels of traction.
Top 7 Zero-Turn Mower Tires for Hills
Regarding high-quality brands for zero-turn mower tires, several options stand out.
The Kenda K358 Turf Rider is a top choice, offering a good balance between traction and gentleness to the turf.
Another reliable option is the Carlisle Super Lug, which features aggressive tread patterns for enhanced traction on various surfaces.
For heavy-duty applications, the MaxAuto Set Of 2 Heavy Duty Lawn Tractor Tires is an outstanding choice with its durable construction and firm grip.
The Deestone D265 provides good traction on most surfaces while being budget-friendly.
Finally, the Michelin X Tweel Turf stands out as an expensive but highly durable and tough tire with excellent traction on steep hills and minimal damage to turf.
Take a look at the complete list below!
Kenda K358 Turf Rider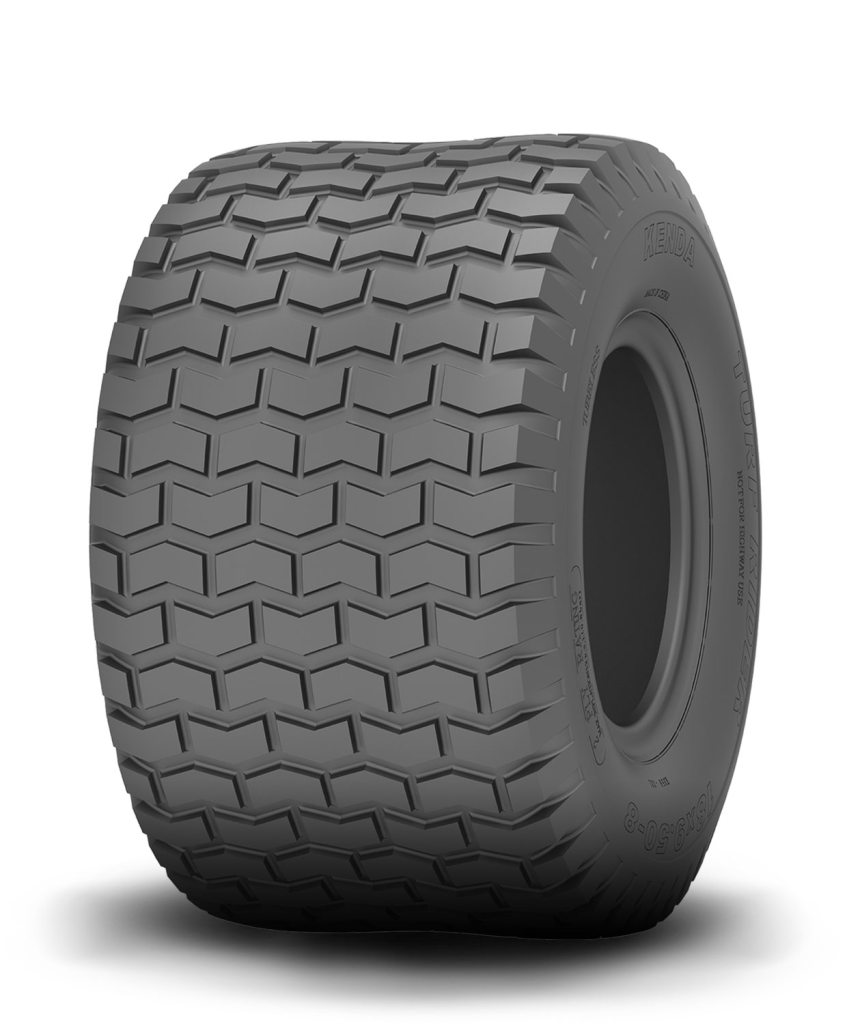 The Kenda K358 Turf Rider is widely regarded as one of the best zero-turn mower tires for hills due to its exceptional balance between traction and gentleness to the turf.
With its chevron tread design, this tire minimizes damage to the lawn while providing sufficient traction in most circumstances. This factor makes it an excellent option for residential areas where maintaining the integrity of the grass is essential.
Sale
The K358 performs well on both dry and wet turf. Additionally, it is available in a wide range of sizes, making it suitable for various zero-turn mower models.
While this tire may struggle on very steep inclines and deep mud, it remains a versatile choice for hills and other terrains commonly encountered in residential settings.
| | |
| --- | --- |
| Pros | Cons |
| + Usable traction on dry and wet turf.+ Very gentle to the surface.+ Available in many sizes.+ Easy to remove and install.+ Provides excellent grip and stability.+ Ideal for off-road adventures. | – Not usable in mud.- Struggles on steep inclines. |
Carlisle Super Lug Lawn & Garden Tire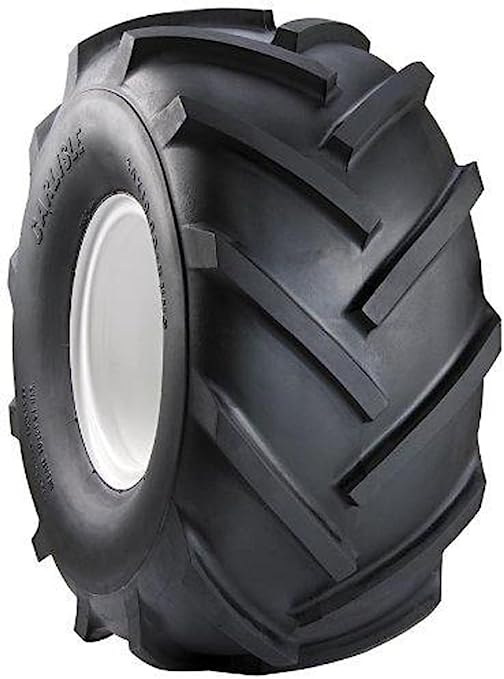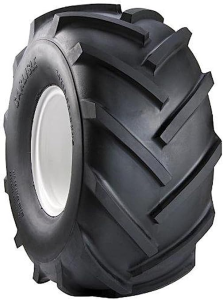 With its durable construction and versatile performance, the Carlisle Super Lug Lawn & Garden Tire is a reliable choice for navigating challenging terrains. It is designed to handle various outdoor conditions and provides excellent traction on hills.
Here are some key features that make the Carlisle Super Lug Lawn & Garden Tire stand out:
Diverse Sizes: The Carlisle Super Lug Lawn & Garden Tire comes in various sizes to accommodate different types of zero-turn mowers. Thanks to it, users can find the perfect fit for their specific needs and equipment.
8 Inches Rim Diameter: The 8-inch rim diameter of this tire contributes to its strength and flexibility. It can withstand rough terrains without compromising its performance or durability.
All-Year-Round Use: One notable advantage of the Carlisle Super Lug Lawn & Garden Tire is its ability to be used throughout the year. This tire can handle it all, whether it's tackling swampy areas, high grass, or hills.
Excellent Traction: The Carlisle Super Lug Lawn & Garden Tire features big biters that provide exceptional traction on hills and steep inclines.
Sale
While the lightweight nature of this tire may affect mower stability, its overall performance and reliability make it a solid choice for those seeking a dependable option for tackling hills with their zero-turn mowers.
| | |
| --- | --- |
| Pros | Cons |
| + Produced by a trusted brand, Carlisle, known for its exceptional quality.+ A wide variety of tire sizes to suit any garden vehicle.+ Designed to be versatile with year-round usage.+ It's resilient against different types of terrain, including swamps, high grass, and hills.+ The tires have an 8-inch rim diameter, which contributes to their strength and flexibility.+ Made from durable material that can adapt to any surface. | – The specialized nature of these tires may make them less suitable for standard or flat terrains.- As it's from a leading brand, the price point might be higher than other market competitors, potentially making it less affordable.- Not explicitly mentioned whether these tires are resistant to punctures or other potential damage. |
MaxAuto Heavy-Duty Lawn Tractor Tires
MaxAuto tires offer an excellent option for garden machinery since they provide superior stability and traction on rough roads.
These tires are designed to handle the demands of heavy-duty applications, such as tractors, lawnmowers, tillers, or trenchers.
With their larger size and weight, your machine can easily navigate even the most demanding terrains.
One notable advantage of MaxAuto tires is their ability to minimize kickback. This aspect is crucial when working with large machines as it helps maintain stability and control.
Sale
The construction of these tires is engineered to distribute weight evenly and reduce the impact felt while operating on uneven surfaces.
Moreover, the deep tread depth of MaxAuto tires plays a significant role in providing exceptional traction on hills and other challenging terrains.
Sturdy tread lugs are stressed and angled to enhance pulling power, allowing you to navigate through swamps or conquer steep inclines effortlessly.
| | |
| --- | --- |
| Pros | Cons |
| + These tires' large and heavy construction allows for a reduced kickback, making your machine as stable as possible.+ With a greater tread depth than other models, these tires provide superior traction.+ Stressed and angled tread lugs boost pulling power, enhancing performance on challenging terrains. | – Due to their heavy and large design, these tires may not suit smaller garden equipment or those designs favoring lightweight components.- These tires might be excessive when used on regular or smooth surfaces.- Given their robust design and increased capabilities, they could potentially cost more than standard landscaping tires. |
Deestone D265
Moving on, we now focus our attention on the Deestone D265 tire.
This particular tire is an ideal choice for those who are conscious of their budget or have smaller yards to maintain. While it may not surpass the Kenda and Carlisle tires in terms of traction, it comes impressively close.
Here's a table that highlights its key features and characteristics:
| | | | |
| --- | --- | --- | --- |
| Tire Model | Traction on Various Surfaces | Performance in Mud | Performance on Steep Inclines |
| Deestone D265 | Usable on most surfaces, including dry and wet turf. | Struggles with deep mud but performs well in slight mud. | Unusable on very steep inclines. |
The Deestone D265 tire showcases its versatility by being usable on various surfaces, including dry and wet turf. It can also handle slight mud without much difficulty, although it may struggle with deep mud due to its square shoulder profile.
Additionally, while it may not be suitable for very steep hills, it remains completely usable in most residential areas.
Another substantial advantage of the D265 is its ability to minimize damage to the turf, thanks to its Chevron-style tread blocks.
Overall, it's a good choice for homeowners with compact yards who look for a reliable set of tires for their machines.
| | |
| --- | --- |
| Pros | Cons |
| + Affordable option for homeowners on a budget.+ Ideal for use in smaller yards.+ Provides good traction on most surfaces, from dry and wet turf to light mud. + The Chevron-style tread blocks result in minimal damage to the turf. | – Not as much traction as more premium options like Kenda and Carlisle tires.- Its performance is below par in deep mud due to its square shoulder profile.- Unsuitable for very steep terrains or hills. |
Michelin X Tweel Turf
The Michelin X Tweel Turf stands out as a top choice for those seeking unparalleled durability, exceptional traction on steep inclines, and minimal turf damage.
As an airless tire, it eliminates the risk of punctures, providing peace of mind to users.
On top of that, its multi-directional tread pattern is optimized for side-hill stability, making it the best all-terrain tire for navigating steep hills.
Another aspect where the Michelin X Tweel Turf reigns over its competition is its outstanding toughness and durability.
Built to withstand heavy-duty use, this tire can handle rough terrains and challenging conditions without compromising performance or longevity.
Although the Michelin X Tweel Turf excels in most conditions, it may struggle in deep mud due to its design.
However, considering that mowing tasks are typically avoided during heavy rainfalls or extremely muddy conditions anyway, this limitation may not be a significant concern for most users.
| | |
| --- | --- |
| Pros | Cons |
| + Airless design means the tire can never be punctured, significantly reducing maintenance.+ Extremely durable and tough, offering long life and reliable performance.+ Multi-directional tread pattern enhances side-hill stability and versatility across terrain types.+ Turf-friendly design causes minimal impact on delicate surfaces.+ Excellent usability over uneven surfaces, making it suitable for diverse landscapes. | – Struggles in deep mud conditions, limiting its use in wet or heavily rainy environments.- Its high price may not make it a viable investment for residential use. |
WANDA Lawn Mower Turf Tires
WANDA turf tires offer a reliable and versatile option for garden utility vehicles, providing high traction and weight distribution on various surfaces.
These tires fit a wide range of mower models, making them a perfect replacement for any garden vehicle.
Their standard dimensions are the same width and height, so they can easily be installed without any hassle or modifications.
Sale
One of the key advantages of WANDA tires is their ability to provide high traction on different terrains. The design with broad shoulders and small tread depth keeps your machine running smoothly even when up against hills, rocks, or stones.
At the same time, these tires effectively distribute the weight of the mower. This feature is particularly important when mowing on uneven or hilly terrains, providing a more stable ride.
Still, despite their many advantages, it's worth noting that WANDA turf tires are sold without rims. Therefore, if you purchase these tires, make sure you have compatible rims or plan to acquire them separately.
| | |
| --- | --- |
| Pros | Cons |
| + These tires are not limited to just one vehicle type but can fit any garden utility machine, adding to the convenience. + The 8 inches rim diameter caters to most garden machines' requirements.+ Capable of withstanding rough terrains and potholes, these tires are designed to last, providing a sense of reliability.+ Using Wanda tires takes the strain off the ride even under challenging conditions, elevating the overall user experience. | – While offering exceptional traction, these tires may struggle under huge loads due to their specified dimension constraints.- The 'one-size-fits-all' approach may not cater effectively to the specific needs of different vehicles requiring varied tire sizes. |
OTR GrassMaster
The OTR GrassMaster, a widely used tire in the lawn mower industry, offers exceptional traction on both dry and wet turf surfaces.
This tire is often chosen as original equipment for many mowers and is highly regarded for its ability to provide outstanding traction. It is particularly effective on steep hills, where it grips the surface securely without causing excessive wheel spin or damaging the grass.
In terms of construction, the OTR GrassMaster is known for its durability and long tread life. The tire's robust construction ensures it can withstand regular use and harsh conditions without experiencing premature wear or damage.
That said, it's worth noting that this tire is not designed for deep mud terrain. While it performs admirably in residential areas, it may struggle in extremely muddy conditions due to its all-terrain design.
| | |
| --- | --- |
| Pros | Cons |
| + Provides excellent traction over both dry and wet turf.+ Durable construction ensures superior durability, reducing the need for frequent replacements.+ Proven performance on steep hills for increased mower stability.+ Siped tread blocks effectively minimize turf damage while mowing. | – Doesn't perform well in deep mud, limiting its usage in certain areas.- Not highly cost-effective for those only needing basic functionality. |
The Bottom Line
When it comes to choosing the best tires for your zero-turn lawn mower, there are several aspects to consider.
The most important factor is traction on hills, as this will ensure your mower can navigate steep slopes safely and effectively. Additionally, it's crucial to choose tires that are gentle on your grass to avoid any potential damage.
There are many high-quality brands available in the market that offer top-notch performance on hills. From budget-friendly options like the Deestone D265 to the premium Michelin X Tweel Turf, there is a wide range of choices to suit different needs and budgets.
By exploring these reputable brands' offerings, you can narrow down your search and find the perfect set of tires that enhance your mowing experience.
So don't let challenging terrain slow you down — invest in the right tires and make your mowing job faster and more enjoyable.
Frequently Asked Questions
Can I use all-terrain tires on steep hills for my zero-turn mower?
Using all-terrain tires on steep hills for a zero-turn mower is not recommended. While they may be suitable for residential areas, all-terrain tires are not designed to provide the necessary traction and stability required for tackling steep inclines.
What is the average lifespan of zero-turn mower tires?
The average lifespan of zero-turn mower tires can vary depending on factors such as usage, terrain, and maintenance.
Nonetheless, with proper care and regular maintenance, zero-turn mower tires can typically last between 300 to 500 hours of use.
Can I use the same tires on my zero-turn mower for both hilly and flat terrains?
You can use the same tires on a zero-turn mower for hilly and flat terrains. Yet, it's necessary to consider the performance of the tires in different conditions.
Tires with good traction and grass protection are recommended for the best results.
Are there any zero-turn mower tires that offer a balance between traction and fuel efficiency?
Yes, there are zero-turn mower tires available that offer a balance between traction and fuel efficiency. These tires are designed to provide ample grip on various surfaces while minimizing fuel consumption, making them suitable for hilly and flat terrains.
Enamored with the world of golf Jack pursued a degree in Golf Course Management at THE Ohio State University. This career path allowed him to work on some of the highest profile golf courses in the country!  Due to the pandemic, Jack began Inside The Yard as a side hustle that quickly became his main hustle. Since starting the company, Jack has relocated to a homestead in Central Arkansas where he and his wife raise cattle and two little girls.