Bobcat 1025r Vs John Deere 1025r- See We've Broken Down Everything!
The difference between Bobcat 1025r and john deere 1025r is not that distinct. Basically, the Bobcat CT1025 is equivalent to comparing head to head with the John Deere 1025R series. So, here we include the differences between these two.
We can say that Bobcat is good for construction purposes, and john deere comes with agricultural utilities. On one side, Bobcat gives good marks on performance and on the other side, john deere makes a good spot for accessibility features. The performance of these tractors completely depends on your environment and attributes.
We have a balanced decision on both Bobcat CT1025 vs John Deere 1025r tractors. But still, we are going to give a definite comparison of both the products in this article. So stay tuned through the comparison.
Bobcat 1025r Vs John Deere 1025r
| | | |
| --- | --- | --- |
| Factors | Bobcat CT1025 | John Deere 1025r |
| PTO power | 18.8 hp | 23.9 hp |
| Speed | 16 miles per hour | 9 miles per hour |
| Hydraulic capacity | 16.5 GPM | 13.2 GPM |
| Wheelbase(inches) | 4′ 7″ | 57.1 |
Here in this section, we will go into a detailed comparison. We will show all the features depending on power, usage, and technology sectors. Let's start with Bobcat CT1025
Our Best Recommendation- Bobcat CT 1025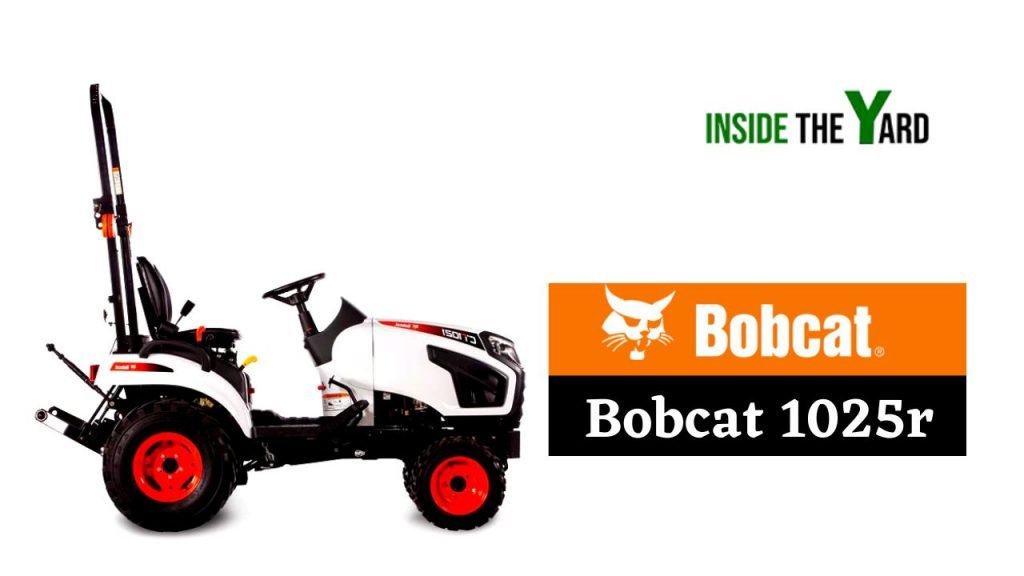 Why Choose The Bobcat 1025?
Bobcat originates from America and mainly focuses on construction accessibilities. We are going to talk about the bobcat CT1025. This is one of the most acclaimed and famous tractors of the Bobcat. With a good amount of features and usability. But we keep the best for the last. Now we will be going into a more detailed comparison with the specific attributes.
Performance and Power
We can't deny that the Bobcat 1025r gives the best performance among most tractors. Almost any task from heavy to light can be done easily through the tractor.
The average power you can get from a normal tractor is 30 hp. But Bobcat 1025r can give you a bit more, which is more than enough.
And talking about speed you will also get the best from bobcat tractors. It can accelerate up to 16 miles per hour. Which is also more than average. Bobcat mainly focuses on the accessibility of the users. This accessibility is their main feature. And for these reasons, they are standing on top.
Usability and Interface
The usability of the Bobcat 1025r is also efficient. Let's talk about their pump system. The hydraulic comes with a 16.5 GPM capacity. So, you won't have to worry about the feasibility. One of the best things about bobcat tractors is their good upgraded systems.
And also, they try to keep their hardware trendy on the market. The user reviews of bobcat tractors are more than the average mark.
You will get the best interface in bobcat tractors. Most of you people are fans of DIY systems. But the thing that is holding you back is operating complexities.
But don't worry if you are choosing bobcat tractors, you won't have to think about a complex operating environment. It's almost like plug-and-play.
Technical Features
The technical features get a 5-star from the users on the access pages. We already told you that they keep all their features upgraded. For instance, you will find their engines are the quietest of all. You will almost get no sound.
Available tractors almost produce enough sound to make you crazy. Also, it has some good efficient features like cruise control and a remote hydraulic system. So you can say that you are getting the best accessibility features
In a Nutshell
Wrapping it up we can say that Bobcat can win the competition if you are looking for a tractor in your lawn vicinity. It is suitable for personal uses and, specifically, construction uses.
Our Next Pick Is John Deere 1025R
Why Choose John Deere 1025r?
Now let's talk about the john deere 1025r. John deere is from the deere & company, which is also American. The main focus of John Deere is on agricultural and farming components.
We are going to talk about the John Deere 1025r, which is also one of the famous Deere sub-compact tractors. We are going to talk about the attributes of this tractor in this section of the article. So let's not wait.
Power and performance
Comparably the John Deere 1025r has the power of an average tractor. But if you use this, then you will feel that it is one of the best compact tractors for agricultural use. The base horsepower of this tractor is 25 hp, which is a slight bit more than average rural tractors.
If we talk about the speed, we can say that the speed is also average on this tractor. The mobility of this tractor is also up to the mark. And also, it comes with a loader which gives a new level of usability.
The loaders can also do the heavy lifting. And it can work up to a good amount. The mobility mixing with loaders makes more levels on the performance. It is not the best in the case of power. But it is still holding its place on the market.
Interface and Accessibility Feature
The interface of the John Deere 1025r is one of the best. For instance, you are getting four-wheel drive on this tractor. And also the tractor is easy to use. One of the best things about compact tractors is that they can move through rough terrains and squishy areas.
But John Deere can do more than compact tractors, and this tractor's performance doesn't change in its environment. And this is great compared to other tractors on the market. There is also power steering meaning that you won't have to do a lot of hassle to control the vehicle's mobility.
You can do a lot of heavy work with this tractor, like mowing, lifting, and many more. We already told you the pushing capacity is also good on the tractor. Which also amplifies the performance of mowing and loading.
Technical Features
This tractor has one of the most Powerful tiers 4 diesel engines. The speed can cap up to 3200 rpm. The hydraulics are also strong enough to put on the trending menu. Due to the hydraulics, the operation of the tractor seems smooth and easy.
The design of the tractor is also good compared to other tractors. The chassis design is completely based on user comfortability which helps you push the boundaries more definitely.
In a Nutshell
If you are looking for a tractor for your farm purposes, the John Deere 1025r is the one. You will get comfortability with accessibility. Also, it is cheap compared to other subcompact l
Frequently Asked Questions (FAQs)
What cat is John Deere 1025R?
The john deere is of hitch category 1 and the engine is rated for 17.8kw. So if you want to change the hitch, you will have to find a category 1.
Who makes Bobcat CT2025?
The bobcat CT2025 is made by the Daedong company, and this company produces tractors for construction and lawn purposes.
How much does a bobcat ct2025 weight?
The bobcat CT2025 weighs about 1200 kilograms. And in pounds, it is 2657 lbs.
Final Word
We gave you everything on the comparison of Bobcat 1025r vs john deere 1025r tractors. Both the tractors are best in their field. It completely depends on the use you are intending. If you plan for construction and DIY purposes, Bobcat is the best. On the contrary, if you are planning for rural purposes, you should go for John deere.
One stands for performance and the other stands for accessibility. We tried to give everything we had on our terms and knowledge, and we also tried to give the most unbiased opinion we had. We may have missed something on the flow. You can tell us all about it on the form below, which will also help the greater community. Until then, Cialo!
You Can Also Read:
Enamored with the world of golf Jack pursued a degree in Golf Course Management at THE Ohio State University. This career path allowed him to work on some of the highest profile golf courses in the country!  Due to the pandemic, Jack began Inside The Yard as a side hustle that quickly became his main hustle. Since starting the company, Jack has relocated to a homestead in Central Arkansas where he and his wife raise cattle and two little girls.