The Briggs and Stratton Carb Adjustment Diagram & Instructions
One of the fab parts of Briggs & Stratton engines is the adjustable carburetor. It literally allows you to have the proper gas and air mixture to free the piston.
If the engine is running weirdly, and the speed seems too high or either idle, then you should consider carburetor adjustment. As that's supposed to improve the rough running issues that you are having.
However, if not having a proper Briggs and Stratton carb adjustment diagram and instructions is what stops you, then don't worry! We have the right guide waiting for you, which starts now!
You Must Check the Briggs and Stratton Carb Adjustment Diagram
Maintaining a proper air fuel ratio, that is not too rich, and at the same time not too lean is the key. Otherwise, the efficiency factor of carb is almost zero. And that is bad news which you can sort out by making carb adjustments. A diagram of the parts will help in that.
According to Diagramfinder,
With continuous use, the carburetor will lose its efficiency, delivering too lean or too rich air-fuel ratio. The time of the mixture could also become less reliable which makes carb adjustments a must.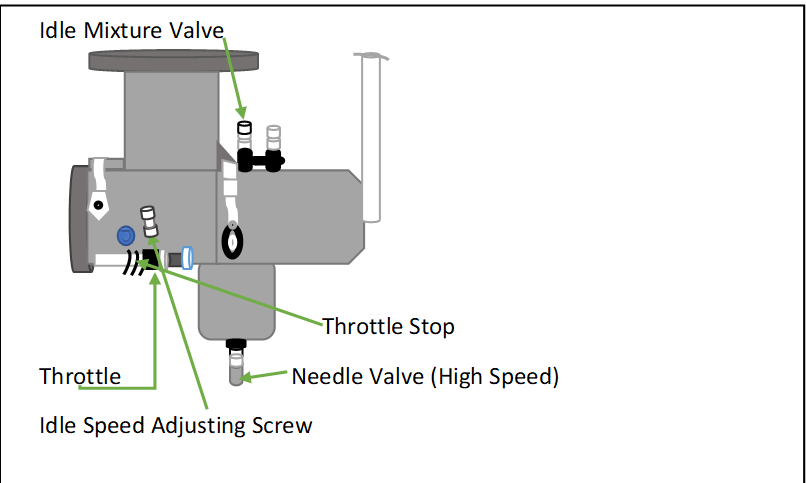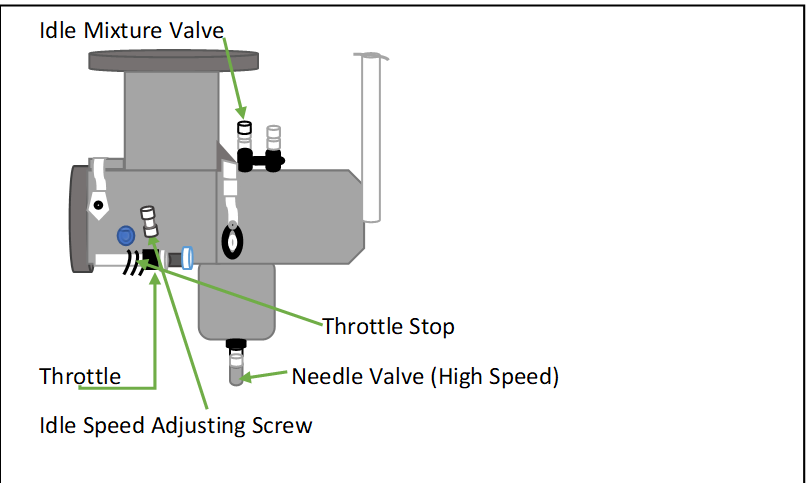 Here in the diagram, you can clearly notice the location of all the necessary parts for adjustment-making process, which we will discuss in later parts.
As you can see, the idle adjustment screw on the carburetor side part. There are two screws basically. And they are adjustable for altering air and fuel mixture.
These resemble flat head screws mostly. You should be able to turn them by using a screwdriver. And basically, get the fuel and air mixing amount adjusted using the tool. Around the shaft, there is also a spring-wound.
Here's How to Make Briggs and Stratton Carburetor Adjustment
Start by turning the engine on. You want to warm up it before the adjustments.
Then you want to get the governor speed control lever to go for the fast position.
Next turn on the high-speed needle valve, you want to have the engine slowed down. Turning should be done clockwise for a lean mixture.
After that, you want to turn the high-speed needle valve beyond the smooth spraying point, for a rich mixture basically.
Then bring the needle valve to the midpoint, which indicates between rich and lean mixture.
At this point, you have to adjust idle RPM.
Turn the throttle in a counterclockwise direction. You want to hold it against the stop.
Then we need to achieve a 1750 RPM. Turn the idle speed adjusting screw for adjustment. Now, this is for aluminum engines. For cast-iron engines, 1200 RPM should be obtained.
Next, you need to turn the idle valve in and out, which basically is lean and rich. The throttle should be held against idle stop during this.
The midpoint between lean and rich needs to be set. Check the idle RPM once again and just release the throttle.
Check if the acceleration of the engine is happening right. If not, then you must re-adjust the carburetor. Bringing it to a slightly rich mixture works in favor.
Tools You Might Need – safety gloves, carburetor cleaner, gauge for RPM checking, screwdrivers, pliers, and wrench.
Keep In Mind These Points While Doing Carburetor Adjustment
The speed that the manufacturer has mentioned is the limit, you must never cross that while running or warming the engine.
In case of a little difference in fuel, altitude, load, or temperature, you should be considering slight carburetor adjustment. Not in terms of other cases.
Before you start the engine, make sure the air cleaner and carburetor cover is assembled properly.
Find out whether the engine carburetor is low emission or not.
There's an idle mixture valve that comes with a limiter. And an idle speed adjustment screw. These are used for adjustments basically.
You should never force beyond limits and never detach the limiter caps.
This Video Will Help You Too!
Frequently Asked Questions (FAQs)
What are the symptoms of a bad carburetor?
Identifying a bad Briggs and Stratton carburetor is possible with a few symptoms. You'll notice the engine performance is reduced. Also, there could be black smoke coming out of the exhaust pipe, which is a big sign.
If you face starting difficulties, that can also be an indication. And finally, in case of engine backfire or overheating, there could be problems with the carburetor, and perhaps it's completely damaged.
How often do carburetors need to be cleaned?
Whenever you change your oil, make sure to clean the carburetor. And if you want a figure idea, then clean it after 3000 miles.
Overall Thoughts
And that was the Briggs and Stratton carb adjustment diagram along with some instructions on how you can conduct the process. Hopefully, it would come in help, and you would be able to get your lawnmower issues sorted.
There's no doubt that, in a certain situation, only a proper adjustment of the carburetor will be able to save your lawnmower's engine. And when that's the case, you should not delay the adjustment.
You Can Also Read:
Enamored with the world of golf Jack pursued a degree in Golf Course Management at THE Ohio State University. This career path allowed him to work on some of the highest profile golf courses in the country!  Due to the pandemic, Jack began Inside The Yard as a side hustle that quickly became his main hustle. Since starting the company, Jack has relocated to a homestead in Central Arkansas where he and his wife raise cattle and two little girls.