Grasshopper 900D Vs 930D: Major Differences You Should Know
What is the difference between the Grasshopper 900D and 930D mower? Well, for starters, apart from engine, the main difference between Grasshopper mower 900D and 930D is that the 900D model can reach a speed of up to 11 MPH. On the other hand, the 930D can reach up to 15 MPH.
However, there are many other differences between these two that you must know to decide which one will best fit your needs. Have no worries! For your convenience, I've come up with all the differences in a detailed manner in the discussion below.
If you are someone who's looking for a capable lawn mower but can't find a suitable one, just go through this article till the very end. You'll get to know everything you need to know on the topic "Grasshopper 900D vs 930D".
So, let's get to it right away!
Grasshopper 900D Vs 930D: Differences At A Glance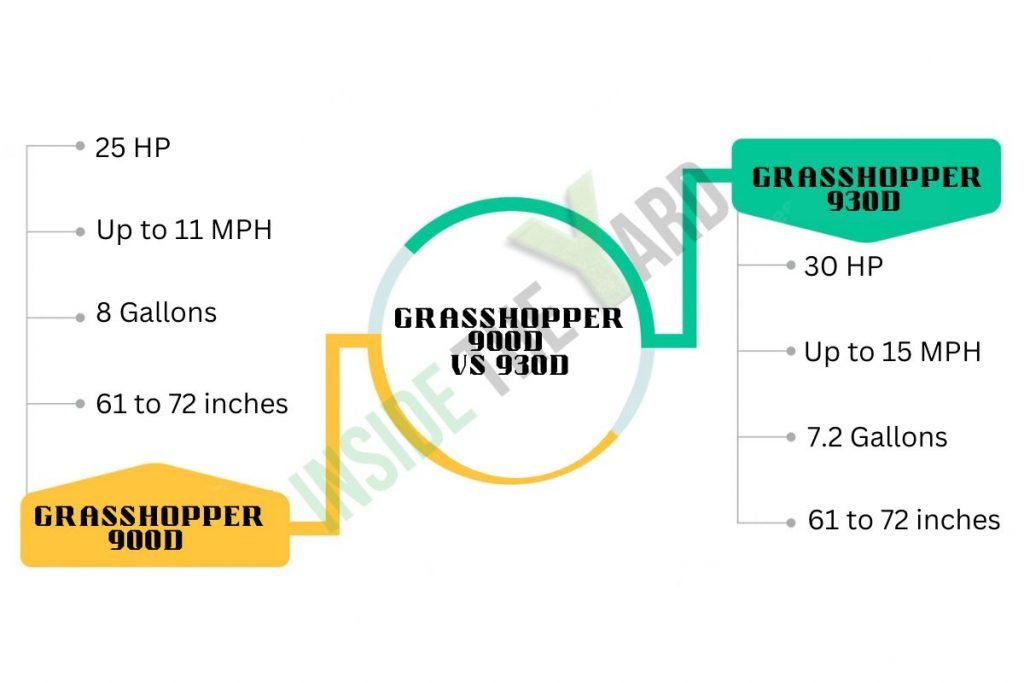 Don't have enough time to go through the whole discussion? Just take a look at this comparison table. You'll easily be able to decide whether to choose the Grasshopper 900D or 930D.
| | | |
| --- | --- | --- |
| Key Factor | Grasshopper 900D | Grasshopper 930D |
| Engine HP | 25 HP | 30 HP |
| Movement Speed | Up to 11 MPH | Up to 15 MPH |
| Fuel Capacity | 8 gallons | 7.2 gallon |
| Deck size | 61 to 72 inches | 61 to 72 inches |
| Price | Starts from $25,550 | Starts from $23,040 |
Comparing the Efficiency in Engine & Power
There is no denying that when engine efficiency plays a very important role when it comes to choosing a new lawn mower. The Grasshopper 900d is equipped with a 3-cylinder liquid-cooled Kubota clean diesel engine. It comes with EPA Tier 4 final-compliant 77 cu in. (1.3L) of displacement to ensure faster-mowing speeds even through heavy grass.
You will get a pressure lube lubrication system, whereas the crankshaft position is horizontal. With this powerful engine, you can expect more power, durability, and maneuverability from this lawn mower.
Run with no. 2 diesel, this engine has a capacity of 8 gallons which is abundant to offer you longer mowing sessions every time. Besides, the heavy-duty, remote-mounted, and cyclonic air filtration system will offer you an excellent user experience.
On the contrary, when you talk about the Grasshopper 930d, it is also built with a Kubota Diesel 3-cyl LC engine. The horizontal crankshaft of this unit is quite perfect when it comes to offering you a decent lawn mowing speed.
The fuel capacity in 930d is also the same as the 900d, meaning it also can give you longer mowing sessions. Although the same engine is used in both models, you will get more power from the 900d model due to its strong build quality and reliably smooth operation. However, the Grasshopper 930d is an ideal model if you give priority to comfort and ease of control.
Seat Differences
In the Grasshopper 900D model, the manufacturer has provided deeply-cushioned seats that have a rugged and embroidered appearance. Thanks to this feature, the seating arrangement in this model are pretty comfortable.
On the flip side, the Grasshopper 930 has a "Cool Temp Cordura Seat." Its key characteristic is that the seat doesn't get heated when exposed to the open sun. So, the driver can have a comfortable driving experience even when the weather is blazing hot.
Comparison Of The Braking System
Of the two models, the 900D model has a dynamic braking system facilitated by a hydrostatic transmission. Thanks to this feature, the motion control, and maneuverability control are extremely reliable in the 900D model.
However, the 930D model is also equipped with a G2 hydrostatic braking system. So, it also provides a steadfast experience when lawnmowing through tough grounds.
From an overall perspective, while both models have excellent braking systems, the 930D model has the newer version.
Comparison Of Traveling Speed And Performance
As I have already mentioned above, the Grasshopper 900D has a traveling speed of 11 MPH. This speed is ideal for lawn mowing in household backyards.
On the flip side, the 930D model has a maximum traveling speed of 15 mph. While it's also perfectly suitable for lawn mowing household yards and gardens, it's also perfect for heavy-duty jobs such as lawn mowing golf courts and public grounds.
Comparison Of Electrical Segment
In the electrical segment, both models come with a 450 cold-cranking amp battery. However, the electrical components are not the same in these two models.
For instance, the 900D models have front-mounted and rear-mounted LED lights. So, you won't have any problem using this machine at night.
But, the 930D model has an even better lighting option. It is equipped with halogen lights for better illumination at nighttime. Therefore, the 930D model is better suited for working at night.
Comparison Of The Cutting Height
The Grasshopper 900D model can cut grass into extremely short sizes. Particularly, it can trim the grasses to a minimum of 1.25 inches of height. Plus, with this machine, you can cut the grasses to a maximum of 5 inches in height.
Whereas, the Grasshopper 930D model can trim the grass to a minimum of 1 inch in height. And, the maximum height of the trimmed grass can be 5 inches. That means, in terms of cutting height, the 930D model has a clear advantage over the 900D model.
So, if you are willing to use your lawn mower for sensitive jobs such as grass cutting for golf clubs or tennis courts, you should use the 930D model. On the contrary, if you are just willing to use the lawn mower for household usage, the 900D model will be sufficient for you.
Comparison Of Ease Of Maintenance
Maintenance is important to retain a long life for any machine. So, we must evaluate which of the two models is easier to maintain.
Well, the Grasshopper 900D specs tell us that it has 10 lubrication points for easy maintenance. That means you only have to apply grease/lubrication on 10 particular spots in this lawn mower for routine maintenance.
However, on the 930D Grasshopper, maintenance is even easier. If you opt for the 930D MidMount™ model, you'll only have 5 lubrication points. And, if you purchase the 930D FrontMount™ model, you will have to apply the lubrication to 10 particular spots.
As you can already tell, the 930D model is much easier to maintain daily compared to the 900D model. So, if you're someone who doesn't have much time for doing routine maintenance, you should give the 930D MidMount™ model a go.
Comparison Of Price And Build Quality
Although the grasshopper 900D model has a less powerful engine (25cc), its pricing is a bit higher than the 930D model, which has a 30 HP engine. That's to say, the 900D model will cost you around 25,550$ and the 930D model will cost you about 23,040$.
Now, in terms of build quality, both models have the same characteristics. Both the models have premium quality DuraMax decks and Kevlar V-belt blade drives. Plus, both of these have an aluminum-stainless steel reinforced body that is perfectly weather resistant.
Frequently Asked Questions (FAQs)
How much horsepower does a 900D Grasshopper have?
The diesel-powered Grasshopper 900D model can generate about 25 HP in real-life performances. However, as the lawn mower gets older, its average power generation is estimated to be around 22-25 HP.
Are Grasshopper mowers good on hills?
Yes, Grasshopper lawn mowers are perfectly suited for mowing jobs on hills. Due to their grippy tires, they can stay stable in their position all the time. Plus, thanks to their massive engines, they have no hardship in conducting mowing jobs in upward-inclined planes.
Are all Grasshopper mowers commercial grade?
Technically speaking, all Grasshopper lawn mowers are commercial-grade machines. However, some particular models will perform better in commercial jobs than others. Particularly, the Grasshopper 930D FrontMount™ models are the best commercial grade lawn mowers.
Which Grasshopper Mower Wins the Race?
According to my analysis and comparison, the Grasshopper 930D turned out to be more suited for heavy-duty jobs.
On the other hand, the Grasshopper 900D is also a highly capable lawn mower. But, it's better suited for household applications.
Since the Grasshopper 900D horsepower rating is only 25 HP, it has less raw power than the 930D model which has a 30 HP engine. So, if you don't have a problem investing more money for a larger engine, opting for the Grasshopper 930D will be the best bet for you.
Finally, from an overall perspective, the Grasshopper 930D stands as a winner in comparison. So, in general, I think you should be more inclined to go for the 930D model.
You Can Also Read:
Enamored with the world of golf Jack pursued a degree in Golf Course Management at THE Ohio State University. This career path allowed him to work on some of the highest profile golf courses in the country!  Due to the pandemic, Jack began Inside The Yard as a side hustle that quickly became his main hustle. Since starting the company, Jack has relocated to a homestead in Central Arkansas where he and his wife raise cattle and two little girls.