How to Get Rid of Leaf Miners
Are leaf miners wreaking havoc on your precious plants? You're not the only one struggling with this predicament. Many gardeners find it challenging to prevent and minimize leaf miner damage.
In this article, we'll walk you through a range of natural control methods that will help keep these leaf munchers at bay.
From manual removal techniques to introducing beneficial insects into your garden ecosystem — we have all the secrets to maintaining a healthy balance in nature while safeguarding your precious foliage.
So buckle up and prepare yourself for a journey into the world of leaf miners. By implementing our expert tips and tricks, you'll soon have those pesky critters under control.
Key Takeaways
Leaf miners are the larvae of certain insects that eat the material between a leaf's surfaces, causing substantial damage.
Signs of leaf miners include pale dots, lazy curving trails, or blotches where color is missing on leaves.
To prevent infestation, regularly inspect your plants for eggs and trails. Remove and destroy any leaves displaying these signs.
Consider practicing good garden sanitation, growing decoy crops, using row covers, and rotating crops to prevent infestations.
Chemical control options are available, albeit as a last resort. These include Spinosad and Pyrethrin.
Other corrective actions include planting in diverse patterns (companion planting) and using neem oil to disrupt the bugs' life cycle.
What Are Leaf Miners?
Leaf miners are tiny insects that are larvae of moths, sawflies, beetles, and flies.
Once they hatch from eggs, these larvae begin tunneling into the leaves.
Their primary source of food? The leaf's inner tissue.
Those critters eat the material between the leaf's top and bottom surfaces, leaving behind pale or translucent trails of damage.
This distinctive trail is a telltale sign of leaf miner activity.
Identifying Leaf Miners
The best way to identify leaf miners is by paying attention to the overall appearance of your plants' leaves.
Leaf miner damage can resemble stippling or variegation – small spots or patches with lighter or darker colors than the surrounding tissue.
Keep an eye out for the following:
pale dots on leaves,
lazy curving trails of lighter color,
blotches where color is missing.
To further confirm if you have leaf miners in your garden, you can inspect the underside of leaves for eggs. Some species of leaf miners lay their eggs there, so it's worth taking a closer look.
There's also a simple test you can perform.
Gently hold a damaged leaf up to the light and observe if any tiny larvae are moving inside it. If you see them wriggling around, it confirms the presence of leaf miners.
Preventing Leaf Miner Infestation
Now that you're aware of the leaf miner menace at hand, it's time to roll up your sleeves and get proactive in preventing their infestation.
Here's a list of things you can do to stop leaf miners' infestation in its tracks.
Monitor Your Plants
Regularly checking your plants is crucial in the battle against leaf miners, as these pests often target the first true leaves and can quickly cause damage that affects their appearance.
Leaf miners are known to attack a variety of plants, including vegetables like spinach, lettuce, and Swiss chard.
As mentioned above, checking the bottom of all the plant leaves for eggs can help you quickly discover the source of infestation. Leaf miner eggs are typically found on the underside of leaves and may appear as small clusters or individual oval-shaped eggs.
You should also look out for leaf miner tunnels on your leaves. These tunnels are created by the larvae as they feed on the insides of leaves. They often appear as lazy curving trails or blotches of missing color on the leaf's surface.
If you spot any tunnels, locate the larva at the end of the tunnel and squash it to eliminate its presence.
Removing infected leaves from a plant is also an option if there are enough healthy leaves remaining for proper growth and development. Remember not to remove more than 1/3rd of the leaves on any one plant when removing infected foliage.
Till the Ground
Prepare for the next growing season by well-tilling the ground, effectively breaking the leaf miner life cycle.
Tilling the ground after removing your fall plants serves multiple purposes in managing leaf miners.
Firstly, it helps to aerate the soil, allowing better root development and nutrient absorption for your new plants.
Secondly, tilling will bury and destroy the pupa stage of leaf miners present in the soil, preventing them from emerging as adults and continuing their destructive cycle.
To engage in effective tilling practices that aid in controlling leaf miners, consider following these tips:
Till deeply: Ensure that you till at least 8-10 inches deep to disrupt any pupae or overwintering larvae present in the soil.
Remove debris: Prior to tilling, remove any fallen leaves or plant debris from the garden bed. It will prevent adult leaf miners from finding suitable breeding sites among decaying matter.
Time it right: Till when temperatures drop consistently below freezing during winter or early spring before planting season begins. This timing increases the chances of killing off dormant pupae through exposure to cold temperatures.
Good Sanitation
Maintaining a clean and tidy garden is crucial in keeping those pesky leaf miners at bay. Good sanitation practices can help reduce leaf miner numbers and prevent their spread to other plants.
One critical step is to keep your garden free of weeds that attract leaf miners.
Weeds like nightshade and pigweed can serve as food sources for leaf miners in the fall, so regular weeding is essential.
Besides, removing leaves and plant debris each season is also important. Leaf miners overwinter in the soil as pupae, so removing plant debris eliminates potential hiding places for them.
If you notice a few leaves with signs of leaf miners, removing and destroying them is the best course of action.
Do not compost these leaves unless you have a very hot compost pile that reaches high temperatures.
Otherwise, seal them in a plastic bag and dispose of them in the trash to prevent inadvertently spreading the pests throughout your garden when using compost from the pile on your beds in the spring.
Decoy Crops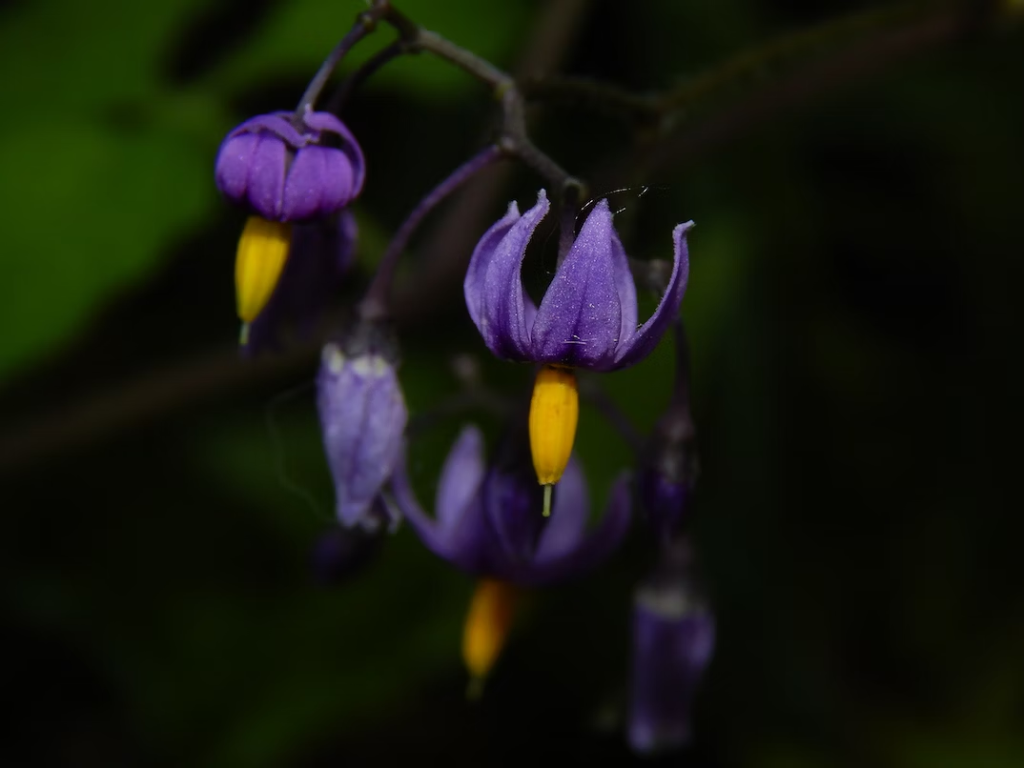 If you want to protect your precious plants from those pesky leaf miners, why not try planting decoy crops that attract them more?
By strategically placing plants such as lamb's quarter, pigweed, henbane, and nightshade close enough to your preferred plants but off to the side, you can create a diversion for leaf miners.
These decoy crops act as sacrificial offerings, luring the leaf miners away from your valuable plants. These pesky creatures will be drawn to these decoys and focus their attention on them instead of causing damage to your desired plants.
Here are three key benefits of incorporating this strategy:
Diversion: Decoy crops serve as a distraction for leaf miners by attracting them away from your main plants. It reduces the risk of damage and allows your desirable plants to thrive undisturbed.
Cost-effective: Planting decoy crops is more budget-friendly than other pest control methods. Instead of investing in expensive chemicals or treatments, utilizing nature's own attraction can be just as effective.
Natural solution: Decoy crops offer a natural and environmentally friendly way to manage leaf miner populations without relying on harmful pesticides. By utilizing the innate behavior of these pests, you can maintain a healthy garden ecosystem while safeguarding your valuable plants.
Row Covers
Made of cloth, row covers are designed to let in light and rain while keeping out unwanted pests.
Placing these covers over your plants, you essentially create a shield that protects them from infestation. You'll be amazed at how effectively they block those pesky leaf miners from reaching your crops and flowers.
However, it's important to note that row covers are most effective when used preventively.
If you haven't had any leaf miner problems for a year, employing row covers can be highly successful in keeping these insects at bay.
Conversely, if your garden has already experienced leaf miner issues, row covers may be less effective since any pupae on the ground will hatch inside them, rendering them useless.
Therefore, it's crucial to combine this method with other control strategies to ensure optimal results in managing leaf miners.
Crop Rotation
Another way to effectively manage leaf miners is by rotating your vegetable crops in the garden to different areas each year. This practice makes it harder for leaf miners to find their preferred host plants and reduces the risk of infestation.
Crop rotation is an effective strategy because it helps break the cycle of leaf miner infestations by depriving them of their food source.
Here are three reasons why crop rotation can help control leaf miners:
Disrupts pest life cycles: Leaf miners overwinter as pupae in the soil and emerge as adults in spring. Moving your vegetable crops to different areas each year makes it more difficult for adult leaf miners to locate suitable host plants and lay their eggs.
Reduces pest population: Crop rotation limits the availability of fresh leaves for leaf miners to feed on. When they can't find their preferred host plants easily, their population decreases over time, reducing the overall impact on your garden.
Breaks disease cycles: Crop rotation also helps control diseases that may affect your vegetables. Some diseases can survive in soil or plant debris and infect new crops when replanted in the same location. By rotating your vegetable crops, you reduce the risk of disease buildup and maintain healthier plants.
Natural Control Methods
If you want to control leaf miners naturally, you can introduce lacewings, parasitoid wasps, and beneficial nematodes into your garden.
Using these natural enemies, you can help maintain a balanced ecosystem in your garden and keep leaf miner populations in check.
Lacewings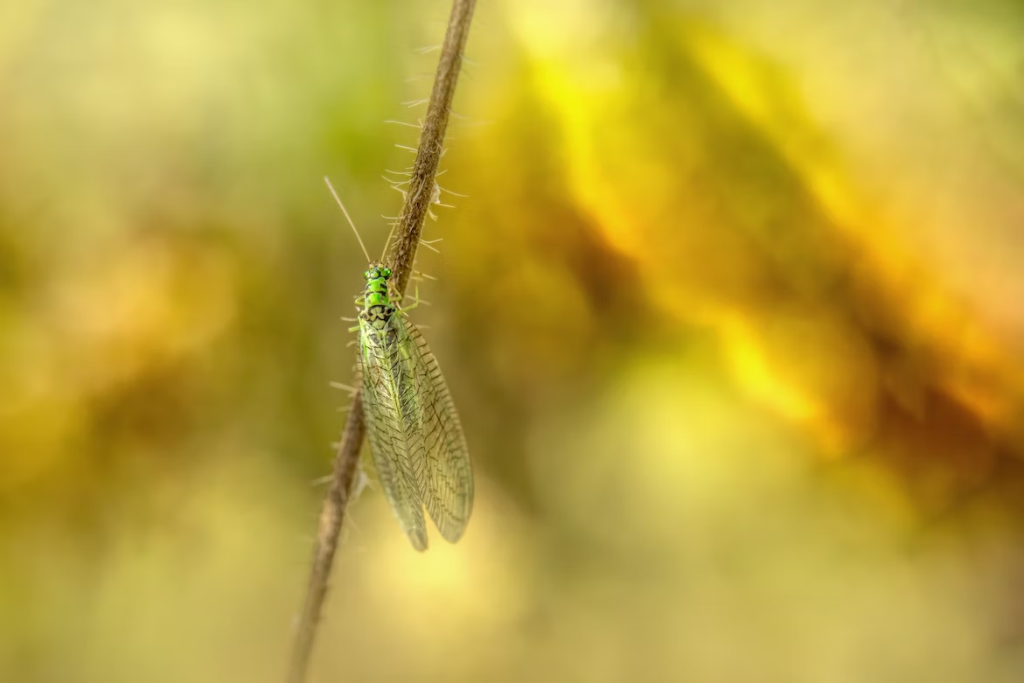 Lacewings are amazing predators that can devour and eliminate those pesky leaf miner larvae, saving your precious plants from further damage.
These delicate insects have a voracious appetite for soft-bodied insects like aphids, mealy bugs, caterpillars, and scale crawlers.
When it comes to leaf miners, lacewings are particularly effective in removing the larva from the leaves, reducing future damage, and keeping your plants healthy.
Here are three reasons why lacewings should be your go-to solution for controlling leaf miners:
Efficient Predators: Lacewings are highly skilled hunters that actively seek out their prey. They have sharp mandibles with which they puncture and consume the leaf miner larvae. With their insatiable appetite, lacewings can quickly clear infestations and prevent further damage to your plants.
Natural Pest Control: One of the most significant advantages of using lacewings is that they provide a natural and eco-friendly solution to controlling leaf miners. Unlike chemical pesticides that can harm beneficial insects and disrupt the ecosystem, lacewings pose no threat to other organisms in your garden.
Easy to Attract: Lacewings are attracted to gardens with abundant sources of nectar and pollen. To encourage them to take up residence in your garden, you can plant flowers such as marigolds or cosmos that produce plenty of nectar-rich blooms.
Parasitoid Wasps
Encouraging parasitoid wasps in your garden is like inviting an army of tiny superheroes to protect your plants from leaf miner damage. These amazing insects are natural predators of leaf miners and play a crucial role in controlling their populations.
When the adult parasitoid wasps find a suitable host plant, they lay their eggs inside the leaf miner larvae. As the eggs hatch, the developing wasp larvae start feeding on the internal organs of the leaf miner, eventually causing its death.
Once fully grown, the wasp larvae chew their way out of the now lifeless leaf miner larva, continuing their lifecycle and seeking out new hosts to attack.
To better understand how parasitoid wasps combat leaf miners, let's take a closer look at their key characteristics:
| | |
| --- | --- |
| Characteristic | Description |
| Life Cycle | The life cycle of parasitoid wasps involves four stages: egg, larva, pupa, and adult. The entire process takes around 10-14 days depending on environmental conditions. |
| Size | These beneficial insects are typically small in size but can grow up to nearly 3" long as adults. Their diminutive stature allows them to access leaf miner larvae hidden within leaves. |
| Behavior | Adult parasitoid wasps actively search for suitable host plants using visual cues and chemical signals emitted by damaged leaves or released by other female wasps. |
| Habitat | Parasitoid wasps can be found in various habitats, such as gardens, agricultural fields, and natural landscapes where susceptible host plants exist. |
Providing diverse plantings that attract these beneficial insects can increase their presence in your garden. Planting flowers like dill, fennel, or yarrow are excellent choices to encourage their presence in your garden.
Remember to avoid using pesticides on these plants, as they can harm or kill the natural predators that rely on them for sustenance.
Beneficial Nematodes
Beneficial nematodes are microscopic creatures that play a crucial role in maintaining soil health by feeding on various insects.
Their menu consists of:
bagworms,
beetles,
cutworms,
fleas,
grubs,
thrips,
and leaf miners.
Unlike root-knot nematodes, which are harmful to plants, beneficial nematodes are your allies in the battle against leaf miners. These tiny predators seek out their prey in the soil and release bacteria that kill the insect from within.
Once the prey is dead, the nematodes feed on it and reproduce, ensuring a continuous supply of these helpful organisms.
To unleash the power of beneficial nematodes against leaf miners in your garden or greenhouse, you'll first need to purchase them from reputable suppliers.
Follow the instructions provided with your nematode package for optimal application methods. Typically, you'll mix them with water and apply this solution to the soil around affected plants using a sprayer or watering can.
Chemical Control Options
If you're considering chemical control options for leaf miners, two effective choices are Spinosad and Pyrethrin.
Spinosad is derived from a naturally occurring soil bacterium and is effective against a wide range of insects, including leaf miners.
Pyrethrin, on the other hand, is an insecticide that comes from chrysanthemum flowers and works by targeting the nervous system of pests.
You can use both Spinosad and Pyrethrin as a last resort when other natural control methods have failed.
That said, you should follow label instructions and avoid using them on edible leaves or plants frequented by bees or beneficial insects.
Let's take a closer look at these options.
Spinosad
Spinosad, derived from soil microbes, is an effective and bee-friendly solution for controlling leaf miners, as it targets larvae without harming other beneficial insects.
This insecticide works by coating the top and bottom of leaves. When leaf miners feed on them, they consume the spinosad and become sick. As a result, the pests stop feeding and eventually die.
What makes spinosad particularly appealing is its ability to selectively target leaf miner larvae while leaving bees and other non-target insects unharmed. It means you can use this solution without worrying about causing harm to these important pollinators.
To effectively control leaf miners using spinosad, it's essential to apply it at green-up and continue regular reapplications to maintain control. By thoroughly coating both the top and bottom surfaces of leaves, you ensure any leaf miner larvae that come in contact with the spray will be affected.
Regular applications are necessary because spinosad breaks down over time due to exposure to sunlight and rain. So even if you initially achieve control, staying vigilant and keeping up with reapplications is crucial.
With proper application techniques and regular reapplications, you can effectively eliminate leaf miners while keeping your garden ecosystem intact.
Pyrethrin
If you choose to go with this alternative, apply pyrethrin to the underside of leaves, allowing it to coat the surface like a protective shield. Once you do so, whenever leaf miners chew into the leaf, they will ingest the poison and meet their demise.
Pyrethrin is an organic pesticide that specifically targets leaf miners as they leave the egg and enter the leaf. It works by causing paralysis in insects upon contact, leading to their eventual death.
Here are three key points to keep in mind when using pyrethrin for leaf miner control:
Spot treat concentrations: Rather than applying pyrethrin throughout your entire garden, it is best to focus on specific areas where you have observed higher populations of leaf miners. By spot-treating these concentrations, you can effectively target the pests while minimizing any negative impact on beneficial insects.
Target the underside of leaves: Leaf miners typically lay their eggs on or within leaves, and their larvae feed on the tissue between the surfaces. To ensure effective control with pyrethrin, make sure to apply it directly to the underside of leaves where leaf miners are most likely present.
Consider its impact on beneficial insects: While pyrethrin is effective against leaf miners, it may also harm other beneficial insects like bees. Consequently, using this pesticide judiciously is essential to minimize unintended consequences.
Managing Leaf Miner Damage
In addition to the above-mentioned options, you can employ other strategies to manage leaf miner damage.
One such method is planting in diverse patterns and utilizing companion planting techniques. By mixing different types of plants together, you can create a more confusing environment for leaf miners, making it less likely they will target your crops.
Leaf miners can also be naturally eliminated using neem oil. This insecticidal oil disturbs the bugs' life cycle, lowering the count of larvae turning into adults. This way, you can control the increase of these pests.
Obviously, it's not an instant solution. But, it surely is a natural method to handle them.
To provide a visual representation of some of the best ideas presented above, here's a table highlighting key strategies for managing leaf miner damage:
| | | |
| --- | --- | --- |
| Strategy | Description | Benefits |
| Prompt removal | Remove damaged leaves as soon as you notice them | Prevent larvae from spreading |
| Tilling the ground | Till the ground in early spring, at least 8-10 inches deep | Disrupt overwintering larvae and pupae |
| Crop rotation | Move susceptible plants to different areas each year | Disrupt life cycle |
| Decoy crops | Plant decoy crops like nightshade, lamb's quarter, pigweed, and henbane | Lure the leaf miners away from your valuable plants |
| Diverse patterns | Plant different types of crops together | Confuse leaf miners, reduce targeting |
| Weed control | Keep garden weed-free | Eliminate breeding grounds, reduce populations |
| Row covers | Place these covers over your plants | Prevent leaf miners from reaching your plants |
Final Thoughts
Although it's not an easy task, effectively managing leaf miners is crucial for protecting the value and health of your plants.
By following the prevention methods outlined in this article, you can significantly reduce the risk of leaf miner infestations.
Introducing predatory insects or utilizing row covers can also help keep these pesky insects at bay.
In cases where leaf miner populations become too severe to manage through cultural controls alone, chemical control options may be necessary.
Yet, it's paramount to carefully consider the use of chemicals and consult with a professional or follow product instructions to ensure safe application.
Remember to stay vigilant and monitor your plants regularly for any signs of infestation. With proper care and attention, you can minimize the impact of leaf miners on your crops and ensure healthy, thriving plants.
Frequently Asked Questions
Can leaf miners infest indoor plants?
Yes, leaf miners can infest indoor plants. They are known to attack a variety of plants, including vegetables and ornamental plants.
Proper pest management techniques such as manual removal or introducing predatory insects can help control them.
Are there any specific plants that are resistant to leaf miner infestation?
Some plants, such as marigolds, geraniums, and petunias, have shown resistance to leaf miner infestation. These plants can be a good choice for your garden if you want to minimize the risk of leaf miner damage.
Can leaf miners cause any health concerns if consumed on vegetables?
No, consuming vegetables with leaf miners does not pose any direct health concerns. Nevertheless, it's best to remove affected leaves to maintain the quality and appearance of the produce.
Can leaf miners be controlled using organic methods?
Yes, leaf miners can be controlled using organic methods. Cultural controls like removing affected leaves and planting in diverse patterns can help. Introducing predatory insects and using row covers are also effective strategies.
Is there a specific time of year when leaf miners are most active?
Leaf miners are most active in the spring and summer months when adults emerge from overwintering pupae. During this time, they lay eggs on or within leaves, and their larvae feed on the insides of leaves for 2-3 weeks.
Enamored with the world of golf Jack pursued a degree in Golf Course Management at THE Ohio State University. This career path allowed him to work on some of the highest profile golf courses in the country!  Due to the pandemic, Jack began Inside The Yard as a side hustle that quickly became his main hustle. Since starting the company, Jack has relocated to a homestead in Central Arkansas where he and his wife raise cattle and two little girls.