How To Make A Plant Saucer In Simple 2 Ways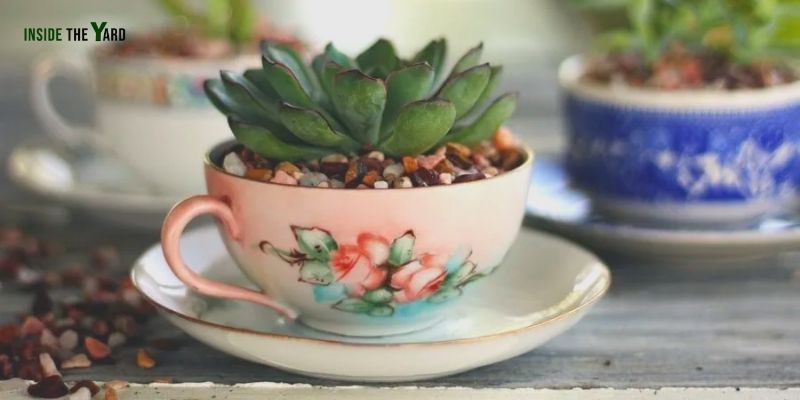 You must be thinking about how to make a plant saucer at home? You can use your unused pan or saucer from the kitchen as a plant saucer. But if you want something solid gather some cement and soil with some other necessary stuff and make yourself easily following a complete step-by-step guide. And it's right here.
People usually use a plant source just underneath the container of the plants. It is mainly used as a drainage system along with some benefits.
Potted planting in terms of gardening is widespread. You can make your indoor or outdoor scenario even more beautiful with the containers. But, in today's guide, we will try to generate a step-by-step discussion if you want to make a plant source of your own.
How To Make a Plant Saucer
The most exciting thing about a plant saucer is making this component using different things. Very often, you can get the elements near your hand as well. From your used cooking pan to concrete, it is possible to make a saucer. Thus DIY plant saucer ideas are going to the next level.
Method-1: Home Ingredients For A Plant Saucer
It is not that hard to make a plant saucer, as we mentioned before. Let's say you have a used pan. What you have to do here is remove the pan's handle. Once you release the grip, you will find a hole where the screw took place. You can use a bit of mold or stuff like that to fill that hole.
Now, put the pan under the plant container. You can also use a plastic refrigerator storage container to replace this if needed. This will give you some temporary services. Make sure there is no hole in the sauce.
Wait for a second here. You have something very sustainable for you. What if you want a strong plant saucer for the plant container so that you feel relaxed?
This part of the guide will show you how to make a plant saucer using cement or concrete.
However, if you need can have a glance over several DIY plant saucer alternative ideas.
Method-2: Cement or Concrete For A Plat Saucer
You may never want the water from the plants to spill into your floor anytime. If this happens, it will be very much disturbing, won't it? Before tending to make a sustainable plant sauce, you must ensure these elements.
A cardboard box.
A plastic plate. (or any type of plate)
A proper amount of cement.
Oil.
Water.
Cement.
Sand.
Components for mixing the cement.
Step 1: Take An Appropriate Cardboard Box
You may have a cardboard box that we often get from the market when buying some products. Let's say cardboard from your birthday cake. Make sure you take cardboard with the proper size. After taking the cardboard, use oil to clean the cardboard box so that the cement you will pull can easily suit it.
Use a brush to use the oil on the box.
Step 2: Mix The Cement
You have to perform this task very carefully. Before that, choose the best type of cement and sand to complete the job. Mix the glue with enough water. Don't pure a lot of water as it has to match with the ratio of the cement. Take your time and use a bowl to do this.
Step 3: Pour the Cement On The Box
Now, it's time to use the mixed cement. In the beginning, try to use a spoon to mix the cement and gradually pour the cement into the box. Once you have done this, shake the box with your hard to have no air gap. The air gap can cause a leak on the saucer.
Step 4: Place The Plate
You have to do this job very fast. If the cement gets enough time, it will be stuck, and then you will find it difficult while placing the plate. Now, place the plate right on the middle of the bow and lightly press the plate with your hands.
Insert some heavy materials on the plate so that the plate gets time to settle down on the concrete.
Step 5: Wait For A Day And Remove The Cardboard Box Carefully
Put out the material from the plate. There, we will get to see a shape. Simply remove the cardboard and then, you will have a solid saucer made of concrete.
There are also some heavy-duty clear plastic plant saucers that you can make using plastic. These saucers are also very beneficial.
This Video Will Help You Too!
Frequently Asked Questions (FAQs)
What can I use instead of a plant saucer?
You can use several things instead of a plant saucer. If you hardly get enough time or feel hesitant to buy on for the container, you can even use the used pan from your kitchen or any plastic material. But, you have to ensure it works as a proper saucer.
Are saucers bad for plants?
You should use the plant's saucer if you badly need it. We are saying it because a saucer full of water is not proper to take care of your plants. But we and people around the world recommend this because you need it most of the time.
How do you make a plant tray?
The are many ways to do so. We have covered entirely of them. You use it with concrete so that it lasts a long time. Besides, you can also use home elements that work as a plant tray.
Do you need a plant saucer?
If you can manage, you should use it to grow your plants indoors. It absorbs the water flow from the container, which is really essential. It has positive effects on the health of the plants.
Conclusion
You never deny the usefulness of a plant saucer in terms of the plants. Indoor plants need more care. If you are really growing your plants in a tub or container, you should definitely use a saucer. We have presented the most accessible ways so that you can make a saucer.
People always ask how to make a plant saucer and its importance whenever they tend to start their new gardening project. We hope this will help you in this case. Why not make it on your own now?
You Can Also Read:
Often called Jason's "better half" Shelley excels with her hands in the dirt. Growing up on a homestead in North Carolina gave Shelley a love for work and cultivation. Early in her career she cultivated minds inside a first grade classroom. Organic gardening has long been her passion and the internet age has allowed her to make it a side hustle. Shelley's joy is made complete by sharing gardening tips with her friends, neighbors, and two grandsons.