Some Common Kubota M7060 Problems & Their Solutions
You must be here because your Kubota m7060 isn't operating functionally. Is your tractor shutting off after running for a while? Or is your tractor not starting at all?
If you own a Kubota m7060 or are thinking about getting one, you should know about Kubota m7060 problems and solutions to have a smooth experience.
Thankfully, some of the common problems of tractors don't demand a bouquet of money and can be solved with simple and easy solutions.
Specific Kubota M7060 Problems and Solutions
Besides the above common problems that you can face with Kubota m7060, you may also encounter these with other tractors.
But this model of Kubota has some specific issues which also can be fixed using a simple solution.
| | |
| --- | --- |
| Problems | Solutions |
| Front end loader leaks | Check the control valve |
| Buzzing/whining sound | Check hydraulic system |
Front End Loader Leaks
Out of all problems, the one that wreaks havoc in Kubota m7060 is gradually the loader's front end leaks down. Sometimes the front-end loader may leak even when you don't brush hog (also known as Bush Hog) and use the loader.
How to Fix: When you face this Kubota m7060 problem, you should first install a new bucket cylinder. If it doesn't fix the problem, the control valve will likely have internal leakage.
Buzzing/Whining Sound
You may notice a buzzing or whining sound coming from the side of the shift and loader control stick after detaching the backhoe from the subframe.
Either noise is coming due to the hydraulic system pumping too hard for the backhoe to be separated, or the tractor has an internal problem.
How to Fix: To fix this issue, check the fluid level in the hydraulic system to see if there's any air. If you didn't find any problem in the fluid system, the best would be to consult with a professional to avoid causing damage.
Note: since these are specific problems with Kubota m7060, contact a professional if you can't fix it through our easy solutions.
Some Other Common Kubota Tractor Problems and Solutions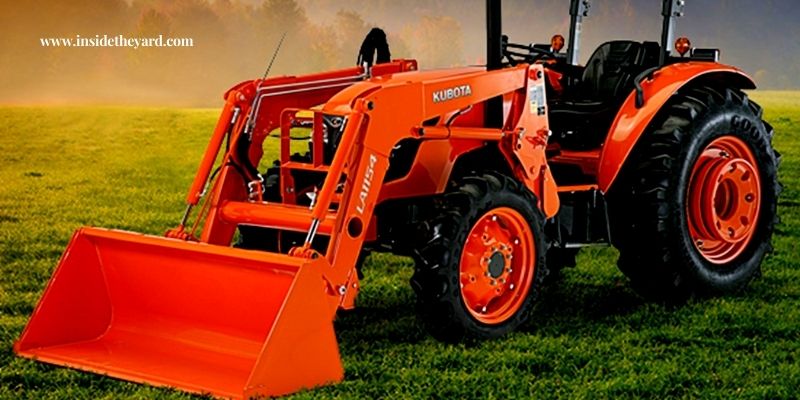 Kubota m7060 is a good investment, but you may sometimes run into a problem that you can troubleshoot and fix easily. However, just because some owners reported these problems below doesn't mean Kubota tractors are better avoided.
Here are common problems with Kubota tractors you may face with their solutions.
| | |
| --- | --- |
| Problems | Solutions |
| Pedal issue | Lubricate pedals |
| Transmission issue | Bend the end reverse |
| Clogged filters | Remove cap & clean vents |
| Contaminated fuel | Clean water every week |
| Dull blades | Sharpen blades |
| Front end loader leaks | Check the control valve |
| Buzzing/whining sound | Check hydraulic system |
| Engine cranking issue | Replace damaged parts |
| Overheating engine | Clean dust & debris |
| Engine failing | Flash fuel system |
Hydrostatic Transmission And Pedal Issue
Sometimes you may face a treadle pedal problem with Kubota m7060. The treadle pedal is usually guided with the feet, and it operates to supply the engine's output to the hydrostatic transmission.
It takes more effort to engage the transmission than you usually need to push forward when you push the reverse. There're two main reasons behind this problem: perhaps pedals aren't lubricated enough, or the bolts are tightened too stiffly.
How to Fix: You can easily solve this reverse pedal issue. Bend the end reverse a little more with your hand and check if any bolts need to be loosened, or if the pedal needs more lubrication.
Engine Not Cranking
Some Kubota m7060 owners complain that sometimes the internal combustion engine of the tractor fails to crank. If you face this problem, then dirt, corroded battery cable, dead battery, or damaged safety switches are responsible for it.
Ensure that the battery has a proper charger and the cable is in a good working state. To check whether the safety switch is getting enough voltage, you need an Ohm meter.
How to Fix: Fixing this issue is simple. Consider replacing them if you find any defects after checking the battery, battery cable, and safety switch. Also, cleaning them once a month will keep your tractor away from this problem.
Engine Overheating
Engine overheating is probably the most common problem for Kubota m7060 users. Low radiator airflow is responsible for this if your tractor's engine is overheating.
Particles of dust and debris in the radiator obstruct the smooth airflow. As a result, the level of airflow radiation goes down, and the engine overheats.
How to Fix: Get rid of dust and debris particles from the fins of the radiator, and your tractor's overheating problem will be solved. Use an air compressor to blow out particles from the fin.
You May Like This Video Too!
Frequently Asked Questions (FAQs)
How much can a Kubota M7060 lift?
A Kubota M7060 features a pump capacity of 16.2GPM (Gallons Per Minute). It can lift around 1500 kg or 3307 lbs.
How many hours will a Kubota engine last?
A Kubota tractor can support you for around 4500 – 5500 hours. You can double the lifetime with proper maintenance and care.
Conclusion
The Kubota m7060 features a 71HP diesel engine and a rugged hydraulic shuttle transmission system. It features advanced field technology that can white-sand any field condition and complete your work effectively.
But nothing is 100% perfect, of course.
You'll face some common Kubota m7060 problems. But as you see, solutions to the problems are pretty easy and simple, so you won't need to go to a professional and spend a large amount of money fixing the issues.
You Can Also Read:
Enamored with the world of golf Jack pursued a degree in Golf Course Management at THE Ohio State University. This career path allowed him to work on some of the highest profile golf courses in the country!  Due to the pandemic, Jack began Inside The Yard as a side hustle that quickly became his main hustle. Since starting the company, Jack has relocated to a homestead in Central Arkansas where he and his wife raise cattle and two little girls.