How to Remove Plastic Landscape Edging- Learn All the Techniques In Details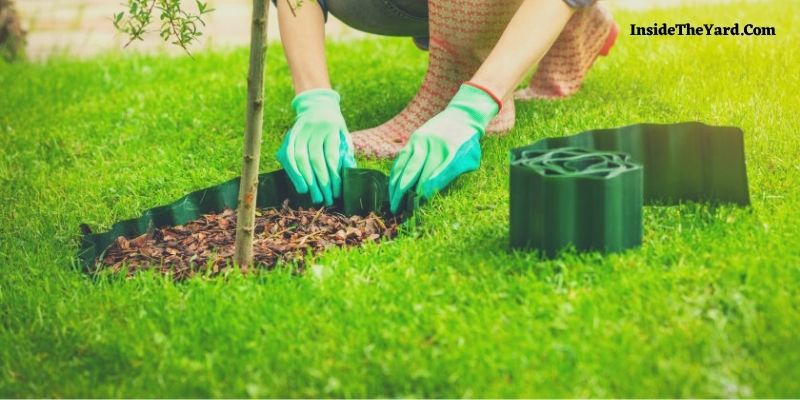 Imagine yourself sitting in your garden on a bright sunny day, full of fresh air and smooth breeze all around, until you notice your plastic landscape edges that are curve and torn. They might shatter into pieces all over. Making your garden untidy and messy.
You start wondering how to remove plastic landscape edging. And this is what we are here for! Just a few steps with proper precautions and done.
Follow this article, and you'd be pro in removing the landscape edges. We have also added some tricks and tips, so do read until the end.
How to Remove Plastic Landscape Edging
Removing plastic edging is not a simple task. Again, some proper techniques along with some efforts make it easy. In this guide, we are showcasing a few plastic landscape edge removal steps.
Before You Start!
We recommend you wear safety gear like gloves and eye protection. While removing the edges and stakes, you might come across some metallic elements. This basically acts as a precautionary measure, so don't skip it.
Remove all the shrubs, bricks, and weed mats around the landscape. Start from scratch. Wipe everything out.
Sometimes the landscapes come out easily. Yet sometimes, they don't. You gotta be patient. If possible, you can ride a skid-steer.
As soon as you start edging out, all the rocks start spilling all over the place. Your ground might be free from roots, cables, and wires. In that case, just stab and create a crease.
Try to get a metal edging shovel from your nearest landscape supply store. Wobble the shovel back and forth all the way. Now make the perfect lip. If there's enough clay, slide the edging all the way down to where the lip exposes.
With good leverage, the stakes are very easy to break off. Choose a long-handle tool instead of some small pliers. For eg- channel locks, crescent wrench, or vise grips. The longer the handle is, the more leverage you get. However, don't try to break or pull the steaks off simply.
Take the edging to a flat surface. The ground would be the best place. Secure the edging by leaning on it with your hand or foot. Make a twist. The whole thing comes off rather than one end at a time.
Attach your tool near the large end of the stick. While holding the edge firmly in place, start moving the stake in small motions.
As the tab fatigues, you will be able to bend the stick back and forth until it snaps off.
Repeat the process for the remaining stake and the two stakes on the opposite end.
After removing all the stakes in this way, you are ready to begin your landscape project.
Follow these steps carefully. Once you finish, everything that's underneath the edging will push it up. You have to dig out and excavate all the rocks out. While you dig, it's gonna mix just like salt and pepper. So how do you stop that?
Well, you have to take a good rock and a rake. Push it back as far as you can. So that only the dirt is visible.
Why You Should Remove Plastic Landscape Edging?
Due to the seasonal changes, your garden experiences a freeze-thaw cycle. Gradually you would see the edges popping up, dilapidated. Then they literally come out of the ground.
That makes it so annoying. Because while you take a walk, it pops up so fast that the rocks start spilling underneath. This is when you realize that you gotta remove plastic landscape edge.
Frequently Asked Questions (FAQs)
How do you change garden edging?
It's simple. Choose the suitable edging type for your garden. When done, dig a trench and install it. After installing, secure the edging by all ends. That's it!
What is the cheapest garden edging?
Plastic edging is the cheapest garden edging. There are different types of plastic edging. There is black diamond plastic edging. Again, there is contractor-grade plastic edging. Besides, there's black, green, aluminum color and other different types.
Can landscape edging be recycled?
Definitely! Recycled plastics are usually resistant to rotting and damage. Moreover, you can curve them easily. Additionally, they are UV stabilized. Hence they are 100% recyclable.
What can I do with old landscape edging?
Never throw away the old landscape edging. There are so many ways to use it later. You can recycle them. Cut the ends of the hollow tube into pieces. Place them at the bottom of a pot. This helps in drainage. Moreover, it lifts the weight of the pot. Thus making it lighter to carry.
Conclusion
We have covered all your concerns regarding how to remove plastic landscape edging. Once you finish, you will notice differences. You will see everything leveled out around your landscape. Put some weed barriers and reinstall some plants. You can also put in some multicolored rocks. Moreover, you can build a few retaining walls to hold back the Hill a little bit. You can also build a ramp over the sidewalk.
To conclude with, take good care of your garden. Conduct serious maintenance whenever needed. Without proper care, your landscape gets out of shape and beyond repair.
Hence, you should preserve your precious garden before it's too late!.
You Can Also Read:
Enamored with the world of golf Jack pursued a degree in Golf Course Management at THE Ohio State University. This career path allowed him to work on some of the highest profile golf courses in the country!  Due to the pandemic, Jack began Inside The Yard as a side hustle that quickly became his main hustle. Since starting the company, Jack has relocated to a homestead in Central Arkansas where he and his wife raise cattle and two little girls.