How To Wire A 220 Well Pressure Switch for 2 & 3- Wiring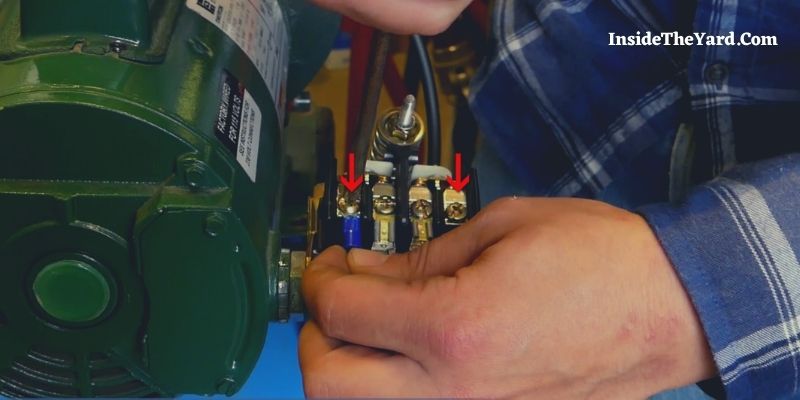 Repairing our equipment strengthens our bond with it. We can avoid calling for professional help by doing relatively simple tasks such as wiring a well pressure switch during installation, troubleshooting, or repair. But how to wire a 220 well pressure switch?
You need to get a grip of the wiring diagram inside the switch box and some steps for wiring.
However, you should be aware enough throughout the process because pumps operate on dangerously high voltage.
Make sure you understand each step and the whole process. Otherwise, call for a professional and observe him adjust the wire set. In that case, this writeup will help you interpret the procedure
How To Wire A 220 Well Pressure Switch
A 220v well pressure switch contains two rooms on the breaker panel. So, locate the breaker circuit of your well and shut it off.
Next, verify which type of wire system your pump has. To start, you need a few starting tools like a screwdriver, wire strippers, fork connectors, crimps, etc. They will accelerate this process so you can even start without them and use the tools you have close by.
There are two types of pressure switches, and here is how to find them out:
Two-Wire Pump Pressure Switch- If the wire duct from your motor doesn't branch and goes straight to the pressure switch, then it's a two-wire.
Three-Wire Pump Pressure Switch- If the wire duct from your motor goes through a control box before the pressure switch, then it's three-wire.
Steps for Two-wire Pressure Switch Wiring
If you have a two-wire system, then follow this step-by-step well pump wiring guide. Read each step carefully, then do as instructed.
Ensure you have switched off the power to the pump. Check the power wire from the panel with a tester or voltmeter. If they show no sign of electricity, move on to the next step.
Then extract the remaining water from the pump using a garden hose, faucet, etc. This will release pressure from the system.
Locate the holder of your switch box. If you want to replace the previous one, taking a photo of your old wiring setting will help you set up the new one. You can also use a marker to label them. The wiring is easy to do, even if you don't label or need to install a new pressure switch, you will catch up.
Then determine the cut-in pressure of your new switch. Make sure to lower the air pressure in your pump 2 PSI below the cut-in pressure.
Place the switch box and put the wire conduit ends inside the box through the feeding holes on the side walls. Forkhead and hook wire tips are easier to connect. Else, if you have normal wire tips, clip a half-inch insulator and twirl it clockwise on specific screws according to the well pump wiring diagram.
Now, to connect the wiring with the switch, you need to determine each wire and where it should be connected. First, confirm you have power supply wires. Then, connect them with Line Terminals or "1 and 4" terminals. There is no problem if you connect them interchangeably.
Connect the green ground wire coming from the power circuit to the ground screw fixed to the ground of the box.
Then, connect the motor wires to the LOAD terminals or "2 and 3" terminals. Again, there is no problem if you mix up these middle terminals, just connecting them to the second or third port will be fine.
After that, fix the ground wire to another ground screw. Make sure your motor is grounded to avoid any injury to you or your pump system.
Make sure the feeder hole of the box is closed well enough, use a rubber or cork band on conduit tips.
Confirm that all the wire connections are sturdy enough and resist moderate pull pressure. Also, restrain them from touching each other.
Next, shape the wire outlets to ease put the cover on. Close the switch cover carefully and fix them with a screwdriver.
Turn the power back on the breaker and operate the pump for a few minutes to test its stability. You did it, and now you know how to wire a pressure switch. Bravo!
Steps for Three-Wire Well Pressure Switch Wiring
If you have a two-wire system, then follow this step-by-step guide. Read each step carefully, then do as the tutorial below:
Similarly, after verifying that your good pressure switch has no voltage at the outlet from the breaker, place the new switch in the place of the old one and fix it.
You will see your motor has red, black, and yellow insulation-covered wires for a three-wire system. Connect them to the control box circuits labeled R, B, and Y, respectively. Then connect the green ground wire to a ground screw.
Then, attach the power supply connection to the L1 and L2 ports. You can connect the wires interchangeably, so you needn't worry about mixing up. Connect the ground wire to the green ground screw. Make sure your motor is grounded to avoid any unwanted incidents.
Jam outlet holes with rubber or cork to avoid water splash.
Confirm that the connections are secure enough and resist optimum pull pressure. Then arrange the wire outlets so that you can fix the cover easily. After fixing the cover, switch on the motor power on the breaker panel and test run it for a few minutes.
Finally, your pump is ready to run again—Pat yourself on the back.
This Video Will Help You Too!
Frequently Asked Questions (FAQs)
How do you wire a deep well pressure switch?
The deep well pressure switch must be connected as per the wiring diagram for the well pump pressure switch. There generally is a wiring instruction paper inside the switch box cover. Follow our easy guide to wire your pressure switch safely or if you don't have the instruction paper.
Where do the wires go on a pressure switch?
The wire from the breaker box goes to "1 and 4" terminals or L1 or L2 terminals. And the wire from the motor goes to Load- "2 and 3" terminals for 2-wire system R and Y. And B for the 3-wire system. Be sure about the wiring and electrical connections of the wire before installing.
Can you wire a pressure switch wrong?
There will be no problem if you mix up the two-wire ports for power supply wires (coming from breaker panel) among themselves or motor connection wires. But be sure the hot wire or power supply wire is connected to "1 and 4" terminals and motors on "3 and 4 terminals" according to our guide.
Final Thoughts
We hope this step-by-step tutorial on how to wire a 220 well pressure switch helps you accomplish an easy task like replacing or installing a pressure switch on your pump.
Otherwise, if you are not much familiar with electric wiring, this guide will help you educate yourself. Either way, we will be pleased to have helped you even a bit. Until next time, Take care.
You Can Also Read:
Enamored with the world of golf Jack pursued a degree in Golf Course Management at THE Ohio State University. This career path allowed him to work on some of the highest profile golf courses in the country!  Due to the pandemic, Jack began Inside The Yard as a side hustle that quickly became his main hustle. Since starting the company, Jack has relocated to a homestead in Central Arkansas where he and his wife raise cattle and two little girls.