Raptor SD Vs Fastrak- Which Hustler Series Wins the Bet?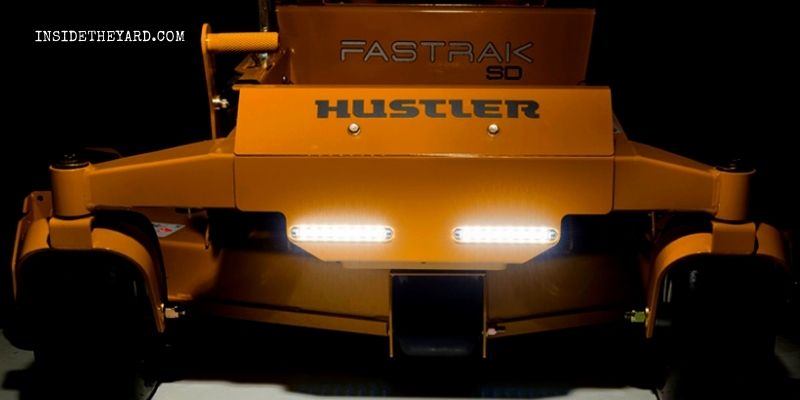 Hustler introduces you to a range of perfect mowers. Among them, Raptor SD and Fastrak are the most popular. Though a particular company makes these two mowers, there are some differences, like you will get Raptor SD at around $7000, but you have to pay much, even around $11000 to Fastrak, depending on the model.
There will be many more discussions regarding raptorsd vs Fastrak. We will try to invent some of the key factors that might help you make the best decision. Let's take the bull by the horns.
Raptor sd Vs Fastrak Table Comparison
| | | |
| --- | --- | --- |
| Facts | Raptor SD | Fastrack |
| Maintenance | Very much easy to access all the components | Easy to maintain as well with high durability commercial zero turn mower |
| Deck System | Strong fabricated deck system with easy height customization option | Heavy-duty deck and very easy to navigate |
| Frame | Quality still built frame with great tires | Wider frame comparing raptor sd with a bit weight as well |
| Warranty | 3 years or 300 hours | 4 years or 400 hours. |
| Engine | Raptor mowers have a strong Kawasaki premium along with Kohler that generates great power | Has a Kawasaki FT and FR series engine with superb power |
| Speed | High blade tip speed gives maximum mowing around 7 mph | Above 12 mph mowing speed |
You can keep a close eye on these factors. Make sure your money is worth it. Therefore, we are going to present you with a brief discussion about the factors so that you can easily relate.
Maintenance
Hustler, yellow zero turn mower brands, always try to ensure the proper maintenance system of their mowers. Doesn't matter what sort of mower you use. You can feel enough comfort. But as the models vary, something differs from one another. You may want your mowers to have the quality tomaintain all the components easily.
Maintenance on Raptor SD is straightforward, and you don't need to do any hard work. You can see the oil range, check the engine easily, and smooth spin in filters will give you a lot of ease. The navigation system on Raptor SD is very excellent compared to the price with mowers out there in the market.
You can't let the Fastrak go in this circumstance as it is regarded as a high-end commercial heavy-duty mower. It gives you easy access to different service points, and you don't need to call an engineer very often. Sounds perfect?
Deck System
A deck is a crucial part of any mower. The Hustler Raptor SD and the Fastrak have strong fabricated decks with eye-catching designs. You can customize the size of the decks for both the mowers.
The Raptor sd has a very well-made steel deck that is ideal for mowing and is also very easy to maintain. The deck is very deep on the Raptor SD, which might give a very good experience while mowing. This model comes with a 48, 54, and 60-inch deck.
Hustler Fastrak also comes with 48, 52, and 60-inch decks with very high performance. This model no doubt has some excellent premium features that allow the deck to perform best. It also has a cast deck hanger with improved flexibility, and that is why Fastrak is regarded as one of the top-line mowers.
Frame
A frame is something with a mind-blowing design that really attracts you. A well-structured frame makes these mowers stand out. Both the Raptor sd and the Fastrak are yellow in color and have a premium design.
You can get to know the identity of those mowers by seeing their names at night in front of them. The Fastrak mower deck is relatively wider compared to the Raptor SD. Furthermore, the deck of the Fastrak mower is larger than that of the Raptor SD.
So far, the Hustler Fastrak has commercial-style frame rails that make the mower more choicely.
Warranty
No matter what products you buy, you have to make sure you get a decent warranty on the products. Mowers here are no exceptions.
On Raptor SD mowers, you can get a warranty of 3 years or 300 hours, which is really helpful. On the contrary, you can have a warranty of 4 years or 4000 hours on Hustler Fastrak mowers. The warranty period remains the same for all the models separately.
Therefore, you are getting one extra year of warranty compared to the Raptor SD on Fastrak because of the price and performance.
Engine
We have come to one of the most important discussions in discussions so far—engine, a component that drives a mower to ensure better performance.
When talking about Raptor SD mowers, Kawasaki and Kohler are often used. These are the two most renowned brands in the mower engine world. You, as a user, can cover up to 1-3 acres with Raptor SD's world-class engine.
On the Hustler Fastrak, you will find a powerful Kawasaki engine. The latest Fastrak mowers are built with Kawasaki FR and FT series engines that can comfortably cover up to 3 acres of land.
Frequently Asked Questions (FAQs)
Is Hustler FasTrak a commercial mower?
Yes, the Hustler FasTrak is a commercial zero-turn mower with high-duty performance. This premium type of mower can perform with commercial circumstances quite easily, with the ability to cover a wide range of areas.
What is the Hustler Raptor SD?
The Raptor SD is often regarded as a high-performance residential zero-turn. It offers several important features that can give you the ability to mow like a pro. You really don't need to worry about the turf you have if you have a Raptor SD mower.
What is the difference between Hustler Raptor SD and SDX?
Raptor SDX has some additional features and creates some differences from Raptor SD. The Raptor SDX has a 10 gauge welded steel deck that allows mowing grass properly. The tires are a lot bigger than Raptor SD.
We hope you can get some exact ideas about raptor sd vs fastrak with these FAQs.
Which Hustler Series Wins the Bet?
Now we are at the conclusion, where you have to make a proper choice. Haven't you?
Look, while buying riding mowers, you have to know some facts regarding your property, budget, and so on. These facts allow you to decide properly as you tend to spend your money.
If your budget is short and you feel pleased with the budget of Raptor SD, you can go through it. Additionally, if you have a lot of money, you should go with Fastrak.
The area of the land also matters here. If you own residential land, then Raptor SD will be a proper choice for you. Fastrak is a commercial zero-turn that you can use for a comparatively larger area of coverage. You can consider this while talking about raptor sd vs fastrak.
But, both the Hustler mowers are excellent. These mowers won't create any loss for you at all.
You Can Also Read:
Enamored with the world of golf Jack pursued a degree in Golf Course Management at THE Ohio State University. This career path allowed him to work on some of the highest profile golf courses in the country!  Due to the pandemic, Jack began Inside The Yard as a side hustle that quickly became his main hustle. Since starting the company, Jack has relocated to a homestead in Central Arkansas where he and his wife raise cattle and two little girls.