Bad Boy Vs John Deere: The Ultimate Winner Is Revealed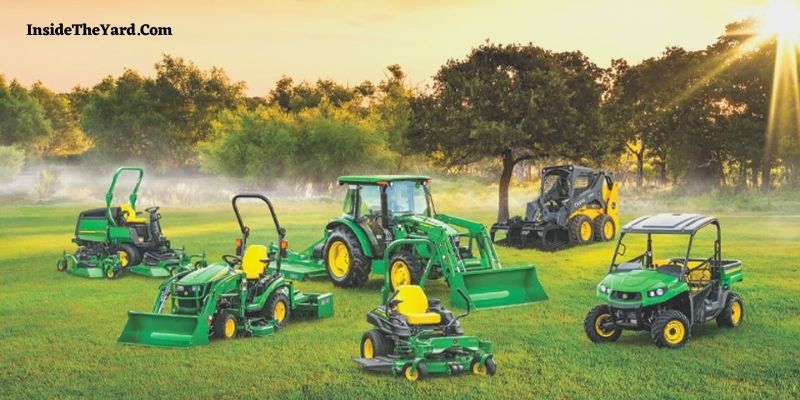 What is the difference between Bad Boy and John Deere mowers? Mowers designed by Bad Boy can mow acres of land, while John Deere mowers are best suited to lawn mowing.
Is that the only difference between them? No, they differ greatly in terms of engine quality, deck size, average speed, durability, price ranges, and so forth.
Bad Boy and John Deere, both brands, currently dominate the mower market. Their mowers are quite reliable and can be used for both lawns and landscaping. Our article on Bad Boy vs John Deere describes all the key differences along with proper explanations.
At the end of this comparison, we will reveal the winner. So, let's start without further ado.
Bad Boy Vs John Deere Mower: A Basic Comparison
Here, we have made a table that will give you a basic comparison between the Bad Boy and John Deere mowers:
| | | |
| --- | --- | --- |
| Comparison Parameters | Bad Boy Mower | John Deere Mower |
| Brand Starting | 2002 | 1837 |
| Models | 5 residential and 8 commercial. | 5 from Z700 series, 7 under Z300 series & 11 under Z500 series |
| Using Engine | Kawasaki, Caterpiller, Kohler, Briggs & Stratton, Honda, and Vanguard | John Deere V-Twin engines are mostly used |
| Deck Size | 42 to 60 inches | 48 to 72 inches |
| Onwards Speed | 6.5 to 20 Kilometer per hour | 5.5 to 12 Kilometer per hour |
| Durability | More than 20 years | 10 to 15 years |
| Price Range | Expensive than the usual mowers price | Budget-friendly mowers |
This is just a basic comparison of two country-famous mowers. Continue reading because, in the subheads below, we will present you with an in-depth review of Bad Boy and John Deere mowers.
Robust Engine: Bad Boy Or John Deere Zero Turn Mower
When it comes to buying a mower, most buyers prioritize the engine. You cannot fully enjoy the ride of your mower without a robust engine. The engine determines how smoothly a mower will ride. Luckily both Bad Boy and John Deere come with the fastest zero turn mowers engines.
However, Bad Boy used third-party engines with their mowers. Kawasaki, Caterpiller, Kohler, Briggs & Stratton, Honda, and Vanguard engines are the most common among them. You can ride Bad Boy mowers 4 to 12 miles per hour.
Mowers with this speed range are incredible. Year after year, Bad Boy mowers maintain the same engine performance. Within a short period, you will fall in love with their mower engine's speed and cutting accuracy.
On the other hand, John Deere V-Twin engines are generally used in their manufactured mowers. However, Yanmar, Kawasaki, and Briggs & Stratton These engines are capable of cutting grass perfectly and with eminence.
The John Deere zero turn mower engines are made in such a way that they deliver decent power and long-lasting performance. In addition, the engines are also air-cooled and can produce 20HP to 25HP.
Differences In Deck: John Deere Or Bad Boy
Deck material plays a significant role in better coverage and handling of the mowers. When your mower's deck size is right, you will get a faster cut every spin. It may now be clear why deck size is crucial for mowers.
John Deere mowers generally have a cutting deck width of 42 to 60 inches, and the cutting height is 1 to 4 inches. It comes with both side discharge and collects & mulch cutting options. The cutting speed is also quite faster for the John Deere zero turn mowers.
Contrary, Bad Boy gave priority to the deck's space. That's why their deck width starts at 48 inches and goes up to 72 inches. An isolator that isolates the deck and a deck lock that keeps mowing height consistent are two unique features that make Bad Boy inimitable in the mower industry.
Contrast in The Build Quality: John Deere & Bad Boy
John Deere and Bad Boy manufacture mowers with excellent build quality. Strong build quality ensures the durability and as well as performance of your mowers. Needless to say, zero turn mowers are built to a higher standard than lawn mowers.
The frames on all Bad Boy mowers are made of 7 to 11 gauge steel, consisting of two rails that measure 2 inches by 2 inches. The extra thickness of the steel and the overall build quality make Bad Boy mowers more durable than its market competitors.
'Swing away design' is another feature that you will find only in the Bad Boy mowers. During cleaning, you can access all areas in your mowers with this feature. The patented 'swing away design' makes the deep cleaning processes of your Bad Boy mowers easier and quicker.
The John Deere mowers are classified into the Z-300, Z-500, and Z-700 series. There's no doubt that each series' build quality is impressive. Dual hydrostatic transmissions with 2 blades make their mowers more accurate and faster at cutting.
Comparison in Mower Types
Bad Boy manufactured both residential and commercial types of mowers. Landscapers use commercial mowers, while homeowners use residential mowers to maintain their lawns.
Bad Boy's commercial mowers are far better than the residential ones in terms of performance and quality. However, they are expensive too.
The Z-300, Z-500, and Z-700 series of John Deere mowers are currently available in the market. There are 5 John Deere mowers from the Z700 series, 7 from the Z300 series, and 11 from the Z500 series. John Deere-made mowers are ideal for domestic use.
Zero-turn mowers comprise the entire Z series. The Z-300 mower is economical and convenient. Mowers in the Z-500 and Z-700 series are more focused on speed. Recently, John Deere introduced us to another new Z series mower. The brand new Z-900E series manufactures commercial mowers.
John Deere and Bad Boy Mowers Maneuverability
When it comes to maneuverability, you can choose either a Bad Boy or John Deere mower. Each of their models offers you the ultimate ease and comfort. Both Bad Boy and John Deere mowers have great seats with suspension.
Additionally, they are easy to operate and control while riding. With the panel on the lap bar, you can adjust both of them according to your comforts. Customization will surely improve your mower riding experience.
Some users' reviews on Bad Boy mowers disclose that they are too heavy to use, and most of them are not suitable for the smaller yard properties.In that case, the John Deere mowers are the better option. Except for the Z-900 series, every mower is specifically made for lawn use.
But for professional landscaping. Bad Boy commercial mowers are undoubtedly the best option. Their powerful and toughest pieces of machinery are capable of mowing acres of land without any inconvenience.
Comparing Price Points on John Deere & Bad Boy
In comparison to the Bad Boy mowers, John Deere mowers are less expensive. The following information will help you get a more detailed picture of the current price range for these two brands.
John Deere Mowers Price Range
Z-300 Series Mowers- $2,599-$3,499 USD
Z-500 Series Mowers- $4,299-$6,499 USD
Z-700 Series Mowers- $6,859-$10,419 USD
Z-900 Series Mowers- $9,329 USD
Bad Boy Mowers Price Range
Residential Mowers- $2,999-$5,899 USD
Commercial Mowers- $1,099-$13,599 USD
The given price ranges can be changed at any time. So, to get the latest price update of their mowers, you have to visit the official websites of both John Deere and Bad Boy.
John Deere Or Bad Boy: Who Made More Durable Mowers?
Both John Deere and Bad Boy are known for manufacturing longest lasting zero turn mowers. However, how long a mower will last basically depends on how well it is used and maintained.
A John Deere mower can easily run for 1000 hours and even more with proper care and maintenance. For smaller mowers, the average hours is usually 500 to 1000, whereas for larger engines, the average hours is 1500 to 2000.
Anyway, Bad Boy mowers typically lasted a few more years than John Deere mowers. The average lasting period of John Deere mowers is up to 15 years, while Bad Boy mowers generally last more than 20 years.
Which Mower Brand Wins the Race?
Our staff had the opportunity to test both brand-made mowers before writing the Bad Boy vs John Deere comparison. We found both brands to be satisfactory overall.
Before revealing the winner, here we want to clarify a few points that might help you decide between the John Deere and Bad Boy mowers:
| | |
| --- | --- |
| John Deere Mowers | Bad Boy Mowers |
| Suitable for the lawns. | Best choice in professional landscaping. |
| Perfect choice for budget-conscious buyers. | Those who prefer durability should go for this brand |
| Z-700 series will be the best buy | Commercial series are preferable |
Compared to other brands, Bad Boy and John Deere mowers are quite reliable. Thus, in our opinion, declaring one winner above the other is unfair. According to our staff members, it's a tie.
However, as a result of reading our article, we hope that now you can quickly determine which is the better option for you. You can get the most out of both brands of mowers if you use them correctly and maintain them.
Which brand-made mower are you going to buy, Bad Boy or John Deere?
You May Like This Video Too!
Frequently Asked Questions (FAQs)
Who Makes The Bad Boy Mower?
The Arkansas-based company makes the 'Bad Boy Mowers.'
Does Bad Boy Make A Tractor?
Yes, they do make a tractor and some other lawn mowing machines.
What Engine Is In The Bad Boy Mowers?
They always used third-party engines with their mowers. Kawasaki, Kohler, Briggs & Stratton, Honda, and Vanguard engines are the most common engines used by Bad Boy.
Who Makes The Engine For John Deere E130?
Briggs & Stratton makes the engine for John Deere E130.
Are John Deere Lawn Mowers Made In China?
No, they are made in the USA. As of now, John Deere only manufactures agricultural tractors, and engines, and combines them in China.
You Can Also Read:
Enamored with the world of golf Jack pursued a degree in Golf Course Management at THE Ohio State University. This career path allowed him to work on some of the highest profile golf courses in the country!  Due to the pandemic, Jack began Inside The Yard as a side hustle that quickly became his main hustle. Since starting the company, Jack has relocated to a homestead in Central Arkansas where he and his wife raise cattle and two little girls.