What Happens If You Plant Popcorn Seeds? Results Can Wonder You!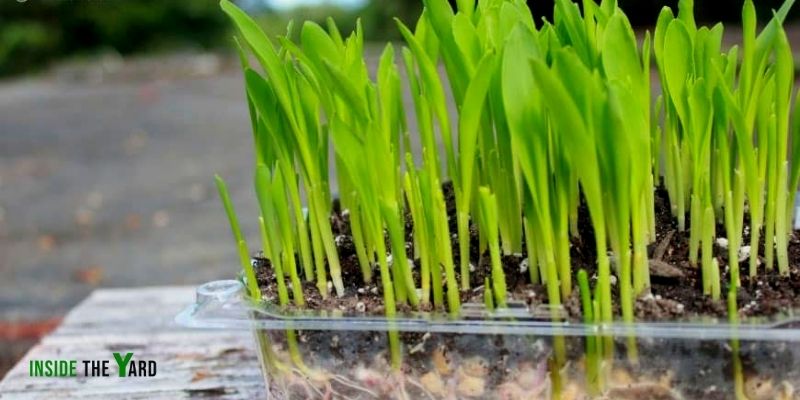 What happens when you plant popcorn seeds? When you plant healthy and living popcorn seeds or pop kernels, it can grow into a popcorn plant. However, the result can vary on the kernel condition.
Popcorn is a corn kernel with the scientific name Zea mays everta. These kernels usually come packed for making popcorn. Home gardeners often look for popcorn kernels for planting in their backyards to harvest popcorn seeds or grow microgreens. If you are a gardener and want to grow popcorn yourself, read through the article to know deeply about what popcorn kernel you can use for planting.
What Happens If You Plant Popcorn Seeds?
Does it come out as a new plant? You can grow popcorn plants out of store-bought pop kernels. Healthy kernels germinate when they get adequate moisture and appropriate temperature.
But wait! There is some twist.
Generally, popcorn kernels last for quite a long time if kept in a suitable storage condition. And they can pop into popcorn even after a couple of years.
You must consider that the corn seeds will only germinate if they are unflavoured, uncooked, and not boiled. So, you can sow the seeds in the areas suitable for growing popcorn.
According to the USDA,
Popcorn grows well in planting zone 4 to 11. So, you can actually grow popcorn almost all over the country, or at least you can try.
Can You Grow Corn From Popcorn Kernels From Store-bought Popcorn?
So, can you grow corn from store-bought popcorn kernels? Yes, you can. They often have a flavoring with oil and different spices. Just take the plain, regular popcorn that does not include any oil.
You also have to consider the shelf life of the popcorn kernels. Popcorn kernels have more or less four years of shelf life. If you sow a dead popcorn seed, it will not germinate.
Is There Any Problem Growing Popcorn From Commercial Packaged Kernels?
Store-bought popcorn is for making popcorn out of the packet. They are often flavored and seasoned. The seeds often have an oil coating. So, when you dampen them for germination, they may not soak water well. And the result will be un-sprouted or partially sprouted seeds.
So, if you want to germinate the commercially packaged plain popcorn seeds for making popcorn, you can go ahead and pick the plain kernels.
Will The Popcorn From Kernels Have The Same Taste As Others?
Obviously not. However, if you grow different types of corn together, due to cross-pollination, unfortunately, you will not get the real popcorn taste. For example, popcorn grown together with sweet corn may taste sweeter and not as rigid and starchy as it usually is. So, the taste also can be different from regular popcorn.
Farmers grow popcorn separately from other crops, especially other types of corn. Popcorn grown from the kernels will taste like store-bought kernels when grown separately from other types of corn.
You May Like This Video Too!
Frequently Asked Questions (FAQs)
Can You Plant Popcorn Seeds From The Store?
Yes, you can plant popcorn seeds that you get from the store for making popcorn. There are many ifs and buts, but you can grow popcorn from store-bought seeds. There are flavored and unflavored popcorn packages. You must pick the plain, unflavored variety to use for planting.
What Will Happen If You Plant Popcorn Seeds?
If you plant popcorn seeds, they will grow into popcorn plants. But you have to ensure that the seed has sprouted before you plant them. If the plant has not germinated before planting, there is only a little chance of turning into a plant.
What Does A Popcorn Seed Turn Into?
A popcorn seed would turn into a popcorn plant with the right temperature and adequate moisture. We would say there is a probability of happening otherwise if the popcorn seed is dead.
Can You Plant Popcorn Next To Sweet Corn?
You should not plant popcorn next to your sweet corn plants. There is a chance of cross-pollination, and you might grow some starchy sweet corn. So, it is better not to grow sweet corn with other types of corn. If you have to, keep at least 76 meters or 250 feet distance between two varieties.
How To Germinate Popcorn Seeds?
To germinate:
Get some pop kernels that are not flavored or have chemical compounds.
Soak the popcorn seeds for at least 12 hours in water.
Rinse with water and drain the seeds every 12 hours until they sprout. You can use a jar with a strainer lid.
It may take 3 to 4 days to germinate the popcorn seeds. However, if you live in a colder temperature, it may take more time to germinate unless kept in a warm place.
Conclusion
So, we hope you have now got the answer to what happens if you plant popcorn seeds. Make sure you use the unflavored pop kernel for plantation.
Growing popcorn is not rocket science. With proper knowledge, you can grow almost all of your desired crops. And growing popcorn is even more manageable and less effortful. You only have to be careful about the timing of sowing and keep the plants moist so that the plant gets enough nutrition from the earth.
And within a few months, you would harvest your homegrown popcorn and share them with family and friends.
You Can Also Read:
Enamored with the world of golf Jack pursued a degree in Golf Course Management at THE Ohio State University. This career path allowed him to work on some of the highest profile golf courses in the country!  Due to the pandemic, Jack began Inside The Yard as a side hustle that quickly became his main hustle. Since starting the company, Jack has relocated to a homestead in Central Arkansas where he and his wife raise cattle and two little girls.