What Type Grease for Mower Deck You Can Use!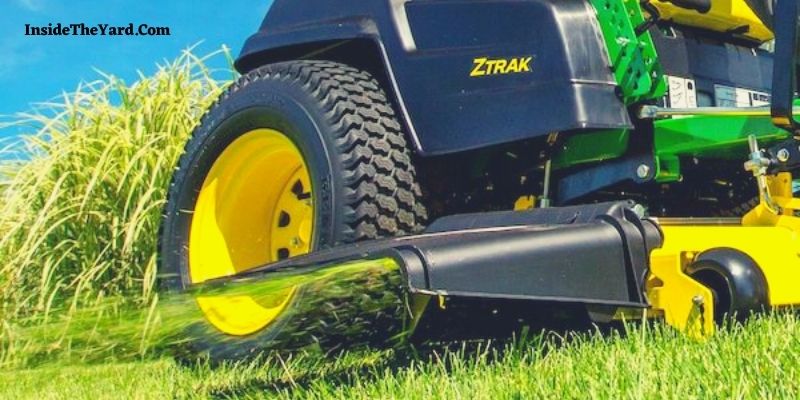 Do you love to use your lawnmower to keep the grass perfect in size? But are you facing difficulty because the blades don't rotate spontaneously? Then, it's time to grease your lawnmower to activate it like a pro again. In that case, you must be thinking of what type grease for mower deck will be best for your tool.
Any well-branded synthetic or multi-purposing polyurea grease can work without hassle. But you should know your tools need first.
Greasing is one of the most vital elements to run your lawnmower spindles properly. In addition, greasing protects your mower's parts from rusting, tearing, and wearing. Finally, regular greasing increases the life of a lawnmower spindle by keeping it safe from water and other liquids.
What Type Grease For Mower Deck
Different components make up different types of lawn mower greases. For example, one type of grease contains lithium in combination with molybdenum disulfide; on the other hand, another may be produced entirely of lithium. Another typical element in grease production is polyurea, which is a form of protective coating and elastomer.
So, overall you get the following grease type to use on the mower deck spindles.
Polyurea multi-purpose grease
Synthetic grease
Marine grease
Lithium grease
Let's have a sneak peek of these in detail.
Polyurea Multi-purpose Grease: Soap-Free Stuff
Polyurea multi-purpose grease is suited for rolling contact to utilize, such as axle bearings & u-joints. GC-LB, NLGI Grade 2, and -15°F to 380°F are the service ratings. You can use this type of grease with any standard-size lawn mower grease gun.
It is a non-soap enriched lubricant that is quickly becoming an ideal choice for long-term uses such as automotive, electric motor or bearings and off-highway constant acceleration joints, and lock for application fields.
Synthetic Grease: W/O Additives
Synthetic grease can be a combination of synthetic glycerin, bases in petroleum oils, or a mixture of synthetic materials containing standard soaps. Additives are greases with an artificial basis and synthetic oil.
In addition, it comes in both moisture and water-resistant varieties and can be utilized at a variety of temperatures. Finally, because synthetics do not weaken natural or other rubbers, these types of grease can be used to contact them.
Marine Grease: With Rust-Preventive Stuff
Marine Grease is an adaptable lithium complex grease NLGI( National Lubricating Grease Institute) grade 2, green in color, sticky, and high in temperature. It has a unique rust-resistant ingredient for better rust and corrosion resistance in saltwater & marine settings.
It's most typically used to lubricate boat prop shafts, but it's also regularly often used as a lawn mower grease. Marine grease is constructed of solid materials and is engineered to last a long time.
Lithium Grease: Withstands Low Pressure & Heat
Lithium grease is a versatile grease, at least for home-usage. However, it comes with the ability to withstand standard pressure and low-heat applications. It will be used to release hinges, remove rust that will keep your lawnmower active without any flaw.
In addition, it has a wide range of applications. The majority of lithium grease is used in the home. Typically, slicking greases are formed of oil along with lithium soap thickener. PTFE and other materials, such as molybdenum disulfide, are used in some formulations.
5 Best Grease For Riding Lawn Mower Spindles
The biggest mistake a lawnmower owner can make in terms of upkeep is using improper lubricant for the spindles. In general, the brand of grease does not matter in the end if you are using the grease recommended by the lawnmower manufacturer.
The spindles in lawnmowers are a vital part of the mower's slicing deck. The blades are rotated by the lawn mower deck spindles and harnesses for a beautiful, consistent cut. However, if either of the spindle assembly's components is bent and twisted, it might cause the razors to rotate roughly or not at all.
Some of the best-qualified greases to use to grease your lawn mower's spindles to bring the best workability out of them are as follows.
1. Royal Purple 01312-Versatile & Top-Performing Synthetic Grease
The (UPG) extends component life significantly. It's a synthetic grease with excellent power, versatile use, aluminum-complex formula. After adding this lubricant to your lawn mower's spindles, the gears will operate smoothly and quietly. In addition, it offers an incredible rust resistance feature to ensure durability.
2. John Deere SD– Multipurpose Polyurea Grease
All John Deere equipment is factory loaded with John Deere OEM lubricant. Tractors, combine harvesters, industrial machinery, forestry devices, yard and garden care tools, john deere grease points, vehicles, and automobiles are good candidates. It is one of the best regular greases for lawn mower spindles.
This grease shows extreme level stickiness. And the best part that it highlighted for is the water and corrosion resistance. It sticks to the parts for a long time, so this grease increases the longevity of the parts at the same.
4. Mystik JT-6 Hi-Temp Lithium-Complex Grease
It is a lithium-complex high-heat resistant lubricant designed for heavy-duty performance. However, it combines outstanding multi-purpose features with a fantastic point and the ability to pump at low temperatures to give a wide range of operating temperatures.
In heavily loaded mining, industrial, and construction action, as well as consumer lawnmowers, this lubricant provides outstanding protection.
5. Traxxas Grease– Best Usable Marine Grease
Traxxas Marine Lubricant is most typically used to grease boat propeller shafts; it is often regularly used to lubricate lawn mower spindles as well. However, this is promoted as being constructed of increased materials & suited for long-term use.
You May Like This Video Too!
Frequently Asked Questions (FAQs)
Do you need to grease lawn mower spindles?
Yes, you need to grease your lawnmower spindles after a certain time. However, it will keep your mower active while providing rust and corrosion-resistant protection.
What kind of grease goes in a lawnmower?
You can use any of the greases mentioned above that are compatible with your lawnmower. Synthetic-based lubricants are the best choice for the lawnmower.
How often should I grease my mower deck?
Greasing twice in a season is enough for a home lawn mower owner. However, you should lubricate your lawnmower daily if you are a professional.
How much grease do you put in a grease fitting?
The standard amount of grease ¼" or 6mm should be filled in a grease fitting.
Conclusion
After studying this unique article, we hope you get your answer for what type grease for mower deck you can use.
Greasing your lawnmower regularly will keep its parts safe from rust and corrosion. You can pick the grease based on your lawnmower manufacturer's requirements.
In addition, a suitable grease can increase the lifetime of your mower by providing superior quality protection. Go for the best grease gun for lawn tractor to get the best result from greasing like a pro. Apply grease to get a smooth lawn surface by getting the best out of your lawnmower.
You Can Also Read:
Enamored with the world of golf Jack pursued a degree in Golf Course Management at THE Ohio State University. This career path allowed him to work on some of the highest profile golf courses in the country!  Due to the pandemic, Jack began Inside The Yard as a side hustle that quickly became his main hustle. Since starting the company, Jack has relocated to a homestead in Central Arkansas where he and his wife raise cattle and two little girls.