Scott's Edgeguard Spreader Settings Chart For Grass, Lime, And Fertilizer
The Scott's Edgeguard Spreader settings you choose to apply grass, lime, or fertilizer will make or break your lawn! The charts available in this blog will keep your lawn pristine. No doubt!
The Scott's Edgeguard Spreader is perfect for smaller yards where you want to spread product in a targeted way. This type of spreader has a shield that blocks off one side of the spreader and allows you to apply the product only where you want it. This keeps you from wasting product or causing unnecessary mess. If you have a large yard and want to cover wide swaths of lawn consider the Scott's Broadcast Spreader.
Here is a complete Scott's Broadcast Spreader Setting Guide!
Spreader setting means the rate of product you apply to your lawn or garden. The Scott Edgeguard Spreader is a brand of quality spreader to ensure a lush, pristine lawn.
Using the right spreader setting is necessary to get to get the optimum product on your lawn. Whether you're spreading grass, lime, or fertilizer you will need this blog! Today, we will talk about the settings for Scott's Edgeguard spreader.
Scotts Edgeguard Spreader Settings- The Right Setting You Should Use
For smoother funneling and landscape projects, the Scotts Edgeguard is the best. However, even though it is a great product this means nothing if you don't know how to use it. That's why understanding the right settings for your Scott's Edgeguard Spreader is crucial! When using the Scotts Edgeguard Spreader, there is an optimum product usage for an assigned area. Need help understanding how to use Scotts Edgeguard Spreader? It's simple, follow the setting chart below.
You will see the settings for Scotts Edgeguard Spreader for lime, grass seed, and fertilizer.
Scotts Edgeguard Spreader Settings for Grass Seed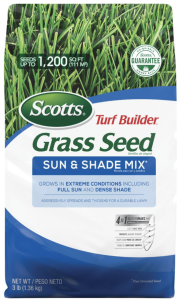 The chart above is the settings you can use for Scotts Edgeguard Mini. However, you can still use other Scotts Edgeguard Spreaders with the same settings with minor adjustments. When using the Tall Fescue Mix for newly seeding, ensure the setting is 18, so you get the best efficiency.
On the contrary, the Scotts Edgeguard DLX Spreader settings chart for overseeding when using the Tall fescue is 9 ½. We recommend you increase to 10 if your lawn is more extensive. But 9 ½ can get the work done smoothly without any complications.
If you are using the Sun and Shade mix for overseeding, the best setting is 8 ½. Furthermore, you can even use 9 ½ if your garden is comparatively larger. For new lawns, use 12 ½ or 12. We are confident this is the optimal setting. Please do not exceed the settings or you may
Run out of product
Have product left over
Either way, it's not ideal!
Use 15 when using the Rye Mix for newly seeding your garden. Again, if you want to overseed Scotts Edgeguard Mini Spreader settings conversion chart suggests using 9 ½. However, depending on your lawn, you can tinker with it and use 9 or 10.
You can also check the Scotts spreader parts diagram for a better idea of the spreader.
Scotts Edgeguard Spreader Settings For Lime
| | | |
| --- | --- | --- |
| Concern | Rate Of Application | Setting |
| Initial | 40 Lbs/ 1000 SF | 7/8 |
| Maintenance | 20 Lbs/ 1000 SF | 2/3 |
Be mindful of the Ph levels as you spread lime over your lawn. If you use too much lime, you might disrupt the Ph level of the ground. On the other hand, if you use too little lime, it will take a lot of time before the Ph level settles back to 1.
Use setting 7 or 8 when using 40lbs of lime pellets per 1000 sq. ft. Using less than seven will slow down the time it takes to control the Ph. However, using more than eight will damage the ground. Meanwhile, for maintenance, use 20 Lbs per 1000 sq. ft. and use the settings 2 or 3. Do not exceed this setting while you are maintaining the pellets. You will get the best output when using this setting with any Scotts Edeguard Spreaders.
Scotts Edgeguard Spreader Settings For Fertilizer
Ignoring these settings may cause you to burn the grass in your yard! However, few mistake are irreversible.
Here is an article on How to Fix Burnt Grass from Weed and Feed- Simple and Safe Fertilizing
In the case of fertilizer, the Scott Edgeguard Spreader tends to use a similar setting for almost all types with a few minor adjustments. If you want to use the crabgrass preventer, use 4 or 4.5 in the spreader. However, 4.5 is the most optimal setting when using the fertilizer. This setting is applicable when you use it per 1000 sq. ft. Make sure to use 40lbs while using 4.5.
For the Lawn Food, the setting you should use is 5. This setting will allow your grass and plants to grow very nicely. You need to keep your spreader setting between 4.5 and 5. Keep in mind that this applies to all Scotts Edgeguard Spreaders, including DLX and Mini.
Finally, when it comes to weed control, it's similar to the Crabgrass Preventer. Use the setting 4.5 for 40 Lbs per 1000 sq. ft. For a lawn more than 1500 sq. ft. us 60lbs of fertilizer and set your spreader to 5.5. Ignoring these settings may cause damage to your property.
This Video Will Help You Too!
Frequently Asked Questions (FAQs)
What setting should I use on Scotts spreader?
It depends on what you intend to do. For using fertilizers, the best setting is 4.5 to 5. While for seeding or lime pellets, the setting is entirely different.
What setting should I use on Scotts Edgeguard for grass seed?
Firstly, you need to know what type of grass seed you want to use. Suppose you want to use the Rye mix, then you have to use 15 when it's for a newer lawn. Again for overseeding, you need to use 9.5.
Conclusion
You must use the right setting while using a spreader. Because if you use the wrong setting, the product you are using won't be utilized correctly. Hence, there is even a chance it might ruin your lawn. The above shows the Scotts Edgeguard Spreader settings chart for lime pellets, grass, and fertilizer.
Follow the proper settings so that you can have the best lawn. The wrong settings will destroy your yard, so beware of that. Remember, the setting chart above is only applicable for the Scotts Edgeguard. The settings can be different for other model spreaders.
You Can Also Read:
Enamored with the world of golf Jack pursued a degree in Golf Course Management at THE Ohio State University. This career path allowed him to work on some of the highest profile golf courses in the country!  Due to the pandemic, Jack began Inside The Yard as a side hustle that quickly became his main hustle. Since starting the company, Jack has relocated to a homestead in Central Arkansas where he and his wife raise cattle and two little girls.