Steiner Vs Ventrac Tractor: Who Is The Winner?
What is the major difference between Steiner and Ventrac tractors? The most common difference is the type of tractor. Also, they have so many distinguishing properties so far.
The Steiner and Ventrac tractors are two of the most popular compact utility tractors on the market. Both brands offer a wide range of models to choose from, so it can be hard to decide which one is right for you.
So, in this article, we are going to compare the key properties of Steiner vs Ventrac tractors to help you decide which one is best for your needs.
Without any further delay, let's dive into the comparison section.
Steiner Vs Ventrac: A Complete Overview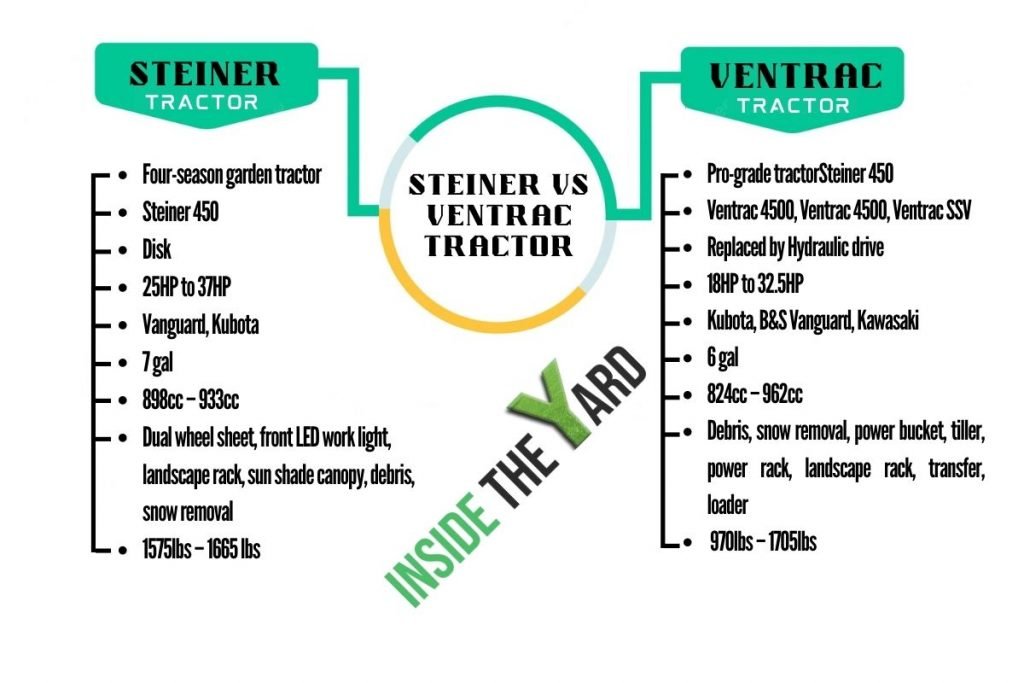 In the market for a new tractor but can't decide between a Steiner tractor vs Ventrac? Then this section will help you make that decision by outlining the most common difference between the two models in the following table. Have a look-
| | | |
| --- | --- | --- |
| Properties | Steiner | Ventrac |
| Tractor type | Four-season garden tractor | Pro-grade tractor |
| Available models | Steiner 450 | Ventrac 4500, Ventrac 4500, Ventrac SSV |
| Brakes type | Disk | Replaced by Hydraulic drive |
| Power | 25HP to 37HP | 18HP to 32.5HP |
| Engine Type | Vanguard, Kubota | Kubota, B&S Vanguard, Kawasaki |
| Fuel Capacity | 7 gal | 6 gal |
| Engine displacement | 898cc – 933cc | 824cc – 962cc |
| Attachment options | Dual wheel sheet, front LED work light, landscape rack, sun shade canopy, debris, snow removal | Debris, snow removal, power bucket, tiller, power rack, landscape rack, transfer, loader |
| Weight | 1575lbs – 1665 lbs | 970lbs – 1705lbs |
| Price | $26,995 approx. | $22,725 – $37,900 approx. |
Comparing The Size Of The Steiner And Ventrac
The most common difference between Steiner and Ventrac tractors is their size. Steiner tractors are much larger than Ventrac tractors, making them better suited for large farms or agricultural operations. Ventrac tractors are more compact and maneuverable, making them better suited for small farms or properties.
If we look at their weight, we can easily understand that the Ventrac is much more compact than the Steiner tractors. So if you prefer something lightweight, a Steiner mower is yours.
You might like to check the debate on middle buster vs subsoiler to find the best suit.
Ventrac Vs Steiner Tractor: Build Quality
When it comes to building quality, there is no comparison between Steiner and Ventrac tractors. Steiner tractors are built to last, with heavy-duty construction that can take on any challenges you may encounter while working on your farm.
Ventrac tractors, on the other hand, are durable but not as well-built and are more likely to break down after extended use. If you're looking for a tractor that will be able to withstand the rigors of farm life, Steiner is the way to go.
Cutting Efficiency: Steiner Mower Vs Ventrac
In terms of cutting efficiency, Steiner tractors are good at steep bank mowing with a maximum speed of 3600 rpm.
However, Ventrac tractors are better suited for soft trees as well as small saplings. When it comes to overall performance, both brands offer comparable results. However, Ventrac tractors have an edge when it comes to maneuverability and ease of use. For those looking for a versatile tractor that can handle multiple tasks, Ventrac is the better choice.
However, Steiner tractors are also known for their comfortable cabs and superior visibility. Ventrac tractors, on the other hand, have a narrower turning radius, making them better suited for tight spaces.
Available Models Of Steiner And Ventrac
Steiner has launched around 20 different models of tractors so far. But right now, the Steiner 450 model is the most popular and widely available since 2016. They also have three different varieties, such as 75-75025, 75-75032, and 75-75037. Their engine power varies from 25HP to 37HP.
On the other hand, Ventrac tractors have three varieties: Ventrac 4500, Ventrac 4500, and Ventrac SSV with a range of 18HP to 32.5HP engine power. Again, they all can run using gas and diesel mostly.
Best Applications Of Steiner And Ventrac
The Steiner and Ventrac tractor are two versatile machines that have a wide range of applications. Here are some of the best uses for these tractors:
1. Construction: The Steiner and Ventrac tractor are both perfect for construction sites. They can maneuver in tight spaces and have the power to tow heavy equipment.
2. Landscaping: Again, you can use them for landscaping projects. They can easily clear land, grade roads, and plow snow.
3. Agriculture: The Steiner and Ventrac tractors are also perfect for agricultural use. They can be used to till fields, plant crops, and harvest hay.
Steiner And Ventrac: Attachment Options
No matter what kind of Steiner tractor you have, there's an attachment that can make your life easier. From dual wheel sheets to front LED work lights, there's an accessory for every need.
One of the most popular attachments is the landscape rack. This is perfect for those who need to haul debris or remove snow from their property. The sunshade canopy is another great option, especially for those who live in warmer climates. No matter what your needs are, there's a Steiner tractor attachment that can help.
Similarly, when the weather gets colder, and the leaves begin to fall, many homeowners are thinking about how they will remove debris and snow from their property. A Ventrac tractor can make this task easier with a variety of attachments, including a power bucket, tiller, power rack, landscape rack, and transfer loader.
The power bucket attachment lets you quickly and easily collect leaves, snow, and other debris. The tiller attachment is perfect for breaking up tough soil or removing weeds.
Also, the power rack can be used to carry lumber or other materials, while the landscape rack is great for hauling mulch, topsoil, or plants.
Finally, the transfer loader attachment makes it easy to load and unload materials from your Ventrac tractor.
Comparing The Price Range Of Steiner And Ventrac
Price is another important factor to consider when choosing a tractor. And while Ventrac tractors are typically more expensive than Steiner tractors, they may be worth the extra cost if you need a tractor that can handle more difficult tasks.
Frequently Asked Questions (FAQs)
Are Ventrac And Steiner The Same?
No, Ventrac and Steiner are not the same. Both are companies that sell outdoor power equipment, but they have different product lines. Ventrac specializes in compact tractors and attachments, while Steiner focuses on lawn mowers and other turf care equipment.
Are Steiner Tractors Good?
A Steiner tractor is a high-quality machine that can handle a variety of tough tasks on the farm. From plowing fields to mowing lawns, a Steiner tractor can do it all. And because they're built to last, you can count on your Steiner tractor to keep working hard for years to come.
Where Are Steiner Mowers Made?
Since 1998, Steiner manufacturing is based in Orville, Ohio, and has been manufacturing turfgrass mowers. The company started with a small line of rotary mowers and has grown to offer a full line of products for the turfgrass industry, including zero-turn mowers, attachments, and accessories.
Who Invented Ventrac?
Ventrac was invented by Marvin Steiner in the late 1950s. He was looking for a more efficient way to maintain his farm property. He wanted a machine that could do the work of several different types of equipment, but he also wanted it to be compact and easy to operate. After much trial and error, Steiner finally created a prototype of the Ventrac that met all his criteria.
Who Owns Steiner Mowers?
Doosan Bobcat is the current owner of Steiner mowers. He aims to offer customers the high quality and excellent performance that they have come to expect from the Steiner name.
Which Is Better Ventrac Vs Steiner?
So, which one is the winner from your point of view from Steiner vs Ventrac tractor? Steiner is a great choice if you're looking for a versatile, durable tractor to help you get the job done. Moreover, they have 4 season options. So it will be a better option for a full-time farmer.
On the other hand, if you need to cut soft trees or small saplings, Ventrac is a good option for you.
Overall, both types of tractors have their advantages and disadvantages, so it depends on the needs of the farmers.
You Can Also Read:'
If it has a motor Jason has a pretty good idea about how it works. Jason graduated in Automotive Mechanics Technology from Bishop State in 1992. After working on vehicles for 11 years he made the transition to selling tractors and lawn care vehicles. Currently, Jason writes and edits much of our content as he transitions into retirement with his lovely wife, Shelley.