Stihl Ht 131 Vs Ht 133: Which One Is More Effective& Why?
What is the difference between Stihl HT 131 and HT 133? The major difference is HT131 feels a bit bulkier than HT 133. But the fuel capacity also differs largely.
These two telescoping pole pruners are most likely making you confused to make a pick. Right? However, we can understand your dilemma, and that's why we are covering the entire context based on Stihl HT 131 vs HT 133. Moreover, you will have a clear idea about the two models of the Stihl. Let's read the entire text.
Comparison Table For Stihl HT 131 Vs HT 133
There is a short preview of the comparison. Here you go.
Stihl HT131
Stihl HT133
Specially Recommended for
Professionals
Commercials
Weight
17.2 pounds
15.9 pounds
Fuel Capacity
18 oz
24 oz
Chain
⅜ inches PMM3
¼ inches PM3
Let's know in detail.
Our Preference: Stihl Ht 131- Designed For The Professional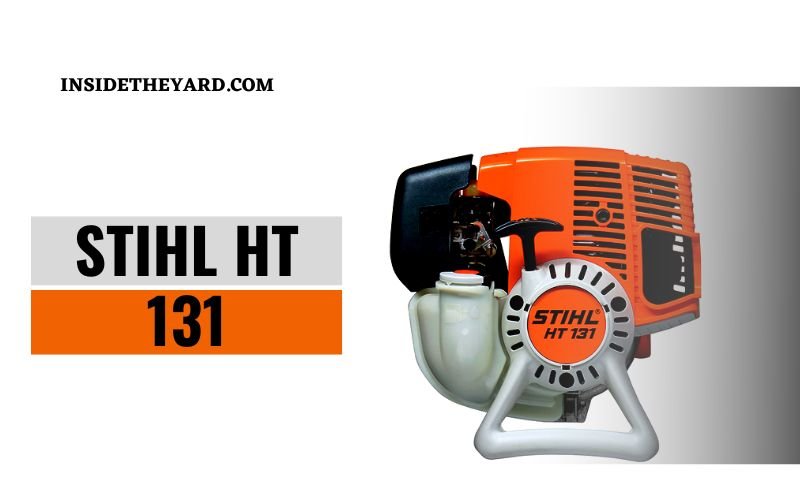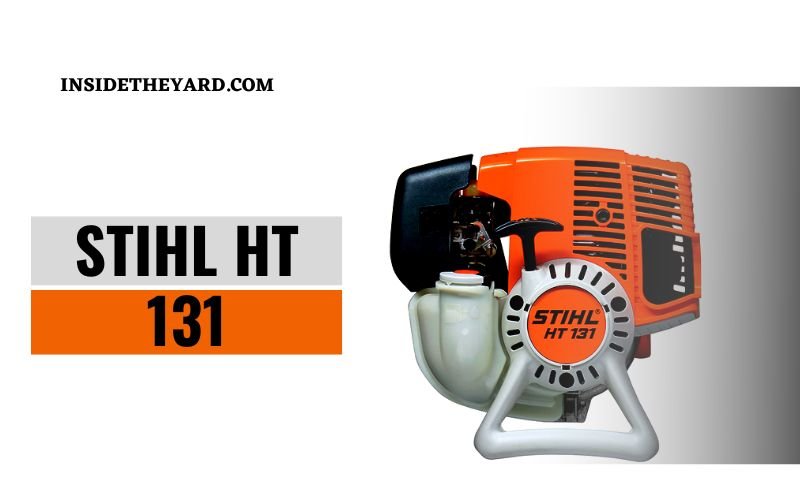 Why Should You Pick It?
Stihl pole saw chain is the chain saw that is entirely convenient for cutting trees in random sizes. In fact, the pole pruner has 1.9 horsepower, which is tremendously okay to have a smooth cutting. Moreover, the machine is powered by Gas, and you can cut any tree over least 11 feet distance.
Keep reading the following presentation.
Stihl HT131- 14 Inches Bar Guide
The Stihl Ht131 has a 14 inches bar guide that is perfect for trimming from a long distance. You can use this model professionally; the manufacturer claims that it is designed for professionals. However, if you want to have an experience of a pole pruner, you can pick a new one.
A Slight Havey Weight- Stihl Ht131
Stihl ht 131 pole pruner has a slightly heavier weight than the ht 133. It has almost 17.2 pounds that are comparatively 1.5 pounds heavier than the 133. By the way, if you are used to holding the weight, we think it's not a big deal to you. However, go forward to the next points.
Comparatively Low Fuel Capacity
the Stihl ht 131 has a comparatively low fuel capacity. It can hold 18 oz of fuel. So, it will save a little bit of fuel. However, the power source is Gas. So you have to use Gas for the pole pruner.
What Size Chain Requires For The Stihl ht 131
Well, the Stihl Ht 131 allows ⅜ inches PMM3 chains to run the cutting of the pole pruner. So, if you have a pole pruner, you will need that size chains for perfect matching.
What Are Users Saying About This?
People are giving it the thumbs up with a 5-star rating for its easily manageable feature. One recent user said,
"The motor is awesome, rarely have to rev it further than upper midrange. Starts VERY easily and is relatively quiet, being a 4 stroke. The extension is ease to adjust, and it stays put. The chain cuts better than expected. You do have to keep an eye on the level of chain oil in it's tank. The saw uses the oil quickly. Using the same fuel mix as my Stihl 2 stroke saw is very handy, not having to keep 2 different fuels when using both saws. I am 70, and it's not "too" heavy."
Our Second But Not Least Option Stihl Ht 133 For The Light Weight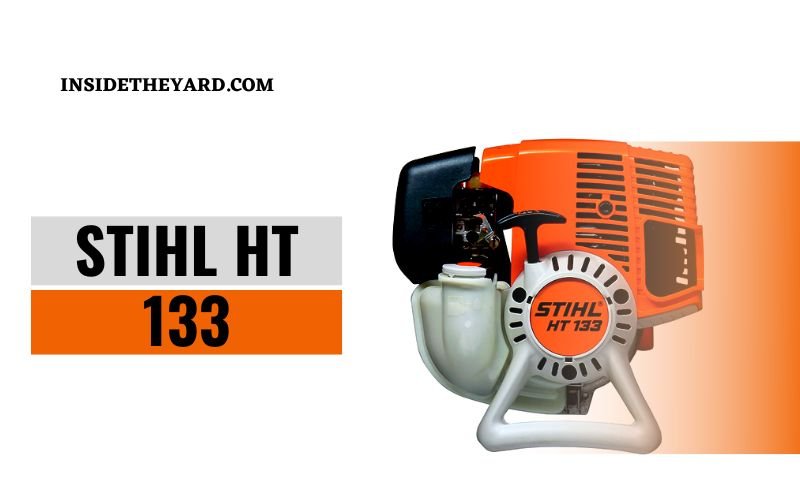 Why Should You Pick It?
The second of pole pruner is Stihl Ht 133. It also has 1.9 horsepower, but low fuel emission added value to different users. Moreover, it has slightly less weight compared to the other models. Thus, the users of the Stihl ht 133 can hold it and work smoothly. Moreover, The
squared shafts of the ht 133 enable the users to cut a high branch.
Let's know more about it.
Stihl Ht 133 Perfect For The Commercials
Regarding Stihl Ht 133, it also has a 14 inches bar guide. But it is mainly useful for the person who does work for free. Moreover, you can extend the pole pruner while cutting along tree from a lower place. There is a hook in the holding area of the pole pruner.
Light Weight Makes Suitable For The Users
As we emphasize the wight to pick the Stihl ht133, some people would love to use a lighter telescoping pole saw. The model has 15.9 pounds in weight. You can see the pole pruner is around 1.5 pounds lighter than the ht 131, which is modest to grab the attention. And it enhances the work convenience while someone is using it.
Larger Fuel Capacity
The Stihl ht 133 has a larger fuel capacity, allowing more time to continue trimming. As it has more capacity to reserve fuel, it will definitely burn more fuel. We suppose it won't be a matter when someone can be satisfied continuing the trimming. So you can go for it to run a continuous process and heavy tree maintenance. It has a fuel capacity of 24 oz.
The Chain size of Stihl HT133
There is a major difference in the chain size between the Stihl Ht 133 and 131. The Stihl Ht 133 needs ¼ inches PM3 chains for running the pole saw, and the chain helps to cut a bigger size tree for a long distance.
Oh! Here is an advanced reminder for you that you can choose the one you want if you are convinced of their convenience. But, overall, your pick will depend on the cost, service, and convenience of using between the Ht1131 and Ht133.
What Are Users Saying About This?
Though HT 133 is a bit heavy, people don't stop liking it. And one of the recent users said,
"Had to replace shaft once but on warranty, now I've bent it up, but it still works. It's my baby and I love it. Just hate that the parts are so expensive. Anyone who gave it a bad review probably doesn't know how to use it"
Frequently Asked Questions (FAQs)
What's the difference between ht131 and ht133?
There are some differences; you can see the ht 133 is lighter than the ht 131. on the other hand, the Stihl ht i131 is more fuel saver than the ht 133. Nonetheless, the Ht 131 is designed for the professionals, whereas Ht 133 is designed for the people who do free work.
Is the Stihl HT 131 4 stroke?
Yes, The Stihl HT 131 has 4 stroke lubrication. Moreover, this model can run the engine like the 2 strokes. To make more clear about the theme, stroke, it is, 4 strokes of the piston support the five functions of an engine. However, and yes, Stihl HT131 is a 4-stroke engine.
How long is the Stihl HT 131?
The Stihl HT 131 is adequately long to cut from a particular distance. The overall length of the chainsaw is 139.2 inches. And the guide bar length is 12 inches.
What chain goes on an HT 131?
The chainsaw, Stihl HT131, has ⅜ inch PMM3 chains. Moreover, it allows three packs of 14-inch semi chisels for it. So you can pick that number of chisels for the HT131 that you have.
What Is for You?
The entire comparison, Stihl HT 131 vs HT 133, is mainly based on the basic visual differences. However, as the engine power of these two pole chains is the same, you can decide on the convenience of using them.
Now, if you want to use it like a pro, you can choose Ht 133. Otherwise, it will be comfortable if you pick ht 133, as it is lighter than ht131. Moreover, if you want to save some fuel, you can buy ht 131, as it has a low capacity of fuel.
So, to conclude the entire discussion, we must say, we have presented all the vives of these two pole chain saw with their convenience. They both are great in their services, but the design perception matters. So decide for yourself which one you should choose. Hopefully, you will be confident in picking the desired one.
Good luck!
You Can Also Read:
Enamored with the world of golf Jack pursued a degree in Golf Course Management at THE Ohio State University. This career path allowed him to work on some of the highest profile golf courses in the country!  Due to the pandemic, Jack began Inside The Yard as a side hustle that quickly became his main hustle. Since starting the company, Jack has relocated to a homestead in Central Arkansas where he and his wife raise cattle and two little girls.