Cherry Tomatoe Pot Sizes Explained- What Sizes Pot For My Cherry Tomatoes?
What size pot for cherry tomatoes? The size of the pot for cherry tomatoes will vary depending on the type of cherry tomato plant. For example, determinate cherry tomato plants will need a pot that is around 18 inches wide, while indeterminate cherry tomato plants need a pot that is around 24 inches wide.
So, choosing the right size pot for growing cherry tomatoes is one of the most important and tough decisions you need to make when planting your garden.
To make your journey smoother, here we have arranged this article with all details to select the right size of pot for cherry tomatoes.
What Size Pot to Grow Cherry Tomatoes In?
The size of the pot will depend on a variety of factors, including the number of Cherry Tomatoes that you plan to grow, their size, and the amount of sunlight they receive.
So, what size pot for cherry tomatoes? Different plants require different amounts of room and fertilizer. You will need to start with a pot that's about ⅔ the size of your expected yield and gradually increase the size as your plants grow.
Again, depending on the variety, some cherry tomatoes will grow to be about two inches in diameter, while others can get as large as four inches. If you're growing your own cherry tomatoes from seed, start with a 3 or 4-gallon pot and add more soil as needed.
If you're buying cherry tomatoes at the store, a 5 or 6-gallon pot size is needed for cherry tomatoes to grow. So, the best pot size for cherry tomatoes is 3 to 5 inches.
What Size Pot For Indeterminate Cherry Tomatoes?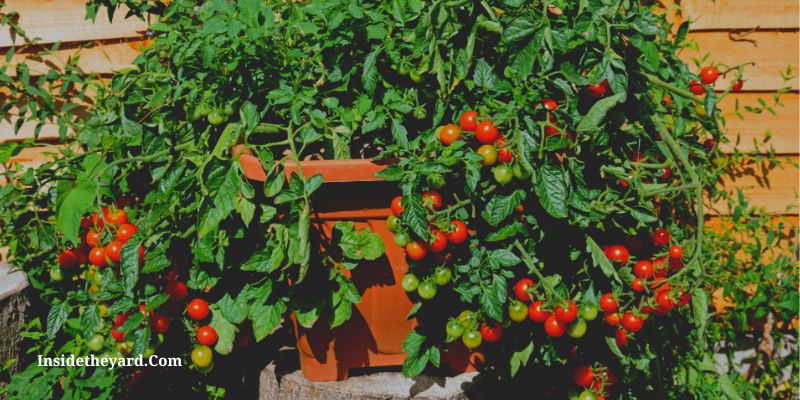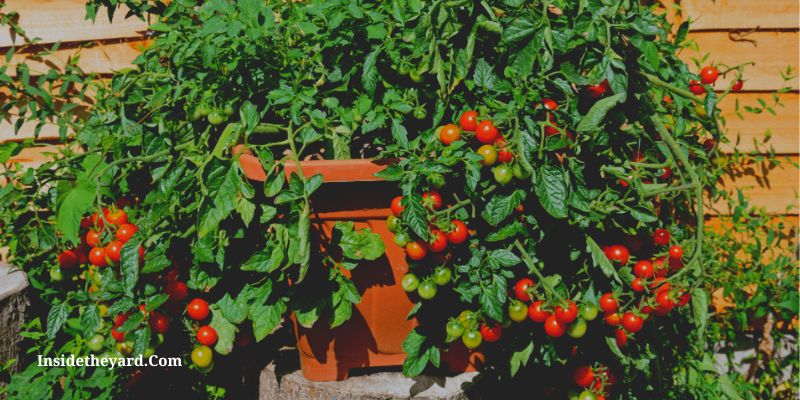 Some gardeners prefer pots that are twice the size of others, while others swear by smaller pots. The best way to determine the pot size for cherry tomatoes, especially indeterminate cherry tomatoes, is to experiment with different sizes and find what works best for your individual garden.
Usually, cherry tomato plants can grow to be 6-8 feet tall. That makes them perfect for growing in a container. So the container height is not as crucial as pot size when choosing an indeterminate cherry tomato plant. Choose a pot that is at least 18 inches in diameter and 12 inches deep.
Again, when choosing pots to grow cherry tomatoes, it would be wise to think about the future. A small cherry tomato plant will not remain small all the time. It will grow gradually. So, if you choose a bigger container or pot initially, it will be a great decision.
How Deep Should A Pot Be To Grow Cherry Tomatoes?
When choosing the right pot for cherry tomatoes, there are many factors to consider, including growing size, depth, and drainage.
When planting cherry tomatoes and deciding what size pot for cherry tomatoes, it is important to remember the depth of the pot they will be planted in. The depth of the pot also depends on the size of the plant.
So far, cherry tomatoes need a deep substrate to grow successfully, typically 14 inches or more. This allows them to develop strong roots and produce large fruit. Tomatoes that are planted too shallow may not reach their potential size or produce ripe fruit.
Also Read: Can You Eat Tomatoes With Blossom End Rot
However, there should be a drainage hole in the pot to grow cherry tomatoes, and this will help to prevent waterlogging and ensure good root growth.
To help you find the perfect size pot for growing your own cherry tomatoes, we've created a chart that breaks down one foot deep pots into 6 different categories:
| | |
| --- | --- |
| Size of Cherry Tomatoes Plant | Length of Depth |
| Minimum | 1.5-2 inches |
| Small | 2.5-4 inches |
| Medium | 4-6 inches |
| Large | 6-8 inches |
| Extra large | 8-12 inches |
| Imperial | over 12 inches |
A Helpful Tutorial You May Need!
Frequently Asked Questions (FAQs)
How Much Space Do Cherry Tomatoes Need?
Cherry tomatoes need a lot of space to grow, especially if you are growing them in containers. A 6 container garden with cherry tomatoes will require 24 square feet of space, while a single plant in the ground will need at least 48 square feet.
How deep does the pot need to be for cherry tomatoes?
Usually, the root of cherry tomato plants can go up to 10 to 18 inches deeper. So, you need to choose a pot that has at least 14 inches of depth. Besides, there should be a drainage system at the bottom.
Can you grow cherry tomatoes in a 12 inch pot?
Cherry tomatoes can be grown in a 12 inch pot, but they will not produce as many fruits as they would if they were grown in a larger pot. Additionally, the plants may be less vigorous if grown in a smaller pot.
Conclusion
So, what size pot for cherry tomatoes? When growing cherry tomatoes, it is best to use a pot that is at least 8 inches wide and 12 inches deep.
If you choose a pot that's too small, your plants will be cramped, and their growth will be stunted.
If you choose a pot that's too large, your plants may grow spindly and weak. So, it's important to choose the right size pot to grow healthy and delicious cherry tomatoes.
You Can Also Read:
Often called Jason's "better half" Shelley excels with her hands in the dirt. Growing up on a homestead in North Carolina gave Shelley a love for work and cultivation. Early in her career she cultivated minds inside a first grade classroom. Organic gardening has long been her passion and the internet age has allowed her to make it a side hustle. Shelley's joy is made complete by sharing gardening tips with her friends, neighbors, and two grandsons.