Can You Use A Sod Cutter To Level Ground? Lawn Owner Needs to Know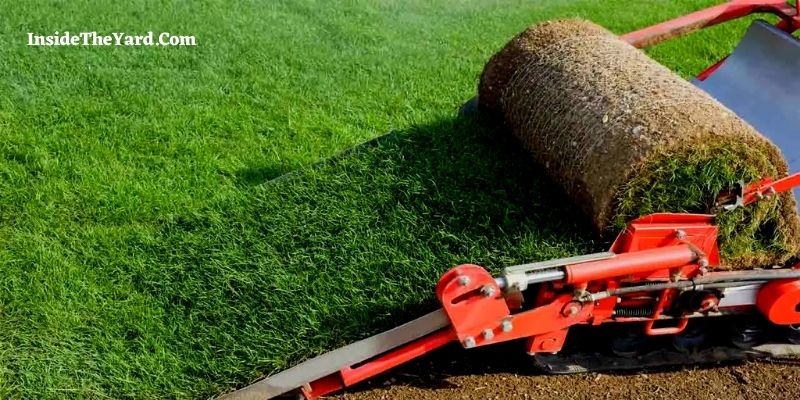 Are you confused, thinking that can you use a sod cutter to level ground? Yes, you can. Basically, a sod cutter is an excellent solution to cut off grasses and their roots that level the ground gently.
However, to perform the best, it has a few levels that can help one to cut unwanted grasses and plants at different heights. Are you looking for something to cut off the grass with their roots for your lawn?
Then look forward to the entire context. You will see how to use a sod cutter or what are the benefits of having a sod cutter. So, let's get into the article to know all the pros and cons related to the use of sod cutters.
Can You Use A Sod Cutter To Level Ground
A sod cutter is mainly demanded for ground leveling. Most of the house masters love to use it either cutting sod or leveling the uneven ground.
However, you may ask how it does level whereas it cuts the grass. The fact is, a sod cutter can cut the ground at least 1.5 inches in depth, so if there is any uneven ground that remains, the cutter can make it even by cutting an average depth.
Moreover, a sod remover removes the grasses with their roots that is a plus point to add. Thus, you need not cut off weeds after different timespan.
But there are some tips while cutting a sod.
Do not use the sod cutter on rocky ground. It can bend the tines of the sod cutter.
Be careful while cutting the sides of the ground if their tree roots remain. It can hamper the roots. And sometimes, the strong roots can harm the tines of a sod cutter.
Check oil and the knobs of different levels so that you can get the result of constant work easily.
So, in a word,in can be said that you can use your sod cutter to level your uneven grassy ground.
Then, How To Level Ground With Sod Cutter
As it is described before, how a sod cutter works to level the ground, still there is something to clear. When you start your sod cutter, the cutter blades cut the ground at a particular depth. Thus, it becomes an even place by cutting a particular height.
Oh!, some use dirt to fill the uneven part and then run their sod cutter machine over them. Get a try and make your gardening experience easy.
Ideal Steps for How To Use A Sod Cutter
There is quick navigation of using a sod cutter. Well, there you go.
First and foremost, turn on the sod cutter and move to the neutral.
Then, engage the blades and move the gear shift into low.
Give a trial. Place the cutter in neutral, and check the level of cutting. Change the level whichever you want.
Then, set the knob and lock it after confirming the level of cutting.
Now it is time to start your work.
Frequently Asked Questions (FAQs)
Do turf cutters work on uneven ground?
A turf cutter or a sod cutter is basically made for leveling the ground by cutting grasses with their roots. But the matter to give concern is, it can work roughly 1.5 (maximum) inches deep. So, if the ground remains so uneven that the tines of the turf cutter cannot reach, then it is disappointing. But if the ground is a bit uneven, it can work.
Can you use a sod cutter on rocky soil?
Most probably, you cannot perform a good leveling ground on the rocky soil with your sod cutter. Because a sod cutter cannot run smoothly through highly clay soil, whereas rocky soil is far from the anticipation, however, the reason behind it is, the tines can be bent while it goes through the rocky soil.
Can a sod cutter cut through roots?
Yes, a sod cutter can cut through roots, but the point is, the roots should be soft. Generally, a sod cutter can allow for cutting through the roots of grasses from 1 inch to 1.5 inches deep. But when the roots are deeper than the measurements, then they cannot be cut. Consequently, the roots can regrow the grass.
Final Cut
To wrap up all the discussion on can you use a sod cutter to level ground or not,we can say that you are welcome to use a sod cutter. We hope you are optimistic about using it.
Because a sod cutter will perform simultaneously, sod cutting and leveling ground perfectly. What edge will you find to do that smoothly? Although you can shovel, there is a chance to regrow grasses. So using a sod cutter is the best way, we think. After all, the decision is yours to choose any tool to use. We just tried to meet your query against the topic.
You Can Also Read:
Enamored with the world of golf Jack pursued a degree in Golf Course Management at THE Ohio State University. This career path allowed him to work on some of the highest profile golf courses in the country!  Due to the pandemic, Jack began Inside The Yard as a side hustle that quickly became his main hustle. Since starting the company, Jack has relocated to a homestead in Central Arkansas where he and his wife raise cattle and two little girls.