How to Water Narrow Strip of Lawn? Master the Techniques Now!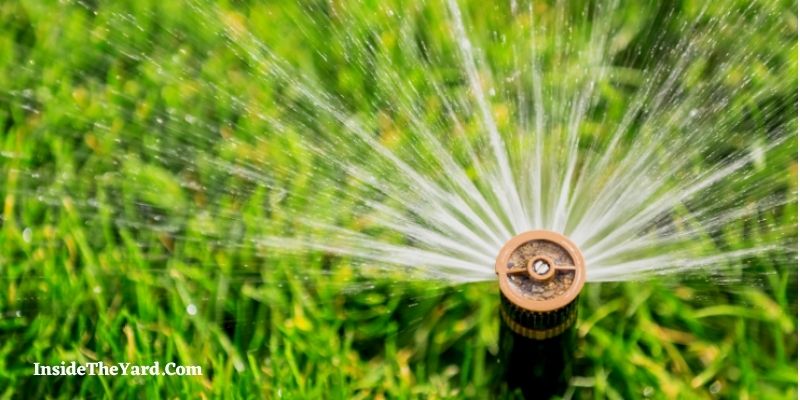 Walking in a narrow lane with a green garden on both sides is like a dream come true. But in maintenance time, it is quite challenging in how to water narrow strip of lawn. Using narrow grass sprinklers, you can do the job quite well. Oh, you can make your DIY sprinklers, too.
Well, every single garden corner needs water, or else your garden will get ruined. So, you can't avoid the narrow strip of the lawn.
Let's find out the tips and tricks of watering the narrow space of your lawn.
How to Water Narrow Strip of Lawn- 4 Methods
Maximum people waste water while watering the strip of grass in the narrow space. If you know how to water side yard by following some simple steps, then your lawn will stay green and fresh for a long time.
The watering methods are hassle-free, and tools are available. For this, you can start with any method you want instantly.
Let's check out the methods:
1. Using Water Bottles
You will be amazed how these plastic bottles work as an irrigation system. These bottle watering ways are effective only when your lawn strip plants are small-sized plants most.
However, these are 3 popular methods that will work for water any narrow spaces in your lawn:
First Method: Keeping the Bottle Full of Water in the Bottom
Take a two-liter water bottle with water
Make sure to keep space in the top
Attach a foam in the top instead of a cap
Place the water bottle in the root of the tree
Fill the bottle again with water
Second Method: Making Holes in the Bottleneck
Take a bottomless bottle
Tighten up the bottle cap strongly
Make holes in the bottleneck to let out the water
Place the bottle in the seedlings of 15 cm deep
Keep the bottom part up while placing the bottle
Use dry grass around the holes
Third Method: Hanging the Bottle
Make a bottle bottomless and a hole in the cap.
Hang the bottle with water in the holder slingshot by placing it in a crossbar from the top.
Take a small portion of the film piece and cover the bottle bottom with soil also. Then pour some water. You can spray the water now in the places you want.
2. Mini Irrigation System
If you have less budget but urgent need of a watering system for your narrow space, then try this DIY watering system.
For this, you will need:
½ " poly top fitting
Hole punch
Bubblers
1/2" poly pipes
2 tube end closers
Grass staples
Placing the irrigation System
If you have a sprinkler for narrow areas, then attach the poly tee to it. Then add a small size riser to the pipe.
To attach the pipe to the tee, you have to screw open the pipe collar. Then after finishing the attaching task, you have to fasten the pipe to the water pipe.
By attaching the poly tee to the poly tube, your narrow lawn will get water from both sides of the tube.
Handling the poly tube is easy as it allows flexible use. Place the tube on grass staples for a secure position.
You have to install the emitters with the hole punch. If you hear a popping sound, then the installation process is rightly done.
The bubbler rotates in 360 degrees that help to blow out water in 3" diameter. If you want to lessen the flow, then twist the emitter.
You can install the bubblers with emitters near each plant.
When the pipes are not in use, you can use the tube end closures to prevent water leakage.
3. Using a Soaker Hose
A soaker hose promises efficient water, and it allows to flow of water directly to the plant roots. If you use this hose, you will experience less water evaporation and wind.
You will find numerous pierced holes in the hose. These holes help to drip and soak the grassroots in every weather condition.
4. Using Sprinklers for a Narrow Strip of Grass
 To maintain a green lawn, especially the narrow ones, you can go for a sprinkler for narrow areas, like the Rain Bird 5000 Series Rotor Sprinkler Head. If you install one, watering the lawn by hand will get reduced a lot.
To get the most of a sprinkler, you have to use a hose sprinkler for a narrow strip, and Hunter Sprinkler Nozzle people find the best sprinkler head for narrow strip. 
All you have to do is to adjust the timer, sprinkler head rotation, spray pattern, coverage and water pressure. After making all these adjustments, your lawn is ready to get water in every single space every day. Trust me, and your lawn will look green and fresh than any other lawn in your neighborhood.
Best Way to Water a Long Narrow Lawn
You already know that you have to ensure a proper watering system to maintain a lawn, and it is crucial.
In this section, you will get some quick tips to water your long and narrow lawn:
Try to water your grass in the fall time. This is the time when your plants are recovering from hot summer days and gaining strength for the cold wintertime. So water is required very much in the autumn time.
Go for a sprinkler with a tripod. It will cover a large area with every corner.
Take care of grass seed properly. Use adequate water to seeds grow healthy.
When you are watering your lawn, run all the sprinklers at a time.
Attach a remote hose to make your watering task easy.
Different Types of Sprinklers for Narrow Strip of lawn
Listen, you can also check other ways for how to water grass between sidewalk and street.
Then again, to water the grasses in the road verge, you can install different types of sprinklers like-
Installing the In-ground sprinklers like the Rain Bird, that popup and water automatically. When the watering is done, the sprinkler will go down again.
If you want a powerful one, pulsating sprinklers, like the Melnor, are the best option for you. It starts to water the lawn horizontally with power.
The oscillating sprinkler, such as the Aqua Joe, is best for newly seeded ground, as it provides enough water with less water pressure.
If you want a traditional one, then go for the hose-end sprinklers.
You May Like This Video Too!
Frequently Asked Questions (FAQs)
How do you water narrow strips in your lawn?
A flat soaker hose or a sprinkler helps to water narrow strips of a lawn. For the spray design, water goes into every corner; even it comes with the narrowest space.
How long should you water one section of grass?
The best water timing of your grass section is one inch of water every week. You can use a plastic bottle and a timer on your lawn to know the exact water amount. In 30 minutes, the water amount gets into a half-inch. So if you water your grass three times every week for 20 minutes, then the lawn grass will get the right amount of water.
How do I waterside my lawn?
By using a sprinkler, watering a lawn gets easier. Just place the sprinkler in the place where the water force will allow water to reach every corner. You can also install a drip irrigation system for better results.
Conclusion
If you know how to water narrow strip of lawn, your lawn will be the greenest one in the town.
Maximum lawn owners don't have the idea of watering the narrow areas for many reasons. Now, we hope this entire guide will help those who are struggling with dead grasses on the strip lawn area.
You don't know how lucky you are to own a lawn; it is like a blessing. How? Wait, when you grow old, this green property will help you to lead a healthy life as long as you live. So, better to take some pain on but with the proper maintenance.
You Can Also Read:
Enamored with the world of golf Jack pursued a degree in Golf Course Management at THE Ohio State University. This career path allowed him to work on some of the highest profile golf courses in the country!  Due to the pandemic, Jack began Inside The Yard as a side hustle that quickly became his main hustle. Since starting the company, Jack has relocated to a homestead in Central Arkansas where he and his wife raise cattle and two little girls.