How To Trim Grass Around A Vinyl Fence | Get The Best Idea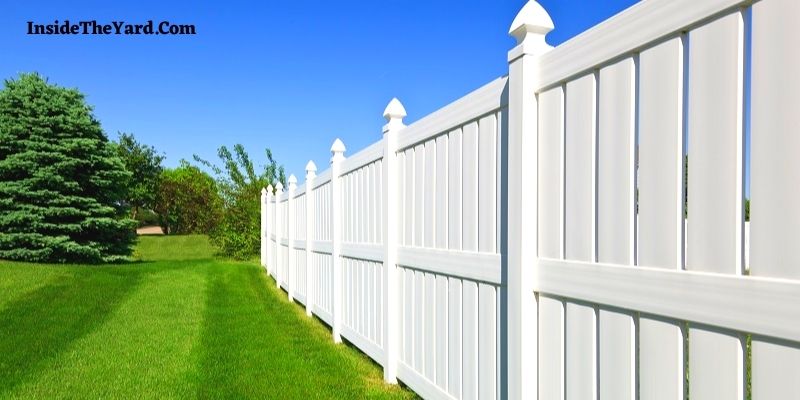 Most people find it difficult to mow or trim grasses and weeds around the fence. And especially, search for ways how to trim grass around a vinyl fence. You can learn the tricks of trimming alongside the vinyl fence or make your DIY fence strip.
So, let's say you are mowing or trimming the grass on your lawn. You have mowed all the way but can't trim the fence line grasses. Also wondering if the vinyl fence will get damaged or not by the trimmer.
However, it's easy and simple. Read the full article to learn how to trim and edge like a pro.
How To Trim Grass Around A Vinyl Fence
You need to keep a hovering eye all the time while mowing around vinyl fence. You can use the traditional string spinning trimmer to clean up the weeds at the edges.
The vinyl fences are also known as plastic or synthetic, or PVC fences. These are hard but can be cracked up if you are now carelessly beside the fence lines. So, it's better to use a diy mow strip under fence.
The best way to trim fence line is given below step by step-
First, adjust the mowing height from 2 to 2½ inches. In the time of drought, you can mow it up to 3 inches.
Mow your lawn following a straight line. Mow along the fences parallel
Now trim up the remaining weeds next to the vinyl fence post using a spinning line trimmer.
This spinning trimmer is softer than the synthetic fences. As a result, it's safe to trim along the posts. This is also applicable to how to cut grass along wall lines.
Warning:
Never use hard or heavy types of machinery like lawnmowers too close to your vinyl fence. It will probably damage these plastic barriers.
On the other hand, use eye safety goggles while mowing around vinyl fence. So that trimmed grasses don't split up into your eyes.
Pro Tips: You can install mowing borders along the fence lines to prevent weeds on the corners. Or, you can use a mow strip fence to block unwanted grasses. You DIY your mow strip at home.
DIY Mow Strip Under Fence
If you don't know what a mow strip is and how to make it, then this segment is for you.
Mowstrip is a kind of plastic barrier, and it's used under fence edging to prevent grass from growing along the fence line. It's easy to use and compatible with the vinyl fence.
You'll need the following elements to create a mowing strip under fence on your own-
string
Landscape staples
Pea gravel or mulch or small rocks
Stakes
Sand
Spade
Waterproof hand gloves
Hand brush or bloom
Glyphosate herbicide
Let's start the steps.
First of all, dig a trench of at least 6 inches to 12 inches wide using spade, stake, and string. Mark the area with string to mulch.
Secondly, fill the trench with pea gravel, sands and rocks. Don't fill up the whole trench.
Next, add the concrete mix along with larger stones. And cover it up with landscape fabric.
Spread the elements evenly on the landscape fabric. Brush the excess elements.
Now, use the landscape staple at the edge of the fabric to clench it in position.
To saturate the concrete mix, you can attach a water nozzle. And wait for it to get hardened.
After that, wait for at least 2 days before stepping on it.
Tips: If you want to mow strip under chain link fence, but can't remove the remaining grasses with a spade. In this case, you can spray the pre-mixed glyphosate herbicide to kill the weeds. 20% vinegar will also do the job.
What about Edging Along Fence Line?
For edging along fence line, you can use decorative bricks or ornamental rock. You can plant tall decorative plants along with the fences. It will save your fence from getting damaged while mowing your garden without any tension.
You can use the easy trim fence guard to maintain a beautiful chainlink fence on your lawn. It can easily trim and cut all the unwanted grasses and weeds underneath the vinyl fence lines.
This Video Will Help You Too!
Frequently Asked Questions (FAQs)
How do you cut grass against a fence?
Be careful while trimming grasses against a fence. When you are trimming next to a fence, slightly move the head of the trimmer towards the ground. Keep a distance of about a half-inch from the fence edge. Keep patience and make sure to trim slowly in parallel with the fence line.
How do you cut grass without damaging the fence?
You can cut the grasses and weeds without damaging the fences. Here's what you need to do. Use a weed eater such as 20% vinegar or glyphosate herbicides to prevent the grass along the fences from growing. Or you can add a border with rocks and bricks along the fence wall so that the trimmer or the mower can't damage the fence.
Can you trim vinyl fence panels?
Yes, you can trim vinyl fence panels. You can customize vinyl fence panels according to your need, style or design. Keep in mind that cutting down the height of the fence could cause some installation problems. However, it might not cause any trouble if you cut the width of it.
Final Words
So finally, you have learned how to trim grass around a vinyl fence. Hopefully, you'll apply it next time you trim your lawn. Just be careful about the warning we have mentioned here.
This article is also helpful to learn how to weedeat around vinyl fence. Now mowing the lawn and around the corners is really easy even if you have vinyl fences as your boundary.
You Can Also Read:
Enamored with the world of golf Jack pursued a degree in Golf Course Management at THE Ohio State University. This career path allowed him to work on some of the highest profile golf courses in the country!  Due to the pandemic, Jack began Inside The Yard as a side hustle that quickly became his main hustle. Since starting the company, Jack has relocated to a homestead in Central Arkansas where he and his wife raise cattle and two little girls.