SRM 225 Vs SRM 230: Which One is Better?
What is the major difference between Echo SRM 225 and SRM 230 series? Usually, the SRM 225 is a lighter weight trimmer than the SRM 230, making it easier to maneuver. Along with this, there are several major differences between the Echo SRM 225 and SRM 230 series.
They are both great trimmers, but their significant differences make them unique. So. what if you need something a little more specialized to choose between them the right one for you?
In this article, we will make a rough & tough discussion on SRM 225 vs SRM 230, including every single detailed difference between them, and finally, announce one of them as the ultimate winner.
Comparison Table of SRM 225 Vs SRM 230
| | | |
| --- | --- | --- |
| Facts | SRM 225 | SRM 230 |
| Fuel Type | Gas | Gasoline |
| Weight | 5.21 KG | 5.01 KG |
| Cutting Width | 432 mm | 250 mm |
| Engine Displacement | 21.2cc | 22.8 cc |
| Anti Vibration Handle | Yes | No |
| Fuel Tank Capacity | 4.9 oz | 0.58 lit. |
SRM 225 & SRM 230, both are great trimmers. As you can see from the table, they have many features in common, but there are also some important differences.
Our Recommended Pick: Echo SRM 225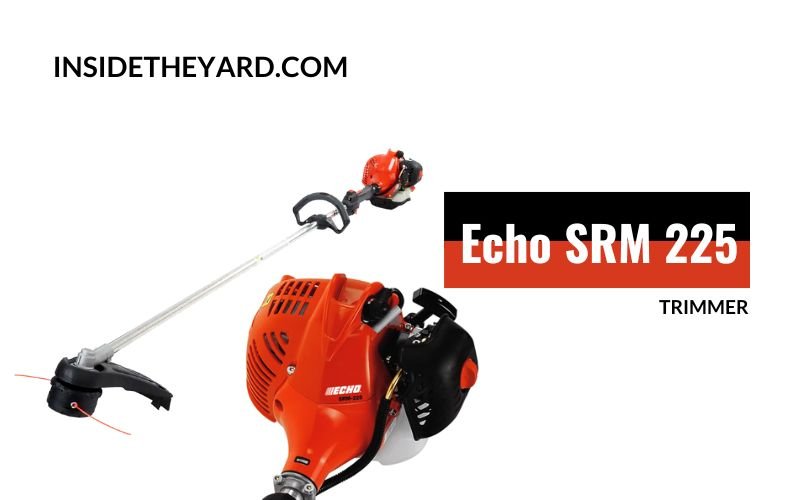 Considering some major differences between the two of them, we have decided to announce SRM 225 as our winner. Let me explain why!
The SRM 225 is a great option to consider. This trimmer is packed with features that make it easy to use and maintain. In this section, we will take an in-depth look at the Echo SRM 225 and give you our honest opinion on whether it's worth the investment.
Outstanding Performance
The SRM 225 is a fuel-efficient gas-powered trimmer that delivers professional-grade results. With a cutting width of 17 inches, this machine can handle large lawns quickly and easily. The shaft length of 59 inches provides plenty of reach, while the bump feed head ensures consistent cutting performance.
Adjustable Shaft
The SRM 225 is the perfect straight shaft trimmer for homeowners. The engine displacement is 21.2cc, and it has a flex-cable drive system that makes it easy to start and operate. Plus, the shaft is adjustable, so you can find the perfect fit.
Attachments
The attachments of SRM 225 include a hedge trimmer, a pole saw, and a brush cutter. The hedge trimmer attachment is used for trimming hedges and bushes. The pole saw attachment is used for cutting branches and limbs. Again, the brush cutter attachment is used for cutting the brush perfectly.
Other features
With a 2-stroke engine, this model offers more power than most other trimmers in its class. And with a bump feed head, you can easily advance the line when it wears down. Its Anti-Vibration handle is the perfect way to reduce fatigue when using a power tool. The soft grip and 14.9 oz fuel tank capacity ensure comfortable, extended use.
Our Second Choice- Echo SRM 230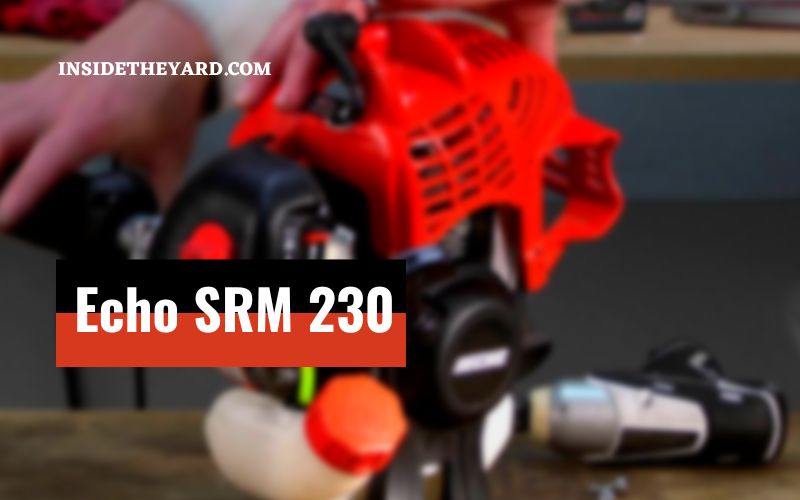 SRM 230 has been praised for its performance, build quality, and price. But does it live up to the hype? We put SRM 230 through its paces to find out.
Perfect Shaft
The SRM 230 is the perfect trimmer for professionals and homeowners alike. Its professional-grade design makes it easy to maneuver, while its straight shaft provides extended reach for hard-to-reach areas. Also, the vibration-reduction system significantly reduces engine noise and vibration, so you can work more comfortably for longer periods.
Attachments
Again, the ECHO SRM-230 is a versatile trimmer that can be equipped with a number of different attachments to tackle a variety of tasks. The most popular echo SRM 230 attachment is the edger attachment.
That allows you to quickly and easily create a clean, manicured edge along sidewalks and driveways, and the brush cutter attachment is perfect for clearing away thick brush and overgrowth.
Also Read: How to Adjust Carburetor On Echo SRM 225? [A Step By Step Guide]
Other attachments available for the SRM-230 include a blower attachment, a hedge trimmer attachment, and a tiller attachment.
Durable Construction
Because of its durable construction and reliable performance, the SRM 230 will quickly become your go-to trimmer for all of your trimming needs. With an i-30 starting system, it's easy to get started, even if you're not a pro.
Excellent Engine Performance
The 22.8 cc engine provides plenty of power to help you get the job done quickly and easily. Additionally, the Echo SRM 230 trimmer head is designed with the Speed-Feed 400, which makes it easy to install and use.
Frequently Asked Questions (FAQs)
What attachments work with Echo?
The Echo trimmer is not a proper versatile tool, but it can be used with some attachments to make your life easier. One of the most popular attachments is the hedge trimmer attachment which is great for getting those perfect, symmetrical hedges. Again, the edger attachment is perfect for giving your lawn that professional, manicured look.
Additionally, the brush cutter attachment is ideal for clearing away thick brush and overgrowth. Also, the pruner attachment is perfect for trimming branches and limbs.
What is the Arbor size on an ECHO SRM-225?
An arbour is a support used to hold a rotating cutting tool in place on a machine. If the arbor is too small, the cutting tool will not fit. If the arbour is too large, the cutting tool will be loose and may come off during use.
Thus, the arbour size on an ECHO SRM-225 is 20mm. This size is compatible with most cutting tools that are made for use with this type of trimmer.
Are Echo attachments universal?
No, Echo trimmer attachments are not universal. This brand has its own unique attachment system. Each model of the trimmer is designed to work with a specific set of attachments.
How many ccs is an ECHO SRM 230?
The ECHO SRM-230 is a powerful trimmer that is perfect for any lawn. This trimmer also features durable construction that is built to last. With the 250mm cutting width, an ECHO SRM 230 has a displacement of 22.8 cc.
What is the gas-oil ratio for ECHO SRM 230?
It's crucial to set the right ratio of oil for the ECHO SRM 230 trimmer. The gas-oil ratio for ECHO SRM 230 is usually 32:1. This means that for every 32 parts of gasoline, there is 1 part of the oil.
You Can Also Read:
Enamored with the world of golf Jack pursued a degree in Golf Course Management at THE Ohio State University. This career path allowed him to work on some of the highest profile golf courses in the country!  Due to the pandemic, Jack began Inside The Yard as a side hustle that quickly became his main hustle. Since starting the company, Jack has relocated to a homestead in Central Arkansas where he and his wife raise cattle and two little girls.