What Size Trailer For 48 Inch Mower You Should Get?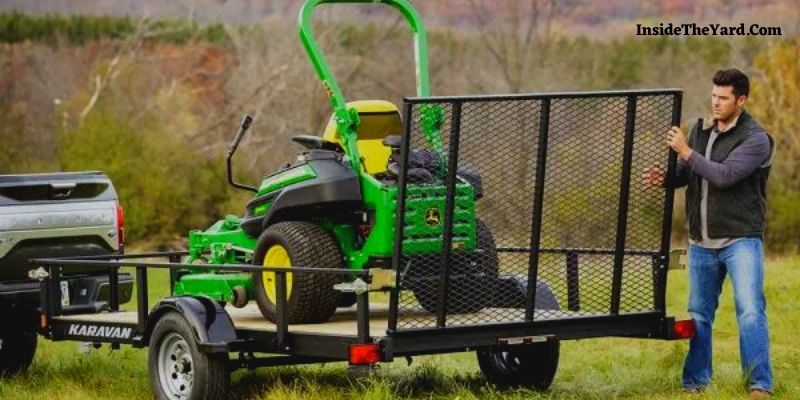 What size trailer for 48 inch mower is required? A 5×8 inch sized trailer would do the job. But there is some more to know to get the proper fit.
You need to know about the actual measurements of your lawnmower first. A 48-inch mower normally implies the deck of the mower cuts 48 inches in width. So, you need to think of the deck size in point first.
In this article, you'll get the idea of which size trailer you should get and why. So, without any further due, let's hop into the solution.
What Size Trailer For 48 Inch Mower
You should buy a 5×10 or 5×8 size trailer for a 48-inch lawn mower. This one will be small enough to handle the mower easily from a certain dimensional standpoint and pull out easily.
However, It is sometimes difficult to figure out the trailer size for a mower to fit perfectly. When getting a trailer, make sure about the mower deck and other additional measurements very carefully.
Many mowers are broader than their deck width. Regardless, our next segment will help you to choose and decide to purchase a riding mower trailer for your gardening.
Buying Trailer For 48 Inch Mower
While buying trailers, many say the bigger the better. You can fill multiple mowers and other stuff on that. But if you are tight with budget or barely want to buy the exact one, just go with the suggested one here.
Nevertheless, The width of a trailer is just as important as its length. So, please make sure about the width and length of the mower before buying lawn mowers utility trailers.
Tips
Check out if the gate or ramps are long enough so that you don't have to drag the mower while loading it on the trailer.
Small Zero Turn Mowers
There are plenty of zero-turn mowers in the market. It can mow your lawn in such a short time, mostly when you have a huge one.
The smallest ZTR mower is commonly 48 inches or 54 inches wide. You can buy mower-trailer packages both online and offline. The 5 feet × 10 feet dovetail lawn mower utility trailer will be best for it.
Warning
The manufacturers warned about towing anything by the zero-turn mowers. These small zero turn mowers are limited edition. So, you might need to pay an extra repair bill to fix it if you don't follow the recommendations.
A Helpful Tutorial You May Need!
Frequently Asked Questions (FAQs)
What size trailer do I need for a riding mower?
The trailer size would depend on the weights of what you'll load on it. If you need a lawn mower trailer, 4 feet or 5 feet trailers can easily carry small lawn mowers and tools. But if you have a bigger mower, you'll need around a 6 feet or 7feet trailer.
Will a full size bed fit in a 5×8 uhaul trailer?
Yes, it will. A full-size bed can fit into moving trucks that are 10 feet+, cargo van, and 5 feet × 8 feet cargo trailers. Certain mattress sizes will fit into these U-haul trailers.
How do you figure out what size trailer you can tow?
To figure out the trailer size, you need to know how to determine the load limit first. Remove the empty weight of the trailer from the total GVWR. The capacity of the trailer to tow the max available cargo is the resulting number. It's better not to exceed the towing limit of your trailer.
Conclusion
Hopefully, you have got a clear concept about what size trailer for 48 inch mower will be perfect.
You can always go for the bigger one if you are available. However, the price doesn't vary that much. If you are planning to grow your garden big, then buy big. But make sure to secure the mower in the trailer in the right way.
You Can Also Read:
Enamored with the world of golf Jack pursued a degree in Golf Course Management at THE Ohio State University. This career path allowed him to work on some of the highest profile golf courses in the country!  Due to the pandemic, Jack began Inside The Yard as a side hustle that quickly became his main hustle. Since starting the company, Jack has relocated to a homestead in Central Arkansas where he and his wife raise cattle and two little girls.