Stihl MM 55 Vs Stihl MM 56 -Which One is the Best?
What is the difference between Stihl MM 55 and Stihl MM 56 C-E cultivator? The additional power with more attachment options of Stihl MM 56 may look pricy but worth it compared to the MM 56.
Stihl is one of the biggest production houses in garden plowing equipment. So, there is no confusion about their products. Then how to choose between Stihl MM 55 vs MM 56? That's the fact explained here in the point-to-point description.
Let's get deep into it and make the right decision in choosing one of them.
Comparison Table for Stihl MM 55 Vs MM 56
| | | |
| --- | --- | --- |
| Key Point | Stihl MM 55 | Stihl MM 56 |
| Powerhead Weight | 21.8 Ibs | 21.75 Ibs |
| Fuel Capacity | 11.2 oz. | 11.5 oz. |
| Multi-Tasking Tool Attachment | 7 YARD BOSS® optional attachments | 8 YARD BOSS® optional attachments |
| Motor Energy | To 1.07 bhp | To 1.14 bhp |
Both Stihl MM 55 and MM 56 cultivators are famous for their innovative multi-tasking design in compact structures.
Marv Mathwig, the product manager of Stihl Inc., said,
"The yard Boss is a multi-task system with high power and performance, which homeowners have come to expect from Stihl. Its universal power head offers the flexibility of multiple attachments with the convenience of only one engine to maintain, operate and store."
Stihl MM 55 and MM 56 are almost exact resemblances that are hard to distinguish. If you search for a clear difference to choose one, look forward and gather truthful information.
Our Recommended Pick: Stihl MM 56 – Faster and Highly Efficient Performance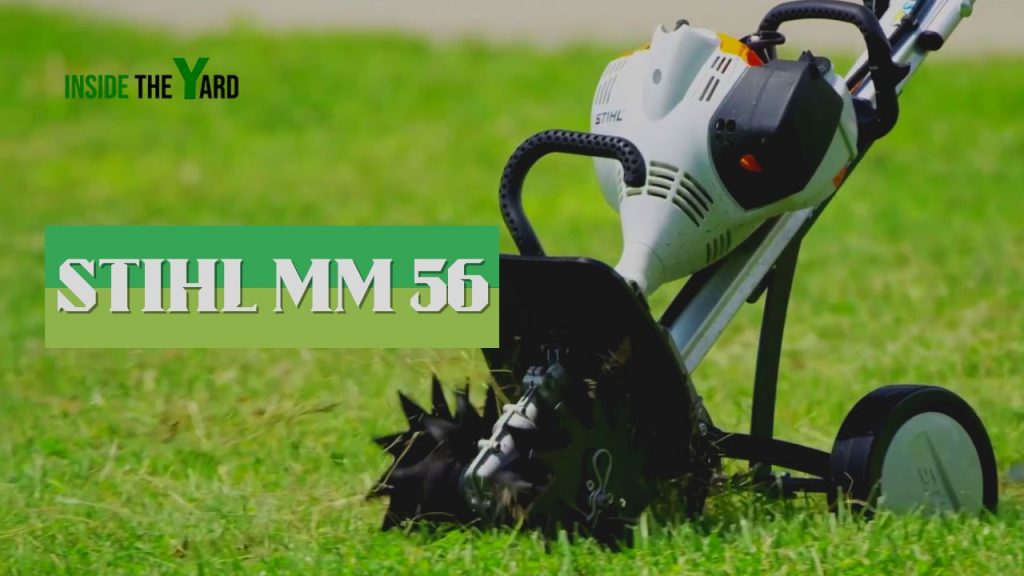 Why Choose Stihl MM 56: The Reasons to Choose It Over Stihl MM 55
Stihl released an upgraded multisystem tool, and this is the Stihl MM 56. This multi-engine equipment is faster, more powerful, and has high fuel capacity. As a cultivator, Stihl MM 56 performs efficiently and faster in 8 fields. It makes it possible to run all tasks using one machine smoothly and efficiently.
So, learn the specialized facts to choose Stihl MM 56.
Emission-reducer Two-Mix Engine
The two-mix engine is a two-cycle engine. Its running process replaces the unburned or unused fuel, which leaves with fresh air. This process saves energy reasonably. It makes a new standard for innovative engine design to enhance overall efficiency through emission reduction. The two-mix engine is not only efficient, faster, and cost-effective, but also makes better marks on the environment and our health.
With the increased power of the two-mix engine, you will be able to handle lawn maintenance effectively.
Multi-functional Control for Easy Handling and Operation
This multi-functional tool has innovative handling options that you do not have to leave the handle but do all functions comfortably.
The advanced semi-automatic lever system enables you a three-step starting process. The one-touch stop option lets you turn the engine off. After stopping the machine, it automatically brings the tool into the starting position, reducing the engine's flooding chance.
All the functions, including the start, stop, and throttle, is easy to run through the multi-functional control handle. There is also a wheel kit that improves the transport, handling, and maneuverability with attachments.
Higher Durability for Long-term Service
Stihl cultivators are built and designed in America. The upgraded version, Stihl MM 56 C E Yard Boss, is notably durable. Its design is exclusive to protect the cultivator from wear and tear. Engineers made the housing of MM 56 with an impact-resistant polymer material. This is stronger, more durable, and also lightweight. Users can use this tool rough and tough, frequently changing the attachments, which does not affect its durability.
Time-saving and Portable Intuitive Design
Stihl produced this Stihl MM 56 cultivator in an intuitive design to save your valuable time. Attachments are easy to interchange through the fittings option. The wrench and screwdrivers are already set in the attachments to switch quickly. Besides, the multi-engine system is set in a foldable frame, making it more portable and storage. The lightweight construction is also favorable for movement.
Bottom Line
From the MM 56 C-E Stihl Yard Boss Review, it is proved that it has gained popularity in massive amounts. For its efficiency, strong performance, and fostering collaboration, people already know the difference between this equipment with other models.
Also Read: Echo PAS Vs Stihl kombi- Know the Winning Pick
Our Second Choice: Stihl MM 55- Powerful and Cheaper Option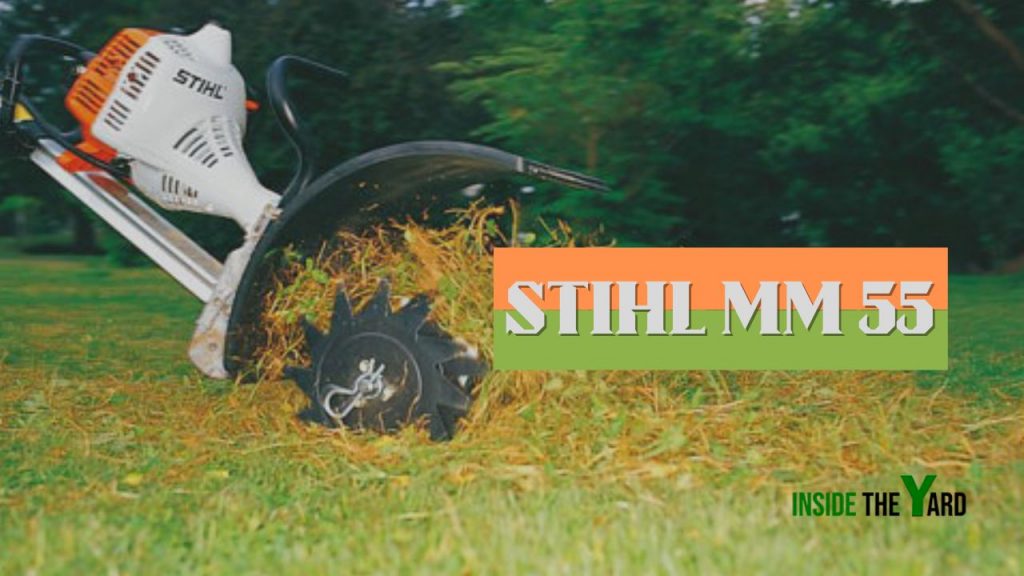 Why Choose Stihl MM 55: Does it Suit Your Demand?
When life becomes exhausting for the use of several tools in garden maintenance, Stihl brings the innovative equipment, MM 55.
Stihl MM 55 ensures easy operation, function, and multi-tasking options in one piece of equipment. The lightweight and robust body structure makes the job flexible with increased longevity.
Easy-2-start Engine for Smooth Start
The first-time start of the engine is quite hard. Stihl MM 55 ensures a smooth start every time you work on your garden. This lightweight cultivator uses the easy-2-start technology with a dual spring structure. It alleviates the hard pull start on the cord and also jerks on the engine cylinder at the starting time.
Includes Seven Attachments to Perform Multiple Tasks
Perform almost all lawn cultivating, trimming, or tillering jobs using one machine, Stihl MM 55. Easy conversion from one attachment to another and immediately run the cultivator to ensure the balanced handle and control system.
You can make your tool a dethatcher, a power sweep, edge trimmer, bolo tine, pick tine, aerator, or use the bristle brush. So, this all-in-one tool will be the best replacement for separate machines and stay in one place.
Ergonomic Design and Flexible Operation of All Attachments
The Stihl MM 55 is built with exceptional engineering that works with great power, but it is lightweight to move and easy to handle. Though it seems complicated to change attachments, actually, the balanced and user-friendly design makes it easier to transform from one to another.
The flat-lying pattern of this cultivator also makes it easier and more flexible to fuel and remove grass and roots from the machine. This top-notch design creates a sleek balance in everything to do all work at its best.
Cheaper Stihl Tiller MM 55 Price and Readily Availability
Compared to other cultivators and separate plowing and trimming machines, the multi-tasking Stihl MM 55 is cheaper in the market. However, the upgraded Stihl cultivator models are expensive and may not always be available in the market. This Stihl MM 55 is superior in the balance of price and functions.
All seven cultivating options in one piece of equipment at a reasonable price are included in the Mm 55. So, it is ideal for more users than anything else.
Bottom Line
Stihl MM 55 has become the most interesting creation for lawn owners or garden maintainers coming in the cultivator line. With the strength, multi-tasking ability, and comfortable handling option, it is now the most desired tool.
Frequently Asked Questions (FAQs)
How many ccs is a Stihl MM 55?
Stihl MM 55 has a strong engine with 27.2 cc motor energy. It means the engine is powerful enough to run the machine longer using more fuel and gas. You can be sure of getting extra power with additional torque.
How many ccs is a Stihl MM 56?
The Stihl MM 56 engine works at 1.4 bhp or 26 cc motor energy. This tool uses recent innovation, two-mix engine technology that uses fuel more efficiently and reduces emissions up to 70%.
Which is better Stihl MM 56 or MM 55?
Stihl MM 56 and MM 55 are both multi-tasking cultivators. There are a few differences between them. Both perform with extra power and functions. In terms of additional flexibility and cost-saver long-term use, MM 56 is a step forward. Regarding the price range and availability, MM 55 is a better choice.
Which One Wins the Cultivating race?
Hopefully, the idea on Stihl MM 55 vs MM 56 is clear now.
Stihl MM 56 is the most updated version, which includes the best options, great strength, more flexibility, and extra longevity. So with a high budget ability, there is no question about choosing it. For a more extended period, you can continue your cultivating, garden cleaning, trimming, etc., all jobs smooth.
Stihl MM 55 is also an unavoidable innovation of recent times. The MM 56 is the expensive and newer version, but it is not so available in the market. But the MM 55 is always available and found at a cheaper cost. So, you can choose it without confusion when you are slightly short on budget.
Now it's time to choose and purchase one and have a beautiful green garden in sight.
You Can Also Read:
If it has a motor Jason has a pretty good idea about how it works. Jason graduated in Automotive Mechanics Technology from Bishop State in 1992. After working on vehicles for 11 years he made the transition to selling tractors and lawn care vehicles. Currently, Jason writes and edits much of our content as he transitions into retirement with his lovely wife, Shelley.